UMHS is proud to welcome neuroscientist Dr. David L. Felten, M.D., Ph.D. as the newest member of our medical school. Some may know Dr. Felten as the principle author of Netter's Atlas of Neuroscience (along with M. Kerry O'Banion and Mary Summo Maida), but he is internationally renowned for many things. His research contributions helped establish the field of psychoneuroimmunology (which studies the effect of the mind on health, immune reactivity, and resistance to disease) and lay the foundations for the physiological understanding of complementary and integrative medicine.
Dr. Felten is considered a medical pioneer because he "first demonstrated a direct connection between nerve fibers of the sympathetic nervous system and cells of the immune system in several organs, including the spleen, lymph nodes, thymus, and bone marrow," says an online narrative summary of his work. His research has had an impact on everything from cancer treatment (by showing how nerve connections can influence the onset and course of cancer) to infectious diseases (including retroviral infections) to such autoimmune diseases as rheumatoid arthritis, and age-related decline in immune response.
Dr. Felten received his M.D. and Ph.D. at the University of Pennsylvania, and earned a B.S. at Massachusetts Institute of Technology. He has countless accomplishments in research, medicine and business. He served on the National Board for Medical Examiners for many years and helped write questions for the USMLE Step 1. He is also a noted author of everything from the definitive scholarly text Psychoneuroimmunology (of which he was co-author) to founding co-editor of the journal Brain, Behavior and Immunity to author of more than 210 peer-reviewed journal articles and reviews.
He has won many awards, including the prestigious John D. and Catherine T. MacArthur Foundation Prize for his findings in neural-immune interactions. However, don't let Dr. Felten's achievements and accolades intimidate you because he's one of the most down-to-earth people you'll ever meet.
The UMHS Endeavour recently sat down with Dr. Felten to discuss his career and his plans for helping UMHS students. He has worked all over the United States but tells us he believes students at Caribbean medical schools are some of the best. This is the first installment in a series of interviews with Dr. Felten.
UMHS ENDEAVOUR: You were previously at Beaumont Research Institute in Michigan, and have worked everywhere from Seton Hall University to University of California-Irvine to Loma Linda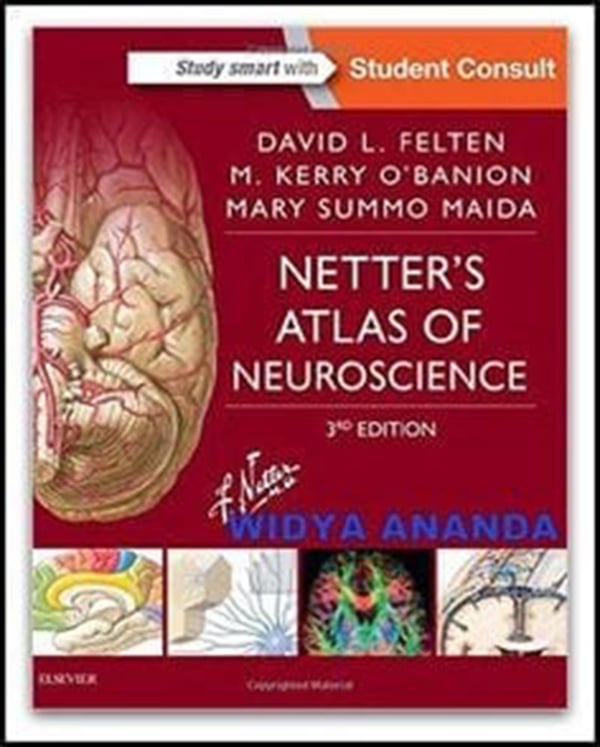 NETTER'S ATLAS OF NEUROSCIENCE: Dr. Felten is the principal author of this famous book, along with co-authors M. Kerry O'Banion & Mary Summo Maida. Photo: Pinterest.com
University School of Medicine, University of Rochester School of Medicine and Indiana University School of Medicine. What made you want to come to UMHS?
DR. DAVID L. FELTEN: I was finishing the last of a couple of projects after decades in academia. The last position I had was VP for Research and Medical Director of the Research Institute at Beaumont Health Center. It hit the point where it was an appropriate time to move on. They were undergoing major changes and I decided that I had done what I could do to help set the stage to their continued success. I also had some other pressing issues to which I wanted to attend. Number one was serving as chairman of the board for a biotech company that my wife and I had founded. The other was finishing the Netter projects (atlas, flashcards), especially the third edition of Netter's Atlas of Neuroscience which took huge amounts of time. I worked for a year to a year and a half on those projects. As they came to completion, and I no longer needed to spend as much time on those two projects, I had to ask myself, "So what do you want to do with the next phase of your life?" Because I'm certainly not ready to retire. I'm certainly not ready to walk away from what I love. So I was thinking what would I do if I could do anything I wanted? Would I look to be a university president, a VP for research at some big, humongous billion-dollar research empire? I thought what I'd really like to do is play a role in a medical school that is not just oriented toward raising money, raising even more money and raising even more money. Which is what most of the established medical schools are all about these days. They're not primarily dedicated to education. That sort of happens, and they pay lip service to it, but some courses have 30 to 40 walk-on lecturers who are just fulfilling their responsibility and really want to talk about "what I do in research." If it weren't for the fact that the medical students are so amazingly smart and capable, they'd be in trouble. I really like the Caribbean model at its best. There are certainly some Caribbean schools that are less than adequate—a number of them—but I had a chance to have some short-term affiliations, teaching and visiting professorships with a few of the better Caribbean schools, and what I really liked was the fact that the people who are teaching the basic sciences are generally there because they're good at teaching the basic sciences. And they're not put in a position where they have to raise 90% of their salary 100% of the time or they're told to hit the sidewalk. If they're there teaching, they can teach because they love to teach. I thought that was a pretty good model. I saw the students at some of the better Caribbean schools coming out with a very good education. When I was dean at Seton Hall University, and was overseeing the residents in five huge New Jersey hospitals, I saw medical students come and go in rotations that were associated with residencies and fellowships because most schools require an ACGME [Accreditation Council for Graduate Medical Education] approved fellowship or AOA [American Osteopathic Association] and I saw that some of the better Caribbean schools had students who are, in my mind, far better prepared for the clinical clerkships than were most of the students from the legacy U.S. medical schools.
Our students tell us that people from Caribbean medical schools have to work a lot harder than others.
Some of the students who are in the Caribbean medical schools come from varied backgrounds. Some of them didn't initially want to be doctors. Some of them didn't get serious and probably didn't get their A plus in organic chemistry, heaven forbid, and as a consequence didn't get an acceptance into one of the great legacy medical schools. Some of them had to absolutely bust their butts to get into any medical school and going to the Caribbean to attend medical school is not a picnic. It's not sitting on the beach. Oftentimes it's a very difficult task, and many of the students gather real maturity in the course of trying to find their way in life. They had to want it. They had to have fire in the belly. Or else they wouldn't go through all the expense and time and hardship to do so. I've also seen wonderful, capable, incredible students in the U.S. medical schools, such as those at University of Rochester.
But I've also seen students come in with a real sense of entitlement. "Do you know who I am?" "Do you know who my father is?" When the going gets tough, and in medical school, it always gets tough, you have to search your soul in your 20s about the meaning of life and death. You realize your own vulnerability. You realize the incredible responsibility on your shoulders that will never get less. It will always get more [stressful] if you're going to be a serious clinician. That really requires that you get your act together and that you find yourself and you grow up real, real fast. Some of those students say, "Whoa! I never asked for this." As a consequence it sort of balances out. I find not every student from the Caribbean schools is as good as the best University of Rochester student, but a lot of them are as good and some of them even better.
One of my dear friends was a transfer student from a Caribbean medical school. One of the only transfer students who ever went to the U of Rochester and was a truly outstanding student in the U of Rochester. So when I was thinking "What do you want to do with the rest of your life?"at least for a stretch of time, I thought I'd like to take a leadership position in a good Caribbean school and help many of these hardworking medical students have successful clinical careers. For me, it's not about, "Let's build our CV so we can climb the hierarchy." Been there, done that. I'm through with those games. I have realized how shallow they are. So I want to get something more meaningful, real personal rewards from helping people—students and faculty. I like to mentor faculty and I particularly like to teach students. So I thought of opportunities in some of the best Caribbean medical schools. I looked around and saw a position open here, spoke with Jerry Thornton, then Warren Ross, and was really impressed with the quality of the school and students they attract. The quality of the facility is phenomenal. And I really like the attitude and the sense of direction and the commitment of Warren Ross, Jerry Thornton and the other administrators. I see people there who are really dedicated to making this work. And, of course, Warren Ross comes from the fine family tradition of [UMHS founder] Dr. Robert Ross who himself was a real leader and a real visionary. So I thought this is a group I'd like to be part of.
Tell us a little about what you'll be doing here at UMHS as our new Associate Dean of Clinical Services.
The main thing I'm trying to do now, at the direction of Warren Ross, is to identify good clinical sites for the core rotations. By good clinical sites, I mean places that provide high quality supervision by preceptors and DMEs and people who are interested in helping students hone their clinical skills and knowledge, and who will take them as seriously as they are taking their medical education. That is an ongoing challenge in an environment that has seen more and more Caribbean schools trying to buy their way into hospitals and more and more U.S. medical schools starting up who are quickly trying to grab up affiliations with hospitals that have residencies and also existing programs. For example, U of Vermont is affiliating with hospitals from around the region in which they're located (e.g. Danbury Hospital), so they can have the security of sites for their medical students as they expand. So there has developed a scramble for good clinical sites for medical students. We don't want to see our high quality students left by the wayside with their thumb out, trying to hitchhike a ride through their core clerkships. So that's number one on the list and I appreciate the need for that.
The second thing I'll be doing is teaching neuroscience at a number of levels. One level is with the basic neurosciences course in St. Kitts. [Starting in May].
I've spoken with Dr. Mike Doherty [UMHS Chair & Professor of Neuroscience] and I also know Ed Purcell, the Dean of Basic Sciences. I've known him since his days in Indiana several decades ago. So we're friends going way back, and they've invited me to participate in some of the activities there. Also, as author of Netter's Atlas of Neuroscience, I think I have some good insights to offer students about things I perceive they need to know about the nervous system. Also, for years I sat on the National Board of Medical Examiners and for several years chaired the Neurosciences Committee for the USMLE Step 1. I also served as an item writer for the interdisciplinary committee. So I figured I could help with that level teaching the basic sciences.
Also I've offered to participate in the 5th semester program to provide an intensive board review for the medical students as they prepare for USMLE Step 1. I have done that for decades for both medical students and I've also helped neurology residents preparing for their board certification in neurology/psychiatry. I've got it down to a well-honed craft to say, "This is what you need to know. It's intense, strap yourself in; here we go." It also provides a pretty thorough review of systems and regions they need to understand. And oftentimes all you have to do is go through a quick outline and—boom--it comes right back. So I'm going to be offering that to each group of students as they come through the 5th semester.
So you'll also be helping out with the 5th semester.
Yes. It'll be quick. Like one or two days. The other thing I'll be doing on campus at St. Kitts is to provide to the students some research seminars, presentations that give an idea of new and exciting areas and how it applies to the practice of medicine. For example, brain immune interactions or mind-body medicine has real, evidence-based physiological foundations for mind-body medicine. It's getting a huge amount of attention, especially in the treatment of oncology patients. A lot of the so-called complementary medicine approaches in oncology (meditation, guided imagery, qi gong, relaxation strategies, group support) derive directly from physiological principles of neural-immune signaling.
What about your research will be of particular interest to the students?
Certainly in the area of brain immune interaction. My laboratory found the first direct evidence for connections to the brain and the immune system: Physical evidence. And we worked out, over the course of many years, how neurotransmitters released by especially sympathetic and sensory nerves can alter immune response, immune function and immune-related disease. So it's a whole new way of looking at brain immune interaction by molecular signaling and communication. To give you an idea of how important it is in medicine, if you can block adrenergic stress hormone suppression of certain aspects of immune function like natural killer activity, you can actually extend the life of patients with some specific metastatic cancers; it makes a huge difference in ovarian cancer. One recent clinical trial shows it makes a difference of 4.8 years of life just by using a non-specific beta blocker, which I find absolutely stunning.
What does the beta blocker do to keep the cancer from spreading?
Many mechanisms have been proposed. The most straightforward explanation is that it blocks beta receptors that are activated by stress hormones. When the stress hormones activate those receptors in immune sites, it suppressed the ability of natural killer cells to combat metastasis. NK cells also combat viral infection. So the fact that you're blocking the adverse effects of the adrenergic stress hormones—and who facing cancer isn't stressed?—gives you an opportunity to have whatever power your immune system still possesses to work as fully for your benefit as possible. No guaranteed cures but it has certainly shown itself to be beneficial in a number of cancers where clinical trials have been done. To me it's particularly gratifying because my colleague Dr. Shamgar Ben-Eliyahu from Israel and I were talking about this 20 years ago.
You've earned many impressive honors and awards, from the Alfred P. Sloan Foundation Fellowship and John D. and Catherine T. MacArthur Foundation Prize Fellowship to the Andrew W. Mellon Foundation Fellowship. Which meant the most to you and why?
The award that is the most prestigious is the John D. and Catherine T. MacArthur Foundation award, which I was totally stunned to receive because it's an award you can't apply for. In fact, if you inquire about it or apply for it, it harms you rather than helps you. You have to be nominated, you have to go through a process of scrutiny. They committee narrows it down to approximately 100 people and out of 100, they select maybe 20 each year in all walks of life. It's not just academics in medicine. Sometimes it's an author, sometimes it's a musician, sometimes it's someone who sets up a novel educational school for disadvantaged kids. It's amazing the depth and breadth of experience the MacArthur Fellows represent. It's people who are willing to swim upstream against the current. They're willing to do something novel and the MacArthur Foundation is encouraging individuals to take a risk. At the time I received it, I was diving into this neuro immune interaction area and was claiming the nervous system extensively influenced the immune system. Some people were excited about it, some people hated it, many immunologists wanted nothing to do with it because it meant potential competition for grant money and I was right in the midst of great discussion about this. Is it real or is it just more mish-mash? I was showing that neural-immune interactions was hardcore signaling biology. I was deeply honored when Dr. Jonas Salk told me "Dive in, swim upstream, don't let anybody discourage you, talk you out of this or bully you out of it. Stay with it. At the end of your career, you will look back at it and say this is one of the great areas of biology and medicine in the 20th century."
So it was an amazing, ongoing dynamic process of two-way neural-immune communication and the Macarthur Foundation Award that gave me the impetus to keep going no matter what happened. What happened was suddenly the grant money started flowing from other sources because the MacArthur Foundation award was very prestigious. The press jokingly calls it the "genius award." I don't know how joking they are about it but it was enough so NIH Study Sections started paying attention and I ended up with two simultaneous MERIT awards from NIH, one from NIA (aging) and one from NIMH (mental health). These are 10-year grants when you only asked for three years of support. Those were among the greatest awards of my career.
Being asked to author the Netter's atlas [was an honor]. It's the culmination of being asked to put down the thoughts and help refine insights from two of the greatest figures in my career. One of them, the illustrator Frank Netter; the other, Professor Walle Nauta, M.D., Ph.D., from M.I.T.
And of course the teaching awards that I've received from my medical students. How can you ever replace that? It's an acknowledgement by them that they got something out of what you did. I view it to be very important to take a discipline like neuroscience which almost nobody can learn entirely by themselves, and provide a roadmap and organization for it to come alive. Students need a guide to help them through it. To be acknowledged by your students, with a thank you saying "You really helped us understand this otherwise complex field and not be intimidated by it and not frightened away from it, I'm happy now to use it to help my patients." That's a great honor. Because you truly leave something behind for the next generation. Over the course of 40 years, you touch a lot of students.
There are a number of other prizes. Things like the Norman Cousins prize, the Building Bridges of Integration Award from TCM World Foundation. It's nice to be acknowledged for the contributions to a wide range of disciplines because an area like mind-body medicine or neural-immune interactions has an impact on every part of medicine. You can't escape from the nervous system. Just like the expression,"You can't outrun your genes." They control a lot. So does the nervous system.
Watch for Part Two of our Q & A with Dr. David L. Felten, coming soon in the UMHS Endeavour.




(Top photo) DR. DAVID L. FELTEN: Neuroscientist & UMHS Associate Dean of Clinical Sciences. Photo: Courtesy of Dr. Felten
---

About UMHS:
Built in the tradition of the best U.S. universities, the University of Medicine and Health Sciences focuses on individualized student attention, small class sizes and recruiting high quality faculty. For these reasons, UMHS is quickly becoming the school of choice among Caribbean medical schools.
Posted by
Scott Harrah
Scott is Director of Digital Content at UMHS and editor of the UMHS Endeavour blog. When he's not writing about UMHS students, faculty, events, public health, alumni and UMHS research, he writes and edits Broadway theater reviews for a website he publishes in New York City, StageZine.com.