Introduction
UMHS has established the new UMHS Global Health Institute (GHI)—offering everyone from students to alumni the chance to participate in global health missions worldwide—with UMHS professor Dr. Angel Matos as its Director. As one of the leading Caribbean medical schools, UMHS is committed to improving global health and reducing health disparities across the world.
The UMHS Endeavour spoke to Dr. Matos in an exclusive interview about this exciting new venture. We discussed why he decided to create the UMHS-GHI, the four core components of it and how UMHS is now a full member of the Consortium of Universities of Global Health (CUGH) as of October 25, 2018, joining many prestigious universities including such Ivy League schools as Harvard, Princeton and Yale, and more.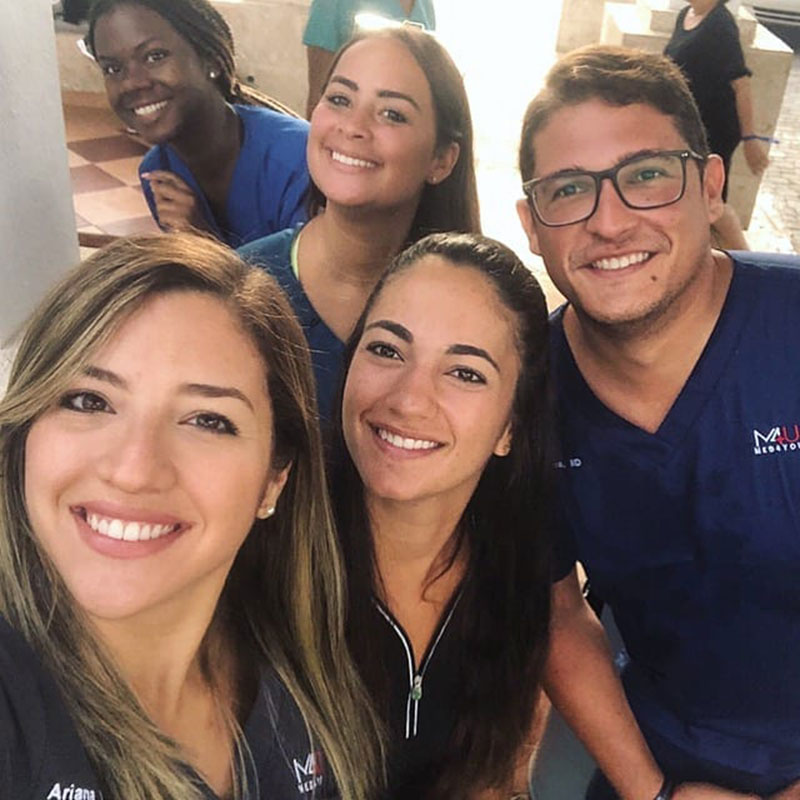 MED4YOU UMHS TEAM: UMHS student Ariana Hernandez (far left) created the nonprofit Med4You & Dr. Matos (far right) helped her also turn it into a student organization. Med4You took UMHS students on medical missions to Guatemala, Puerto Rico & the Dominican Republic. Also pictured: (center) UMHS students & Med4You members Paola Mora & (top center) Endrina Mangual & (top left, in blue) Pryia Simmons. Photo: Courtesy of UMHS Med4You
The Importance of Med4You



UMHS students are probably already familiar with Med4You, the nonprofit founded by UMHS student Ariana Hernandez in St. Kitts. Once Med4You was established as a nonprofit, Dr. Matos said Ms. Hernandez came to him eager to work on global projects and start medical mission trips. Ms. Hernandez and Dr. Matos worked together to make Med4You an important student organization in addition to its function as a nonprofit foundation advocating health care as a human right.
"After traveling to Guatemala, Dominican Republic and Puerto Rico for the Hurricane Maria relief effort, we saw that students gained an amazing experience and knowledge that complemented their education here at UMHS."
Inspired by the success of the Med4You medical missions, Dr. Matos wanted to establish a global health initiative that goes beyond the great work Med4You does. However, it is important to note that Med4You remains a vital nonprofit and is in no way "transitioning" to UMHS-GHI. Both remain separate entities, each with unique purposes.
"I wanted to formalize this and work together with Med4You but more from an academic perspective," he said. "I started doing research to see what other universities are doing and discovered that many institutions conduct incredible global health projects around the world. Most of them organize these initiatives under global health institutes or centers for international medicine. Looking further, I ended up identifying the Consortium of Universities for Global Health. They are located in Washington, DC and were founded in 2008. Initially funded by the Bill and Melinda Gates Foundation and the Rockefeller Foundation, they now have over 170 member institutions including the American Association of Medical Colleges, and all the Ivy Leagues. I talked to President Ross, to the Provost and we decided we want to go further in our commitment with global health."
It is a move that Med4You founder Ariana Hernandez supports.
"I look forward to continue inspiring groups and individuals towards helping disadvantaged communities and humanize medicine," she said.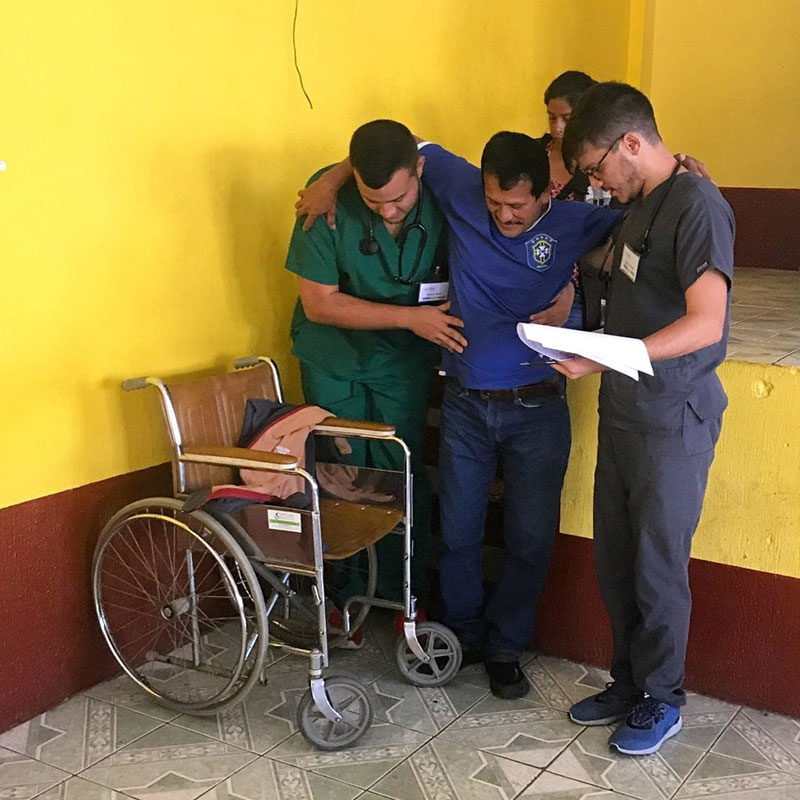 HELPING IN UNDERSERVED AREAS: Inspired by the amazing experiences UMHS students have had on Med4You medical mission trips (pictured), Dr. Angel Matos established the UMHS Global Health Institute to train students in Global Health & contribute to reduce health disparities in the world. Med4You president David Rivera (in green scrubs) helps a patient during a recent medical mission trip. Dr. Matos plans to have trips to the Philippines, Ethiopia & India in the future. Photo: UMHS
Besides U.S. Ivy League universities, other prestigious schools in the Consortium of Universities for Global Health include the London School of Hygiene & Tropical Medicine, McGill University and McMaster University in Canada, just to name a few.
"There are many people working with this along with the CDC [U.S. Centers for Disease Control and Prevention] so it's a great partnership we're doing here by becoming members of the Consortium," Dr. Matos said.
Dr. Matos drafted a proposal to create the UMHS Global Health Institute based on four main components:
Education
Research
Service
Collaboration/Partners
"These are the four components of the institute," he said. "In education, we will identify a new group of Global Health Faculty from our current professors and visiting faculty; they will be generating educational videos and seminars, conferences and strengthen our medical curriculum to educate our students in global health."
"For the research component, we will use resources of the consortium to start creating partnerships with other universities that are actually doing research projects in global health, so we can join their efforts. We have a biostatistics course —which is a core component of public health— we want to integrate Dr. Sudhir Ambati who is the chair of the department to start working with some of his students also in research projects."
The service component is also quite compelling.
"The service component will be very similar to what we are doing now with Med4You," Dr. Matos said. "We're going to develop more structure for our medical mission trips, from learning outcomes to safety and security protocols. We're going to make sure all students develop specific core competencies from their experiences abroad. We've been mostly in Latin America so far but we're looking forward to have experiences in countries like the Philippines, Ethiopia and India."
The UMHS-GHI plans to establish collaborations with departments of health and health ministries of different nations. Dr. Matos said he would also like to create partnerships with the pharmaceutical industry, medical devices companies and other research institutions.
In the proposal presented to UMHS President Warren Ross, Dr. Matos noted that the UMHS-GHI would "develop an annual calendar of two to three medical mission trips per year." Dr. Matos also is identifying interested "MD faculty to be trained and appointed as Clinical Global Health Faculty" and said they would design an "Intervention Model with specific objectives, policies and procedures for medical trips abroad."
An Exciting New Direction For UMHS
UMHS President Warren Ross approved the project. Dr. Matos said everyone at UMHS is "super excited," including Med4You members. "We talked to the Med4You leaders," Dr. Matos said. "We talked to [Med4You founder] Ariana Hernandez and [UMHS Med4You President] David Rivera about this and when they saw the website of the Consortium and what this is all about, they were very supportive. Med4You leaders will be part of the Global Health Institute as the Student Advisory Board, so we will work very close with Med4You on our strategies to go forward and benefit all UMHS Community."
Down the road, there is a possibility of a UMHS Clinical Global Health elective. Webinars and an institutional certificate program in global health are being discussed to enhance our medical curriculum.
Besides the ability to partner with other major universities, including those in the Ivy League group, and opportunities to use data collected from UMHS global interventions for public health research, there is a more important reason why UMHS has started this venture.
"We need to create a way for students to have the consciousness of what's happening in the world," Dr. Matos said.
Dr. Matos cited alarming statistics from the World Health Organization regarding the gaps in health outcomes between developed or "rich" countries and the poorest countries, noting the difference in life expectancy between the richest and poorest countries exceeds 40 years. In a report he gave earlier this year to UMHS officials, he noted the World Health Organization said "our world is dangerously out of balance" and "the gaps in health outcomes, with and between countries, are greater now than any time in recent history.
Annual government expenditures on health range from as little as $1 U.S. per person to nearly $7,000 U.S. So how does this affect students at Caribbean medical schools like UMHS?
"Students need to understand that even though they are studying medicine to practice in the U.S. and Canada, which are both rich [developed] countries, there are other realities, and we need to be aware of that to reduce the gap in access to health care globally," he said.
Student Advisory Board
Students will play a pivotal role in the UMHS-GHI.
"Med4You leaders will be the Global Health Institute Student Advisory Board so all the strategic planning—and all this is going to through them, through the New York administration, and through different areas before any final decision or approval—so Med4You is a big voice and an important part of the institute." Dr. Matos said.
UMHS-GHI for 'All of UMHS'
The UMHS-GHI is something that will be available to the entire UMHS community and not just basic science students.
"The Global Health Institute is for all of UMHS; it's not just a St. Kitts thing," Dr. Matos said. "The Global Health Institute is to include Maine students, students in clinical rotations, students in basic sciences and we are open for those students who are transitioning and waiting to Match; and also for alumni. We want alumni involved and participating in our educational, research, service and collaboration activities in global health."
Coming Soon
Since the Consortium of Universities for Global Health officially made UMHS a member on October 25, 2018, Dr. Matos has been working hard so UMHS has access to all the resources to make the UMHS-GHI a success.
UMHS-GHI will soon have a dedicated website "so that students will have access to educational resources and also be able to see opportunities for research and future travels and have access to all the previous travel with pictures, video clips and all we have done with Med4You in the past," Dr. Matos said.
For more information on the Consortium of Universities of Global Health (CUGH), please visit: https://www.cugh.org/
(Top photo) REDUCING HEALTH DISPARITIES GLOBALLY: Dr. Angel Matos (left) provides assistance to a malnourished child with the help of UMHS students on a recent medical mission trip to Guatemala. Dr. Matos has established the new UMHS Global Health Institute & UMHS is now a full member of the Consortium of Universities of Global Health (CUGH). Photo: UMHS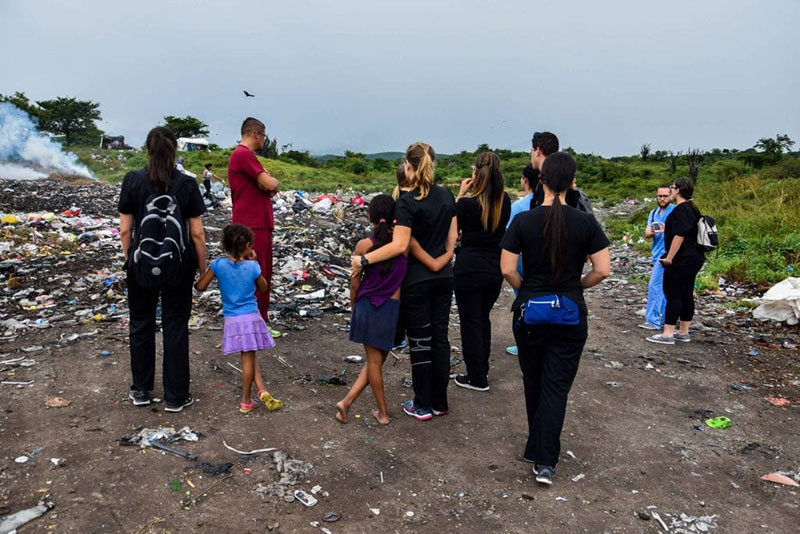 UMHS MEDICAL MISSION WORK IN GUATEMALA: UMHS students with Dr. Matos on a recent Med4You mission to Guatemala. The new UMHS Global Health Institute is a member of the Consortium of Universities of Global Health which includes 170 member institutions, along with the American Medical Associations & Ivy League schools. Photo: UMHS
---

About UMHS:
Built in the tradition of the best US universities, the University of Medicine and Health Sciencesfocuses on individual student attention, maintaining small class sizes and recruiting high-quality faculty. We call this unique approach, "personalized medical education," and it's what has led to our unprecedented 96% student retention rate, and outstanding residency placements across the US and Canada. UMHS is challenging everything you thought you knew about Caribbean medical schools.

Posted by
Scott Harrah
Scott is Director of Digital Content & Alumni Communications Liaison at UMHS and editor of the UMHS Endeavour blog. When he's not writing about UMHS students, faculty, events, public health, alumni and UMHS research, he writes and edits Broadway theater reviews for a website he publishes in New York City, StageZine.com.