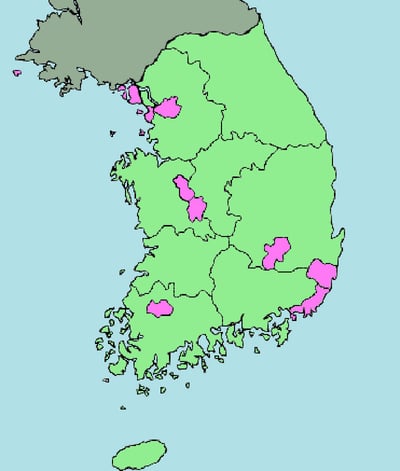 South Korea has a compulsory National Health Insurance (NHI) and everyone is eligible, even expatriates (after receiving an alien registration card from the South Korean government).
(Image, inset right) HIGH LIFE EXPECTANCY: South Korean women have an average life expectancy of 83 years, statistics say. Photo: Wikimedia Commons
In the latest installment of our Health Care Around the World series, the UMHS Endeavour looks at health care in South Korea. We will examine the country's nationalized health insurance, and other health-related factors such as the Korean diet and how the government is tackling the unhealthy high smoking rate.
South Korean Health Care
South Korea's National Health Insurance began covering everyone in 1989.
The website AngloInfo says foreigners living in South Korea "who are registered with the National Health Insurance Corporation receive the same medical benefits and services as Korean nationals.
General hospitals, oriental hospitals (using traditional Eastern medical practices), public health centers and private hospitals are all available.
The website Expatarrivals says both Western and Eastern medicine are covered under the National Health Insurance.
Expatarrivals says private health insurance options are available, but "most of these are more expensive and not as widely recognized as the national scheme."
Below are things of note about South Korean health care from the Expatarrivals website.
Doctors, dentists, dermatologists and specialists are affordable and readily available, in addition to prescription drugs.
Doctors in major cities usually speak English, but it's wise to bring a Korean-speaking friend in smaller towns and cities when seeking medical attention.
Expats are not covered by the National Health Insurance or private health insurance until receiving an Alien Registration Card (ARC) from their local Korea Immigration Service office.
National Health Insurance is a compulsory social insurance system covering the whole population. By law, any company that employs more than five foreign workers must enroll their foreign workers in a health insurance program.
The company is expected to pay 50 percent of their employees' health insurance premiums each month, and employees the other half. This does not apply to expats employed as independent contractors. The amount someone pays towards the NHI is determined in the same way taxes are – on a sliding scale according to how high the person's salary is.
Doctors and specialists will claim most of the costs of a consultation from the NHS.
Expats will directly pay a small premium.
Prescriptions and traditional medicine (acupuncture) are also covered and will incur small costs.
Health of South Koreans
Statistically, South Koreans have a high life expectancy. The website World Health Rankings says average life expectancy for women is 83; 77 for men.
South Koreans eat a diet rich in fish, with lots of noodles and rice. For desert, most eat fruit instead of sweets with processed sugar as fruit is rather expensive in the country.
The smoking rate in South Korea is an unbelievably high 42 percent (the USA smoking rate is currently around 17 percent, according to the Centers for Disease Control and Prevention). Bloomberg Business reported in late 2014 that South Korea was raising taxes on cigarettes, nearly doubling the price to 4,500 won ($4.05 U.S.). For more information, visit http://www.bloomberg.com/bw/articles/2014-12-05/korea-tries-taxing-smoking-into-oblivion


(Top photo) SOUTH KOREA'S NATIONAL HEALTH INSURANCE: Asian nation has had national health insurance program since 1989. Pictured: N Seoul Tower in Seoul, one of the city's landmarks. Photo: Arsen Lupin/Wikimedia Commons
---

About UMHS:
Built in the tradition of the best US universities, the University of Medicine and Health Sciences focuses on individual student attention, maintaining small class sizes and recruiting high-quality faculty. We call this unique approach, "personalized medical education," and it's what has led to our unprecedented 96% student retention rate, and outstanding residency placements across the US and Canada.

Posted by
Scott Harrah
Scott is Director of Digital Content at UMHS and editor of the UMHS Endeavour blog. When he's not writing about UMHS students, faculty, events, public health, alumni and UMHS research, he writes and edits Broadway theater reviews for a website he publishes in New York City, StageZine.com.