February is American Heart Health Month, and this year's Go Red for Women Day is Friday, February 2, 2018. Consider wearing red on this day to help raise consciousness about women's heart issues and the fact that American Heart Association statistics show heart disease kills approximately one woman every minute.

The UMHS Endeavour looks at ways the American Heart Association is helping raise awareness this February about heart disease, the leading cause of death for men and women in the USA. A shocking one in three women dies of heart disease or a stroke each year, according to the American Heart Association.
Go Red for Women February 2, 2018
This year's National Wear Red Day is Friday, February 2, 2018. "Go Red for Women" supports research and education for women's heart health.
Support Go Red For Women by participating and help fund research during American Heart Health Awareness Month.
"That's why this year we are asking that you wear red on National Wear Red Day and Donate to Go Red For Women," the American Heart Association said on its website. "By doing so you help support educational programs to increase women's awareness and critical research to discover scientific knowledge about cardiovascular health."
The Go Red for Women campaign encourages women to "Know Your Numbers" and notes women should know such things as total cholesterol, HDL (good) cholesterol, blood pressure, blood sugar and BMI (body mass index).
"Knowing these numbers can help women and their healthcare provider determine their risk for developing cardiovascular diseases. It's time for all women to learn the most critical numbers in their life — their hearts depend on it," the website said.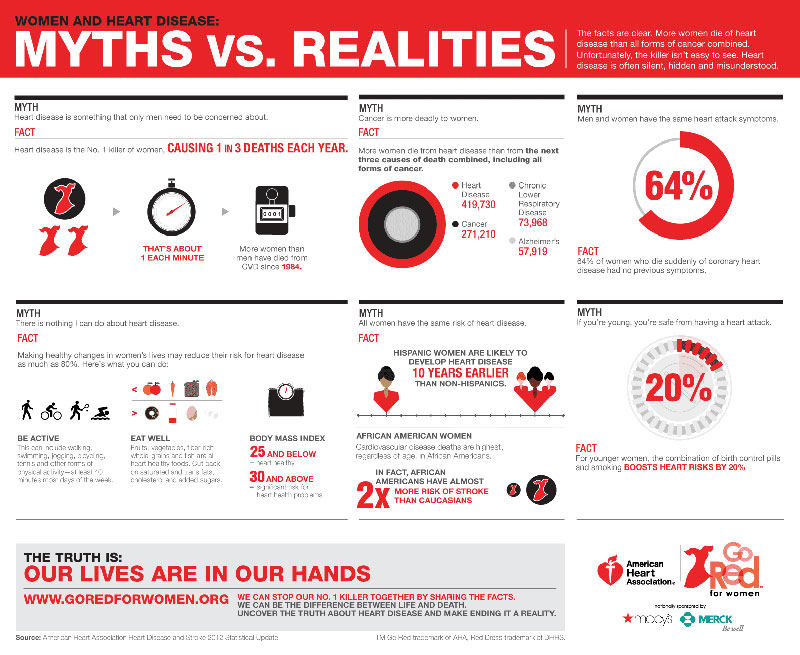 Women and Heart Disease: Myths vs. Realities. Image: Courtesy of the American Heart Association
Facts About Women's Risks
Ethnicity is a factor in heart disease and stroke risk. Hispanic women often develop heart disease 10 years earlier than non-Hispanic women, the American Heart Association said.
In addition, statistics show African-American women have two times the risk for heart disease and stroke than Caucasian women.
Lowering Risk of Heart Disease
What can women do to minimize these risks? Become more active and do such activities as walking, swimming and bicycling and eating healthier foods (more fruits, vegetables, fiber-rich whole grains). In addition, try cutting back on foods high in saturated and trans fats and high-cholesterol and foods with added sugar can help, the association said.
Other tips from the American Heart Association include the following.
Tips to Lower Your Risk
Watch your weight.

Quit smoking and stay away from secondhand smoke.

Control your cholesterol and blood pressure.

Use spices to season food instead of salt.

Only drink alcohol in moderation.
Online Resources
The American Heart Association
Centers for Disease Control and Prevention Heart Disease: Frequently Asked Questions (FAQs)
Centers for Disease Control and Prevention Quit Smoking

Centers for Disease Control and Prevention Heart Disease 101

Department of Health and Human Services, Office of Minority Health Heart Health and Stroke

Department of Health and Human Services, Office on Women's Health Heart and Vascular Diseases

National Institutes of Health, National Heart, Lung and Blood Institute: What is a Heart Attack?


---

About UMHS:
Built in the tradition of the best US universities, the University of Medicine and Health Sciences focuses on individual student attention, maintaining small class sizes and recruiting high-quality faculty. We call this unique approach, "personalized medical education," and it's what has led to our unprecedented 96% student retention rate, and outstanding residency placements across the US and Canada. UMHS is challenging everything you thought you knew about Caribbean medical schools.

Posted by
Scott Harrah
Scott is Director of Digital Content & Alumni Communications Liaison at UMHS and editor of the UMHS Endeavour blog. When he's not writing about UMHS students, faculty, events, public health, alumni and UMHS research, he writes and edits Broadway theater reviews for a website he publishes in New York City, StageZine.com.