UMHS Class of 2021 grad Nisha Hollingsworth, MD LNHA transferred to UMHS from another Caribbean medical school and said "it was the best decision I ever made," especially because of the outstanding clinical rotations. Dr. Hollingsworth is still working as a Licensed Nursing Home Administrator, managing a 109-bed skilled nursing facility with a Covid unit, but this summer she will start a Neurology residency at West Virginia University in Morgantown, West Virginia.
The UMHS Endeavour spoke to Dr. Hollingsworth regarding what interests her about Neurology and her upcoming residency, being a nontraditional student, working at a nursing home while attending medical school, how she became interested in medicine, why she chose UMHS over other Caribbean medical schools, her thoughts on medical students of color, and more.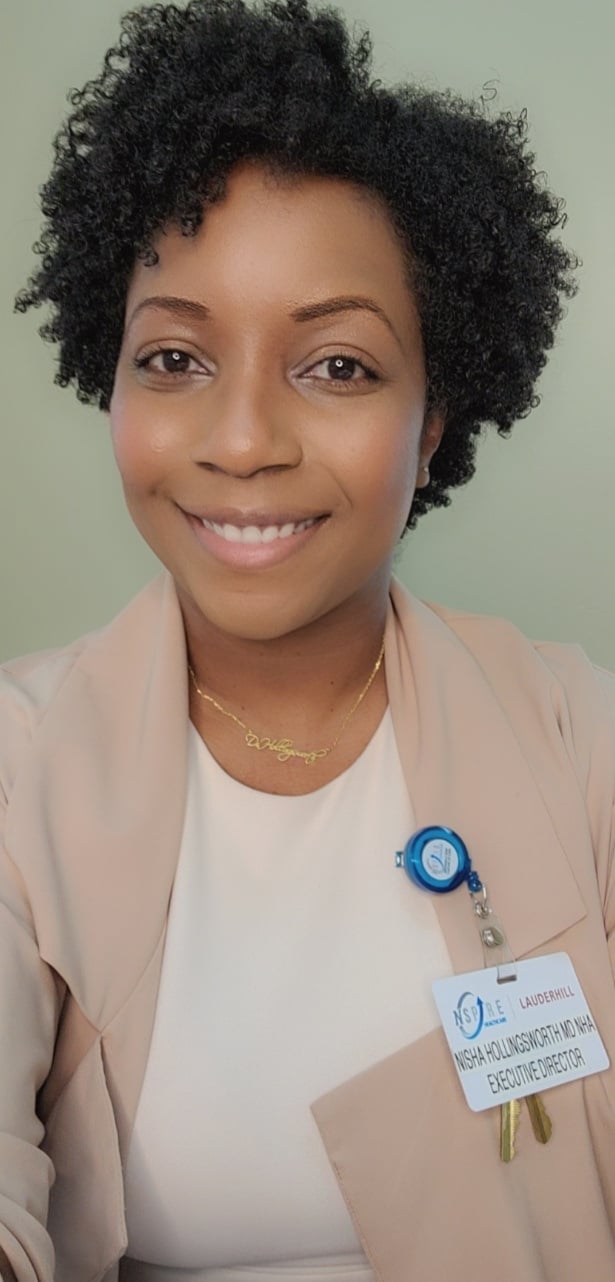 Dr. Nisha Hollingsworth in the office after a Nurse's Week event. Photo courtesy of Dr. Hollingsworth.
Love for Neurology
Dr. Hollingsworth is originally from Barbados, West Indies. Her parents immigrated to New York when she was three years old. She grew up in both New York and South Texas but now calls South Florida home. She has been working as a licensed Nursing Home Administrator at a skilled nursing facility. Her experience in this field helped foster an interest in Neurology, ultimately leading to obtaining a residency in this area of medicine.
"My love of neurology definitely stemmed from my time spent in skilled nursing facilities," she said. "While I was not directly involved with patient care, I was still very involved with patients and families. Everyone that comes into a SNF [Skilled Nursing Facility], even those with the same diagnoses, [are] all different. I have seen maladies that others would only read about in textbooks. I've seen every type of dementia and movement disorder there is, from Alzheimer's to Korsakoff to Huntington's and Hemiballismus. Seeing the disease progression and treatment, it is always fascinating and once I learned that neurologists were the ones helping to diagnose and treat these conditions, that was it for me; I knew it's what I wanted to do. Neurology gives me the ability to stay in long-term care and geriatrics and, at the same time, be a part of an ever-evolving field of medicine."
Dr. Hollingworth has many reasons for wanting to go into Neurology. What areas interest her the most?
"If I had to choose, it would definitely be cognitive disorders and strokes. If I only worked with those groups for the rest of my life, I'd be challenged professionally and happy personally for the work I get to do every day. Dementias are like nothing in this world; they are so varied in type and drastically varied in each person. When you're in this setting day in and day out, you learn to appreciate the nuances of each. With strokes, my fascination came from seeing those coming in for rehabilitation and literally having to relearn how to be themselves, from speaking, to walking, to just existing; everything becomes new."
She is thrilled to be starting residency at West Virginia University this summer.
"Saying that I am excited would be an understatement. The program, where it is located, in Morgantown, it borders Ohio and Pennsylvania, lending to a varied treatment population. In learning about the curriculum, I truly believe it will make me the best general neurologist I can be. As a plus, they are the only comprehensive stroke center in the state, and with my interests in fellowship opportunities in vascular neurology, which they also have, I feel it is the best place for me. The university also has many opportunities in novel research through the WVU Rockefeller Neuroscience Institute."
"I am confident that by going to such a great program at WVU, I will get the training I need to be an excellent neurologist," she said. "My goals outside of this are honestly to one day be an advocate for the field and help others to see the beauty in it rather than shying away. I especially want to help medical students of color realize there is a place for them as well; if I can do it, I know anyone can with some grit and sheer dedication."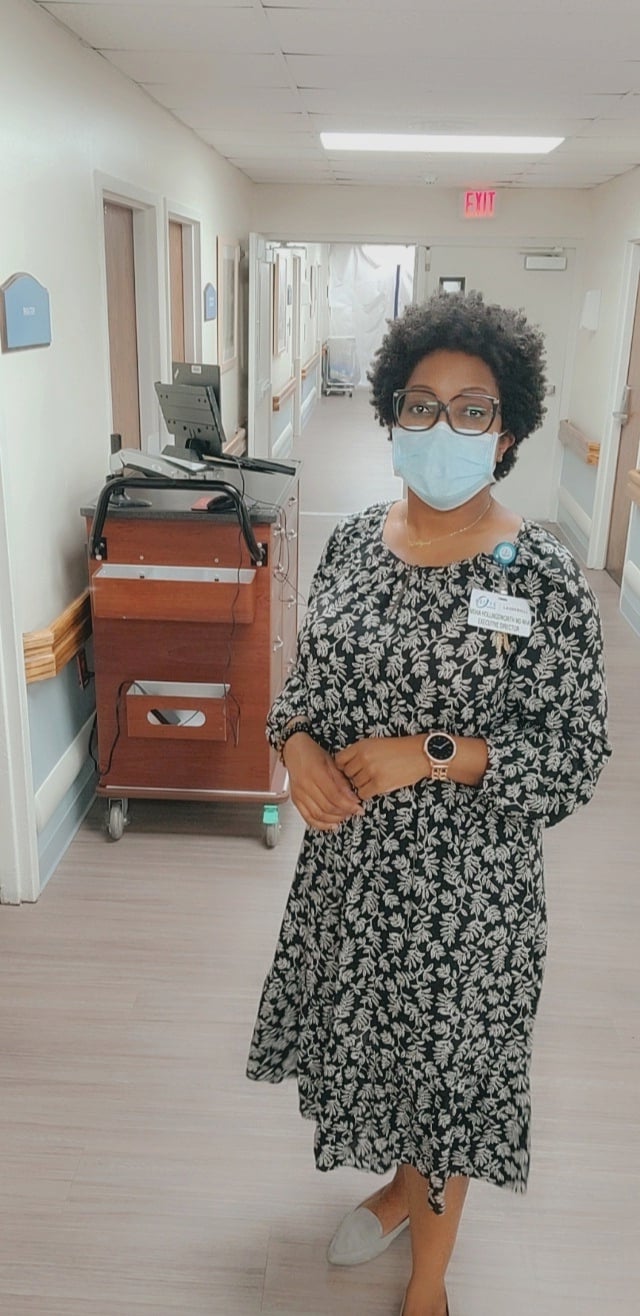 Dr. Hollingsworth in front of the COVID-19 unit at her nursing home. Photo courtesy of Dr. Hollingsworth.
Work as a Licensed Nursing Home Administrator
While in med school, Dr. Hollingsworth has continued managing a 109-bed Skilled Nursing and Rehab Facility with a Covid unit and has kept her NHA license active. Has it been difficult juggling school and work?
"Being a Licensed Nursing Home Administrator, or Skilled Nursing Facility Administrator was always an interesting and challenging job," she said. "It's a part of health care administration few know about. To become licensed, I completed a state-regulated, one-year apprenticeship after my bachelor's degree. I then had to take a National Board of Administrators exam and a State Rules and Regulations exam. Every two years I have to complete CEUs to maintain my license. Having done all of that, there was no way I wouldn't keep my license active even through medical school. I think it also gave me security to keep pushing in school that should I fail; I have a secure 'plan B.'"
How did she start working at her current facility?
"A former boss of mine from a previous company, who is now the President of Nspire Healthcare where my mother currently works as a Nursing Home Administrator as well, contacted her about the position. She needed an interim administrator at this particular building until she found a permanent placement and asked if I could help out until residency. My time in this building has been exciting due to many new changes in long-term care, especially now since COVID-19. Upon my arrival, I had to get the facility ready for a safe reopening to the public following CMS and CDC guidelines. It has been wonderful to see families spending time with their loved ones again after nearly a year apart. I experienced a Joint Commission survey, a new process to LTC as well. Throughout this time, I have been able to lean on my mother's expertise in the industry as she helped me get back into the swing of things. Every day in a skilled nursing facility is different; the patients vary from acute needing IVs, wound care and breathing treatments, to long-term management. If anything, my time now back in the facilities has solidified my commitment to long-term care, memory-care, and geriatrics, which I plan to return to in one capacity or another after residency. I've grown up in skilled nursing facilities; my first job in high school during summer break was in a facility my father managed. I look up to him as well given he's been in this industry over 30 years now and won numerous care awards, like the Governor's Gold Seal, awarded only to the best facilities in Florida. I've been fortunate to see the good side of these health care facilities and hope to be a part of compliance and regulation changes one day to truly uplift the long-term care industry from under the shadow it currently sits."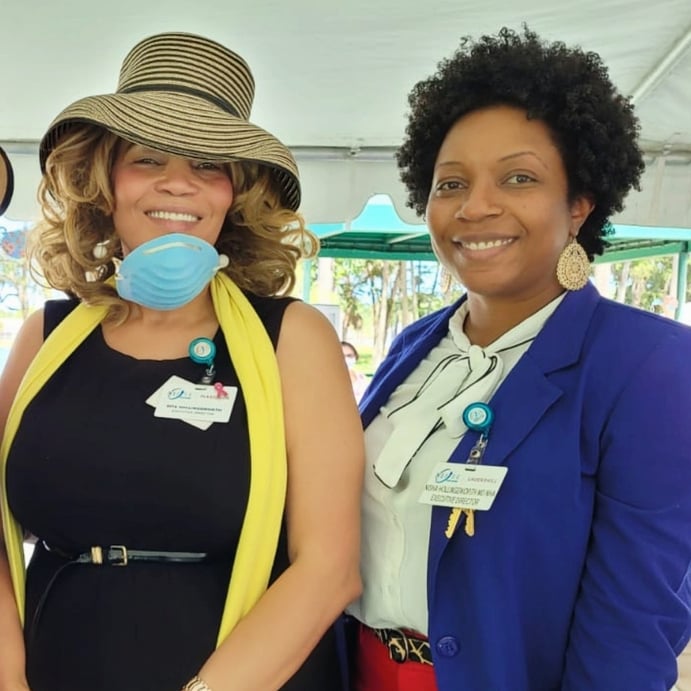 Dr. Nisha Hollingsworth (right) with her mother, Rita Hollingsworth, LNHA MSW. "She is also a NHA and I am literally sitting in the same seat, same office that she held last year before moving to her current facility in the same company," Dr. Hollingsworth said. "My mother also started the first COVID-19 unit within a nursing home in Broward County FL, so she could protect her residents. I have recently leaned on her recent expertise in managing my current building." Photo courtesy of Dr. Hollingsworth.

Journey through medical education
Dr. Hollingsworth always thought about becoming a doctor, but she explored many academic options along the way as both an undergraduate and graduate student.
"I think I always knew, even as I took winding roads, my parents definitely knew," she said regarding her early interest in becoming a physician. "They remind me often of my love of science and experiments when I was a child. I started college in high school my junior year through a concurrent enrollment program with the local university but by the time I entered school full-time traditionally, I had decided on law school. My undergraduate degree is in history, but I ended up completing a post-baccalaureate degree in biology just to keep my options open."
Transferring to UMHS
Once the decision to become a physician was made, Dr. Hollingsworth started out at another Caribbean medical school but she soon decided to transfer to UMHS.
"I think what really made the difference for me was the access to great clinical rotations, which are extremely important to becoming a physician and especially in the ERAS/Match process," Dr. Hollingsworth said. "Many people say that the rotations don't matter, or they are not considered, but in my experience, it has been quite the opposite. I was directly asked about certain rotations during the interview process and it wouldn't have been possible had I not decided to attend UMHS."
Certain staff members in New York and Maine also helped Dr. Hollingsworth along the way.
"The people that stand out the most to me are Mia Jaworski [Associate Director of Academic Support & Student Affairs in Maine] and [Associate Dean of Academic & Student Affairs in New York] Patrick McCormick and his department in general. Mia holds a special place for me, especially after I transferred. She was the first staff member I spoke to about my Step 1 score, which was not as I would have liked, and she instantly made me feel seen, heard, and understood. She may not know, but in that first conversation with her, I was already feeling pretty nervous about my future in medicine. Everyone places so much weight on test scores; she helped me to regain some confidence and understand that the whole person matters and not just a score. Secondly, Patrick McCormick and [Professional Development Advisor] Garrett Eisler were invaluable during the Match process. Reaching the moment of finally applying to residency is a big part of one's medical career. They were both always available to help, no matter what time, always responding to messages and emails. I never felt like a question or request was too small nor too trivial. Patrick specifically helped me through a difficult time dealing with administration, without which I'm not sure I would even have gotten the residency I currently have. COVID-19 has been burdensome on everyone, testing all of our limits, but the three of them set all of that aside and helped me get through some of my more trying times during medical school, and I'm so grateful to each of them."
Advantages of Caribbean medical schools
Some are skeptical about Caribbean medical schools, but Dr. Hollingsworth found that there were many advantages involved with attending UMHS, particularly for nontraditional students and others who do not follow a conventional path.
"There are advantages that will help in your medical career—most importantly grit," she said. "If someone wants to be a doctor, they will find any way possible to make that dream come true, and that I've found is characteristic of Caribbean medical students. We know what it means to put in the hard work, even if our path does not follow the typical trajectory. In fact, it is because of this I feel we are better prepared for the trials and tribulations of medical school, residency and beyond. Nothing is handed to Caribbean medical students; we are forces to be reckoned with and shine through our successes against all the odds."
UMHS helped Dr. Hollingsworth sharpen many skills, and one in particular stands out.
"Definitely my communication skills," she said. "I know that is cliché to say but, in this context, it is very valid. Having to communicate many times across distant platforms and do so effectively to be heard and understood is difficult. I do not think I would've accomplished what I have in medicine were it not for learning effective communication with UMHS administration, learning to advocate for myself when scheduling rotations and especially during the past year with COVID-19 when email and so forth were our only options."
Dr. Hollingsworth said the ability to obtain quality rotations really helped her with the Match.
"I was able to complete electives in Neurology, Geriatrics, and Physical Medicine and Rehabilitation. They are all part of the same continuum of care. I was asked specifically about my experiences in these rotations during interviews. I think it was with these that I was able to have a targeted application towards my interests."
First and foremost, any UMHS student looking to apply for the residency Match should first seek the guidance of the UMHS Academic & Student Affairs Department. When going on interviews for residencies, Dr. Hollingsworth said it helps to talk about everything that you feel qualifies you for the slot.
"For the Match process, I definitely learned that we must not undervalue our experiences. If it was significant to you, find a way to mention it and help it stand out. I think the only reason I secured such a great match at a large university program is solely because I gave credit to my past as a nursing home administrator. One of my first jobs after becoming licensed was in West Virginia, helping a facility maintain its CMS credentials. While I received other interviews, some from community programs, it was this particular experience that I know helped me secure the interview with West Virginia University."
The future of medicine after COVID-19
As the COVID-19 pandemic winds down, much has been learned about dealing with an evolving, unprecedented health crisis. The need for solid medical professional has never been more evident to the public.
"This pandemic has definitely shined the importance of being a doctor and even a health care worker like nurses as well," she said. "I think it has given everyone a renewed appreciation of doctors; I couldn't be prouder going into this profession. We were going into a generation where children aspired to be reality TV stars. Now when you see enrollment of health professional schools on the rise, it's all because of COVID-19."
However, the pandemic has been especially hard for medical students.
"I think that COVID-19 was a great test to everyone's resolve and perseverance towards their goals. I was lucky enough to have finished my clinical rotations at the height of the pandemic, but I still had the unfortunate circumstance of having Step examinations cancelled due to prometric closures. I think every medical student was tested during this time, and I have seen many come out on the other end more resilient and determined than ever."
Proud to represent Women of Color in medicine
For Dr. Hollingsworth, one of the biggest rewards of obtaining her residency is knowing that Women of Color are able to start working in areas of medicine that they did not have access to in the past.
"I am just proud and honored to be going into such a fascinating field. As a black woman, underrepresented in medicine, but vastly underrepresented in the field of Neurology with less than one percent, I am beside myself that I can be a part of its forward progression."
(Top photo) Dr. Nisha Hollingsworth at work. Photo courtesy of Dr. Hollingsworth.

Posted by
Scott Harrah
Scott is Director of Digital Content at UMHS and editor of the UMHS Endeavour blog. When he's not writing about UMHS students, faculty, events, public health, alumni and UMHS research, he writes and edits Broadway theater reviews for a website he publishes in New York City, StageZine.com.