Born in India, Dr. Aamir Akram came to the United States when he was just 10 and grew up in Frederick, Maryland (an hour from Washington, DC and Baltimore). He said we wanted to become a doctor "for the longest time," starting in middle school when he was first exposed to biology.
"I was fascinated about the human body and wanted to learn everything about how it works," he said.
The UMHS Endeavour spoke to Dr. Akram this week, right before he started his Internal Medicine residency on July 1st at Wright State University Boonshoft School of Medicine in Ohio.
Why he chose UMHS
Dr. Akram studied Physical Sciences as an undergraduate. When it came time to apply to medical schools, he had specific things in mind.
"I wanted to attend a medical school that had a combination of three things: 1. Small class sizes where I can have a more personalized learning experience. 2. Excellent faculty dedicated to teaching inside and outside the classroom. 3. A solid track record of successful graduates who have pursued careers I was interested in. And UMHS was the one that had all three of this so it was an easy choice for me."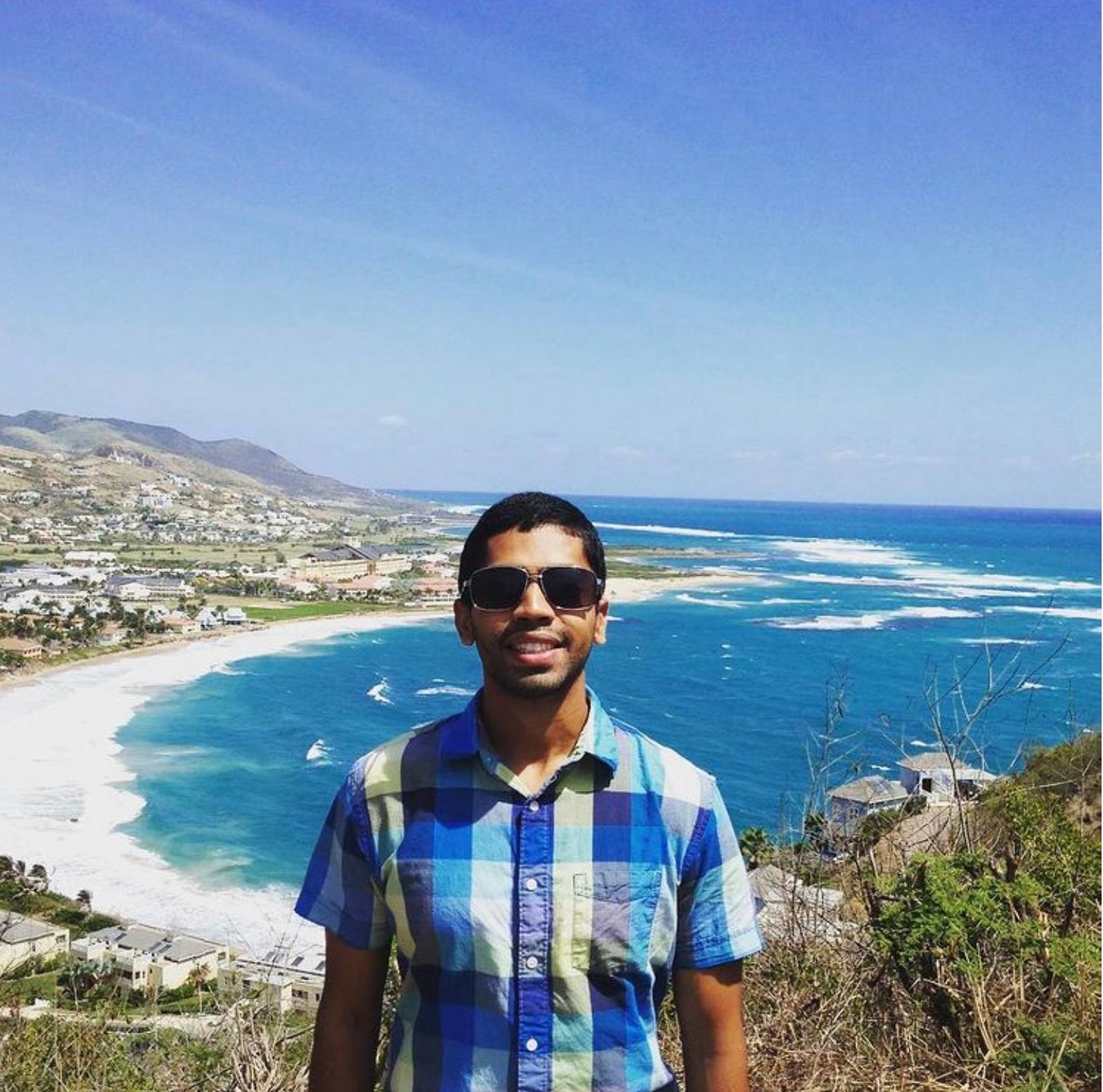 Dr. Akram in St. Kitts. Photo courtesy of Dr. Akram.
Internal Medicine residency
Dr. Akram is excited about his Internal Medicine residency at Wright State University Boonshoft School of Medicine in Dayton, Ohio.
"Wright State was my number one choice and I am beyond excited to have matched there," he said. "One of the reasons I rated it highly is because there are three clinical sites where you complete your rotations. Miami Valley Hospital is the main site and is a large tertiary care center, while the other sites are the Dayton VA and the Wright-Patterson Air Force Base. This unique model of training is something that really pulled me to this program."
He said he likes Internal Medicine because he is fascinated by the versatility of the specialty.
"One moment you can be managing a person with COVID-19 who is struggling to breathe, while the next moment you can be treating a delirious patient trying to climb walls. Each patient is a puzzle and each puzzle is so different from the other that it requires you constantly keep changing your way of thinking. You are forced to have a broad knowledge base and regularly update it, while using it to treat acutely and chronically ill patients with utmost compassion and care. There is lifelong learning with Internal Medicine that I am excited about."
He has many objectives for his residency.
"Right now, my main goal for residency is to learn as much as possible, both in the hospital and at home. I want my intern year to lay a solid foundation for not just my residency but for the rest of my medical career year as well. Apart from this, I want to establish good professional and personal relationships with my colleagues as it is vital to have a good support system during residency, and it also enhances the learning process."
---
Discover if a career in Internal Medicine is right for you.
Learn why 75% of doctors would choose a career in medicine again.
---
Advantages of UMHS
Dr. Akram discovered that there were many advantages of attending UMHS, especially when it was time for residency interviews.
"Many places I interviewed were interested in my time in St. Kitts which I enjoyed sharing about. They also were curious about the fact that I got to experience a multitude of clinical environments during my rotations and saw that as a strength. The fact that I moved so much during my medical career helped me get interviews across the United States as it showed them that I was independent, flexible, and quick to adapt to changes. "
He finds it difficult to name just one professor or staff member who helped make a difference during his years at UMHS.
"Honestly, each and every professor I encountered in St. Kitts and Maine was instrumental in positively shaping my learning experience," he said. "They went well beyond their duties to ensure that we all learned everything required of us to be future practicing physicians and did so with a passion and excitement that was unmatched."
However, one UMHS professor definitely made an impression.
"I remember one particular instance where Dr. Prakash Mungli finished teaching about half an hour early to spend the rest of his time telling us about his life story. How he persisted to attain his goals despite the hardships he faced was really inspiring and motivated me to do really well that semester. It's these added wisdom from the professors that were helpful."
UMHS also taught Dr. Akram requisite characteristics for being a good physician.
"Compassion is probably the most important characteristic for a physician to acquire and that has been embedded in us since our first Physical Diagnosis class and reinforced throughout basic sciences and preclinical semester in Maine. Another important characteristic that a physician needs to have is a relentless passion for learning. This is best exemplified by the faculty who are as excited to teach us medicine as we are to learn it. It's safe to say we very much feed off of their energy—which is awesome."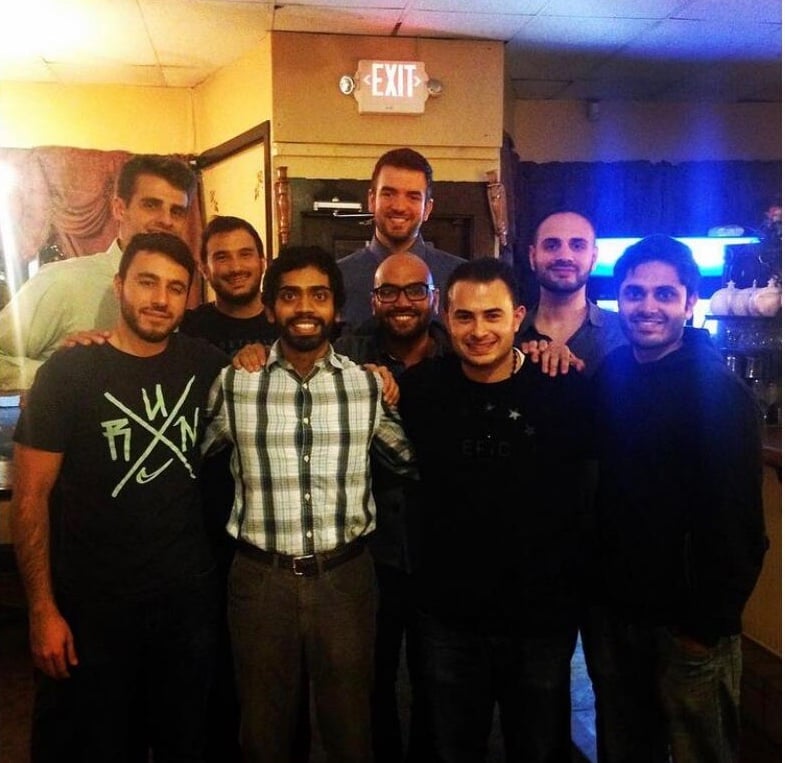 Dr. Akram with a group of UMHS friends. Photo courtesy of Dr. Akram.
Advice on the Match
Dr. Akram said the overall experience at UMHS helped him Match.
"The fact that I went to St. Kitts for a couple years, followed by diverse clinical experiences that started all the way North in Maine, and ended all the way south in Miami, stood out to programs. Also, organizing and participating in various health fairs in St. Kitts and in the States was a way to show my compassion in action."
He said not to get too nervous or anxious about the residency Match.
"Enjoy the process. Let me be more specific: Don't see each step in the journey as a hurdle. See it as a new opportunity instead. Whether it's an upcoming block exam which is causing a lot of distress, or it's undergoing the Match cycle, try your best to have a positive mentality. Put the past behind you and focus on what's ahead. Nerves can always get the better of you and limit you from reaching your potential. Nobody is perfect. But you're in medical school and will be applying to residency because you 100% deserve to be there. Don't let anyone or anything, such as a bad grade or a poor Step score, tell you otherwise. You have to be your biggest proponent, not just to others but for yourself. You can push yourself to the top, or drag yourself to the bottom. The choice is yours. Make the right one."
COVID-19 lessons & making it in med school
This is a vital time to be a doctor as the world slowly moves beyond the COVID-19 pandemic.
"This might be the most crucial time to be a doctor in more than a century and the public definitely has a better understanding and appreciation for doctors after what has happened in the past year. Doctors were always held in high regards due to the nature of the profession. But never once before the pandemic have I seen them referred to as heroes like they are now. It is nice to see banners along the highways thanking all healthcare workers for their relentless efforts during this pandemic. It highlights the importance of your work."
What are some of the major takeaways from the pandemic?
"Perhaps the biggest thing most medical students have learned from the pandemic is that you have to be able to respond to a stressful situation in an instance," he said. "Even if you don't know anything about what you're facing, you have to be able to come up with a management [plan] using what you know. And if you are still clueless, just try to help as much as you can in that situation."
Dr. Akram has advice for prospective and current medical students who might feel overwhelmed by the challenges they will inevitably encounter.
"Relax! Take a deep breath. You have it in you to succeed. Don't stress and overthink. Take it one step, one block, one quiz, one lecture, and one slide at a time. Don't get ahead of yourself. There will be a lot of stress in this journey. Don't let it overwhelm you. Use it as an extra fuel. You got this; just believe in yourself and enjoy the journey."
(Top photo): Dr. Aamir Akram. Photo courtesy of Dr. Akram.

Posted by
Scott Harrah
Scott is Director of Digital Content & Alumni Communications Liaison at UMHS and editor of the UMHS Endeavour blog. When he's not writing about UMHS students, faculty, events, public health, alumni and UMHS research, he writes and edits Broadway theater reviews for a website he publishes in New York City, StageZine.com.