Illnesses caused by mosquitoes, ticks and fleas have tripled in the USA in the past 13 years, causing concern as Americans gear up for outdoor activities this summer, according to a news release from a Centers for Disease Control and Prevention (CDC) report issued this week.
The UMHS Endeavour looks at the details of the report, what diseases are on the rise, what is causing the problem, and how doctors and medical students can help Americans protect themselves.
9 New Germs Spread by Mosquitoes & Ticks
The CDC says diseases spread by mosquito, tick and flea bites tripled in the USA from the period of 2004 to 2016, with more than 640,000 cases.
"Nine new germs spread by mosquitoes and ticks were discovered or introduced into the United States during this time," the release said, referring to the Vital Signs report issued by the CDC.
"Zika, West Nile, Lyme, and chikungunya—a growing list of diseases caused by the bite of an infected mosquito, tick, or flea—have confronted the U.S. in recent years, making a lot of people sick. And we don't know what will threaten Americans next," said CDC Director Robert R. Redfield, M.D. in the release. "Our nation's first lines of defense are state and local health departments and vector control organizations, and we must continue to enhance our investment in their ability to fight against these diseases."
America Must Be 'Better Prepared'
The USA needs to be "better prepared to face this public health threat," the report said.
Sixteen vector-borne (arthropods like mosquitoes, ticks and sandflies) illnesses, all reported to the National Notifiable Diseases Surveillance System from 2004 to 2016 were analyzed by CDC scientists. They found the most common tick-borne diseases in the U.S., as of 2016, were Lyme disease and ehrlichiosis/anaplasmosis (two illnesses similar to Rocky Mountain spotted fever but often without a rash). The report noted reported tick-borne diseases "more than doubled in 13 years," and while diseases from ticks vary from region to region of the country "those regions are expanding."
West Nile, dengue and Zika (particularly dangerous for pregnant women because it causes babies to be born with birth defects) were the most common mosquito-borne viruses. Plague—although quite rate—was the most common disease caused by a bite form an infected flea.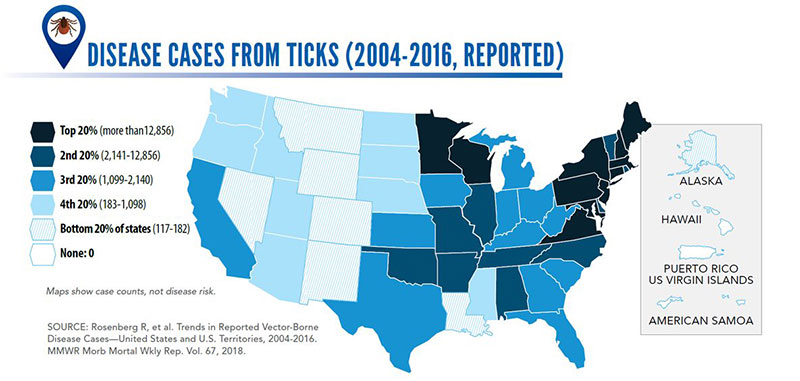 Infographic: Courtesy of CDC
Cause of Increase
The CDC cites numerous reasons for the increase in vector-borne diseases, noting that "mosquitoes and ticks and the germs they spread are increasing in number and moving into new areas. As a result, more people are at risk for infection."
Zika, a mosquito-borne illness that has received a lot of media coverage for outbreaks in Florida, Puerto Rico and Texas, is troublesome because people often get infected by a mosquito in a foreign country and then "unknowingly transport it home."
How Doctors & Med Students Can Help Patients Protect Themselves
The CDC has listed ways the public can be protected, including the following:
'Use an Environmental Protection Agency-registered insect repellent. [http://bit.ly/2tIJyLl]"
"Wear long-sleeved shirts and long pants."
"Treat items, such as boots, pants, socks, and tents, with permethrin or use permethrin-treated clothing and gear."
"Take steps to control ticks and fleas on pets."
"Find and remove ticks daily from family and pets. [http://bit.ly/2nSlO3S]."
"Take steps to control mosquitoes, ticks, and fleas inside and outside your home. [http://bit.ly/2aexzI4 and http://bit.ly/2DbY6E3]."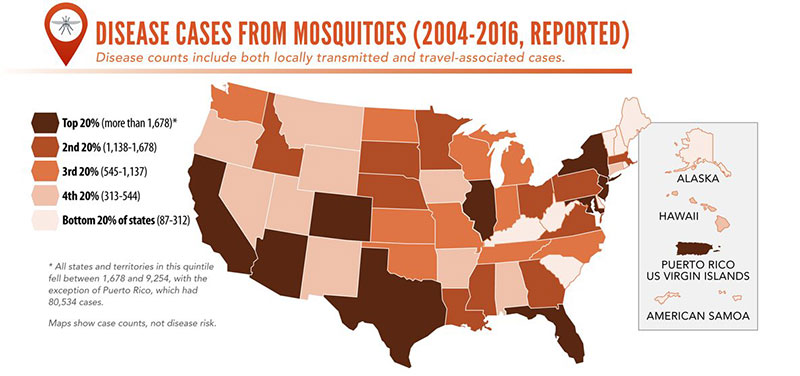 Infographic: Courtesy of CDC
---

About UMHS:
Built in the tradition of the best US universities, the University of Medicine and Health Sciences focuses on individual student attention, maintaining small class sizes and recruiting high-quality faculty. We call this unique approach, "personalized medical education," and it's what has led to our unprecedented 96% student retention rate, and outstanding residency placements across the US and Canada. UMHS is challenging everything you thought you knew about Caribbean medical schools.

Posted by
Scott Harrah
Scott is Director of Digital Content & Alumni Communications Liaison at UMHS and editor of the UMHS Endeavour blog. When he's not writing about UMHS students, faculty, events, public health, alumni and UMHS research, he writes and edits Broadway theater reviews for a website he publishes in New York City, StageZine.com.