The third episode of the UMHS podcast, Dextrocardia, hosted by second-year UMHS medical student Nihal Satyadev, debuts Tuesday, September 29, 2020. UMHS student and Cell Biology and Biochemistry Teaching Assistant (TA) Keyla Galloza Acevedo is interviewed.
What is the best enzyme? How do you memorize an ungodly number of pathways? What is a hybrid class? Ms. Acevedo answers these questions and many more as she tells us her secrets for doing well in biochemistry.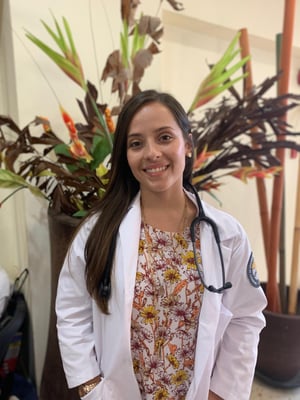 (Inset, right): UMHS student Keyla Galloza Acevedo. Photo: Courtesy of Ms. Acevedo.
Ms. Acevedo was born and raised in Puerto Rico. She is currently an EBS3 student, soon to be EBS4 in the University of Medicine and Health Sciences in St. Kitts. Apart from studying, she is a member of the Brainstorms club on campus. In addition, she has been a Cell Biology and Biochemistry TA. Before becoming a medical student, she graduated as an Industrial Microbiologist from the University of Puerto Rico Recinto Universitario de Mayagüez and had the opportunity to shadow a urologist and a gynecologist. In her spare time, she enjoys playing volleyball, reading, and watching baking shows as well as trying new culinary recipes with her family. She also likes to educate herself on the subject of human trafficking by following the Safe House Project and other affiliated organizations with the goal to end child trafficking.
Dextrocardia features interviews with fellow medical students, medical school faculty, and medical practitioners on everything from how to succeed in medical school, to fighting racial inequality in medicine and how medical students are working in the BLM movement.
Episodes are released every other Tuesday. Dextrocardia is available on Apple Podcast, Spotify and Podbean.
Subscribe to Dextrocardia below:
(Top photo): UMHS student Keyla Galloza Acevedo, interviewed on Dextrocardia Podcast Episode 3. Photo: Courtesy of Ms. Acevedo.
---
About UMHS:
Built in the tradition of the best U.S. universities, the University of Medicine and Health Sciences focuses on individual student attention, maintaining small class sizes and recruiting high-quality faculty. We call this unique approach, "personalized medical education," and it's what has led to our unprecedented 96% student retention rate, and outstanding residency placements across the USA and Canada.

Posted by
Scott Harrah
Scott is Director of Digital Content & Alumni Communications Liaison at UMHS and editor of the UMHS Endeavour blog. When he's not writing about UMHS students, faculty, events, public health, alumni and UMHS research, he writes and edits Broadway theater reviews for a website he publishes in New York City, StageZine.com.