(Coronavirus) has been declared a global pandemic by the World Health Organization (WHO) and the U.S. government has declared a national emergency in the USA. No cases have been reported in St. Kitts at this time.
The UMHS Endeavour is committed to giving everyone from students and staff to faculty and the general public facts and information to keep people healthy and assuage fears and panic. We are reaching out to our faculty, some of whom are experts in microbiology and viruses, to give everyone current and accurate information.
Here is the latest information from UMHS faculty about COVID-19.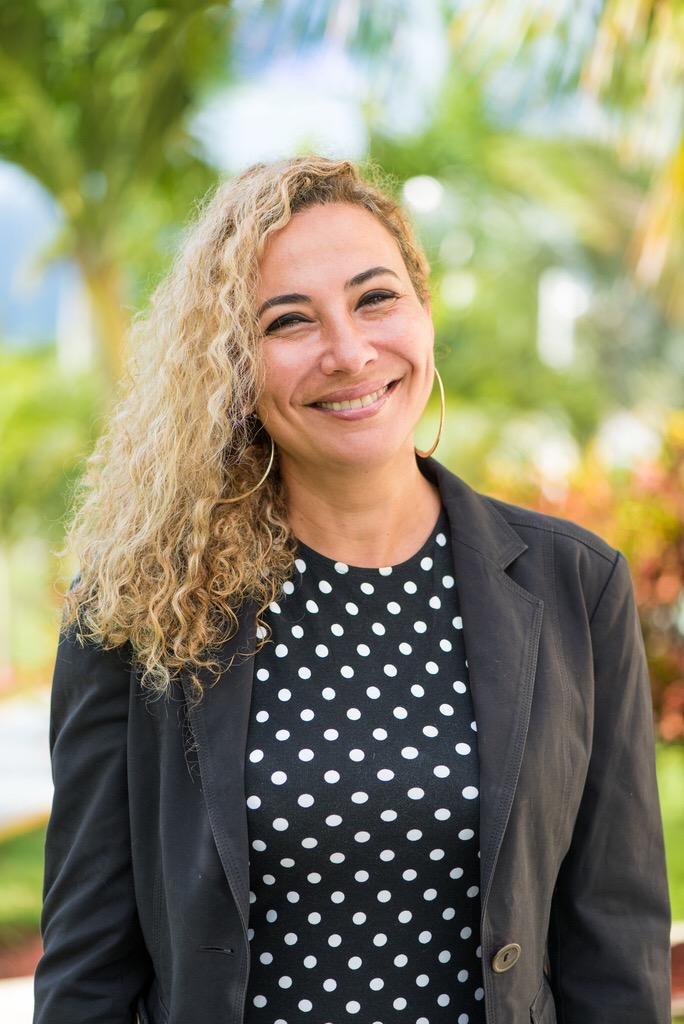 DR. RANIA SIAM: UMHS Course Director and Professor of Microbiology. Photo: UMHS.
UMHS Professor Dr. Siam's Advice
The UMHS Endeavour spoke to Rania Siam, MD, PhD, UMHS Course Director and Professor of Microbiology. Dr. Siam gave advice and facts for students, staff and the public about the pandemic.

"The recent coronavirus is a new strain of coronavirus, now named SARS-CoV-2 virus (the virus that causes COVID-19)," Dr. Siam said. "Coronavirus is a family of viruses that includes the common cold, MERS (Middle East Respiratory Syndrome) and SARS (Severe Acute Respiratory Syndrome). Coronaviruses are circulating between animals and can be transmitted from animals to humans. COVID-19 strain was not previously identified in humans."
MERS, which first surfaced in Saudi Arabia in 2012, and SARS, which emerged in the Guangdong province of China in 2002, were also coronaviruses that spread from animals to humans, according to the WHO website.
Although COVID-19 strain was not discovered in humans until an outbreak in Wuhan, China in December 2019—believed to have originated in butchered bats and pangolins in an outdoor exotic animal market—Dr. Siam said that based on what we know about other coronaviruses, we can prevent the spread of COVID-19 by taking the following precautions:

1. Basic hand hygiene (frequent washing of hands with soap and water for at least 20 seconds or the frequent use of alcohol-based sanitizers).
2. Basic respiratory hygiene (when you sneeze, do so into your elbow or in a Kleenex then dispose of it and wash your hands/ maintain at least two meters (or six feet based on Centers for Disease Control and Prevention rules in the U.S.) between you and anyone who sneezes or coughs/avoid contact with eyes, mouth and nose).
3. Protect yourself from potential animal sources (avoid unnecessary and unprotected contact with live animals and wash your hand after contact with animals and thorough cooking of meat before eating).
4. Stay home if you don't feel well. If you have a fever and cough, call your doctor.
5. Stay up to-date on COVID-19 (use reliable sources like the CDC and WHO).

How does Dr. Siam interpret the estimated range of fatality rates we are seeing reported?

"COVID-19 causes a respiratory illness that causes fever, cough and shortness of breath," she said. "People at higher risk of severe illness with COVID-19 infection includes elderly, and individuals with chronic conditions as diabetes, cardiovascular diseases and lung diseases."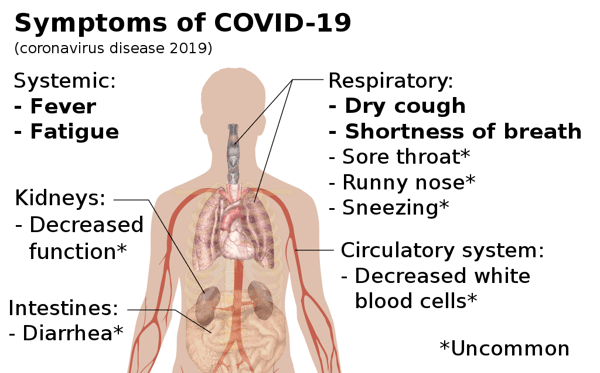 Image: Wikimedia Commons
What Should Clinical Students Do?
Dr. Siam urges clinical students to follow the Centers for Disease Control (CDC) "Information for Health Care Professionals" at https://www.cdc.gov/coronavirus/2019-nCoV/hcp/index.html
In addition, she said clinical students should take note of the CDC infection prevention and control guidelines, including the use of personal protective equipment PPE (gowns, gloves, face masks, goggles, washing hands or using alcohol-based sanitizers) before/after putting on PPE and before and after contact with patients.
"The guidelines include how they can get infected, how they can prevent being infected, even when taking care of patients with COVID-19, and what to watch out for in patients to ensure that they don't spread the infection in hospital settings," she said.
Dr. Siam said students should consider taking the WHO online course "Infection Prevention and Control (IPC) for Novel Coronavirus (COVID-19)" at
https://openwho.org/courses/COVID-19-IPC-EN?fbclid=IwAR0FzpZBPvVw1TnVFe1T21nMOFjTO9rnvHb5S4MR96eynrSAeli36t17OtY
How to Protect Employees from Workplace Exposure
Dr. Siam outlines simple steps to protect employees from workspace exposure. Many companies are allowing employees to work remotely from home, but because of the need to maintain infrastructure, some people may still need to actually come into a physical office for work for the time being.
Dr. Siam gives the following tips to minimize office exposure to COVID-19.

• Raise awareness and ensure that employees are appropriately informed (a lot of people are resorting to unreliable and nonscientific resources/media and may be receiving false information).
• Encourage sick employees with any signs of respiratory illness to stay home.
• Put up posters on basic hand and respiratory hygiene.
• Provide alcohol-based hand sanitizers and encourage frequent hand washing.
• Routine cleaning of frequently touched surfaces in the workplace (doorknobs, elevator buttons, etc.).
Will the Virus Be Less of a Threat in Summer?

There has been much speculation, especially online, that COVID-19 will be less of a threat and cases will go down as the weather gets warmer in North America, but Dr. Siam said we don't know enough about the virus yet to back up such claims. However, recently a research article was published indicating that high temperature and humidity are likely to reduce the transmission of COVID-19.
Does the tropical climate of St. Kitts make students and staff any safer there?
"According to another recent article, the significant community spread is evident in regions with 5-11oC, so we are likely to see in St Kitts it's likely that the conditions will not encourage significant spread," she said.

Advice on Hand Washing, Sanitizers & Masks

In the meantime, what are the best ways to combat the virus? Are hand sanitizers like Purell useful?
"Hand sanitizer that contains at least 60% alcohol is effective and prevents the spread of COVID-19," Dr. Siam said. "Hand washing with soap and water (for at least 20 seconds) is also effective in preventing the spread of infection."
Dr. Siam offers the following about masks:
• It is recommended that people who are sick should wear face masks.
• It is also recommended that if you have to be around a person with respiratory illness, you should also wear a mask.
• It is not recommended to wear a mask if you are on the subway/streets.
• It might be more helpful to wear gloves in public transportation and then wash your hands after taking them off, when you arrive at work or home.
Protecting Yourself from COVID-19 on Mass Transit
People in New York City and other large cities rely on mass transit to get to work and to get around in general. What precautions should people take who must take a subway or bus?

• Wear gloves when in transit, such as one-time use medical gloves.
• Stay two meters away (or six feet based on CDC guidelines) from anyone coughing or sneezing.
• Sneeze or cough into your elbow if you have to.
• Wash your hands when you arrive to work.
• Wash your hands before leaving work to go home.
• Wash your hands when you get home.

Advice for the Worried Well

Dr. Siam advises folks who are currently well but worried to understand the nature of viruses and simply stay informed.

"Viruses are known to mutate and create new strains," she said. This isn't the first time that a virus mutated and we have limited information on its spread and effects. Just stay informed from the CDC and WHO website [check facts and not myths], exercise appropriate hand and respiratory etiquette/hygiene, avoid unnecessary travel to alert level 2 and 3 destinations. If you are an elderly or have a chronic medical condition you will need to talk to your healthcare advisor on specific precautions."

She said anyone who feels they may have been exposed to the virus and is showing symptoms should stay home and call their doctor.

The UMHS Endeavour and UMHS website will be updated in the coming days as news of the pandemic unfolds.
(Top photo): COVID-19 PANDEMIC: The UMHS Endeavour & UMHS site will be giving you the latest news from faculty & health officials to keep you informed during this public health crisis. Pictured: Image of a computer-generated representation of COVID-19 virions (SARS-CoV-2) under electron microscope. Image: Felipe Esquivel Reed/Wikimedia Commons.

---
About UMHS:
Built in the tradition of the best U.S. universities, the University of Medicine and Health Sciences focuses on individual student attention, maintaining small class sizes and recruiting high-quality faculty. We call this unique approach, "personalized medical education," and it's what has led to our unprecedented 96% student retention rate, and outstanding residency placements across the USA and Canada.

Posted by
Scott Harrah
Scott is Director of Digital Content at UMHS and editor of the UMHS Endeavour blog. When he's not writing about UMHS students, faculty, events, public health, alumni and UMHS research, he writes and edits Broadway theater reviews for a website he publishes in New York City, StageZine.com.