Michael D. Doherty, Ph.D., M.Sc., Professor of Neuroscience at UMHS, started doing "casting clinics" to help UMHS students learn one of the basics of emergency medicine: Putting on a cast to protect, support and heal broken or injured bones and joints.
The UMHS Endeavour spoke to Dr. Doherty about why he started holding the clinics, the importance of knowing how to create a cast to immobilize injured or broken bones and joints, and more.

Left to right (foreground only): Ardelle Estoesta, Nikole Figueroa Collazo, Heidi Page, Deser'e Gitulli. Photo: Dr. Michael Doherty
Dr. Doherty said UMHS students respond well to the many clinics and seminars held on campus, and there was great interest in holding casting clinics.
"Casting was something that had been suggested for a while and with a good student team involved I knew we could do it, and do it well," he said. "We have had three clinics so far since last summer, and the plan is to have two clinics per semester from now on."
Training takes place over to two to three sessions. What exactly are students taught?
"The basics of putting on a cast are simple; anyone who has wrapped a bandage around a sprain understands the general idea," Dr. Doherty said. "However, it is attention to detail that takes time and practice. A poorly placed cast results in irritation, itchiness, and 14-year-olds getting frustrated and taking the cast off too soon. The student instructors use the extra session time to remember and practice the details so that during a clinic they can immediately spot the mistakes and help correct them. It is impressive to watch; the student instructors take this very seriously, and they demonstrate impressive competence and professionalism. They enjoy the experience of 'being on the other side' as in doing the teaching."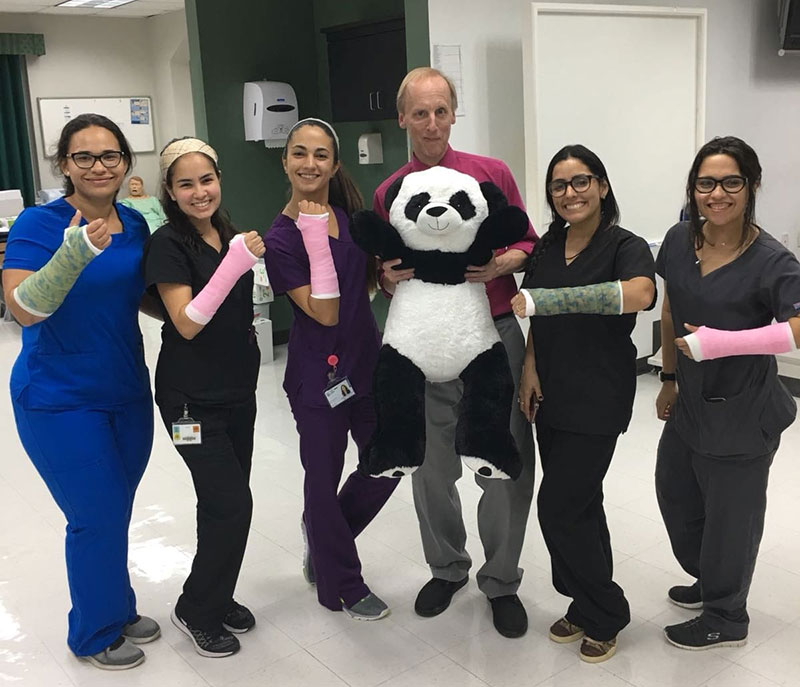 Dr. Michael Doherty (center) with UMHS students during a recent casting clinic. (Left to right): Tania Torres, Astrid Melendez Perez, Paola Mora Marrero, Paola Reyes-Torres. Photo: Dr. Michael Doherty.
Each training session takes two hours or more, and students watch a video to follow step-by-step instructions and once a cast is finished, students do it again and again.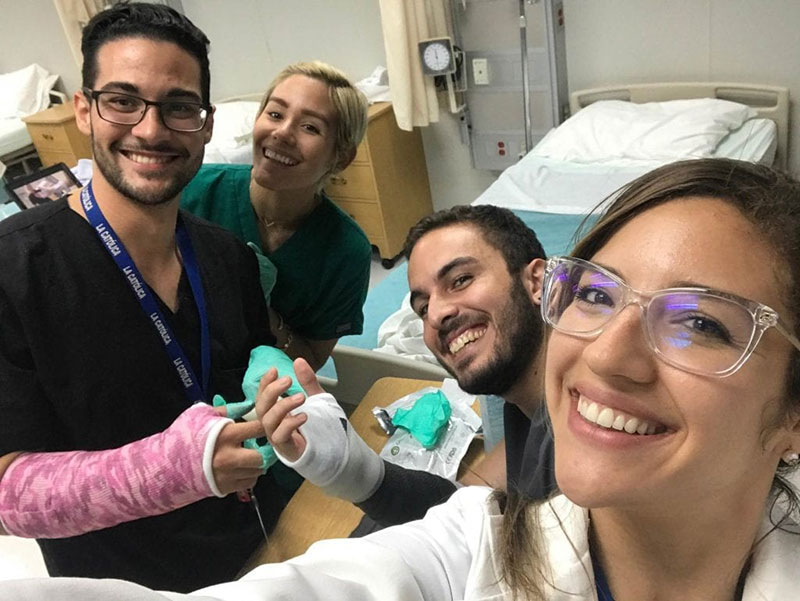 Left to right: Edgardo Torres Garcia, Estefania Ramos Nieves, Andres Javier, Arianna Hernandez. Photo: Dr. Michael Doherty
"In the second and third session, they learn how to use the Stryker saw to cut the casts off," Dr. Doherty said. "It's a power tool and not everyone has experience with those so for some that requires practice to gain confidence. All instructors have to learn to cut off a cast, but also have the experience of having their own removed so they know what the saw feels like. That helps a lot when they start removing them from others. All told during a semester the instructors give about 15 hours of their time over five different days. The instructors do their jobs so well I find myself reduced to a managerial role during the clinics, and it's a wonderful feeling."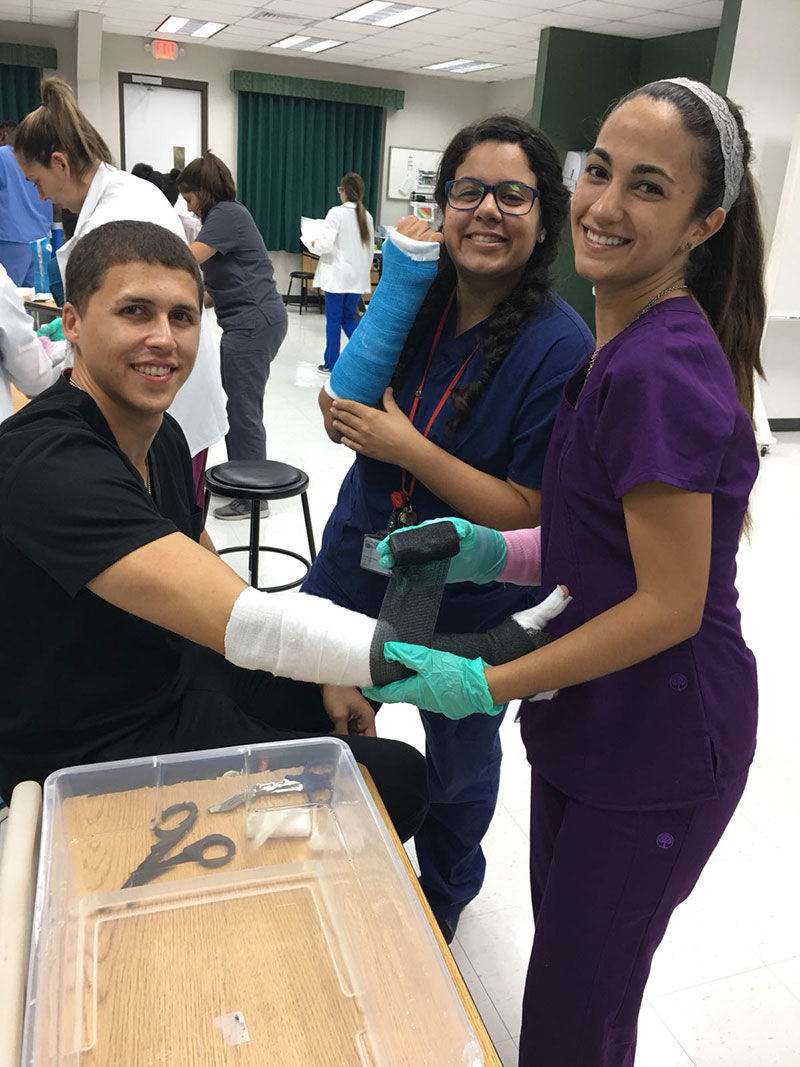 Students applying a cast while wearing one. 'It was kind of funny as most students wanted to keep their cast on for a while, which means they had to try casting with a cast on,' Dr. Doherty said. (Left to right): Samuel Urrutia, Gianna Nieves Maldonado, Paola Mora Morrera. Photo: Dr. Michael Doherty
Fiberglass is the preferred method for casts.
"Fiberglass is faster and therefore more convenient," Dr. Doherty said. "Plaster casts are stronger and can be molded better. While neither are waterproof, fiberglass responds better to getting wet. Plaster also only comes in white, but fiberglass can do any color or even camouflage patterns."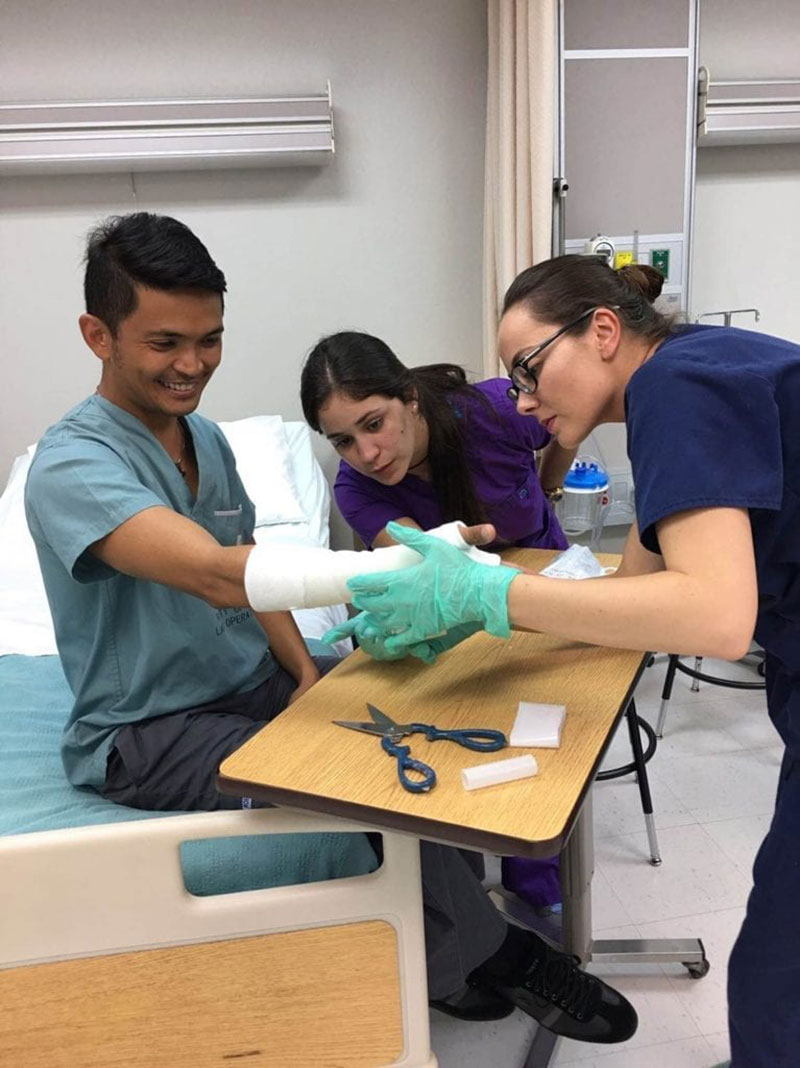 Left to right: Rosmary Rodriguez Blazquez & Deser'e Gutilli work on a 'patient'. Photo: Dr. Michael Doherty
The current group of student instructors includes Estefania Ramos, Deser'e Gitulli, Eboni Peoples, Jared Sharza, Yomarie Gonzales, Kirthana Suganathevan, and Karina Torres.
"I would be remiss if I didn't acknowledge my original group, with Fabiola Ramos, Paola Rodriguez, and Juan Carlos Cruz," Dr. Doherty said. "Nurse Belle is always 100% supportive, and Charnelle McMaster, an administrative assistant here, volunteers her time to assist as well. Their dedication to these clinics is admirable."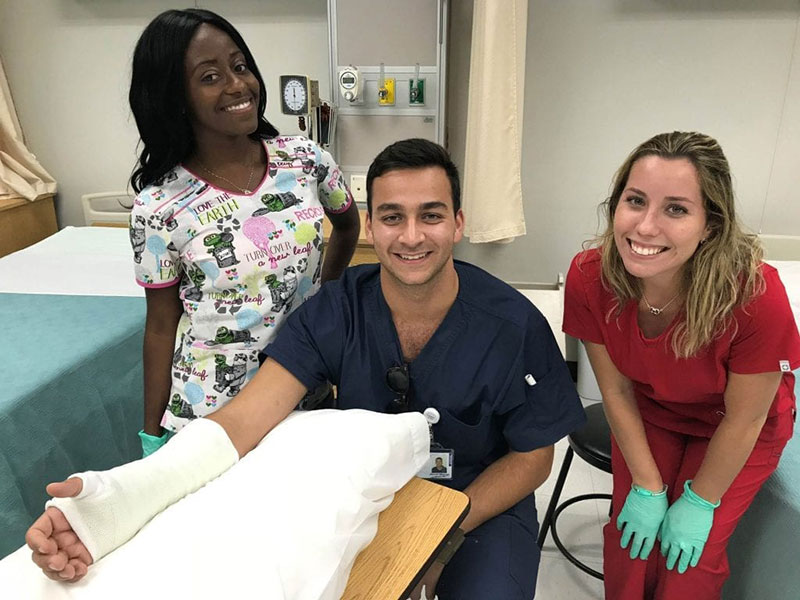 Left to right: Eboni Peoples, Jared Sharza & Karina Torres Crespo. Photo: Courtesy of Dr. Michael Doherty
There are many reasons why students need to know how to do casting properly, Dr. Doherty explained.
"I believe every edge we can give our students is worth doing," he said. " 'Hi, Dr. Doherty, I matched!' is my favorite sentence. Alright, if we're being honest, my favorite sentence would be 'Hi, Dr. Doherty, here's your Ironman armor' but that hasn't happened yet. Whether it's learning casting, sutures, or blood typing, all of the extracurricular efforts make our students better and more competitive for residency."


---

About UMHS:
Built in the tradition of the best US universities, the University of Medicine and Health Sciences focuses on individual student attention, maintaining small class sizes and recruiting high-quality faculty. We call this unique approach, "personalized medical education," and it's what has led to our unprecedented 96% student retention rate, and outstanding residency placements across the US and Canada. UMHS is challenging everything you thought you knew about Caribbean medical schools.

Posted by
Scott Harrah
Scott is Director of Digital Content at UMHS and editor of the UMHS Endeavour blog. When he's not writing about UMHS students, faculty, events, public health, alumni and UMHS research, he writes and edits Broadway theater reviews for a website he publishes in New York City, StageZine.com.