UMHS Class of 2019 graduate Dr. Laura Tafuri started an OB-GYN residency at Bridgeport Hospital (affiliated with Yale University) in Connecticut this summer. It is truly a case of coming full circle. "I was actually born at Yale in New Haven, so I think it's funny that now I am a resident in the Yale system," she said.
Dr. Laura Tafuri has wanted to become a doctor for as long as she can remember because for her, medicine is a family affair. Her dad is a Family Medicine physician and her mother was an ICU nurse while Dr. Tafuri was growing up "so there was no shortage of medical talk at the dinner table and I loved it."
Her father helped spark her interest in health care at an early age. "I remember when I was six years old, he bought me a hot pink stethoscope," she said. "I would go to his office carrying it around, and listen to every heart I could. I think that started my fascination with the profession and of the human body."
The UMHS Endeavour spoke to Dr. Laura Tafuri about the long but ultimately successful road to residency at a top hospital through her medical education at UMHS. We also discussed her childhood in Connecticut, why she majored in psychology as an undergraduate, what made her consider a Caribbean medical school like UMHS, professors and preceptors who inspired her in basic sciences and clinical rotations, her advice for current and incoming medical students, her interest in OB-GYN, residency goals, and more.
Psychology major prepared her for medical school
Dr. Laura Tafuri spent her childhood in Madison, Connecticut, on the shoreline of the state halfway between Boston and New York City. She attended Marist College in Poughkeepsie, NY and studied psychology. She believes her major gave her a great background for preparing for medical school. Although psychology is indeed a science, it's often considered more of a "social" rather than a natural or "hard" science like biology and other traditional premed majors.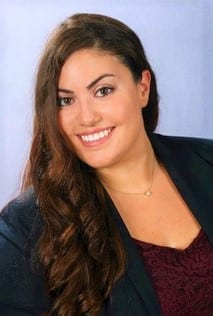 "I wanted to set myself apart from the thousands of biology majors that would be applying to medical school and I really enjoyed my major," she said. "I concurrently completed the pre-medical requirements needed for the MCAT and to apply to medical school. I still think my psych major has helped me not only during my psychiatry clerkships and exams but also with my interpersonal skills when dealing with patients."
(Photo, inset right) Dr. Laura Tarfuri. Photo: Courtesy of Dr. Tafuri
Why consider a Caribbean medical school like UMHS?
Dr. Laura Tafuri was encouraged by her father to study medicine outside the USA.
"My father went to medical school in Mexico and always encouraged me that leaving to go abroad for school would be worth it and would make me a stronger physician," she said. "I can now say I believe the same."
A family friend told her about UMHS in St. Kitts and, from her first interaction with the North American Administrative Office in New York City, everyone was friendly and attentive.
"I took the train into NYC for my interview with [Director of Marketing] Ryan Ross and left with a very positive feeling about the school and how they could help me achieve my goals," she said. "Having three start dates a year also was a huge plus, as I wanted to graduate and get started immediately to keep my momentum."
Dr. Tafuri was particularly impressed with the professors at UMHS in both St. Kitts and Maine.
"I think the professors we had are the strongest aspect of this school. They are not only amazing teachers but also they genuinely care about us doing well. If you ask any student from UMHS this question, I'm sure [professor of biochemistry] Dr. Prakash Mungli's name is one of the first they will say. He is amazing; he absolutely loves biochemistry and will stand at a whiteboard in his office drawing cycles out over and over until you really grasp it. His PowerPoints and reviews are so good I have referenced them when I needed a refresher after basic sciences. Dr. Michael Doherty [professor of neuroscience] has been a huge supporter academically and personally. He cares so much about his students doing well on and off the island, and goes out of his way to check in and give great pep talks during tough times.
She has high praise for two other professors.
"Dr. Jadessh Nagappa [professor of physiology]: I will forever be gratefully of the many hours he spent in his office re-explaining cardiac physiology concepts I had a hard time grasping, and finding a way to make me laugh when I felt totally defeated," she said." Dr. Anoop Kumar Jalan [professor of pathology] passionately taught Pathology 2, probably the most important basis to all our careers. He pushed us, made everyone study harder than we ever had, and taught us to trust it would be worth it; and he was right."
Advantages of a Caribbean medical school
Dr. Laura Tafuri when she was still a student at UMHS. Photo: Courtesy of Dr. Tafuri
Dr. Tafuri admits that attending a Caribbean medical school is challenging but her time at UMHS made her much stronger as a person and gave her the necessary tools to become a doctor.
"There are some innate struggles to attending any international school," she said. "Being far away from your support system while being extremely stressed is hard, but you learn to adapt not only to the place you are living but you make a new family with the friends you spend 95% of your day with."
The clinical rotations at hospitals throughout the U.S. gave Dr. Tafuri excellent hands-on training and helped her sharpen so many skills.
"Off the island —moving to a new state every few months for clinical rotations — is also challenging," she said. "However, you learn to be resilient and once again to adapt to new people, places, hospitals and patient populations quickly and I think that is a special skill IMGs have. I definitely learned how to keep outside stress sources from affecting my performance because of this aspect."
Dr. Tarfuri added that learning to adapt to new challenges was so vital for her.
"You have to be resilient, have to adapt to different situations easily and quickly, and learn to always be focused on the patient or situation in front of you."
How UMHS helped her match
UMHS professors in St. Kitts and also preceptors and residents in clinical rotations both helped Dr. Tarfuri.
"I would say that the quality foundation from amazing professors I received on the island was crucial," she said. 'However, I was lucky to have a truly amazing group of preceptors and residents that molded me personally and professionally along the way and for that I am so thankful. I never shied away from the rotations that had notoriously demanding schedules or preceptors that expected a lot from their students. I started in Chicago with Internal Medicine with Dr. Eric Mizuno. This was not an easy rotation; he expected us to be able to spit the criteria out for a diagnosis, mid rounds, 3 am and it didn't matter whether we were in a stairwell or in front of a patient. He demanded hard work from his students, gave amazing lectures and I left that rotation performing at a PGY1 level. The foundation he set for me I can happily say contributed to my success not only in future rotations, shelf exams but also on Step 2 CK."
"I am studying from Step 3 now and still referencing his lecture notes," she said. "I went on to General Surgery in Waterbury, CT, another demanding rotation where I met the most wonderful residents. Despite their hectic schedules and the frequent trauma alerts, they always found time for a teachable moment. I'll never forget what I learned and experienced there. I have lasting friendships with two of the residents in particular to this day, Dr. Amanda Fazzalari and Dr. Vladimir Coca-Soliz, both of whom were crucial to my success in matching. They taught me what it takes to be an incredible physician and how to handle many different situations with patients, their families, and in the OR. They also gave me the opportunity to write my first case report and present a poster at state wide surgical research day in CT. This was later submitted and accepted for presentation at the annual conference for the Society of American Gastrointestinal and Endoscopic Surgeons (SAGES), in Seattle, Washington."
"My Chief Resident at the time was not only crucial in that success, but at the end of my third year when I told him I decided on OB-GYN, he put me in touch with his old medical student from his second year of residency, who happened to be the Chief Resident at Bridgeport Hospital Yale New Haven Health. This connection led me to getting a Sub-I at Bridgeport, where was able to show all I had learned in previous rotations and form connections with the amazing residents and attendings there. I left that Sub-I feeling like this is where I want to be and I am quite sure that I have them to thank for my subsequent interview and match there."
Obtaining OB-GYN residency at Bridgeport Hospital in CT
Dr. Tafuri said she is thrilled to be doing her OB-GYN residency at Bridgeport Hospital in Connecticut.
"This was my Number 1 [choice] when I applied and never changed throughout interview season," she said. "I am excited to be a part of this amazing team who I feel is so genuinely caring and supportive of each other and I know that it is the best place to learn, grow, make mistakes and turn me into an outstanding OB-GYN. I'm excited to also be a part of the Yale Health System with the reputation and recognition it has, to have access to state-of-the-art healthcare from an established center of excellence, where patients can get the best care and residents get to learn from Attendings who are leaders in their field."
Why did she want to do a residency in OB-GYN?
"I attribute my initial love for this field to Dr. Charity in Augusta, GA," she said. "Before I started this clerkship, I had no idea what is really included under the umbrella of an OB-GYN. We would be in his clinic doing pap-smears and ultrasounds and would run across the street to the hospital to do a delivery, or take care of an emergency C-section. On other days we would be in the Operating Room, performing hysterectomies or cyst removal. I loved how varied the responsibilities are and it had everything I wanted in the right amount. I could still practice Primary Care in a select population, be a surgeon and specialize in Obstetrics. I never looked back after that. I went on to an amazing Infertility rotation with Dr. Servy in Augusta and was able to further see the specialty from another angle and thoroughly enjoyed my time there. I was given the amazing opportunity to work on research he had been collecting on MTHFR [methylenetetrahydrofolate reductase] mutations and infertility with his patients and was fortunate to be published with him. A fellowship in Reproductive Endocrinology and Infertility is a possibility in the future."
Advice for success
Dr. Laura Tafuri has two words of advice for current or incoming students about attending UMHS and also the Match process: Push yourself.
"On the island, don't get caught up with the scenery, you are there for school and if everyone is going out and you feel you need to stay in and study, then do it and don't let anyone make you feel guilty about it," she said. "Some people unfortunately won't make it to Maine, on to clinicals, or pass the USMLE Step exams and you never want to look back and wish you worked harder. You are given all the tools you need to succeed, but it's up to you what you do with it. This is the foundation not only for Step 1 but also for your knowledge as a physician."
She suggests that once one is in clinicals, don't take the easy way out.
"Go for the preceptors other students shy away from because their schedule is longer, they push you to learn more, and work harder," she said. "These preceptors will shape you, your work ethic, as well as giving you the crucial knowledge you need to perform well on exams and when dealing with patients in the future. There were so many times I got questions correct because I remember seeing that exact pathology or treatment in a past patient. If you don't put in the work, you can't expect to see the results that come with scoring high and getting interviews in the specialty or program you truly desire. Take everything you can from your preceptors, residents, nurses whoever you encounter during your rotation, whether or not you will ever practice that type of medicine."
Dr. Tafuri has many goals for residency, including being a solid resident, team member, feeling strong in her ability as an OB-GYN doctor to take care of all aspects of patients.
"I hope to experience lots of different pathology and severity in patients," she said. "I really enjoy operating and I would love to be confident enough with robotic surgery that I can be certified by DaVinci by the time I graduate."
(Top photo) Dr. Laura Tafuri at UMHS graduation on June 7, 2019 at Lincoln Center, NYC. Photo: Island Photography
---
About UMHS:
Built in the tradition of the best US universities, the University of Medicine and Health Sciences focuses on individual student attention, maintaining small class sizes and recruiting high-quality faculty. We call this unique approach, "personalized medical education," and it's what has led to our unprecedented 96% student retention rate, and outstanding residency placements across the US and Canada. UMHS is challenging everything you thought you knew about Caribbean medical schools.
Posted by
Scott Harrah
Scott is Director of Digital Content at UMHS and editor of the UMHS Endeavour blog. When he's not writing about UMHS students, faculty, events, public health, alumni and UMHS research, he writes and edits Broadway theater reviews for a website he publishes in New York City, StageZine.com.