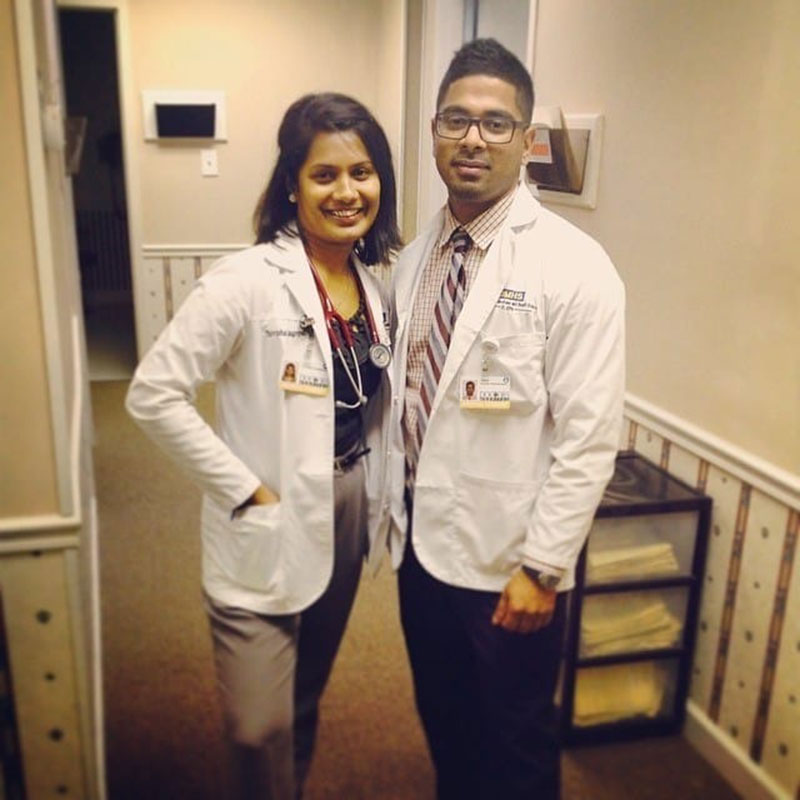 DR. RAJAGOPAL & DR. PATHMALINGAM: 'After USMLE Step 1 & beginning of first clinical rotation. This is the Family Medicine outpatient clinic of Dr. Henderson, the woman who inspired me to become a Family Medicine doctor. Augusta, GA.' Photo: Courtesy of Dr. Thivisa Rajagopal
UMHS 2016 graduates Dr. Thivisa Rajagopal and husband Dr. Thushyanthan Pathmalingam both decided to attend UMHS when they had trouble getting into Canadian medical schools. Dr. Rajagopal immigrated to Canada from her native Sri Lanka at a young age and always wanted to be a doctor. Today that dream has become a reality as she and her husband recently started Family Medicine residencies at the Washington Health System in Pennsylvania.
Dr. Rajaogpal took time from her busy schedule to speak to the UMHS Endeavour to share her experiences about the school and what prospective students can expect at UMHS, from the great professors in Basic Sciences to clinical rotations to interviewing for a residency, and how she and her husband were so thrilled when they both matched at the same hospital.
UMHS Endeavour: Tell us a little about yourself and where you are originally from.
Dr. Rajagopal: I was born in Sri Lanka and migrated to Canada at the age of 10. My childhood dream was to become a doctor. There was no other career plan in my head other than medical school. I finished my BSc in Biopharmaceutical Science and pursued a Master's in Chemistry. Every step I took forward to enhance my medical school application. This includes my choice in education, volunteer work and research opportunities. Today, I started my residency in Family Medicine at Washington Health System and extremely happy to have fulfilled my dream. My life is just beginning as I shared this journey with my husband, Thushan Pathmalingam.
Why did you decide to go to UMHS?
My husband and I both decided to go to UMHS when we were not successful getting into Canadian medical schools. We are both strong individuals and we are independent learners. So for us it was important to find a school that was financially affordable and yet newly established. The reason behind it was when it is a new medical school, you know they will work to make their students successful. Our prediction was correct.
What was the greatest thing about learning you matched?
To be very honest, I knew where I'd be going for residency before the match date. That was the best part. I had great communication with my residency program director after the interview and up until we submitted our rank order. However, it was definitely a great relief to see it on the computer and finalized. Our families knew it but we couldn't tell the whole world till it was officially announced. Best day for both Thushan and myself. Proud moment indeed!
---
Discover if a career in Family Medicine is right for you.
Learn why 70% of doctors would choose the same specialty again.
---
Is there anything in particular that interests you about Family Medicine as a specialty?
When I chose Family Medicine, it wasn't a big surprise. I always grew up having a great family doctor who was multifaceted and had well-rounded knowledge. I myself enjoyed working with both adults and kids. I also loved women's health. The only residency program that allowed me to do everything I loved the most was FMR. When I practice, I definitely want to see newborns to geriatrics, no exclusion. I personally want to do Gynecological procedures in my office and OB care up to delivery. My goal is to run my own clinic in five years and specialize in diabetic education and 360 degree care in all aspects (nutrition, insulin administration, foot care). It was a perfect professional decision to work 9-5 and not compromise my personal life as a woman.
What advice do you have for current UMHS students, and medical students in general, about the Match process?
You have to be on top of the game from the beginning. Your scores matter; that is the first form of elimination. You can't just pass. As a medical student, learn the materials in depth, don't blame others for your failures, be independent and self-learn the concepts. Take Step 1 when you are fully prepared and feel you are ready. Your score will reflect your knowledge when you are on clinical rotations. Make connections, and plan your rotations accordingly to where you want to apply for residency.
Was there anything specific about your medical education at UMHS and clinical rotations that prepared you well for matching?
The first two years on the island having great professors like Dr. Mungli (Biochemistry), and Dr. Jalan (Pathology), truly helped to grasp the basic science of medicine, which allowed me to perform extremely well on my Step 1. Our school has our 5th semester in Portland, Maine. This is where you sit at the beginning on the semester and take the full-length Kaplan exam and see how you score. This helps you where you need to focus in your studying before taking the final Kaplan exam. It was intense preparation but very useful in assessing your goals and study plans for taking the Step 1. Another unique aspect of this 5th semester is the clinical preparation. You are shadowing a preceptor of your choice. I was on Internal Medicine at Maine Hospital and I loved my experience. I was given the full freedom to be an intern and really learn from the beginning. Also they conducted clinical scenarios every week in the same format as a CS exam. It really helped me mold myself as a physician and what was about to come in clinical rotations. Great feedback and experience in writing full-length H&P. Every aspect of UMHS makes you become an independent, self-learning and brilliant doctor [in me]!
Do you have any specific goals for your residency?
I chose Family Medicine Residency as I love working with kids and adults. I chose a FMR program that will train me to my full capacity and make me a competitive family physician. There are no other residents other than Family Medicine at Washington Health System. You are responsible for your patient. That is what I wanted. I want to make mistakes and learn from it. Get the beat now and shape myself as a stronger physician in three years. My main goal is to treat all needs under one roof. Starting from Pediatrics to gynecology procedures to adults to palliative care. I also want to specialize in diabetic programs. My focus in my first year of residency is to be more hands-on and learn how to manage patients on the floor under all circumstances.
Is there anything else you'd like to add that we have not covered?
Only thing I would say to all the future medical students is to truly believe in yourself and be confident in the physician you want to become. Be determined and work for your goal. Most importantly, be yourself during an interview; that is all I did. I only memorized answers for my first interview and I even forgot the flow when they asked me questions. I truly had fun during my interview; it was always an interesting conversation rather than strict questions from a list. That is how you know this went well.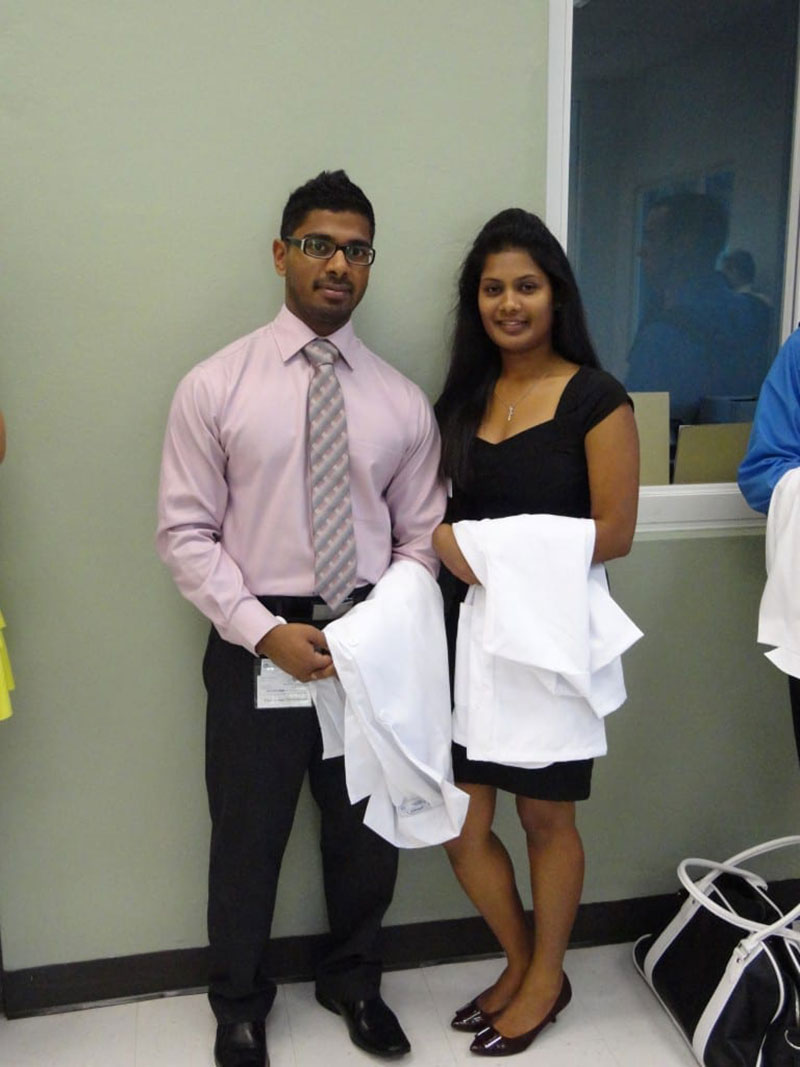 THUSHAN & THIVISA: 'At the library of UMHS, St. Kitts, lining up for the white coat ceremony & oath.' Photo: Courtesy of Dr. Thivisa Rajagopal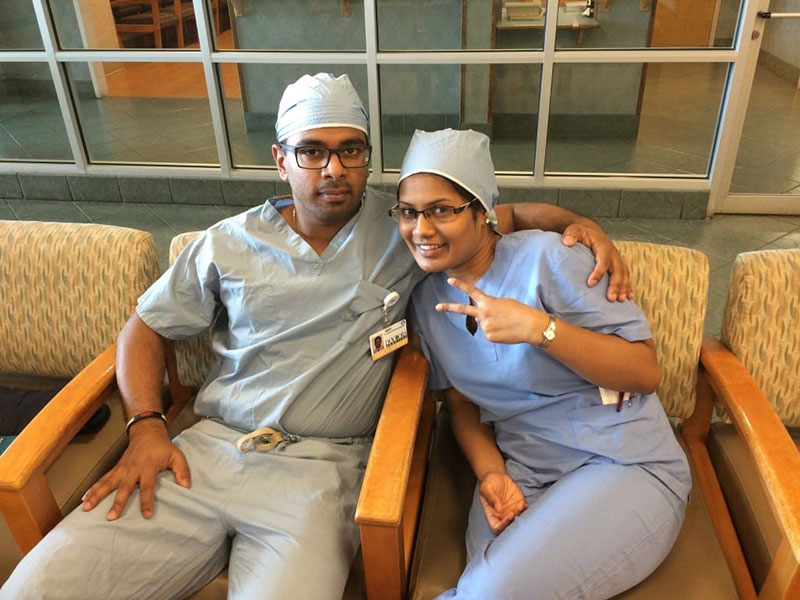 THUSAN & THIVISA TAKING A BREAK: 'Surgery rotation with Dr. Cochrane at Doctor's Hospital, Augusta, GA.' Photo: Courtesy of Dr. Thivisa Rajagopal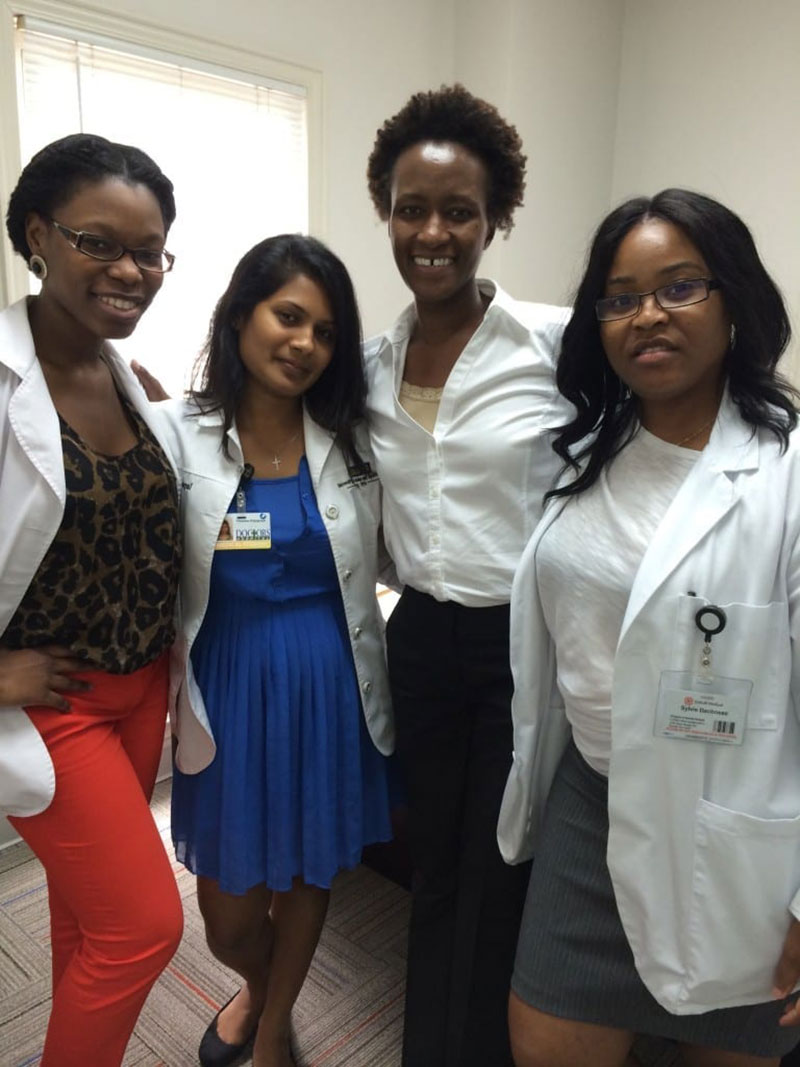 PEDIATRIC ROTATION: 'At Milestone Pediatrics in Atlanta, GA. One of my favorite pediatricians inspired me to pursue Family Medicine, incorporating a great deal of Pediatrics. With two of my great friends Jodi, on the left, and Sylvie (right), both from UMHS.' Photo: Courtesy of Dr. Thivisa Rajagopal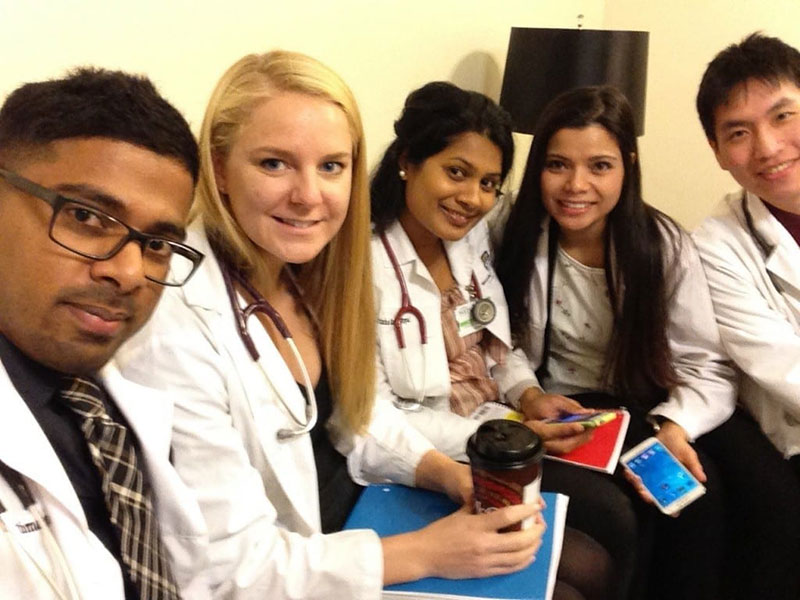 ONE OF THE TOUGHEST ROTATIONS IN MY LIFE: 'Internal Medicine at Weiss Memorial Hospital, Chicago, IL with Dr. Mizuno. I learned the most about medicine and life. A great person; we still keep in touch and Dr. Mizuno wrote both of us amazing LORs.' Photo: Courtesy of Dr. Thivisa Rajagopal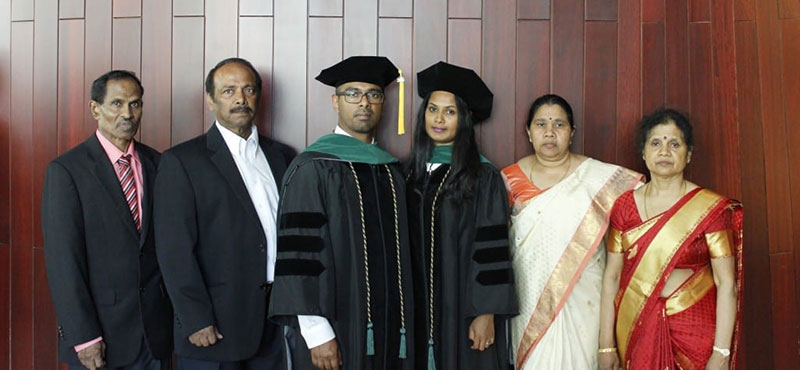 A PROUD MOMENT FOR BOTH OUR FAMILIES: 'Truly blessed to have them all at the graduation.' Photo: Courtesy of Dr. Thivisa Rajagopal

UMHS WHITE COAT CEREMONY: 'In September 2011, the beginning of new chapter. Our class of 2015/16.' Photo: Courtesy of Dr. Thivisa Rajagopal
(Top photo) AT COMMENCEMENT CEREMONY, ALICE TULLY HALL, LINCOLN CENTER, NYC: 'The moment we have waited for the past 4 years,' she says. Dr. Thushyanthan Pathmalingam (left) & Dr. Thivisa Rajagopal on June 10, 2016, looking sharp in their graduation caps & gowns. Photo: Courtesy of Dr. Thivisa Rajagopal
---

About UMHS:
Built in the tradition of the best US universities, the University of Medicine and Health Sciencesfocuses on individual student attention, maintaining small class sizes and recruiting high-quality faculty. We call this unique approach, "personalized medical education," and it's what has led to our unprecedented 96% student retention rate, and outstanding residency placements across the US and Canada.

Posted by
Scott Harrah
Scott is Director of Digital Content & Alumni Communications Liaison at UMHS and editor of the UMHS Endeavour blog. When he's not writing about UMHS students, faculty, events, public health, alumni and UMHS research, he writes and edits Broadway theater reviews for a website he publishes in New York City, StageZine.com.