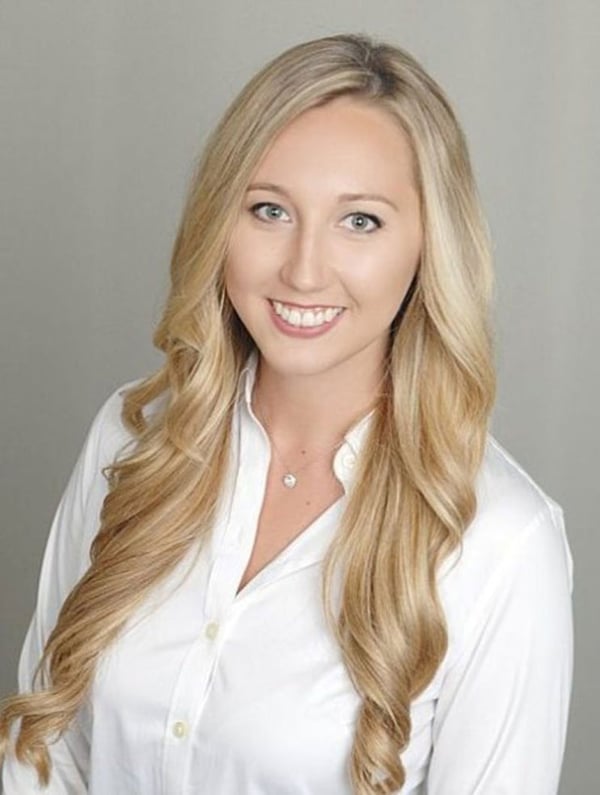 UMHS CLASS OF 2017 GRADUATE DR. KIRSTEN FILL: Dr. Fill starts her Anesthesiology residency at Drexel University at Hahnemann University Hospital in Philadelphia. Photo: Courtesy of Dr. Kirsten Fill
UMHS Class of 2017 graduate Dr. Kirsten Fill didn't always plan on becoming a doctor. The Ontario, Canada native studied biomedical engineering at Queens University and started a corporate job after graduation, but decided she wanted something more rewarding. She decided to pursue the passion for medicine she developed as an undergraduate. As Dr. Fill eloquently puts it, "It's okay not figuring out by age five that you want to be a doctor; it's a process for some of us and one that should be embraced."
Dr. Fill took time from her busy schedule to talk to the UMHS Endeavour about her experiences at UMHS and why she was initially so impressed by the cadaver lab, high-tech classrooms and fun social activities in St. Kitts, the extensive Step 1 preparation at the Portland, Maine campus and her invaluable experiences in clinical rotations, and how she successfully made it through the Match process. Dr. Fill starts her Anesthesiology residency at Drexel University at Hahnemann University Hospital in Philadelphia this summer.
---
Discover if a career in Anesthesiology is right for you.
Learn why 89% of doctors would choose the same specialty again.
---
UMHS Endeavour: Tell us a little about yourself and where you are originally from.
Dr. Kirsten Fill: I grew up in Mississauga, just outside Toronto in Ontario, Canada. I honestly didn't always know I wanted to be a doctor, so coming from a family of engineers, I went to Queens University in Kingston to study biomedical engineering. It was a stimulating and challenging four years that unexpectedly solidified my passion for medicine. After graduation I worked at a large corporation and quickly realized this was not the career I had dreamed for myself. Quitting a great job to follow my dream is a proud moment to look back on. It's okay not figuring out by age five that you want to be a doctor; it's a process for some of us and one that should be embraced.
Why did you decide to go to UMHS?
I ultimately chose UMHS because of a friend who was currently in the program that had incredibly positive things to say. It was a beautiful location, and the opportunity to spend most of the four years training in the US/Canada was important to me. The campus was newly built and could provide everything a basic science student requires to be successful--the large cadaver lab with small dissection groups, the impressive simulation labs, the tech-equipped classrooms, Step 1 prep, etc. It also had social aspects that were important to me; beach volleyball Fridays, nightlife, and sports teams.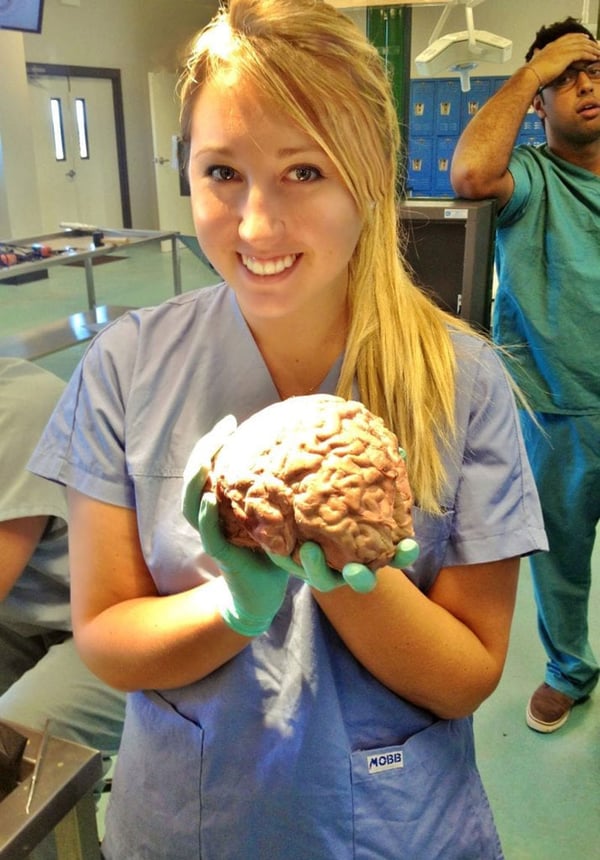 LEARNING IN LAB: Kirsten Fill learning about craniotomy & lobotomy in a cadaver dissection lab at UMHS in St. Kitts. Photo: Courtesy of Dr. Kirsten Fill
Tell us a little about your residency and the hospital you'll be working at.
My residency is in Anesthesiology at Drexel University at Hahnemann University Hospital in Philadelphia, PA. Hahnemann is a large level 1 trauma teaching hospital, with over 140 incoming residents per year across all disciplines. It is located right downtown and brings in a diverse patient population, an important aspect to medical training for me. The program also highlights daily didactics and research opportunities. Most importantly, the residents I met with during my interview had such positive views of their experience and go on to pursue incredible fellowships and careers. I really felt like it would be a good fit for me.
What was the greatest thing about learning you matched?
My heart rate normalizing. Then realizing it was in the specialty and hospital I wanted.
Is there anything in particular that interests you about your specialty?
I knew on the first day of my Anesthesia elective rotation that it was my desired field. It is a perfect combination of hands-on procedures, technical skill, and applying physiology.It satisfies the engineering and medicine aspects of my education. I like the instant gratification of my decisions and medicines immediately taking effect. I enjoy the intensity and adrenaline rush of the operating rooms and quick turnover of complete patient care. The OR is my favorite place in any hospital and wearing scrubs everyday is a huge perk.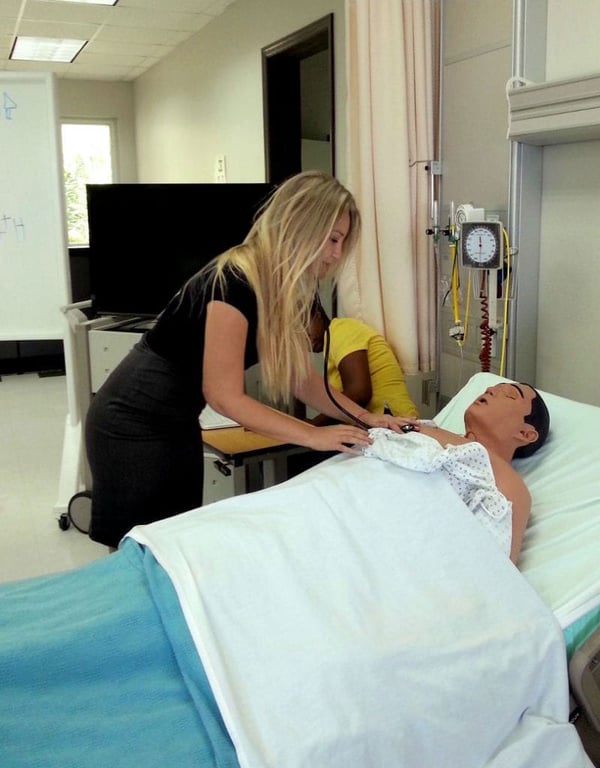 KIRSTEN FILL ON UMHS CAMPUS: Practicing physical exams on a simulation robot patient. Photo: Courtesy of Dr. Kirsten Fill
What advice do you have for current UMHS students, and medical students in general, about the Match process?
My advice to medical students is to believe your professors/everyone when they stress the importance of Step 1 and Step 2 scores. It is the great equalizer for all medical students and has a huge impact on your residency applications. Study hard, and trust your own study habits and process. Don't stress yourself out when other students do something different or use other resources. There will be times when you feel like you can't do it or that you'll fail, most people have those, keep yourself healthy first and work through the setbacks. Do not ever read online student forums. UWorld is your best friend. Lastly, it's okay to hate biostatistics.
The Match process is a roller-coaster ride and the grand finale of medical school. My advice is to go after the specialty you truly want, you will regret not giving it a shot even if it seems out of reach. However, apply to back-up specialties even more numerously. Start preparing early, ask for reference letters tailored to each specialty you apply to, write your own genuine personal statement(s). Read every single word of UMHS advisor emails; they go through Match every year and understand the process and statistics.
Are there any advantages for students at Caribbean medical schools regarding the Match process?
The advantage of being an IMG in Match is without doubt, the resiliency we develop throughout medical school. We want this so badly, that we have gone on an unconventional, more challenging route to get here.That drive and determination will resonate in interviews and residency.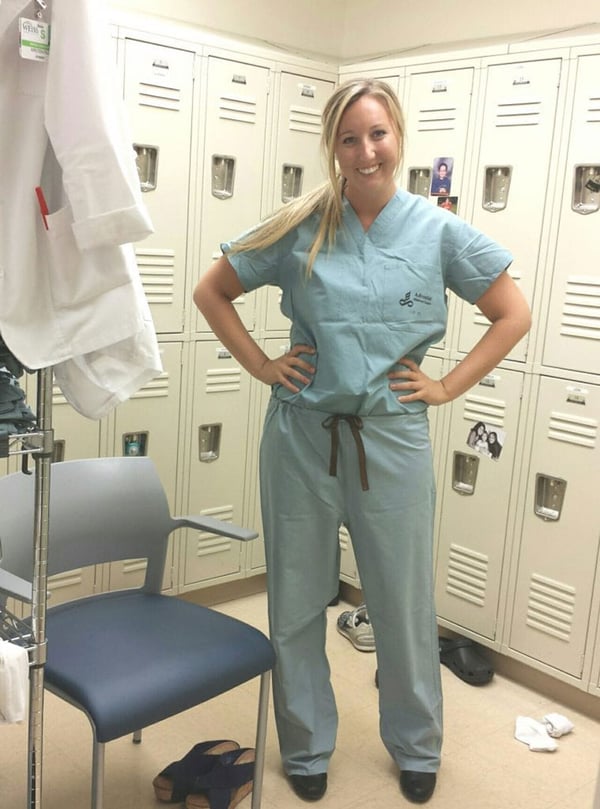 DR. KIRSTEN FILL: After delivering her first baby on OB-GYN rotation. Photo: Courtesy of Dr. Kirsten Fill
Was there anything specific about your medical education at UMHS and clinical rotations that prepared you well for matching?
My clinical rotations were done in many different hospitals but all in the same city. This gave me the opportunity to get settled and really focus on what type of hospital setting and specialties are best for me. UMHS allowed me to tailor my own clinical experience to suit my personal preferences. My exposure to medicine, surgeries, and procedures fully equipped me for residency interviews and more importantly prepared me for a medical career.
Do you have any specific goals for your residency?
My goals for residency are to become a confident and capable anesthesiologist. It would be a great achievement to be a chief resident and pursue a fellowship in pain management or pediatric anesthesia. However, just like medical school, I'm going to take it one step at a time!
Is there anything else you'd like to add that we have not covered?
Give studying and clinical rotations everything you've got, work hard, put in the effort, and stay motivated.Every student is going to have their own experience and reach their goal in a unique way. Try your best to not compare yourself to others, and just do you.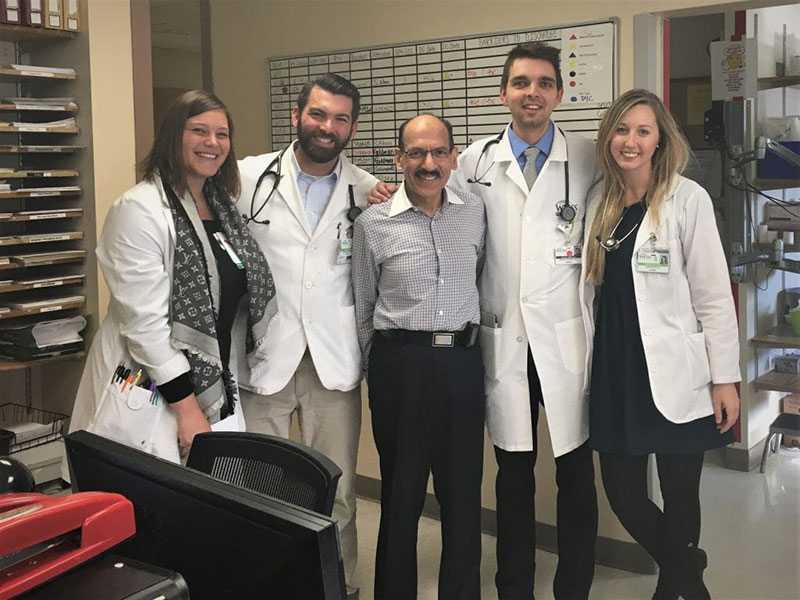 DR KIRSTEN FILL: With colleagues after finishing rounds on a cardiology rotation in Chicago. Photo: Courtesy of Dr. Kirsten Fill
(Top photo) KIRSTEN FILL: At the 2013 White Coat Ceremony at UMHS in St. Kitts. Photo: Courtesy of Dr. Kirsten Fill
---

About UMHS:
Built in the tradition of the best US universities, the University of Medicine and Health Sciencesfocuses on individual student attention, maintaining small class sizes and recruiting high-quality faculty. We call this unique approach, "personalized medical education," and it's what has led to our unprecedented 96% student retention rate, and outstanding residency placements across the US and Canada.

Posted by
Scott Harrah
Scott is Director of Digital Content & Alumni Communications Liaison at UMHS and editor of the UMHS Endeavour blog. When he's not writing about UMHS students, faculty, events, public health, alumni and UMHS research, he writes and edits Broadway theater reviews for a website he publishes in New York City, StageZine.com.