The University of Missouri-St. Louis (UMSL) recently signed an articulation agreement with UMHS, allowing prospective Midwestern students who meet a set of standards the chance to work toward their goal of becoming a doctor. UMSL is the largest university in St. Louis and the third-largest university in Missouri.
The UMHS Endeavour looks at the details of the agreement and gives highlights of an interview with an advisor at UMSL about the program and how UMSL students can enter UMHS via the agreement. It offers a simplified track for UMSL students wanting to attend medical school.
Articulation Minimum Standards
UMSL students wanting to enter UMHS must meet the following requirements:
"Completion of 90 semester hours of University-level courses and completion of the following required prerequisite courses":

Inorganic or General Chemistry (with labs), 1 year
Organic Chemistry 1 and 2 (with labs), 1 year
General Biology or Zoology (with labs), 1 year
Physics (with labs), 1 semester
College-level mathematics (preferably Calculus or Statistics), 1 semester
"Designated minimum GPA requirement"
"No grade lower than a 'C' in any of the prerequisite courses."
"Designated minimum score on the Medical College Admissions Test (MCAT)."
"A recommendation for admissions by a UMHS interviewer who has interviewed the application in person or via Skype."
"Evidence of good citizenship in school and community."
"A written recommendation from UMSL attesting to the candidate's preparation and suitability for the study and practice of medicine; and
"No circumstances that might prevent the student from participating in clerkships in the U.S. or make the student ineligible for study or licensure in the U.S."
The UMHS Endeavour spoke to Joseph Southerland, M.Ed., Pre-Professional Advisor and Program Coordinator at UMSL, about the agreement.
Besides the Articulation Minimum Standards, what should University of Missouri-St. Louis students know about the articulation agreement?
"Applying to medical school can be incredibly expensive, and for the students that meet the requirements, but would otherwise be considered 'non-competitive' for mainland schools, this is a very good way to take the stress out of the admissions process," Mr. Southerland said.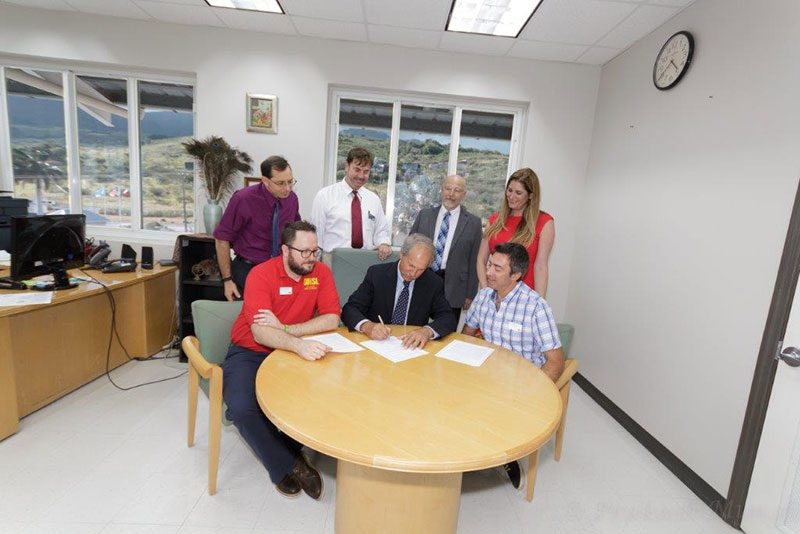 UMHS President Warren Ross (center) signing the articulation agreement with University of Missouri-St. Louis. Photo: UMHS
What are some of the advantages for a UMSL student wanting to go to UMHS?
"The commitment to smaller class size and student success are the biggest ones for me," he said. "There aren't any clerkships in Missouri yet, but there are several in the Midwest so after their time on the island, they wouldn't be as far from home during their rotations."
Mr. Southerland recently traveled to the UMHS St. Kitts campus with Marc Spignola, Ph.D., Associate Teaching Professor and Associate Chair, Department of Biology at UMSL, as part of an advisor trip. The UMHS Endeavour asked Mr. Southerland to share his thoughts about the campus and St. Kitts.
"You can judge a lot about a medical school by the quality of their anatomy lab, and UMHS has a gem," he said. "[UMHS President] Warren Ross's commitment to providing his students with up-to-date technology and resources was apparent in all the rooms that we visited. In short, everything they need to be successful is offered on the campus."
He also had good things to say about St. Kitts.
"As for the island, I would really recommend taking in a sunset or two at Salt Plage," Mr. Southerland said. "The housing options were fantastic, with a wide range of prices, and plenty of food options as well."


(Top photo) SIGNING ARTICULATION AGREEMENT WITH UMSL: (bottom row, left to right) Joseph Southerland of UMSL, UMHS President Warren Ross & Marc Spignola of UMSL. (Back row, left to right) Dr. Thomas Last, Earl Mainer, Dr. Edwin Purcell & Michelle Peres, all of UMHS. Photo: UMHS
---

About UMHS:
Built in the tradition of the best US universities, the University of Medicine and Health Sciencesfocuses on individual student attention, maintaining small class sizes and recruiting high-quality faculty. We call this unique approach, "personalized medical education," and it's what has led to our unprecedented 96% student retention rate, and outstanding residency placements across the US and Canada. UMHS is challenging everything you thought you knew about Caribbean medical schools.

Posted by
Scott Harrah
Scott is Director of Digital Content & Alumni Communications Liaison at UMHS and editor of the UMHS Endeavour blog. When he's not writing about UMHS students, faculty, events, public health, alumni and UMHS research, he writes and edits Broadway theater reviews for a website he publishes in New York City, StageZine.com.