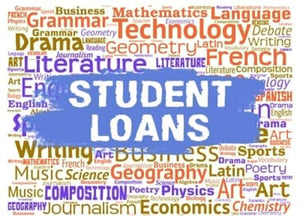 Student debt is something most undergraduates worry about, but may not fully comprehend. A surprising 59% of millennials don't even know when their student loans will be paid off, a survey quoted in U.S. News and World Report claims. For those thinking about medical school after graduation, many things should be considered to keep accruing debt under control.
As U.S News and World Report pointed out, more than 70% of college students graduated with debt this year, with the 2016 average a whopping $37,172, according to student loan expert Mark Kantrowitz. What can you do if you're an undergrad or about to graduate with a big loan? Or preparing to take on even more debt in medical school?
The UMHS Endeavour looks at everything undergrads should know about student debt and student loans, from borrowing only what you need to the dangers of interest accrual, understanding what you are signing when applying for student loans, subsidized versus unsubsidized loans, the difference between deferment and forbearance, income-based repayment and consolidation--all from various online sources.
Only Borrow What You Need
This is straightforward, but you'd be surprised how many people use student loan money to pay for clothes, travel and things other than tuition and living expenses. Figure out exactly how much you need to borrow each school year (tuition, cost of living, family contributions) and stick to that figure. As the website Big Future says. "You don't have to accept the entire amount of a loan you're offered."
So that means if you're offered a $15,000 student loan per semester but really only need $10,000, don't borrow that extra $5,000. It will be too tempting to spend the extra money and you could be paying off that extra amount for years with the interest you pay.
Ask Questions
When applying for a student loan, ask about getting the lowest interest rate available & what payments will be after graduation.
Know What You Are Signing
Many student loan websites say to ask your financial aid officer the following questions before signing anything:
What is the total cost of the loan?
What will my average monthly payment be when I graduate?
Is the interest rate fixed or variable?
Is there any way to lower the interest rate?
Can you tell me if there any are fees?
Total Student Debt & First Year's Gross Income
Bankrate.com says your total student debt for four years shouldn't be more than what you think your first annual salary might be.
"If your total student debt is less than your annual income, you should be able to pay back your loan in 10 years or less," the site says, quoting an official from a college scholarship website. "If it exceeds your income, you're likely to struggle to make loan payments. You may need to extend your repayment program by stretching out the term and reducing your monthly payment."
This may not apply to people already in med school because it's unrealistic to think you'll be making an annual salary in the six figures right away, especially during residency.
Why Interest is a Killer
Interest is what makes student loans so dangerous. It is one thing to borrow, say, $30,000 to $40,000 for education over four years, but quite another to pay it all back with interest, especially when interest rates for private loans can be well above 8%.
Know the interest rate and terms for each loan, experts say, by understanding exactly what you are signing when applying for a student loan.
"Students understandably don't want to look at the details of their loans while in school," Heather Jarvis, an attorney and student loan expert, told U.S. News and World Report. "But when you leave school, you could spend more money than you have making uninformed decisions.
You may think that, just because you're in school, interest is automatically deferred along with payments until after you graduate, but if you have an unsubsidized loan—one that is not subsidized by the federal government--interest is already accruing while you are in school, particularly if you are in graduate school and have a Stafford loan.
Subsidized vs. Unsubsidized Stafford Loans
Stafford loans are the most common type of student loans and are originated by the federal government. Make sure you understand whether the Stafford loan you take out is subsidized or unsubsidized. Below are definitions from Student Loan.com
Student Loan.com says subsidized Stafford loans (ones for which the government pays interest while you are still in school as an undergraduate) are reserved for people with a demonstrated financial need.
Unsubsidized Stafford Loans are for both undergraduate and graduate students "with or without financial need" and interest accrues and is added to your overall loan balance while you are still in school.
For those with unsubsidized Stafford loans, bills are sent showing the accrued interest. If possible, try to pay the interest while you are still in school to keep your loan balance down so there is less to pay once you graduate.
Deferments & Forbearance
Deferments and forbearance are two ways to postpone payment of student loans. While convenient, understand that both methods are only temporary.
The website for National Education says if you have an unsubsidized loan, it often means interest accrues, so the proverbial meter is still ticking even if you are not required to make payments.
A deferment is a temporary postponement of payment. As the Student Aid website says, "A deferment is a period during which repayment of the principal and interest of your loan is temporarily delayed."
The government pays interest on Federal Perkins Loans, Direct Subsidized Loans and/or Subsidized Federal Stafford Loans.
Below are reasons why you can apply for deferment:
A period of half-time enrollment in college or a career school.
A period of study in an approved graduate fellowship program or in an approved rehabilitation training program for the disabled.
A period of unemployment or inability to find full-time employment
A period of economic hardship (includes Peace Corps service)
A period of active duty military service during a war, military operation, or national emergency
During the 13 months following the conclusion of qualifying active duty military service, or until you return to enrollment on at least a half-time basis, whichever is earlier, if you are a member of the National Guard or other reserve component of the U.S. armed forces and/or you were called or ordered to active duty while enrolled at least half-time at an eligible school or within six months of having been enrolled at least half-time
You must apply for deferment. Contact your loan servicer for an application and further information.
Forbearance is another option to postpone payment, especially if your situation does not qualify for a deferment.
"If you can't make your scheduled loan payments, but don't qualify for a deferment, your loan servicer may be able to grant you a forbearance," the Student Aid website explains. "With forbearance, you may be able to stop making payments or reduce your monthly payment for up to 12 months. Interest will continue to accrue on your subsidized and unsubsidized loans (including all PLUS loans)."
StudentAid.com says two types of forbearance are available: discretionary and mandatory.
The Student Aid website notes that "your lender decides whether to grant forbearance or not," and you may request a discretionary forbearance for either financial hardship or illness.
Mandatory forbearances can be granted for the following reasons:
You are serving in a medical or dental internship or residency program, and you meet specific requirements.
The total amount you owe each month for all the student loans you received is 20 percent or more of your total monthly gross income (additional conditions apply).
You are serving in a national service position for which you received a national service award.
You are performing teaching service that would qualify for teacher loan forgiveness.
You qualify for partial repayment of your loans under the U.S. Department of Defense Student Loan Repayment Program.
You are a member of the National Guard and have been activated by a governor, but you are not eligible for a military deferment.
Department of Education Income-Based Repayment & Consolidation
Note that income-based repayment plans through the Department of Education--in which payments are based on your income--can be as low as $0 per month, might be a better option than forbearance. In fact, the Department of Education (a U.S. government agency) recently revised its popular PAYE (Pay As You Earn) program to include not only recent graduates but also older graduates who may still owe undergraduate and graduate school student loans.
PAYE and RPAYE (Revised Pay As You Earn) both allow people to make a monthly payment of no more than 10% of one's discretionary income, and the debt can be forgiven after a certain number of years (but may be subject to federal income tax). Payments are adjusted each year when you file your federal and state tax returns. The U.S. government allows you to deduct up to $2,500 in interest paid on your tax returns if you are a single, unmarried person.
Also consider consolidating your student loans so you will have just one monthly payment. You can do so either through the Department of Education or various private student loan companies. Note that the Income-Based Repayment plans are only available through the Department of Education, and although interest rates might be lower through banks and other private servicers, most don't offer income-based repayment plans.
For more information, visit https://studentaid.ed.gov/sa/repay-loans/understand/plans/income-driven
(Top image) ASK QUESTIONS: When applying for a student loan, ask about getting the lowest interest rate available & what payments will be after graduation. Image: FreeDigitalPhotos.net
---
About UMHS:
Built in the tradition of the best US universities, the University of Medicine and Health Sciencesfocuses on individual student attention, maintaining small class sizes and recruiting high-quality faculty. We call this unique approach, "personalized medical education," and it's what has led to our unprecedented 96% student retention rate, and outstanding residency placements across the US and Canada. UMHS is challenging everything you thought you knew about Caribbean medical universities.

Posted by
Scott Harrah
Scott is Director of Digital Content at UMHS and editor of the UMHS Endeavour blog. When he's not writing about UMHS students, faculty, events, public health, alumni and UMHS research, he writes and edits Broadway theater reviews for a website he publishes in New York City, StageZine.com.