UMHS Med4You, the student nonprofit founded by Ariana Hernandez, continues its mission to bring badly need medical care to underserved areas. For the second year in a row, the group recently traveled to Guatemala, under the guidance and mentorship of UMHS professor Dr. Angel Matos.
The UMHS Endeavour spoke to Med4You's Ariana Hernandez, a basic sciences student, about the group's second trip to Guatemala, a country with the fourth-highest rate of malnutrition worldwide, according to statistics. We discussed why medical care is so desperately needed in the Central American nation, the problems locals face, the need for more education and why this is difficult due to cultural differences in regions of Guatemala, the language barrier in communities that speak indigenous languages, and more.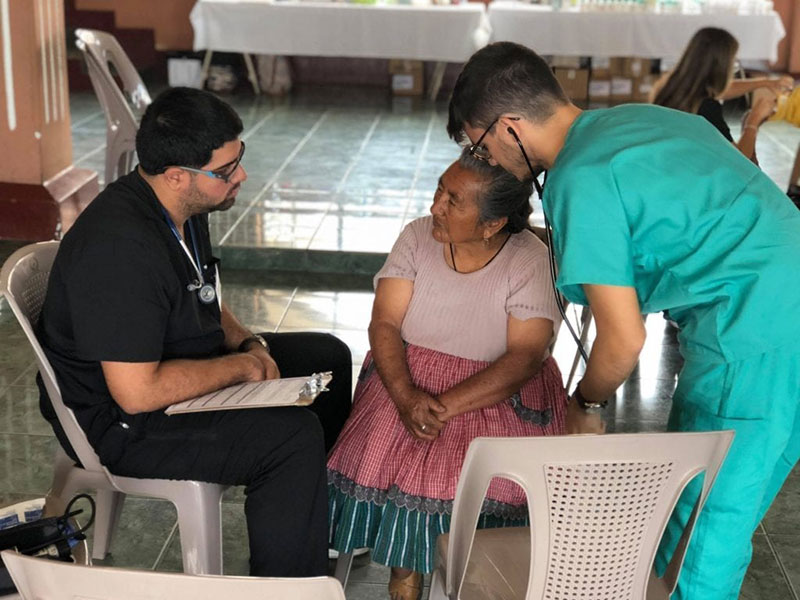 Med4You members Carlos Meija & Jiomar Santiago doing a medical history & physical examination of a patient in the Magadalena Milpas Altas community in Guatemala. Photo: UMHS Med4You
Why Guatemala Is In Need of Health Care
Ms. Hernandez noted that in Guatemala, a large portion of the population lacks access to health care, education and basic necessities. This is crucial because an estimated 80% of doctors work in Guatemala City, but those outside the capital city in rural areas lack proper health care, especially from specialists.
"Many children are dying from malnutrition or by not having access to treat their illness," she said. "More than injustices and inequalities in their country, the lack of education plays a main role in their health problems. This is why it is so important to us in all our medical clinics to educate the patient respectively to their health and as well treat their illness."
Med4You visited the communities of Santa Lucia Milpas Altas and Magdalena Milpas Altas, both municipalities from the Sacatepéquez Department, Guatemala.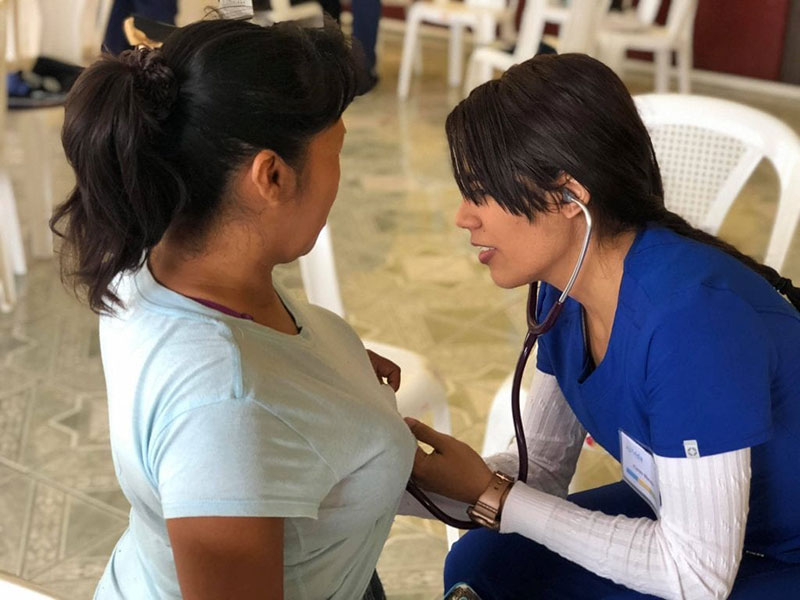 Med4You member Karen Nieves (right) doing a cardiac examination in Santa Lucia Milpas Altas community in Guatemala. Photo: UMHS Med4You
The response from locals in Guatemala was quite positive.
"Every time they could, they expressed to us how grateful they were for our help. No matter the hard or difficult circumstances they were facing, they had always a big smile for us. They were really humble, respectful and kind to us."
Some of the problems Guatemalans face are malnutrition, parasites, respiratory problems and gastritis.
"People can't afford food with all the vitamins, proteins and carbohydrates needed for their health," Ms. Hernandez said. "Also, there is poor hygiene and people cook with wood, causing major respiratory problems."
Causes of conditions and diseases in Guatemala vary depending on the location of certain communities. Ms. Hernandez said this was especially true in Zacapa, where Med4You did its first medical trip, compared to the town of Sacatepéquez.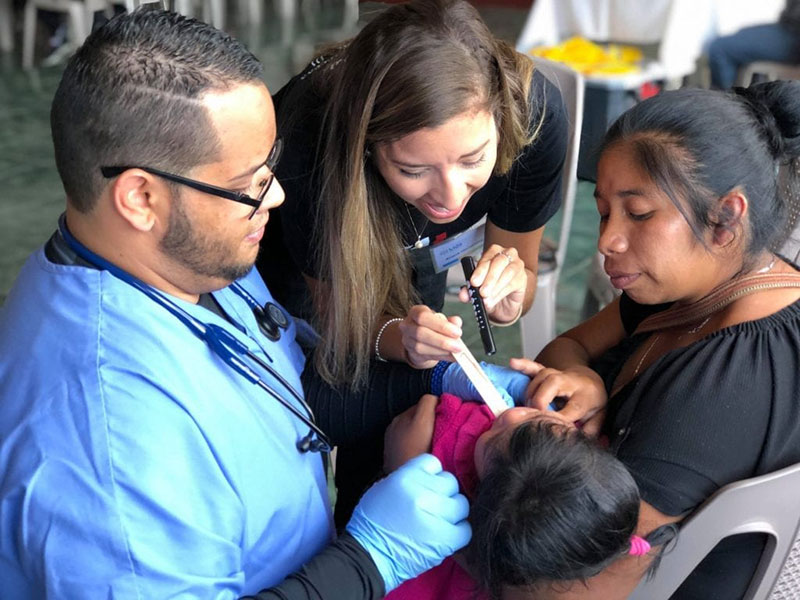 Med4You members Jann Vale & Ariana Hernandez helping a child & her mother in Magdalena Milpas Altas, Guatemala. Photo: UMHS Med4You
"The remote location of many people from Zacapa is one of their biggest barriers to their health," Ms. Hernandez said. In order for them to see a doctor, they have to walk a long distance and there is no public transportation. In addition to this, they don't have access to clean water. In Sacatepéquez, they have medical clinics that are more accessible, but there are not enough health professionals for their population."
Even when patients visit a clinic in Sacatepéquez, for example, they may not get the proper care they need.
"They need more medical doctors and healthcare professionals with the desire to help and do a major impact in these communities," said, noting that people must be willing to improve their education in order to break barriers created by the same communities.
Cultural Challenges Regarding Medical Care
Cultural differences in the different communities also affect medical treatment in Guatemala. Now that Med4You has held clinics in the Central American nation for two consecutive years, Ms. Hernandez has learned a lot about the people there.
She said that, after speaking to many Guatemalans on both visits, she noticed a feeling of "resignation and conformity" among some people.
"I know that many problems affecting them are not under their control, but in order to progress and improve their access to health care, they need to be willing to work for a change," she said." "I admire their strength despite the adversity, but they are afraid of change. For example, some of them have had the opportunity to move to other areas for a better future for their families. However, they prefer to face the adversity and stay in their communities."
Ms. Hernandez said the group has met many Guatemalan children with dreams of leaving their small communities and seeking higher education and professional jobs. This makes education in these areas so important.
"Guatemala is divided by different communities with their own culture and religious beliefs," she said. "Some of them believe in a health remedy given by a neighbor from their community, rather than an advice from a medical doctor. Others don't believe in prescribed medicines or preventive medicine. Like, for example. sexual protection."
Such beliefs make health care in Guatemala all the more challenging. Ms. Hernandez said that, while UMHS and Med4You completely respect the cultures in the nation, the people need to be open to medical advice from doctors and nonprofit organizations willing to help them.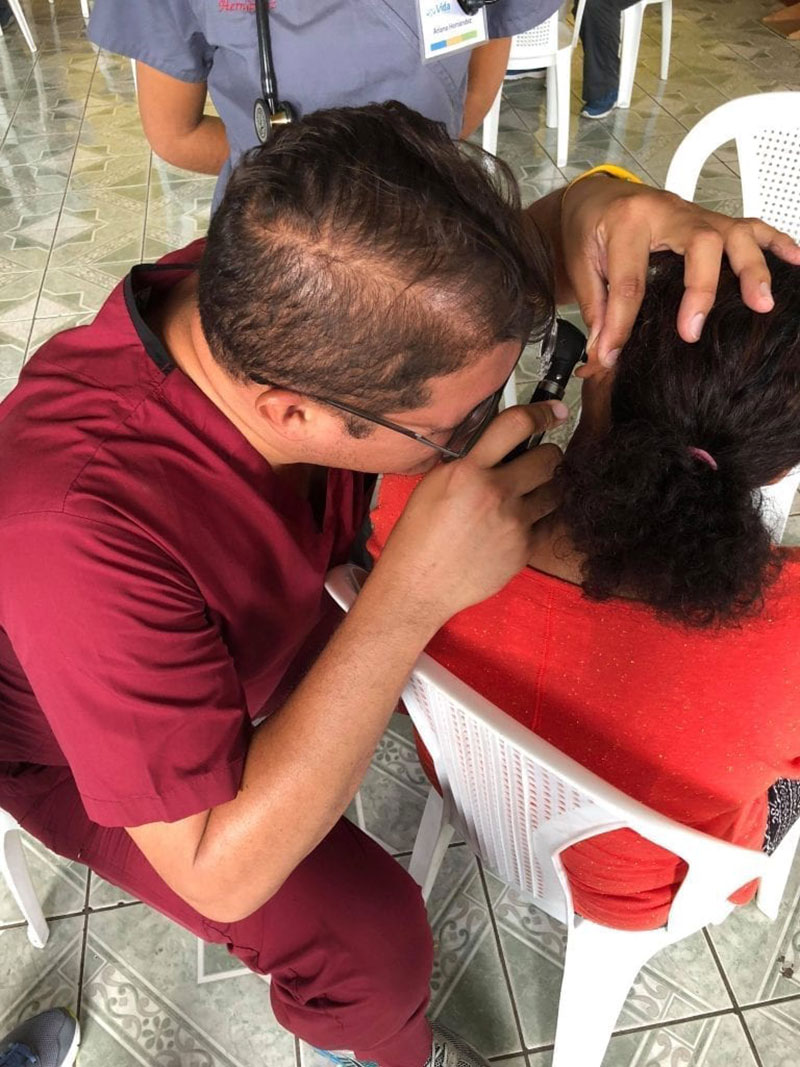 Dr. Angel Matos doing an ear examination in a patient from Santa Lucia Milpas Altas, Guatemala. Photo: UMHS Med4You
Language Also a Barrier
Although Spanish is the official language of Guatemala, many people speak indigenous languages as well, depending upon the location.
"Language is the other barrier for their health care access," Ms. Hernandez said. "The indigenous communities that we helped speak Spanish too, but there are other locations that don't speak Spanish. This is a major problem for them to communicate with doctors and with the other people outside their communities."
Photos of UMHS Med4You Outreach in Guatemala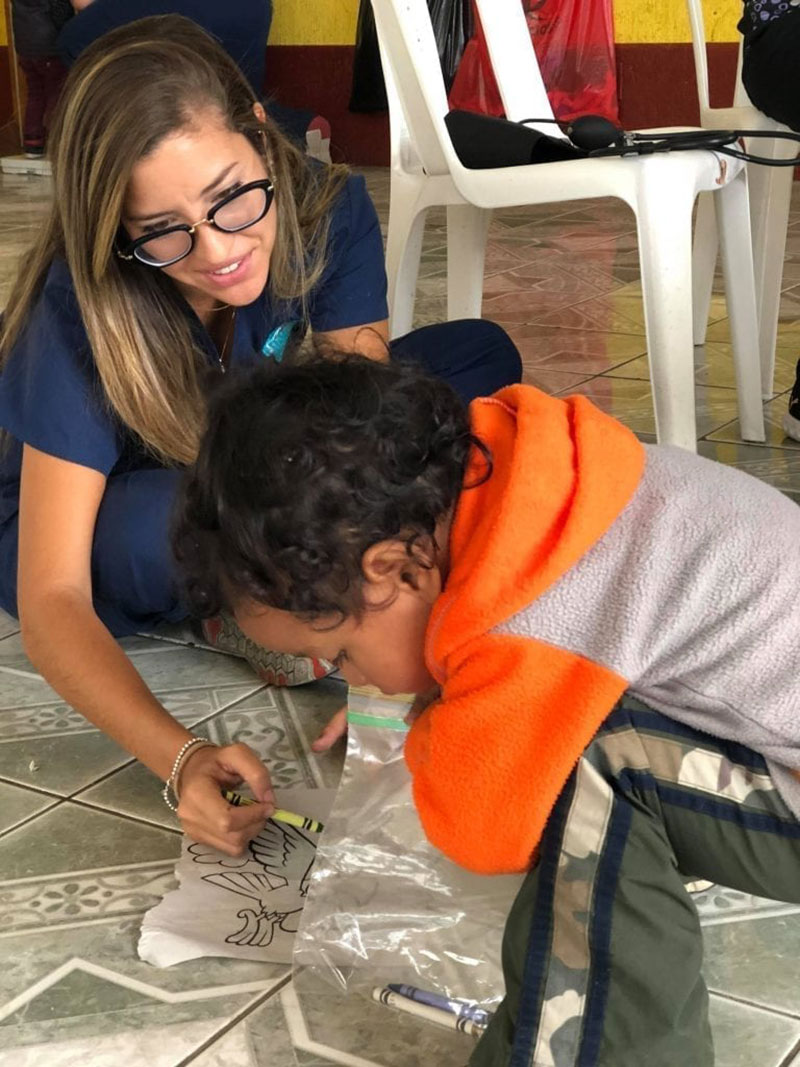 Med4You member Ariana Hernandez playing with one of the pediatric patients from Santa Lucia Milpas Altas, Guatemala. Photo: UMHS Med4You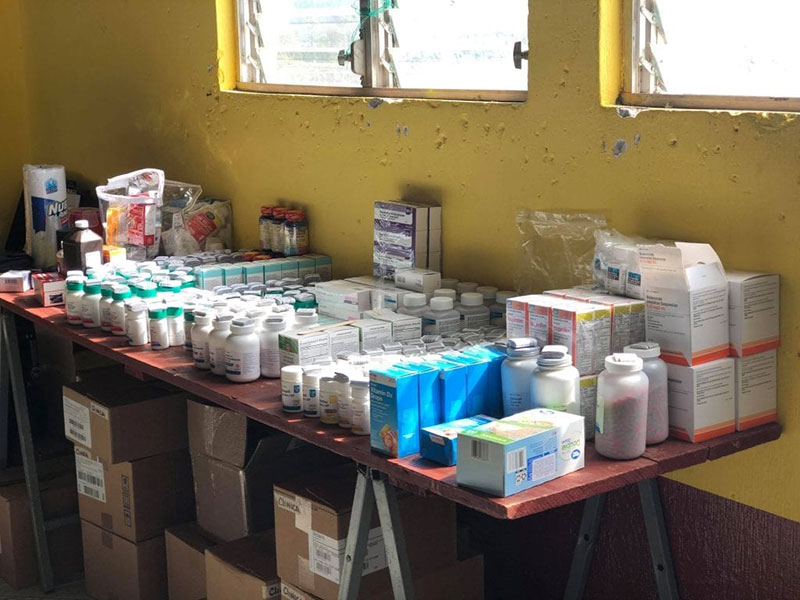 Medication donated to the Santa Lucia Milpas Altas community in Guatemala. Photo: UMHS Med4You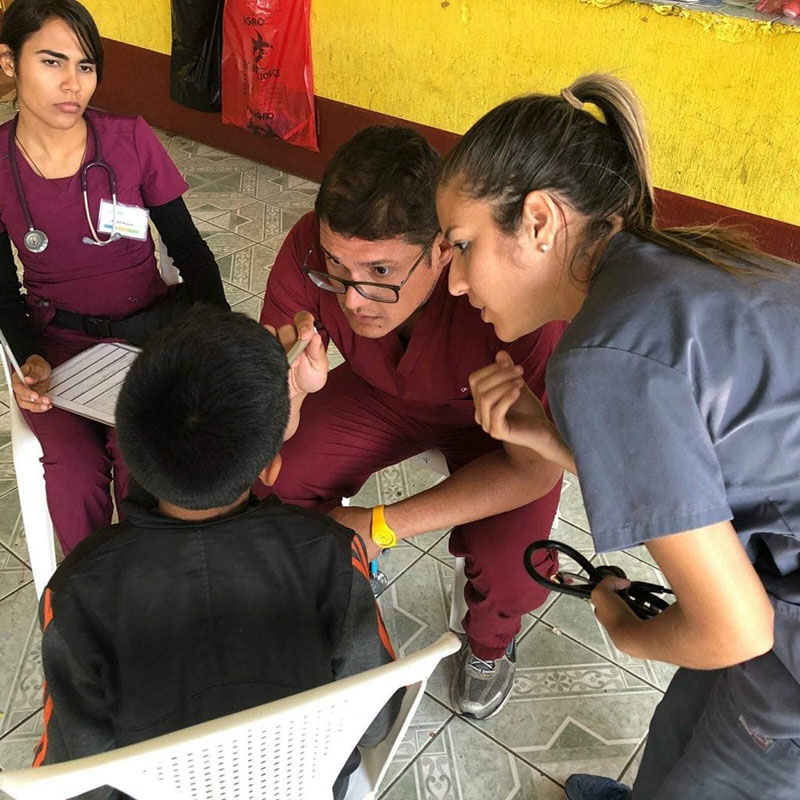 (Left to right) Karen Nieves, Dr. Angel Matos & Ariana Hernandez helping a child from Santa Lucia Milpas Altas, Guatemala. Photo: UMHS Med4You
(Top photo) MAKING A DIFFERENCE IN GUATEMALA: The UMHS Med4You team in the Magdalena Milpas Altas community in Guatemala. Photo: UMHS Med4You
---

About UMHS:
Built in the tradition of the best US universities, the University of Medicine and Health Sciences focuses on individual student attention, maintaining small class sizes and recruiting high-quality faculty. We call this unique approach, "personalized medical education," and it's what has led to our unprecedented 96% student retention rate, and outstanding residency placements across the US and Canada. UMHS is challenging everything you thought you knew about Caribbean medical schools.

Posted by
Scott Harrah
Scott is Director of Digital Content & Alumni Communications Liaison at UMHS and editor of the UMHS Endeavour blog. When he's not writing about UMHS students, faculty, events, public health, alumni and UMHS research, he writes and edits Broadway theater reviews for a website he publishes in New York City, StageZine.com.