UMHS holds the Class of 2017 Commencement on Friday, June 2, 2017 at 2pm at Alice Tully Hall, Lincoln Center in New York City (65th and Broadway, Main Entrance). Following is a UMHS Graduation preview of the big day.
The ceremony begins with a processional, followed by the welcome and introductions by faculty and administrative leaders, conferral of degrees, recitation of the Hippocratic Oath, followed by the recessional, diploma distribution and reception.
Graduates should arrive by noon, and guests may start to arrive at 1:15pm. (Only guests who have a ticket will be allowed to enter.)
Congressman Eliot Engel to Speak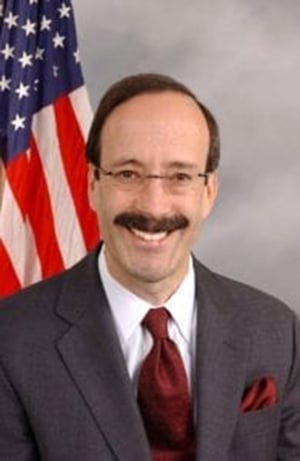 The keynote speech will be given by U.S. Congressman Eliot Engel (pictured, right). Congressman Engel is the Ranking Member on the House Foreign Affairs Committee. He serves on the Energy and Commerce Committee, including the Subcommittee on Health and the Subcommittee on Communications and Technology. He is the founder and Co-chair of the House Oil and National Security Caucus, which is seeking clean, energy-efficient alternatives to America's reliance on oil. He also sits on the Gun Violence Prevention Task Force, the LGBT Caucus, the Bipartisan Task Force for Combating Anti-Semitism, the HIV/AIDS Caucus, the Long Island Sound Caucus, and the Animal Protection Caucus, among others. Prior to serving on the New York State Assembly (1977-1988), where he chaired the Committee on Alcoholism and Substance Abuse and the Subcommittee on Mitchell Lama [Affordable] Housing, Mr. Engel was a teacher and guidance counselor in the New York City public school system.
Commencement Day Itinerary
Noon - Graduates arrive and check in. Refreshments will be served.
1:00pm - Graduate Group photo will be taken on stage. After the picture, all will exit from the stage to the hall designated as follows: Blue Card-Exit to Right Side of the auditorium, facing the audience. Yellow Card-Exit to Left Side of the auditorium, facing the audience.
1:30pm - Graduates Line-up for processional.
1:30pm - Doors open for guests. All guests must have tickets or they will not be permitted to enter the Auditorium.
2:00pm - Processional begins.
3:30pm - Ceremony concludes.
3:30 to 4;30pm - Refreshments to be served.
#UMHSClassof2017 Hashtag for Photos

Please use the hashtag #UMHSClassof2017 for all photos on our UMHS Instagram page.
If you have any questions or concerns, email registrar@umhs-sk.net
The UMHS Endeavour blog will have a full post and photos featuring the highlights of the ceremony next week. Congratulations to all UMHS Class of 2017 graduates.


(Top photo) UMHS GRADUATION AT LINCOLN CENTER: The 2017 Commencement will be held June 2nd at Alice Tully Hall. Pictured: President Ross speaking at last year's ceremony. Photo: UMHS Files
---

About UMHS:
Built in the tradition of the best US universities, the University of Medicine and Health Sciencesfocuses on individual student attention, maintaining small class sizes and recruiting high-quality faculty. We call this unique approach, "personalized medical education," and it's what has led to our unprecedented 96% student retention rate, and outstanding residency placements across the US and Canada. UMHS is challenging everything you thought you knew about Caribbean medical schools.

Posted by
Scott Harrah
Scott is Director of Digital Content & Alumni Communications Liaison at UMHS and editor of the UMHS Endeavour blog. When he's not writing about UMHS students, faculty, events, public health, alumni and UMHS research, he writes and edits Broadway theater reviews for a website he publishes in New York City, StageZine.com.