The second episode of the UMHS podcast, Dextrocardia, hosted by second-year UMHS medical student Nihal Satyadev, debuts Tuesday, September 15, 2020. This will be the first installment in a sub-series featuring discussions with Caribbean medical students that are also Black Lives Matter (BLM) activists.
In this episode, Nihal interviews Nahu Dimitri, a first-year medical student at UMHS. Nahu shares his experiences as an activist in the Black Lives Matter movement in Virginia and speaks to the opportunities that medical school students have to address racial disparities in healthcare.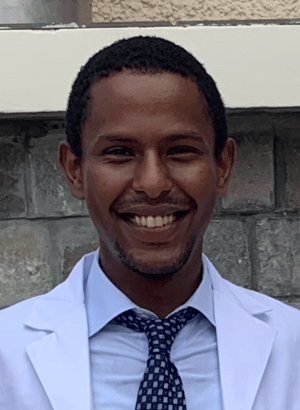 (Inset, right): UMHS student Nahu Dimitri. Photo: Courtesy of Mr. Dimitri.
As an MS1, Nahu was a member of the UMHS Student Government Association and played an active role in the Brainstorms Case Competition. Prior to medical school, Mr. Dimitri received his B.S. from Virginia Tech and worked as a scribe in both emergency department and outpatient cardiac practices in Virginia.
Dextrocardia features interviews with fellow medical students, medical school faculty, and medical practitioners on everything from how to succeed in medical school, to fighting racial inequality in medicine and how medical students are working in the BLM movement.
Episodes are released every other Tuesday. Dextrocardia is available on Apple Podcast, Spotify and Podbean.
Subscribe to Dextrocardia below:
---
About UMHS:
Built in the tradition of the best U.S. universities, the University of Medicine and Health Sciences focuses on individual student attention, maintaining small class sizes and recruiting high-quality faculty. We call this unique approach, "personalized medical education," and it's what has led to our unprecedented 96% student retention rate, and outstanding residency placements across the USA and Canada. UMHS is challenging everything you thought you knew about Caribbean medical schools.

Posted by
Scott Harrah
Scott is Director of Digital Content & Alumni Communications Liaison at UMHS and editor of the UMHS Endeavour blog. When he's not writing about UMHS students, faculty, events, public health, alumni and UMHS research, he writes and edits Broadway theater reviews for a website he publishes in New York City, StageZine.com.