UMHS Class of 2021 grad Dr. Tom Kowalski has literally come a long way on his journey to becoming a doctor. Born in Poland, he came to the USA with his parents and two siblings when he was just three years old, settling in Cleveland, Ohio. He was always interested in medicine, and he has finally made his dreams a reality. Dr. Kowalski starts a Psychiatry residency at Wake Forest School of Medicine in Winston-Salem, North Carolina this summer.
The UMHS Endeavour spoke to Dr. Kowalski about growing up in Cleveland and dreaming of becoming a doctor, why he decided to attend UMHS over other medical schools, what he finds fascinating about Psychiatry, and more.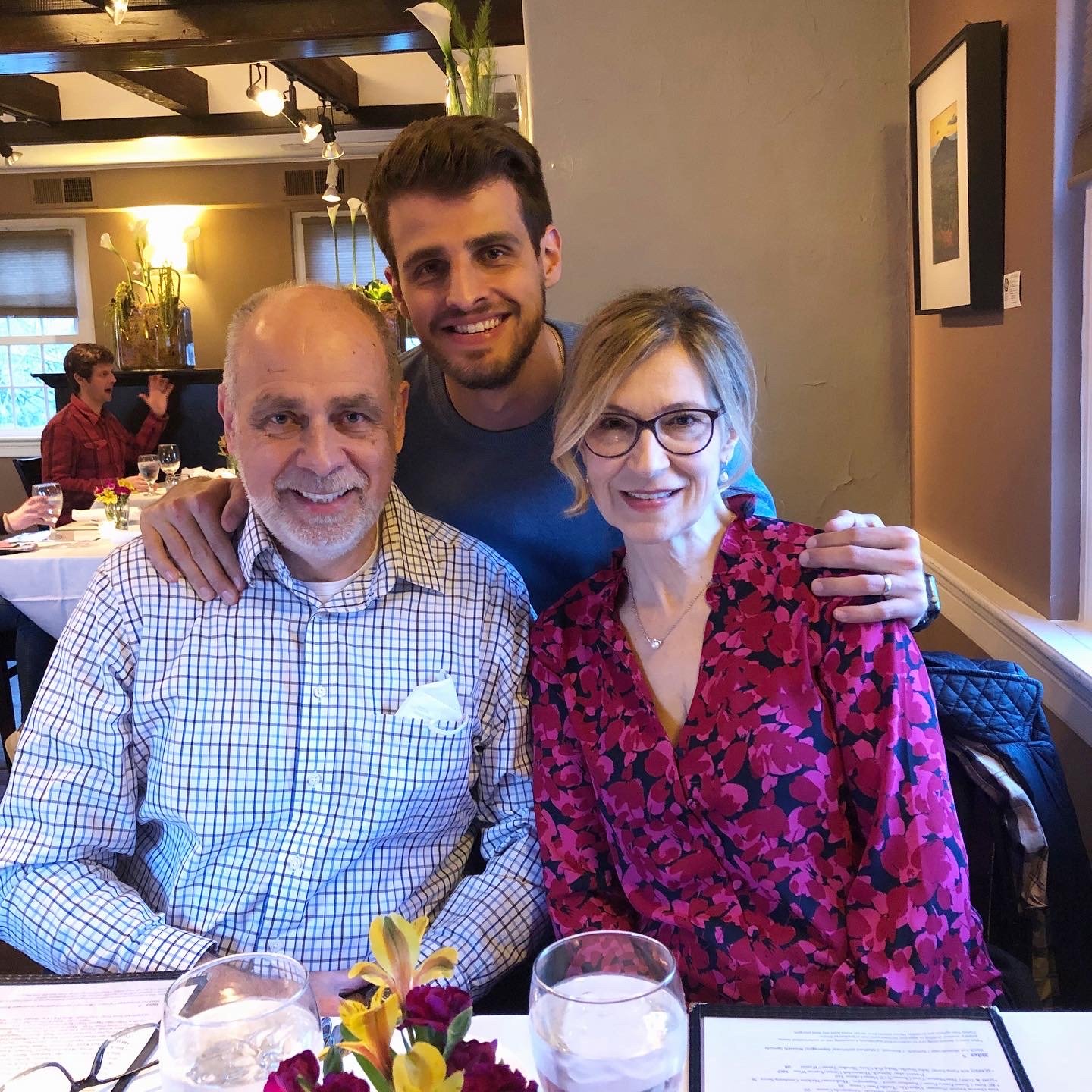 Dr. Tom Kowalski with his parents, Kris & Jolanta Kowalski. Dr. Kowalski & his parents moved to the USA from Poland when he was three years old. Photo courtesy of Dr. Kowalski.
Started shadowing doctors in high school
Dr. Kowalski said he always envisioned himself becoming a doctor.
"In high school, I shadowed different physicians and then as an undergraduate student (Miami University in Oxford, Ohio) I did research in my summers," he said.
He studied Zoology as an undergrad, with a focus on Pre-Med because biology was not offered as a major so most Pre-Med students at Miami University majored in Zoology.
Why he chose UMHS
Dr. Kowalski said UMHS was the only medical school to which he applied.
"I did quite a bit of research into Caribbean schools just to make sure their clinicals are in the US and also that students from these schools actually Match. Once I found UMHS, I joined a webinar, reached out to current/former students and then decided to take the leap of faith."
For Dr. Kowalski, choosing to study at a Caribbean medical school made a lot of sense.
"I absolutely believe that UMHS and Caribbean medical schools in general provide such spectacular opportunities for growth not only as a student, but even more so as a human being," he said. "Living on your own in another country, especially one like St. Kitts— where there simply aren't as many amenities or transportation options as we are used to in the US or Canada—can be overwhelming at first. However, you learn to adapt, you learn to manage time and problem-solve. On top of the growth, you develop such wonderful memories and bonds with your peers because each and every one of you is away from family, so the UMHS community becomes your new family away from home."
---
Discover if a career in Psychiatry is right for you.
Learn why 89% of doctors would choose the same specialty again.
---
Medical school and the diverse faculty at UMHS helped Dr. Kowalski develop and fine-tune many of the skills needed to be a good physician.
Dr. Kowalski said all UMHS professors and staff are wonderful.
"They not only educate well but also most of them provide guidance," he said. "A professor that really stood out to me was Dr. Roy. As many know he teaches pathology and I always felt so welcome when I would go to his office. I struggled occasionally in the class and he really helped guide me. He is soft spoken with a good heart and he really cares about his students. If I ever visit the island again, he is someone who I would gladly come say hello to."
That guidance in St. Kitts helped Dr. Kowalski as he progressed through med school and taught him how to be a good doctor.
"I think being more efficient and having good time management skills is very important," he said. "Every doctor is smart in their own field, so that is something you are expected to have. But as I went through clinicals, I realized that while every doctor is smart, not all have that superb intelligence. What I mean is to be intelligent, I truly believe you take into consideration not only the disease pathology, signs, symptoms and exam findings, but also you hear the full story; you take other things into consideration while also using your own experiences to arrive at a diagnosis. UMHS and especially their plethora of foreign-trained professors taught me about their experiences abroad and that there are different ways to approach a problem and determine a diagnosis."
He advises prospective and current UMHS students to find one's passion and make the most out of basic sciences in St. Kitts as well as clinical rotations in the US.
"We all want to help people (that's why we went to medical school) but figure out how you can help," he said. "Be active on the island. Don't just focus on the schoolwork but meet people. Do volunteer projects, join clubs and get exposure to different fields. Once you are in clinicals, make sure you give back to the community. We went into medicine to help and trust me you will gain satisfaction from your work and also, it'll help you a lot on ERAS [Electronic Residency Application Service] once it is time to apply. So, keep grinding away and become as well-rounded as you can. It'll help you tell a compelling story when the time comes."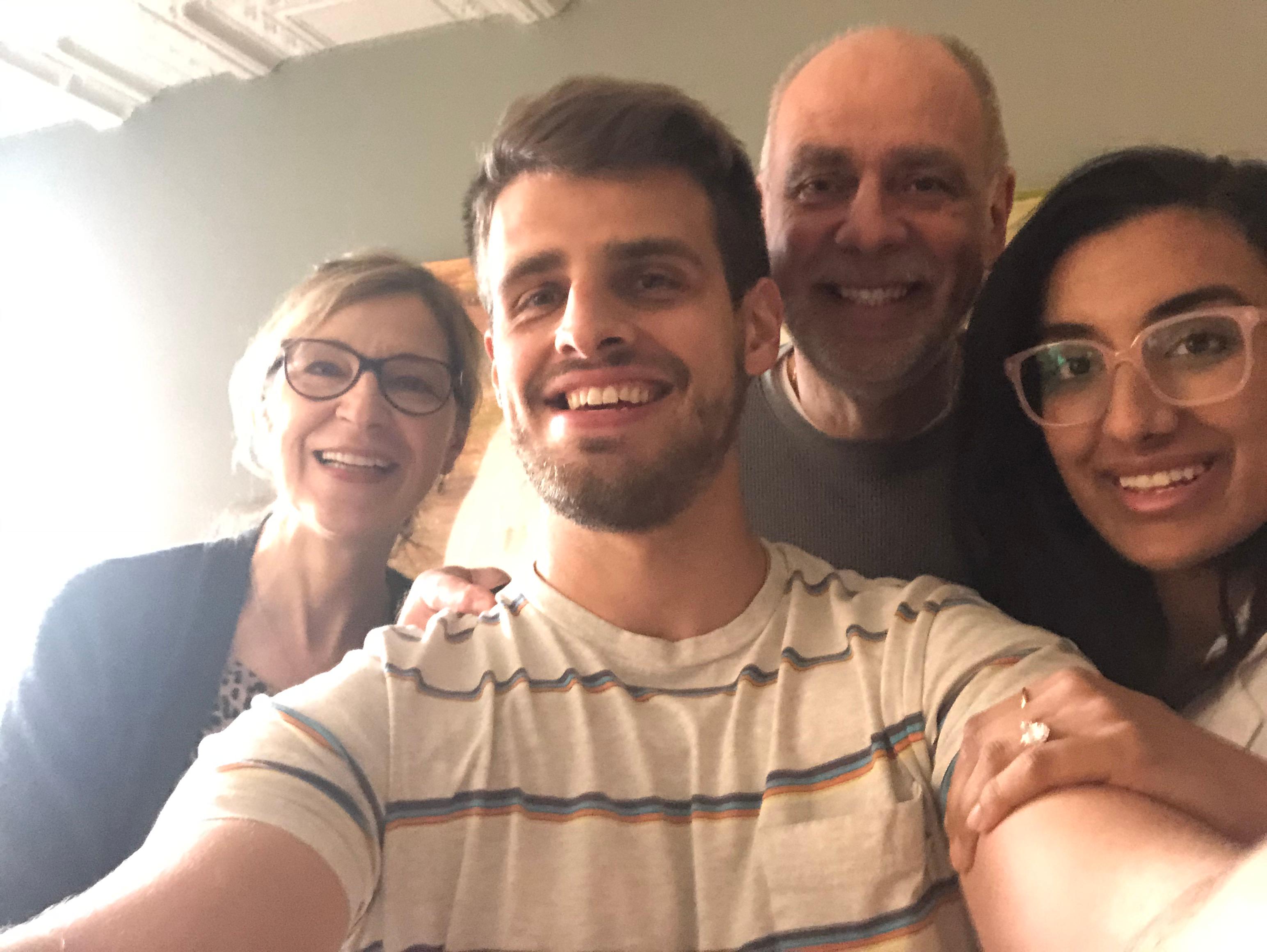 Dr. Tom Kowalski with his family. Photo courtesy of Dr. Kowalski.
Psychiatry residency in North Carolina
Dr. Kowalski is pleased to be starting his Psychiatry residency at Wake Forest School of Medicine this summer.
"I am beyond excited to be starting residency at Wake Forest. This program is located in Winston-Salem, North Carolina, about one hour north of Charlotte. The school itself has a wonderful reputation not only in the area but across the county. I will be joining a program of about 28 residents total that come from many US MD and DO programs, not to mention a faculty that also includes graduates of the program."
A UMHS clinical core rotation helped him decide to specialize in Psychiatry.
"Psychiatry is such a unique field and what made me really discover that was my Psychiatry core rotation in Norman, Oklahoma at Griffin Memorial Hospital," he said. "That state facility had patients with all different kinds of psychiatric conditions ranging from depression to schizophrenia and psychosis. I really felt that the work was challenging but also extremely rewarding. For me, there is something about developing a physician-patient relationship with someone who comes to you at one of the most vulnerable times in their life. You, as the clinician, really have the chance to help navigate their life which ultimately trickles down to other aspects including physical health, their relationships and their journey to reach their goals."
What interests him the most about Psychiatry?
"Some of the things that interest me the most beyond the relationships you develop with patients is the flexibility of the field. By this I mean that as a psychiatrist you can train with children, adults, geriatrics, addiction, forensics, consult liaison, etc. There are so many different opportunities and I am excited to see what the future holds."
There are a lot of misconceptions about Psychiatry and there is still a stigma in the USA about mental health. What are some ways he thinks we can change people's ideas about Psychiatry?
"I agree the stigma against Psychiatry is certainly out there not only in the US but even more so in other regions of the world where it is completely taboo. I believe one way we address the issue is to make resources more available. In our current climate with the pandemic, we realize just how important mental health is. We see people of all ages from youth to adulthood suffer emotionally because of the restricted visiting, the lack of interaction, and it really hurts all aspects of their lives. While the pandemic has been a tragic event where millions have lost their lives and thousands more have suffered, I do hope that one positive that arises is that the spotlight on mental health becomes a little bit brighter."
After Primary Care, Psychiatry is one of the most in-demand specialties in the US but not enough people pursue Psychiatry. Dr. Kowalski said he believes interest in the specialty is growing.
"I think the tide is definitely changing with Psychiatry. While it was once not as in-demand, I think medical students are certainly gravitating to it more and more. It is no longer a 'backup option' and the statistics and lack of unfilled Psychiatry residency positions back this up. Trust me, Psychiatry programs see who wants to actually do it and who thinks it can just be a backup. It is becoming much more competitive. Psychiatry offers flexibility, like I previously mentioned. You can help any and all people based on what you specifically want to address."
He has many things he would like to accomplish during residency.
"My goals for residency are to learn as much as possible; not only the material but also my skills as an interviewer and clinician. Along the way, I hope to develop lifelong relationships with my peers and my Attendings that will last for decades beyond my four years of training at Wake Forest."
Dr. Tom Kowalski with his parents, Kris & Jolanta. Photo courtesy of Dr. Kowalski.
The mental health toll created by the pandemic
Dr. Kowalski said the pandemic has put a large focus on not only doctors but the medical field in general.
"If you look at the sacrifice that nurses and doctors are making to help serve their patients, it is truly remarkable. We also can't forget the countless hours that pharmaceutical companies' researchers have devoted to produce effective vaccines so rapidly."
As we begin putting the pandemic behind us, America faces challenges from the mental health toll created by COVID-19 and all the anxiety people now have as things start opening again and people are forced back into social situations and facing "normalcy" again.
"I certainly believe that peoples' mental health has suffered tremendously through this difficult time," he said. "People of all ages and regardless of previous mental health diagnoses are developing depression, anxiety and worse. Some of the reasons for this is lack of follow-up along with limited Internet access, so people fall through the cracks. I think doctors can help their patients by beginning the conversation, asking their patients how they are holding up and not being afraid to refer them to a therapist or psychiatrist if need be."
The pandemic has also been a learning experience for med students, and as we come out of this unprecedented time, future doctors have an ethical responsibility to educate the public.
"I think most med students have learned they are more resilient than they realized. By this I mean that we have all faced challenges as medical students, whether it was rescheduling exams, rotations, etc. So, you must carry on. Even more importantly, we learned that we are ambassadors in medicine. While more and more across the US are refusing the vaccine, it is our job as new incoming physicians to tell people why vaccines are important, why herd immunity is needed and how you can transmit the virus unknowingly if you don't get vaccinated. You put your family and friends at risk, not to mention yourself."
Advice for prospective & current students
Current and prospective UMHS students should take full advantage of what the med school offers. Besides studying hard, it is important to join student clubs and also participate in the Student Government Association.
"Being involved in the community with extracurriculars and also being in Student Government to demonstrate leadership were certainly things I believe helped me reach my goal of matching," he said.
Once students enter clinical rotations, staying focused is key to succeeding.
"My advice for students is to go into all rotations with an open mind and remember that you can change your mind. Keep working hard and when you have the bad days, which I know you will, remember to take a step back and appreciate what you have and reflect on your journey. Other people would go to great lengths to be where you are today."
(Top photo): Dr. Tom Kowalski, UMHS grad starting a Psychiatry residency in North Carolina this summer. Photo courtesy of Dr. Kowalski.

Posted by
Scott Harrah
Scott is Director of Digital Content at UMHS and editor of the UMHS Endeavour blog. When he's not writing about UMHS students, faculty, events, public health, alumni and UMHS research, he writes and edits Broadway theater reviews for a website he publishes in New York City, StageZine.com.