UMHS Class of 2021 grad Dr. Chelsea Paterson did not originally plan on becoming a doctor. While attending high school in her native country Canada, she took an exercise science course and discovered she liked anatomy and physiology. She studied kinesiology as an undergraduate at the University of Windsor, hoping to become a physiotherapist. Work at a rural hospital ignited a passion for medicine and she decided to attend medical school. This spring, Dr. Patterson was pleased to learn she matched in Preliminary Surgery at Saint Mary's Hospital in Waterbury, Connecticut.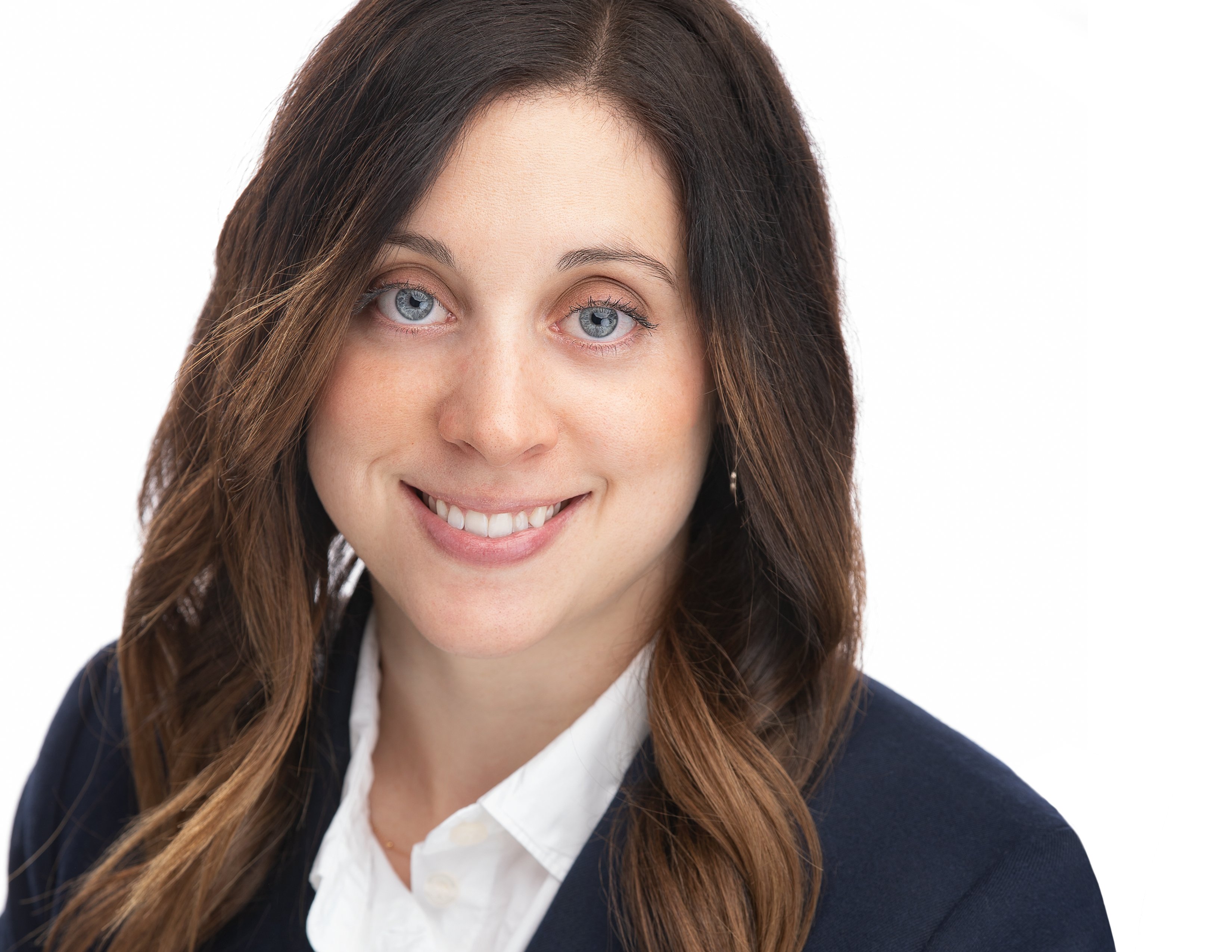 Dr. Chelsea Paterson. Photo courtesy of Dr. Paterson.
The UMHS Endeavour spoke to Dr. Paterson about how she first became interested in medicine, why she chose UMHS over other schools, her experiences in clinical rotations and preparing for the residency Match, why she enjoys surgery as a specialty, the challenges of COVID-19, and more.
When we first spoke to Dr. Paterson earlier this summer, she was still in Canada preparing to start residency in Connecticut and waiting to get her visa to travel across the border. Her parents had just surprised her with a graduation drive-through, something she really enjoyed because Canada had been in lockdown for six months. Dr. Paterson learned a lot about adapting during the pandemic. She found a unique way to help her community at the height of the stay-at-home orders in 2020 when clinical rotations were suspended due to COVID-19.
"I learned how to use a sewing machine through YouTube videos and sewed over 300 face masks which were primarily donated to the ProMedica Hospitals throughout Michigan and Ohio which was pretty cool," she said.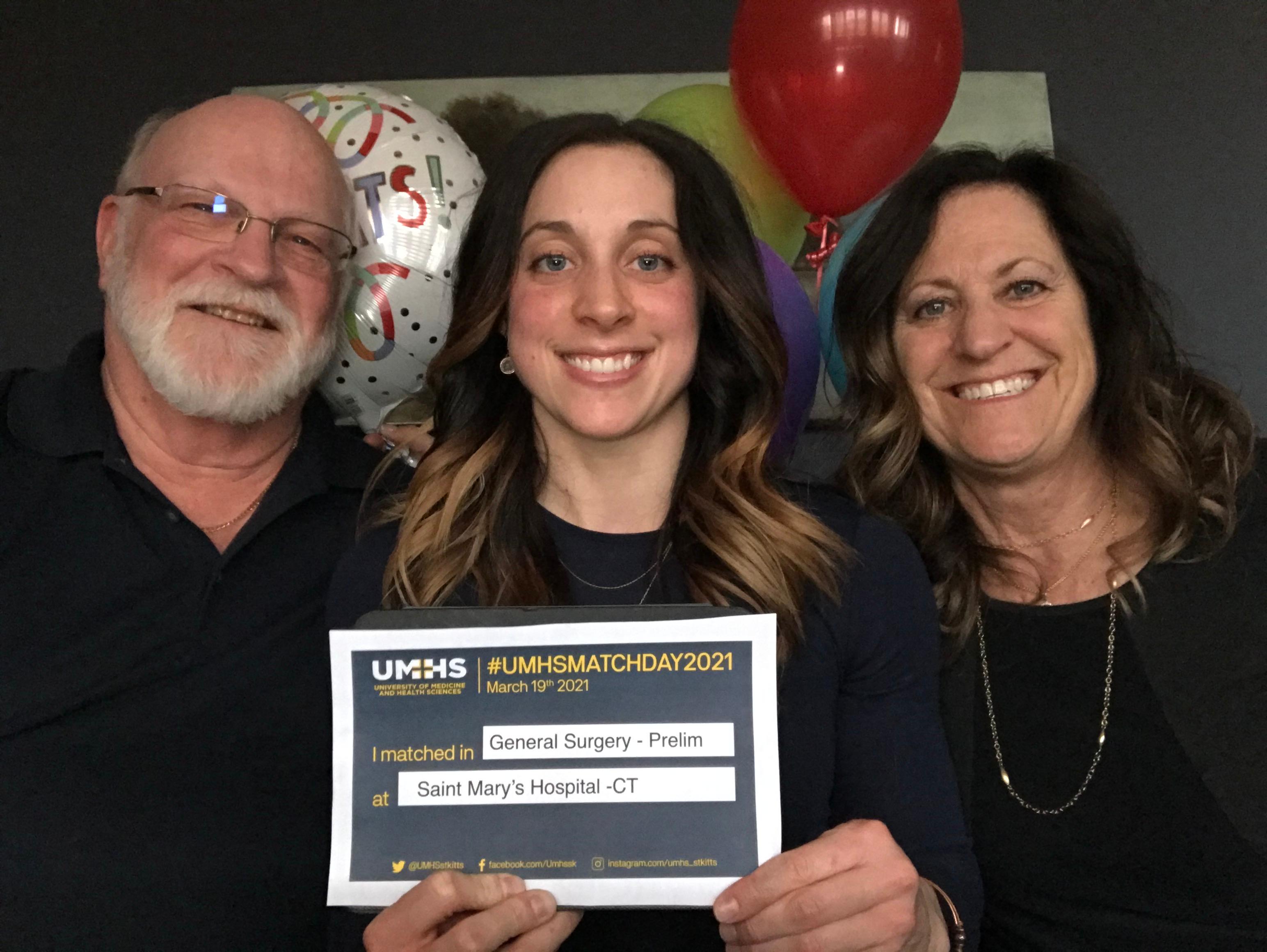 Dr. Paterson with her parents John & Betty Paterson on Match Day on March 19, 2021. Photo courtesy of Dr. Paterson.
Early interest in medicine
Dr. Patterson grew up in Leamington, Ontario, Canada (the southernmost part of the country and also the Tomato Capital of Canada).
She attended the University of Windsor, majoring in kinesiology.
"At that time, I was interested in becoming a physiotherapist and enrolled in the co-operative education program to accompany my degree," she said. "However, after my first job placement in a physiotherapy clinic, I felt a desire to explore further into the field of medicine. I ended up finding a placement in a rural hospital, assisting to run their therapeutic recreation program and from that experience decided I wanted to pursue a career in medicine. I really enjoyed the hospital setting and more comprehensive medical intervention as opposed to only the physical functional health aspect of physiotherapy."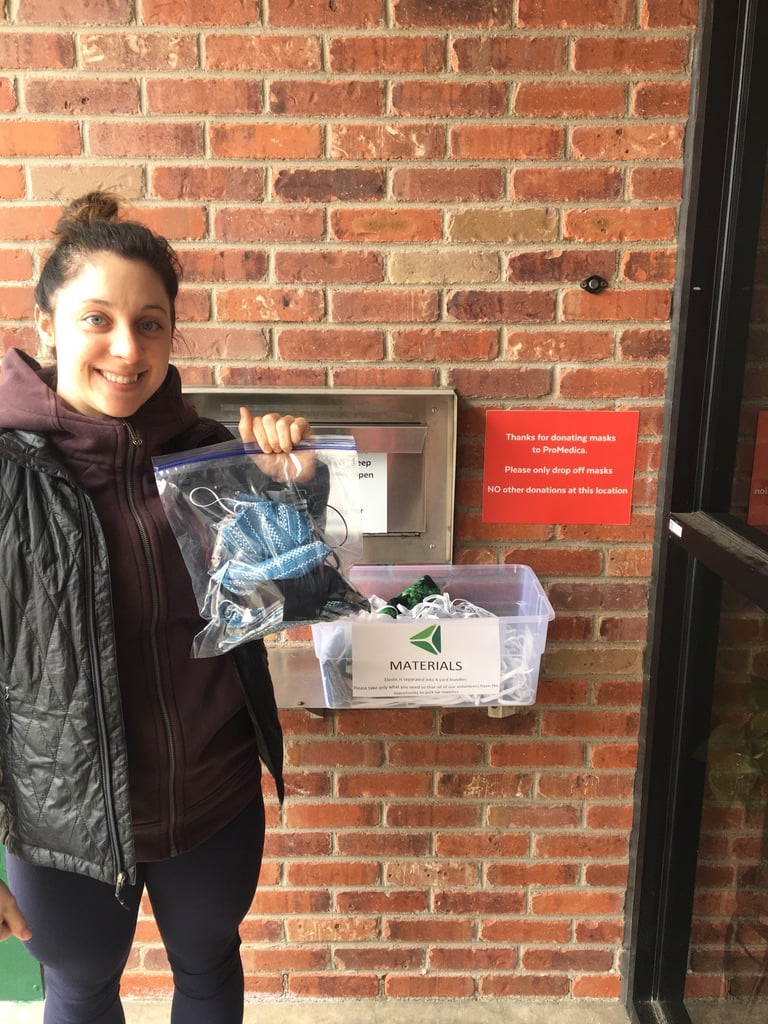 Dr. Paterson shows off masks she made & donated to ProMedica hospitals throughout Michigan & Ohio. Photo courtesy of Dr. Paterson.
Why she chose UMHS



What made her decide on attending UMHS over other med schools?
"Luckily, I had a friend from Canada who was currently enrolled in UMHS and she was very pleased with her experience which made it my top choice. I was also attracted to the smaller class sizes at UMHS, which is an environment I felt I thrived—the best in which truly allows for greater access and relationships with faculty."

She found a lot of guidance and support at UMHS.
"After my first semester, I became a teaching assistant for the Physical Diagnosis course where my co-teaching assistant (Micah Mathai) and I created videos for students to learn the proper techniques for each physical examination. We worked very closely with Dr. Mohan Kumar ensuring our instructional videos detailed every aspect of each physical exam which was an incredibly rewarding experience."
One St. Kitts faculty member in particular made a lasting impression.
"[Course Director of Neuroscience and Professor of Anatomy] Dr. Michael Doherty was also very supportive in assisting students as well as providing elective courses to encompass the breadth of important areas in medicine. He offered, and might still offer, the History of Medicine and Art Therapy elective courses. Integrating artistic hobbies as a form of self-care is something I continue to implement after having taken his course whether it be coloring, painting, sewing, etc."
Living in St. Kitts and attending basic science courses gave her many advantages.
"Living in St. Kitts for almost two years as well as the nature of our clinical rotations requiring us to relocate to different hospitals enables us to develop critical independence and adaptability skills. I believe these are highly transferrable to all life experiences and will be especially useful when transitioning into residency training and beyond."
Dr. Paterson notes that aside from honing skills such as independence and adaptability, it is important for physicians to be a part of one's community and to give back.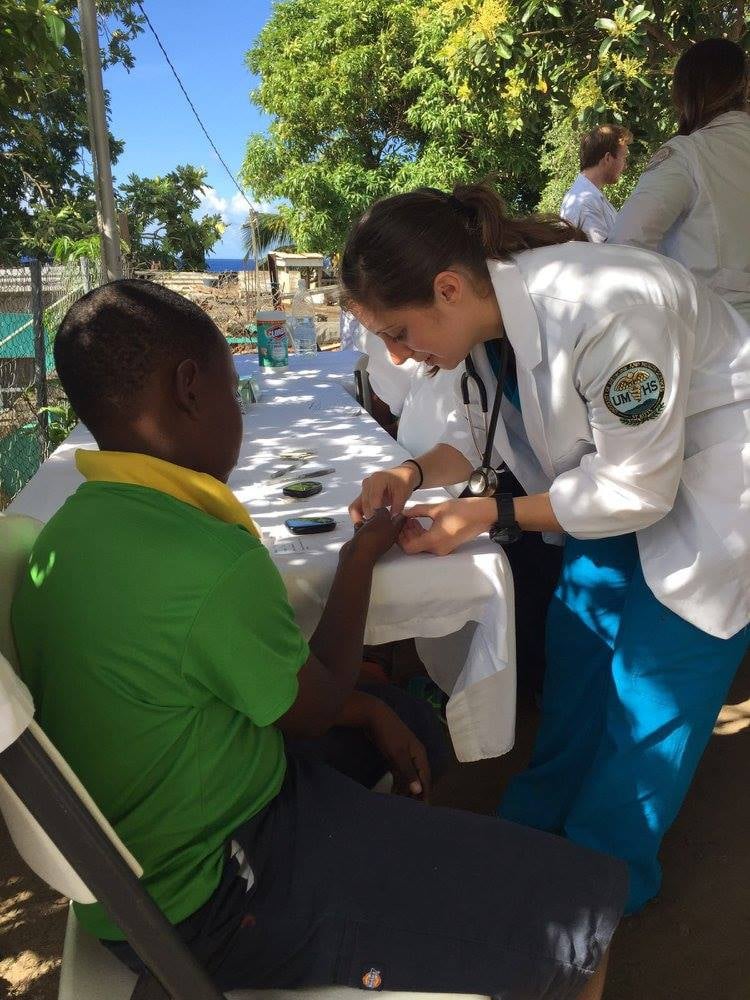 Dr. Paterson with a patient at a health fair in St. Kitts while she was still a med student. Photo courtesy of Dr. Paterson.
"Something I truly enjoyed were the various events led by students and faculty within the community while I was in St. Kitts. I especially enjoyed the AMSA health fairs which allowed for local members in the community to receive basic assessments including blood sugar, blood pressure, height, weight, ophthalmic as well as breast examinations. We are incredibly privileged to have acquired our medical knowledge and I believe serving others in our community in this way in invaluable."
Overall, she sees UMHS as a great school for myriad reasons.
"I truly believe you are in good hands at UMHS. I have met many students from other Caribbean medical schools with horror stories (schools closing, issues with transferring, unexplained charges, lack of guidance or support; some Caribbean schools don't even require their students take the USMLE exams to graduate, etc.) and have always been very grateful to be with UMHS. The school is smaller and I think it allows for them to be supportive and take good care of their students."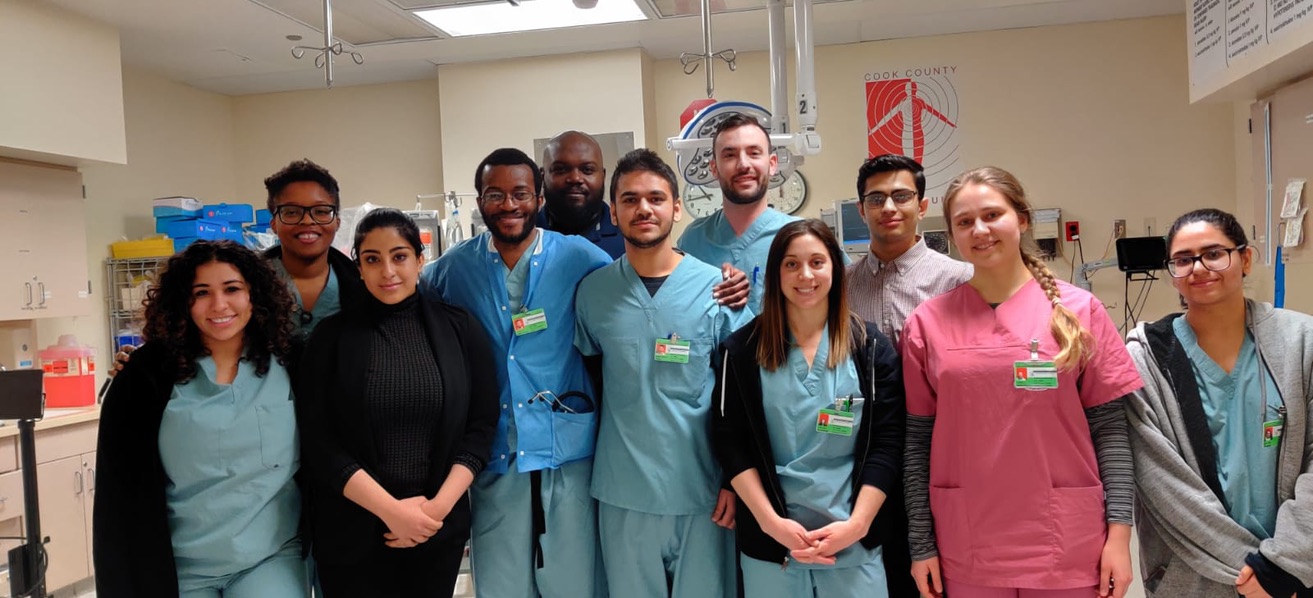 Dr. Chelsea Paterson (center, third from right) with colleagues at Cook County Hospital in Chicago during clinical rotations. Photo courtesy of Dr. Paterson.
Clinical rotations & the Match




UMHS prepared Dr. Paterson for the Match, but she credits one New York staff member for helping her succeed as well as certain rotations.
"Participating in relevant elective rotations as well as securing sub-internship rotations were integral to my success in matching," she said. "Brandy Admendares from the clinical placement department was especially supportive in suggesting and helping me secure such rotations in order to be a well-rounded applicant as well as create excellent networking opportunities. Of highlight, I was lucky enough to participate in a trauma rotation at Cook County Hospital in Chicago (Jan 2020, pre-Covid) as well as a Sub-I rotation at Saint Mary's hospital where I ended up matching."
Regarding the residency Match, Dr. Paterson offers several pieces of advice.
"Have the faith that you will Match and be strategic when applying but try not to be overly confident and selective that you hinder yourself," she said. "Our students generally are very successful at matching. However, be mindful of the reality that there are other hurdles for IMGs compared to US grads and general recommendations or statistics may not always apply to you. Consider your own picture as an applicant in terms of whether you want to apply to multiple specialties, how competitive your scores are and ultimately apply broadly. I think networking and participating in audition/sub-internship rotations is very helpful for many of our students.
She urges students to reach out to the UMHS Office of Academic Affairs in New York for guidance throughout the Match process.
"Listen to [Associate Dean of Academic and Student Affairs] Patrick McCormick; his advice is invaluable as he knows exactly how UMHS students are able to be successful in the residency Match.
Dr. Paterson said that how you work and how much extra work you put in makes a big difference in the selection process.
"A lot of securing a residency spot can be influenced by your work ethic, networking and extracurricular experiences."
Although Dr. Paterson's Step scores were not as high as others who matched in her program, she persevered.
"During my sub-I rotation, I made enough of an impression that they interviewed me, ranked me high enough that I directly matched with them and they were very excited for me to be returning—beyond an incredible honor. I cannot even tell you how grateful I am. I knew it was statistically not in my favor by a long shot, I did not apply for a backup specialty and I only interviewed with that program. I am a complete statistical anomaly."
"I really think there is always a way to make it happen if you really want something. At least that is my outlook on it. Many students don't realize the importance of how influential your performance on any rotation can be but especially sub-I rotations. We also don't think we can apply for programs if our scores don't meet their advertised score requirements, but some programs are flexible if they have worked with you and like you."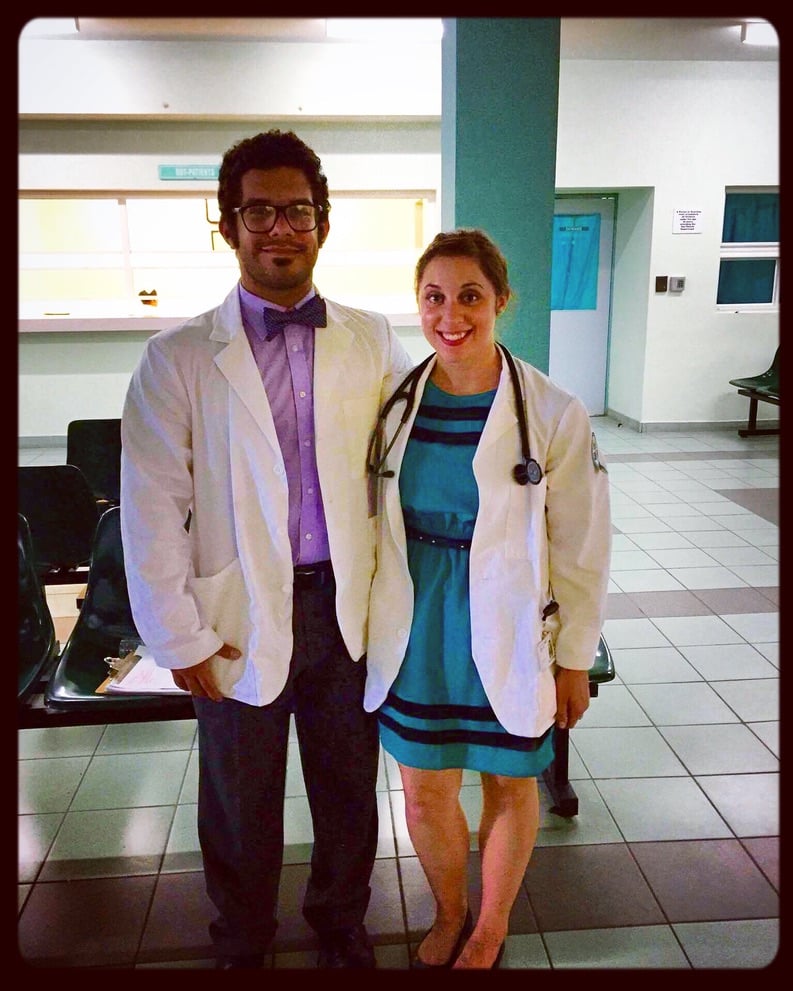 UMHS grad Jose Falero (now a Neurology resident at the University of Arizona in Tucson) with Dr. Paterson on a clinical rotation. Photo courtesy of Dr. Paterson.
Preliminary Surgery residency at Saint Mary's Hospital in CT
Dr. Paterson is excited about her residency at Saint Mary's Hospital.
"I matched into a 1-year PGY-1 Preliminary General Surgery residency position. I was able to participate in a sub-internship elective rotation at Saint Mary's last fall where I really fell in love with their program. As a preliminary resident, my main responsibilities are managing patient care on our surgical service. However, my program is also very supportive in allowing entry-level residents to participate in OR cases (some programs do not let their interns operate at all, but my program encourages their prelim and categorical interns to operate a couple times a week which is great)."
She said she applied to General Surgery because she finds it amazing overall.
"There was no other rotation where I felt more alive inside and there are numerous aspects of the specialty which are very appealing to me. I love the hands-on and instant gratification of very quickly resolving a problem (taking out a gallbladder full of stones causing pain, putting in a central line or port so a patient can receive certain medication or chemotherapy or putting in a chest tube to allow the patient's lung to expand and instantaneously improve their breathing). I love the visually gross aspect of understanding the patient's clinical picture and then being able to visually observe what is going on inside the body (the patient complains of acid reflux; you do an upper endoscopy to visualize the esophagus and stomach or the patient has a bowel obstruction, you can see a narrowed area on their abdominal CT scan and when you take them to surgery you actually get to see their bowel and relieve the area causing the obstruction which could be narrowed, twisted on itself, caught in an adhesion or due to a tumor, etc.). I love the skill mastery aspect of developing surgical skills and technique overtime. Wound care is also a big part of General Surgery practice which I find very rewarding to see progress, where again, you have a more visual marker of improvement over time."
Dr. Paterson really discovered what type of medicine interested her during clinical rotations and realized she was not as intrigued by one specialty as she first thought.
"I think it is important to know who you are and what will make you happy at the end of the day. During our clerkship rotations, I think it is crucial to pay attention to what is important and rewarding for you. Throughout medical school I always wanted to do Family Medicine and during my core rotations realized that managing chronic diseases was not as rewarding to me as I had anticipated. However, once I was on my General Surgery clerkship, I found I was naturally excited about what we were doing, and the 'work' felt very rewarding and even fun."
She cites many reasons for her passion for surgery.
"I think the instant gratification and skill mastery aspects of General Surgery are what stood out to me the most. Acquiring and perfecting physical skills is very rewarding for me as I come from an athletic background of highly technical sports (gymnastics, pole vaulting, Olympic weightlifting + CrossFit) which all require considerable discipline, body awareness and attention to detailed technique. Consequently, finding a specialty which integrates in-depth medical knowledge with mastering the craft of surgical technique, made General Surgery the perfect fit."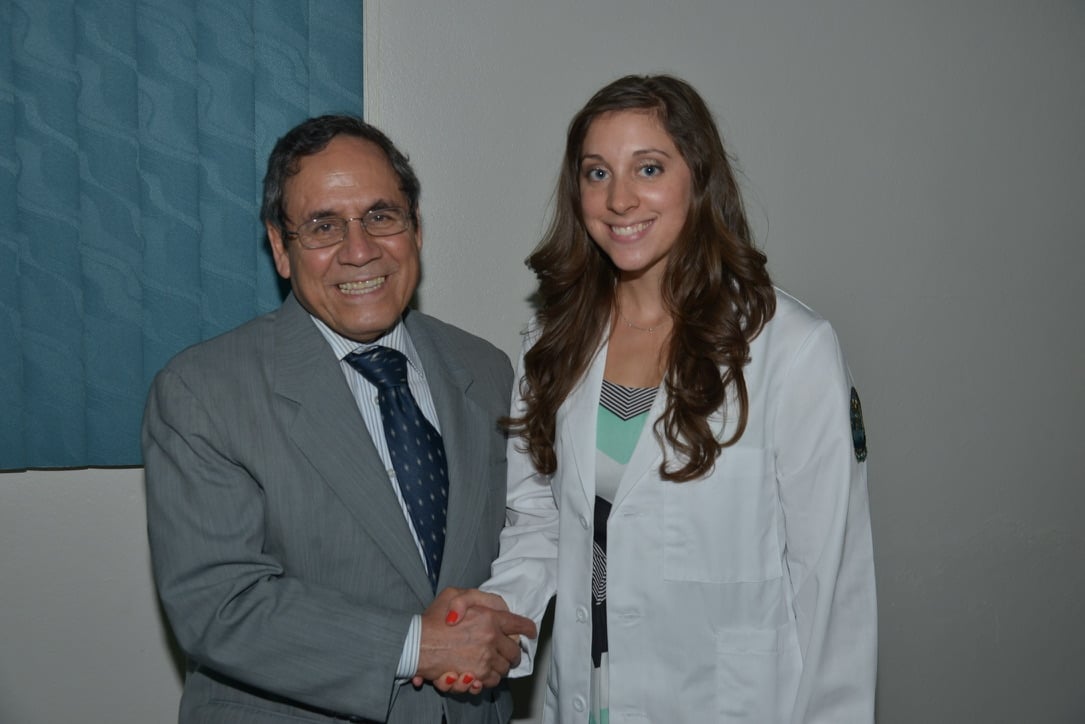 Dr. Paterson with former UMHS Dean of Basic Sciences Dr. Camacho when she was a med student in St. Kitts. Photo courtesy of Dr. Paterson.




Advice for Canadians studying medicine abroad
Dr. Paterson said Canadians studying medicine abroad often do better in the United States.
"Generally, our Canadian students are more successful in the US Match than in the Canada match [CaRMS]; however, not impossible. I think it is important to consider what your long-term goals are and be mindful that there are many great opportunities for Canadians to remain close to the border in certain states such as Michigan. Therefore, if this is of high importance to you, be strategic when building your clinical schedule in Canadian-friendly states and programs."
Goals for residency
Dr. Paterson has many objectives for her residency.

"One of my goals for residency is prioritizing self-care and mental health," she said. "Developing the knowledge and technical skills to become the competent surgeon I aim to be will most certainly develop over the course of my residency training. However, taking care of my physical and mental health is something I am committed to prioritizing in order to achieve those goals. I truly believe how you take care of yourself outside of the hospital is crucial for your ability to function efficiently as a resident as well as endure the demands of residency training. Though I know this will not be an easy task. When you are tired, stressed, sleep deprived and hungry, it is hard to make good choices. However, I feel fortunate that my background in competitive sports has helped me develop considerable self-discipline to create habits and make choices that support these goals over more immediate pleasure. Additionally, by focusing on the areas that are within my control and distributing my personal time appropriately, I believe I can do it."
A personal passion of Dr. Paterson's is Resident and Physician Wellness.
"Increasing access and opportunities for various forms of wellness is something I hope to further cultivate within my residency program and beyond."
Being a doctor in the age of COVID-19
Although it is a crucial time to be a doctor in light of the COVID-19 pandemic, Dr. Paterson admits things are much more difficult for healthcare professionals and despite a lot of media attention for front-line workers, the public does not always grasp the full scale of things happening in hospitals and nursing homes right now.
"In all honesty, I do not think the general public has a better understanding of the importance of doctors as a result of the pandemic. I do not think one can truly gain insight into the physician's role, let alone the incredible challenges of being a physician during a pandemic, without walking in those shoes. I do think it has brought to the forefront of our attention what services and roles are truly essential and all the moving parts that make our healthcare system run smoothly (doctors, nurses, respiratory therapists, personal support workers/nurses' aides, infectious disease, kitchen/cafeteria staff, PPE and supplies, etc.)."
During the final seven months of her elective rotations, she found a job in a nursing home working as a nurses' aide. Unfortunately, the facility experienced a COVID-19 outbreak for six weeks throughout February and March.
"I worked solely with our Covid-positive residents and the immediate burnout and exhaustion I experienced was incredibly eye-opening," she said. "Despite my own challenging moments, it gave me incredible appreciation for the physicians, residents, nurses, etc., all of whom I knew were directly facing this pandemic on a greater scale and for such a long period of time. I felt I could better empathize the physical and emotional toll on doctors while acknowledging the limitations of my experience and cannot imagine the impact of having to choose which patients to put on a ventilator or witnessing them dying alone. So unfortunately, no, I do not think the public understands the importance of doctors despite what the world has experienced from this pandemic. I really think you can only begin to appreciate that once you have experienced it on some level for yourself."
Medical students have learned a lot during this unprecedented time, but the ongoing problem of unvaccinated patients spreading the virus, the new variants infecting others, the mixed messages in the media and the constantly changing science have made things that much more difficult. However, medical students and doctors have learned to adapt to the many changes.
"I think this pandemic has made everyone truly come face to face with the uncertainty of life. As much as what has been taken away from us during this time, there have also been incredible opportunities for learning and personal growth on offer to us. I think this was a good time to practice flexibility and resilience with the ever-changing situation whether it was clerkship rotations being cancelled, going virtual or didactic education shifting from in-person to online lectures. This also required a lot of creativity, resourcefulness and patience."
The pandemic has helped the medical world adapt to new technologies like telemedicine while also emphasizing the value of in-person appointments and more.
"I do think this opens the door to the many benefits of integrating telemedicine into mainstream medical practice particularly to rural areas or patients who may have limited transportation, mobility etc. However, I think it also has highlighted the value of in-person lectures and teaching. I think it will be interesting to see how the benefits of each are optimized moving forward."
Another technological advancement is the COVID-19 vaccines. Medical students and doctors are in the unique position of being able to educate patients on how the vaccines work and can answer questions and dispel the many myths.
"As I learned more about the vaccine, I became incredibly excited such that, the COVID-19 vaccine truly is the fruits of our advancements in medicine and technology. I felt very grateful for my medical knowledge and understanding of the immune system as it allowed me to sensibly answer questions and concerns from my family, friends and coworkers. Many people still feel hesitant about the vaccine or are completely misinformed. However, I think there is a lot to celebrate from a science standpoint and I am very excited to see how things unfold as we progress in vaccinating throughout America and Canada and how this type of vaccine can be of benefit in the future."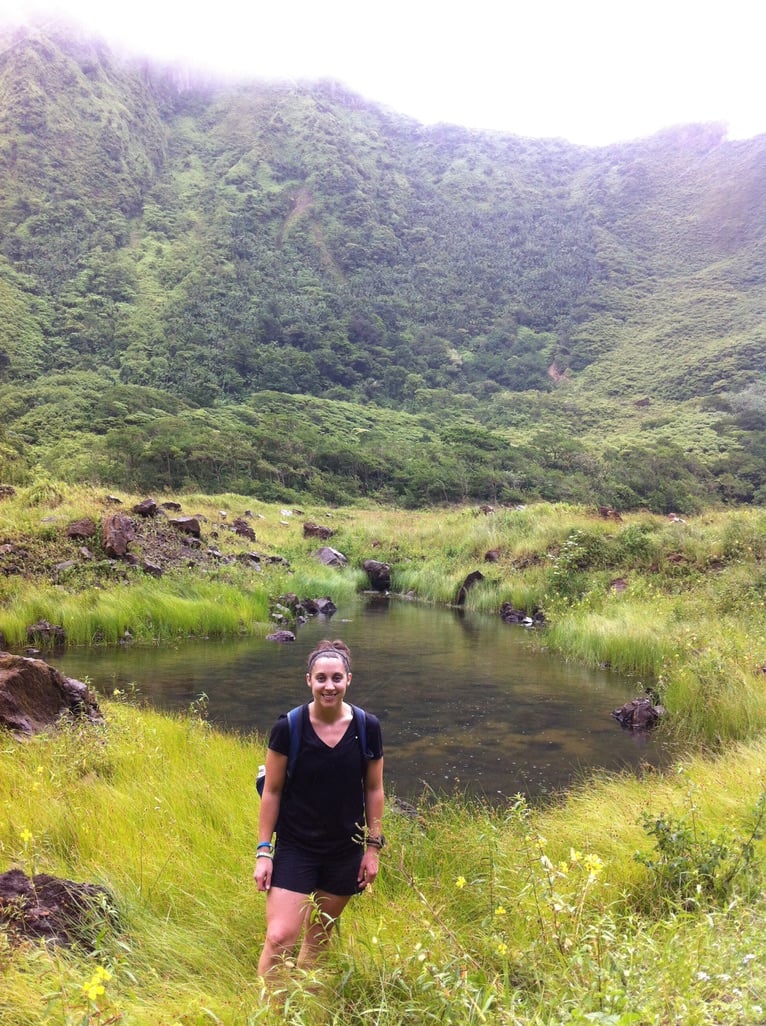 Dr. Paterson enjoys a hike in the volcanic crater Mount Liamuiga in St. Kitts when she was a med student. Photo courtesy of Dr. Paterson.
Takeaways for prospective & current med students
In closing, Dr. Paterson offers guidance for prospective and current med students. For starters, she cautions students progressing through medical training to be mindful of who one takes advice from.
"Not everyone has the same goals, expectations or experiences as you," she said. "It is always good to gain insight from others but at the end of the day do what is best and most true for you."
Dr. Paterson outlines three things med students should consider on the road to residency.
"Go after what you are passionate about but be realistic. It might take considerable hard work, extra time and strategic networking but believe in yourself and do not stop until you get what you want."
"Take care of yourself and find a life balance that works for you. There is incredible benefit to prioritizing regular exercise, healthy eating and as regular sleeping schedule as possible."
"When choosing a specialty, I think it is helpful to ask yourself what you are willing to get up in the middle of the night and be away from your family for? Most specialties have [on-] call and share working weekends and holidays, so I think it is valuable when deciding on a specialty what are you willing to give those times up for."
Dr. Paterson's virtual graduation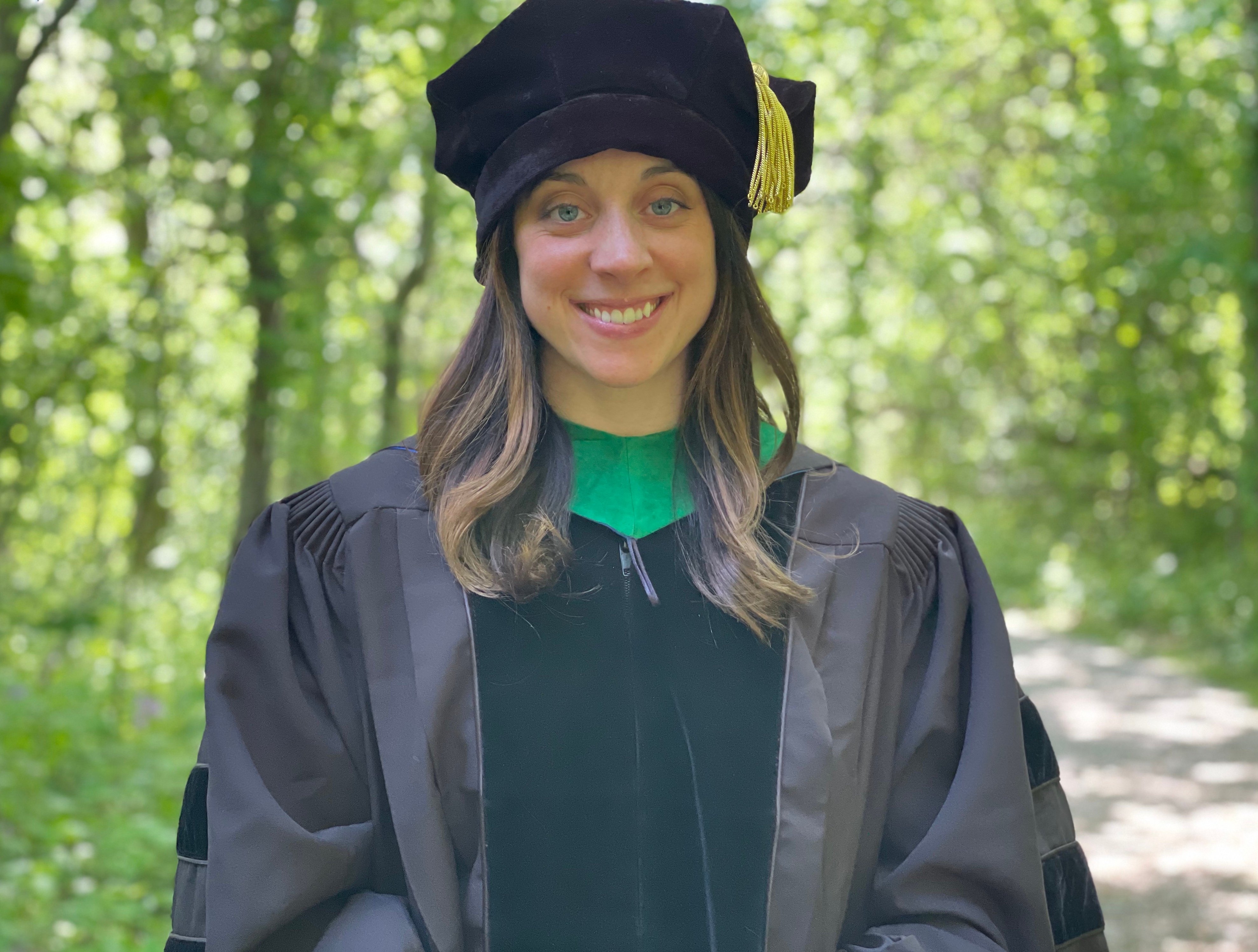 Dr. Paterson at her virtual graduation at home in Canada, June 2021. Photo courtesy of Dr. Paterson.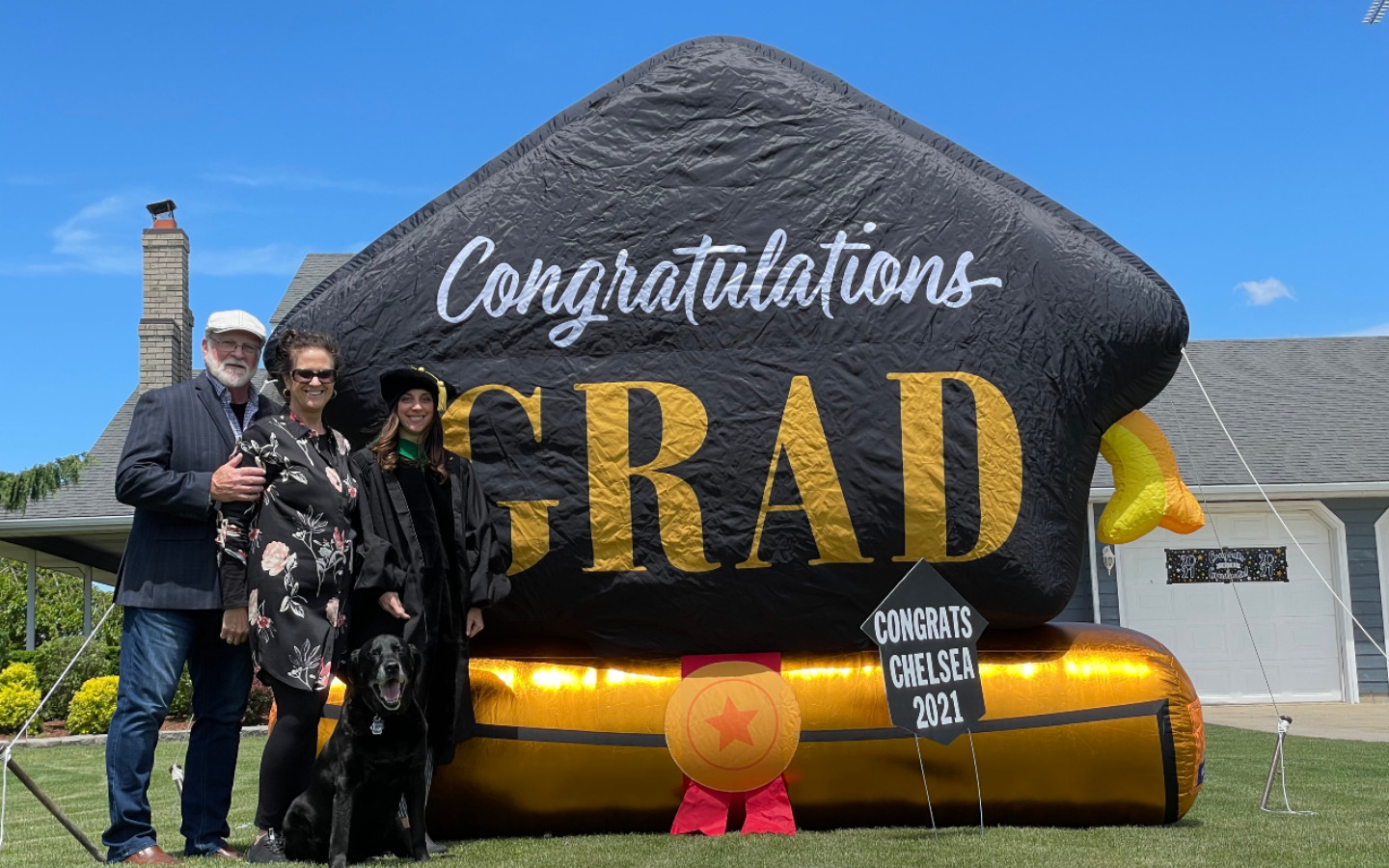 Dr. Paterson with her parents John & Betty & their dog at home in Canada, celebrating Chelsea's virtual graduation in June 2021. Photo courtesy of Dr. Paterson.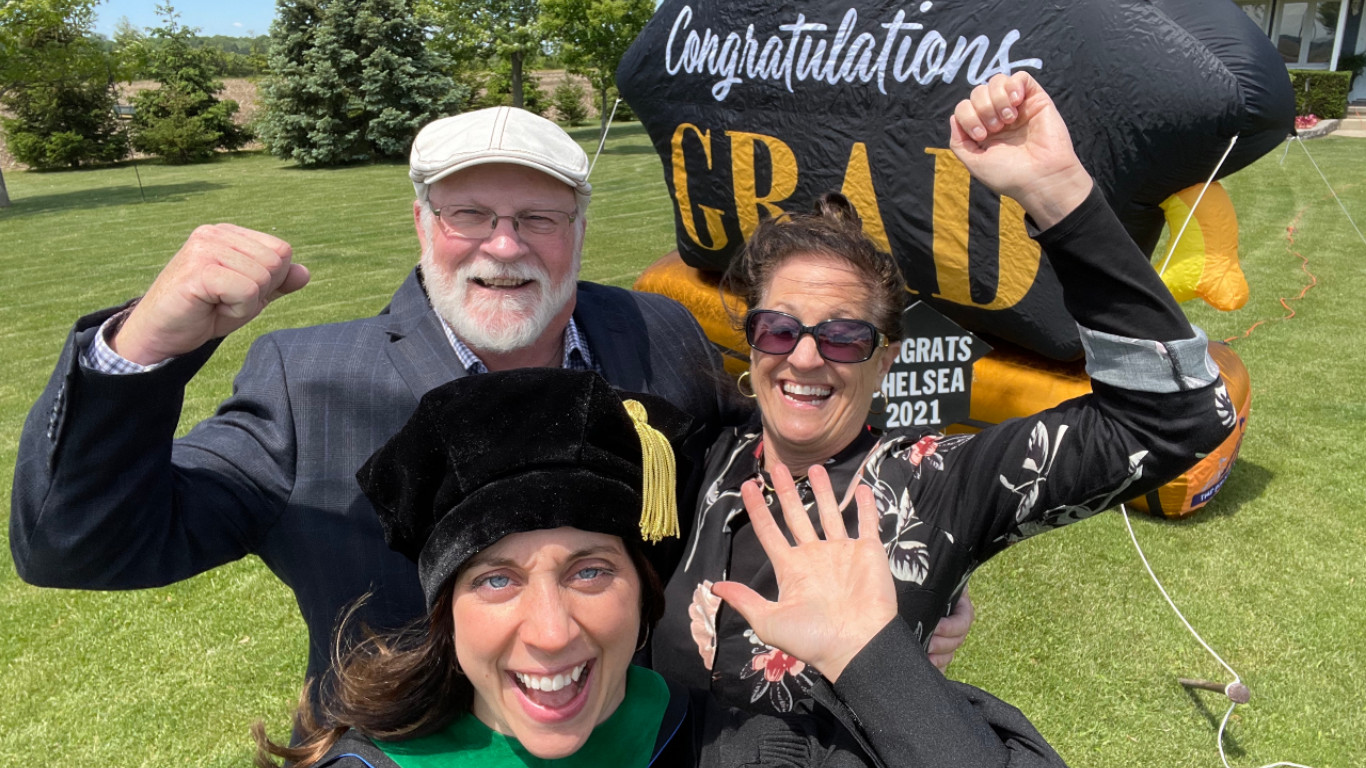 Dr. Paterson celebrates virtual graduation with her parents, John & Betty Paterson. Photo courtesy of Dr. Paterson
(Top image): Dr. Chelsea Paterson. Photo courtesy of Dr. Paterson.

Posted by
Scott Harrah
Scott is Director of Digital Content at UMHS and editor of the UMHS Endeavour blog. When he's not writing about UMHS students, faculty, events, public health, alumni and UMHS research, he writes and edits Broadway theater reviews for a website he publishes in New York City, StageZine.com.