The UMHS student organization Because We Care is making a difference in St. Kitts by promoting healthy living and providing education on high-risk health topics. Because We Care demonstrates how students attending Caribbean medical schools can take time from studying to give back to local communities in need.
The UMHS Endeavour caught up with Because We Care members to discuss the recent International One Health Fair and a "3 vs. 3" basketball game to raise awareness for healthier food labeling in St. Kitts.
International One Health Fair
The International One Health Fair on Saturday, November 3, 2018 was one of the highlights of the Fall 2018 semester for Because We Care, according to club spokesperson Kerthy Sugunathevan.
"This is an international competition that was held by Ross Vet and they were kind enough to invite us to participate, "she said. "It was great being able to make connections with them, along with other local vendors."
Approximately 74 patients were seen in two hours. UMHS students involved with Because We Care shared thoughts on the event.
"Participating in the Health Fair gave me a tangible feel for what it would feel like to be in the field, treating patients on the fly, and it was an energizing and compelling experience," said Vishal Singh, EBS1. "I've never felt more validated in choosing medical school and learning how to treat and improve the health of others."
Xiomara Nunez, EBS 1, also had a great time.
"Participating in the One Health Fair was a remarkable and fun experience," she said." Especially, I was impressed by people's cooperativity and involvement with health. This experience motivates me even more to keeps studying to reach my final goal."
Ardelle Estoesta, MED4, found the One Health Fair important from an international medicine perspective.
"Not only were we able to apply our clinical and theoretical knowledge to give back to the community, we also learned more about the importance of looking at global health through environmental and veterinarian lens," Ms. Estoesta said.
The event was a great opportunity to appreciate helping others, said Kamyr Rios-Santos, EBS 1.
"As Hippocrates said, 'Wherever the art of medicine is loved, there is also a love for humanity'" she said. "Helping others is one of the greatest satisfactions we as human beings have. As future doctors, we must look for ways to help others and the community. That was achieved at the One Health Fair. Interacting with people through activities such as this allows us to ensure that everyone has the opportunity to receive basic health services."
For Bianka L. Morales Pomalaza, Med 1, belonging to Because We Care gives her time in medical school in St. Kitts special meaning.
"Interacting with the local community reminds me of my reason for being here," she said. "Serving others and aiding in promoting better and healthier lifestyles was an immensely gratifying opportunity and one I hope to keep repeating."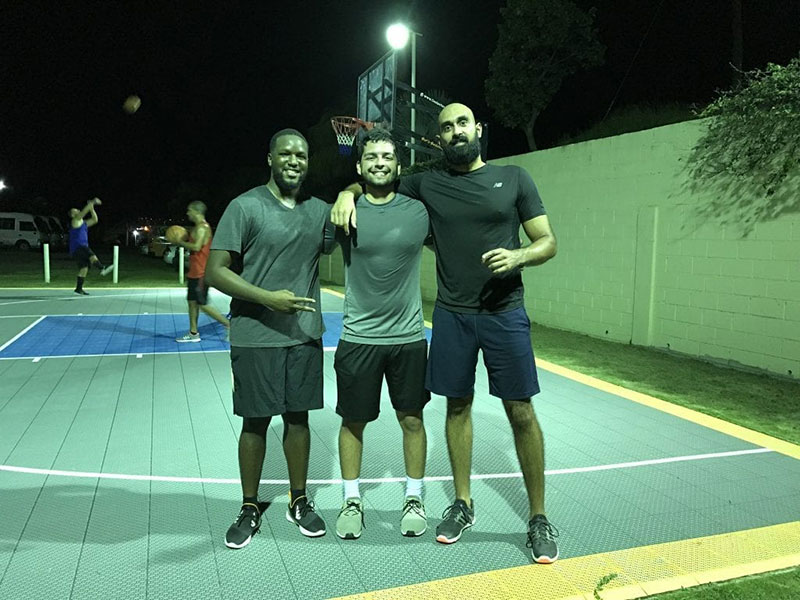 BECAUSE WE CARE 3 vs. 3 BASKETBALL GAME: (left to right) Shepherd Drayton, Javier Herrans Perez & Amrit Dhaliwal. Photo: Courtesy of Because We Care
3 vs. 3 Basketball Game
Because We Care also worked on a 3 vs. 3 basketball game to raise awareness and funds for the Healthy Caribbean Coalition's petition to help put healthier foods in schools while creating a new healthier food labeling system.
"We had nine teams and four in the finals round. We were able to collect 180 signatures towards the petition," said Ms. Sugunathevan.


(Top photo) UMHS BECAUSE WE CARE: UMHS Because We Care members worked with approximately 74 patients in just 2 hours during the International One Health Fair on November 3, 2018. Photo: Courtesy of Because We Care
---

About UMHS:
Built in the tradition of the best US universities, the University of Medicine and Health Sciences focuses on individual student attention, maintaining small class sizes and recruiting high-quality faculty. We call this unique approach, "personalized medical education," and it's what has led to our unprecedented 96% student retention rate, and outstanding residency placements across the US and Canada. UMHS is challenging everything you thought you knew about Caribbean medical schools.

Posted by
Scott Harrah
Scott is Director of Digital Content at UMHS and editor of the UMHS Endeavour blog. When he's not writing about UMHS students, faculty, events, public health, alumni and UMHS research, he writes and edits Broadway theater reviews for a website he publishes in New York City, StageZine.com.