UMHS graduate Dr. Shamim Shakeel Khan, a family medicine physician from Toronto, is proof that Canadians studying medicine abroad can return to practice as a doctor in Canada. As part of our UMHS Alumni Achiever series, we spoke with Dr. Khan, a doctor practicing at Dayspring Medical Centre in Bolton, Ontario, just outside of Toronto. After completing her undergrad at the University of Toronto Mississauga and graduating from UMHS, she completed her family medicine residency at Northeast Iowa Family Practice in Waterloo, Iowa, and then returned to Canada to work for a year at Cira Health Solutions in Mississauga, Ontario in the greater Toronto area.
UMHS spoke to Dr. Khan about her medical education and how UMHS helped her eventually return to Canada to practice medicine, as well as what she experienced in residency and her new experiences as a licensed family medicine doctor in Canada.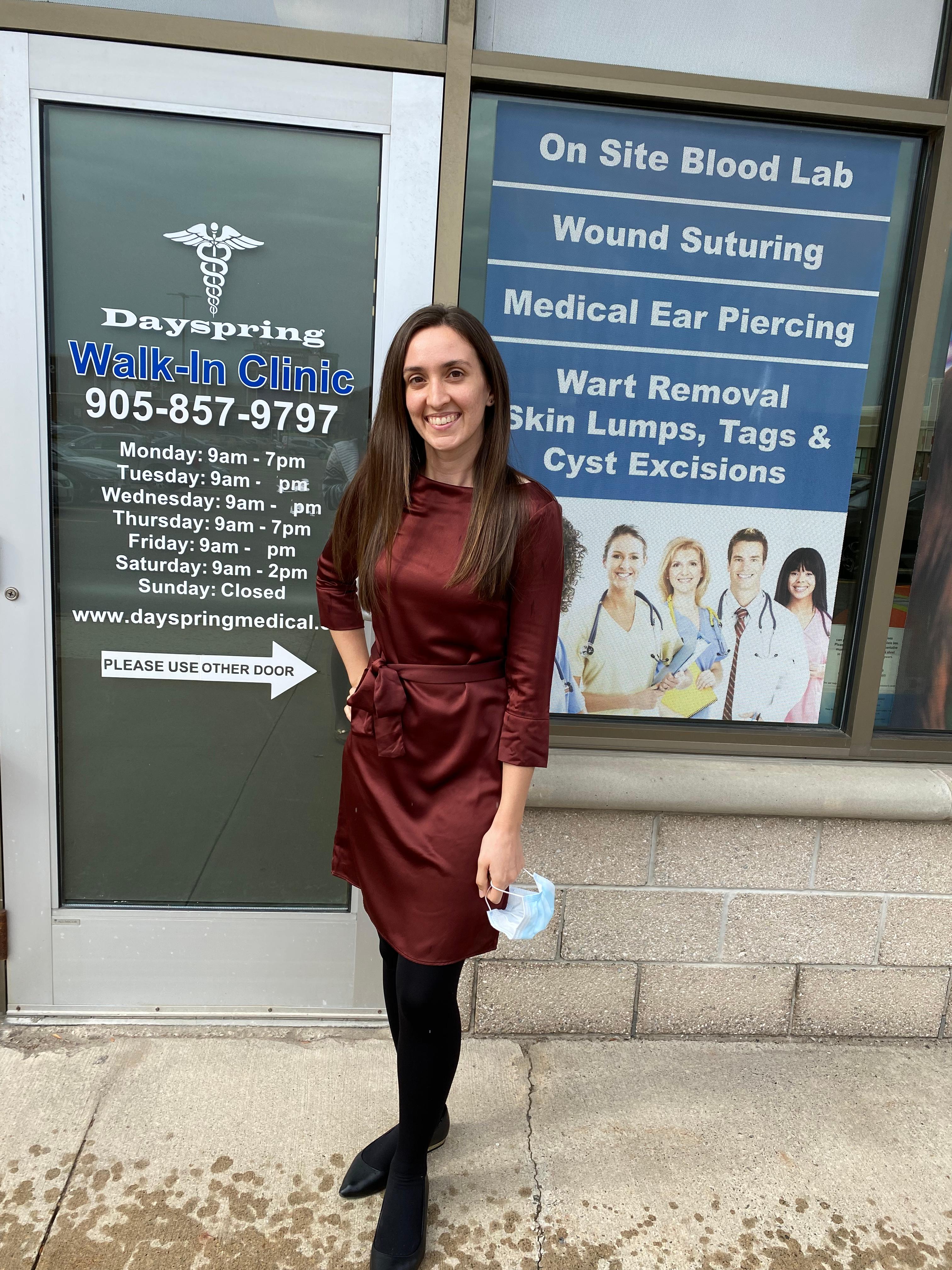 Dr. Khan outside her medical office in Bolton, ON, Canada. Photo: Courtesy of Dr. Khan
How UMHS helped her succeed
What about her medical education at UMHS helped her get where she is today?
"There was a lot of aspects of my education that helped me get where I am," Dr. Khan said. "First, starting off on the island. Completing the basic sciences was key, because really you can't get anywhere unless you complete the USMLE as well. And so, they kind of taught me how to study. I learned how to understand what was needed to pass those exams, what they were looking for and what the style of questioning was so that I'd be well prepared for the USMLE."
UMHS clinical rotations also helped her.
"It was great to rotate at several different hospitals across the US and Canada, because it gave me insight and experience about how different hospitals systems work. In particular, I did a family medicine rotation in Ontario. So that kind of helped me realize that this is really where I want to be and what I want to do. I also specifically found that I learned a lot doing internal medicine and emergency room rotations, because they were very hands on. They let me learn how to do things. I've learned how to do suturing, I could do IV insertions, Foley catheter insertions, and EKG. All the basic things that a doctor really needs to know in order to practice.
Dr. Khan said she found UMHS very helpful to its students during basic sciences.
"Most of the professors are just there to teach. They're always available to you if you're having trouble with any of your courses; you can go ahead and go to their office, talk to them, ask them questions. There were also the teaching assistants that were very useful."
The state-of-the-art campus in St. Kitts was another plus at UMHS for Dr. Khan.
"There was just no shortage of space. So, we had the areas in the library to study. There were the study rooms that you could sign out. There were even the hospital beds for practicing physical exams. I also enjoyed the sense of community amongst all the students. I found that we weren't just studying together, outside of school, we would spend time together in St. Kitts and we would go to the beaches, have dinners and just explore the island and it was a really, really great experience."
Canadian rotations
Dr. Khan did rotations in Canada that helped.
"I also found it pretty easy to obtain rotations that were outside the regularly available rotations through UMHS. So, for example, the family medicine rotation that I did in Ontario was through the University of Toronto's lottery system. And once I was able to obtain that rotation on my own, it was easily added to my schedule and I was able to integrate that into my rotations."
Benefits for UMHS grads in Canada
What are some of the best things about being a UMHS graduate in Canada specifically?
"I feel like UMHS prepared me well for residency. I was able to gain a hands-on experience during clinicals in St. Kitts, and then throughout my rotations that helped me with residency and practice. And then, generally speak the journey is interesting. So patients like to talk about it, and so I can tell them that I spent time in school in St. Kitts, and then I travelled across the US and Canada doing various rotations at several different hospitals and they find it very interesting."
Growing up in Canada, Dr. Khan always knew she wanted to be a physician one day.
"I'm originally from a city called Mississauga. It's in Ontario, just west of Toronto. I always knew I wanted to be in the medical field. I always enjoyed the sciences a lot, particularly biology being my favorite. I don't think it was until I got accepted to UMHS because I had applied to several different medically related programs that I really realized that I wanted to be a doctor."
Being a family medicine doctor in Canada
Dr. Khan works at Dayspring Medical Centre in Ontario. What's a typical day for her like?
"Dayspring Medical Centre is in a city north of Toronto. It's a smaller town than I'm used to living in. We're three family physicians and we have one nurse as well. For now, my hours are nine to five, but I'm very new to the clinic, I'm looking to expand my hours, I'm accepting new patients and building my practice. So currently, I see a lot of meet and greets. I'm getting new patients coming in to see me, getting to know them and their medical history, and setting them up as my patients. I also see a lot of walk-ins, same-day visits, and I will do a lot of preventative care appointments as well. On top of that, I do some procedures. Usually in the afternoons, I will do skin biopsies, IUD placements, implant placements for birth control and injections for arthritis as well."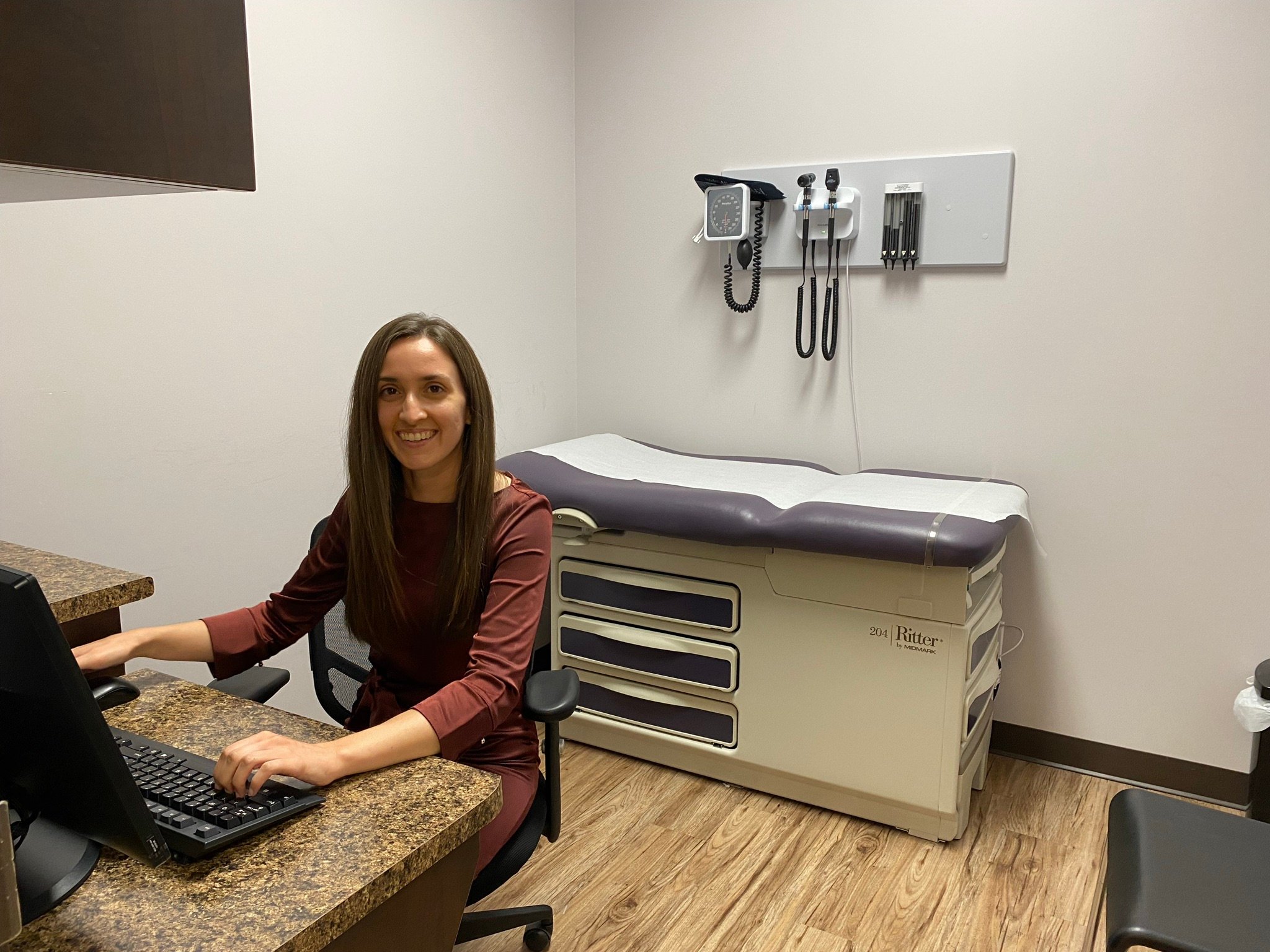 Dr. Khan at work. Photo: Courtesy of Dr. Khan.
Family medicine residency in USA
Like many Canadians who study medicine abroad, after graduating from UMHS Dr. Khan obtained a residency in the USA. Dr. Khan completed a family medicine residency at Northeast Iowa Family Practice in Waterloo, Iowa. She talked about some highlights.
"My residency was wonderful. Our in-hospital rotations were such a great experience. It was an unopposed program, so there were no other residencies there. We were able to follow our patients from beginning to end for everything that was being done. I feel like I was able to make independent decisions, in the inpatient and outpatient setting, and it helped me gain the confidence to be a better doctor. They also had procedure clinics where I learned a lot of the skills that I'm using today for all the procedures that I do now. I was a very involved resident. I was always working on practice improvement, learning new things, educating the other residents. And that led me to becoming a chief resident in my final year, which I really enjoyed."
Experience returning to Canada to practice
Being a Canadian studying medicine abroad at a Caribbean Medical School, like UMHS and doing residency in the USA, and then returning to Canada to practice might sound overwhelming, but how did Dr. Khan find the experience?
"When you summarize everything that I've done, it does sound like a lot, but it's definitely doable. The key is taking it one step at a time. Looking at what you need to do next, setting a goal, and making sure you complete all the requirements that you need in order to achieve the next step. What's really helpful is to find someone that has gone through it before, and asking them what they've done so that you have an idea of what you need to do to get to the next step.
"Talking to people that have been through this journey is really helpful. Now that I've completed it, I'd like to tell people, 'Don't be afraid to reach out and ask me questions.' And as far as working as a physician in Canada, I'm so glad that I'm finally here. This is definitely what I wanted to do and where I wanted to be so, finally feeling settled."
Difference between Canadian & U.S. healthcare
Health insurance is the obvious difference between Canada and the USA.
"The way healthcare coverage is here compared to the USA is very different. Part of it is very relieving. It's nice to know in Canada that I don't need to worry about whether or not my patients can come to me, they all have access to me. There is insurance for medications, so you have to see whether or not people are able to fill the prescriptions that you give them, which is pretty much the same as the US."
One thing is different in the USA.
"Access [to healthcare] is much quicker in the United States than Canada. Basically, because there isn't really regulation on how many specialists can be available to you and stuff like that. Whereas here, if I'm referring to a specialist—depending on the specialty—some are busier than others and there're restrictions on how many specialists there can be. It can take longer to get in. Those are probably some of the biggest differences that I see."
Residency during COVID-19
Dr. Khan was completing her final months of residency in Iowa in 2020, when the COVID-19 pandemic hit. She worked through June 2020 and it was a challenging time indeed in the early days when there was no vaccine and therapeutic treatments were limited.
"We ended up running a COVID-19 clinic out of our clinic itself. So sometimes I was running the COVID clinic. I was in the hazmat suit, swabbing people in their cars, testing them for COVID. We did take care of ICU patients as well, because it was an open ICU. We had patients that had COVID that were in the ICU. And, we rotated through two different hospitals, so they both had different rules and regulations about COVID. Knowing the differences was a big deal as well."
This was back in the days where there were very few ventilators and limited PPE like masks. Paralytic drugs to help sedate ventilated patients were in short supply.
"We did run out of supplies at times. The patients that were intubated and sedated, a lot of them were very restless with COVID, and not being able to have the medication to paralyze them, was a really nerve-wracking thought. I remember the pharmacists driving around to various different places in Iowa and just picking up what they could, and bringing it back to us."
Advice for current & prospective Canadian students
Because Dr. Khan achieved her goals in medicine, she is in a position to help others.
"If anyone ever feels like they would like to reach out to me and ask about my journey, I'm always happy to help. I've had all kinds of people reach out to me on LinkedIn previously that I've never met or never heard of, and have no relation to me whatsoever that have asked me about UMHS, about being a Canadian, about coming back to Canada, about doing residency in the US, all kinds of things. And I'm always happy to help them out."
She encourages people to reach out to her via her LinkedIn profile.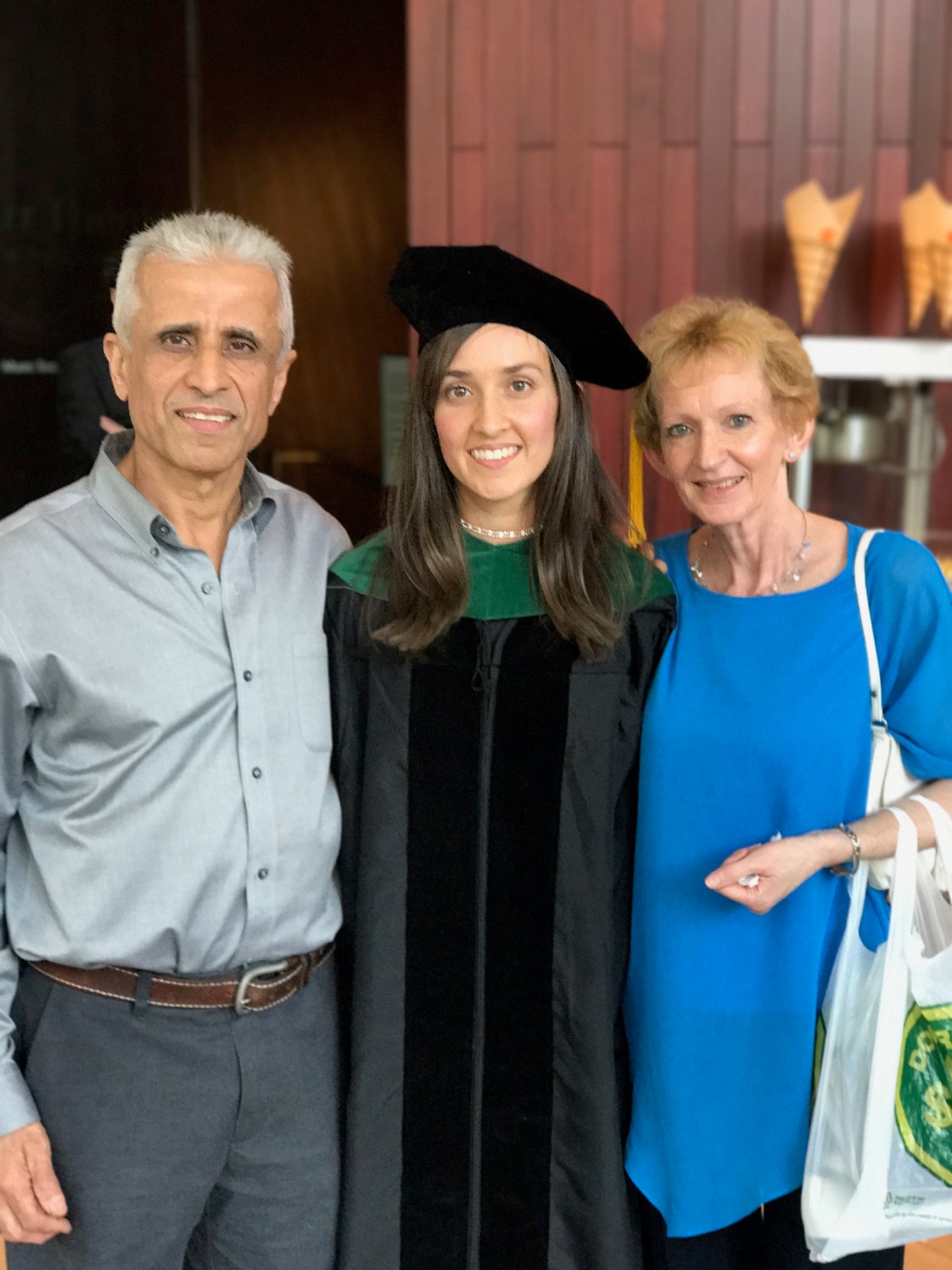 Dr. Khan with her parents at UMHS graduation in New York, NY in 2017. Photo: Courtesy of Dr. Khan.

Posted by
Scott Harrah
Scott is Director of Digital Content & Alumni Communications Liaison at UMHS and editor of the UMHS Endeavour blog. When he's not writing about UMHS students, faculty, events, public health, alumni and UMHS research, he writes and edits Broadway theater reviews for a website he publishes in New York City, StageZine.com.