UMHS alumnus Søren Estvold, MD, MPH (Class of 2018) is in a Family Medicine residency at Augusta University Medical Center in Georgia. He proudly wears "LGBTQ+" on his hospital scrubs to show that patients can feel safe with him. Dr. Estvold and his colleague, Priscilla Bigol, a fourth-year medical student at UMHS and a straight ally, will host "Boot Camp for LGBTQ+ Medicine and Theory," a Facebook Live event about LGBTQ+ Medicine this Thursday, June 24, 2021 at 3:30pm Eastern.
The UMHS Endeavour spoke to Dr. Estvold about his journey through medical school and residency as an openly gay man, starting the first-ever LGBTQ student club at UMHS in St. Kitts, dealing with homophobia, volunteering at an LGBTQ+ health clinic in Georgia, treating transgender patients, why he created an LGBTQ+ Medicine Guide and badge, and more.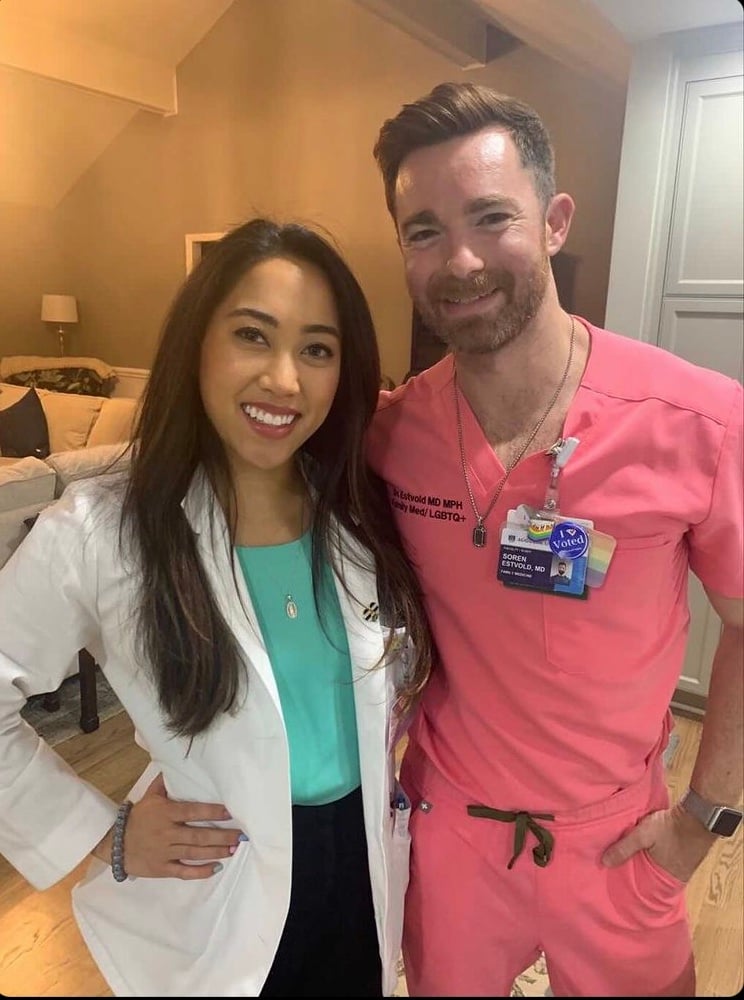 UMHS student Priscilla Bigol (left) with UMHS alum Dr. Søren Estvold. The two will host "Boot Camp for LGBTQ+ Medicine and Theory," a Facebook Live on LGBTQ+ Medicine this Thursday, June 24, 2021 at 3:30pm Eastern. Photo courtesy of Ms. Bigol.
GLOW: Founded first LGBTQ+ student club at UMHS
Dr. Estvold started the first LGBTQ+ student club at UMHS on St. Kitts. It was a groundbreaking task because no one had previously created such a club. To the surprise of many, it was one of the most popular clubs on campus, with many straight students joining as allies to the LGBTQ+ community.
"When I was a UMHS medical student, I started the GLOW Pirates, which stood for Gay, Lesbian Or Whatever. It was our student-led LGBTQ+ club on campus. It was active for several semesters until I left the island. It was a hit, with many of the club members being allies. We fundraised and did several student events. I would highly recommend someone start another club just to keep LGBTQ+ representation alive on campus and on the island."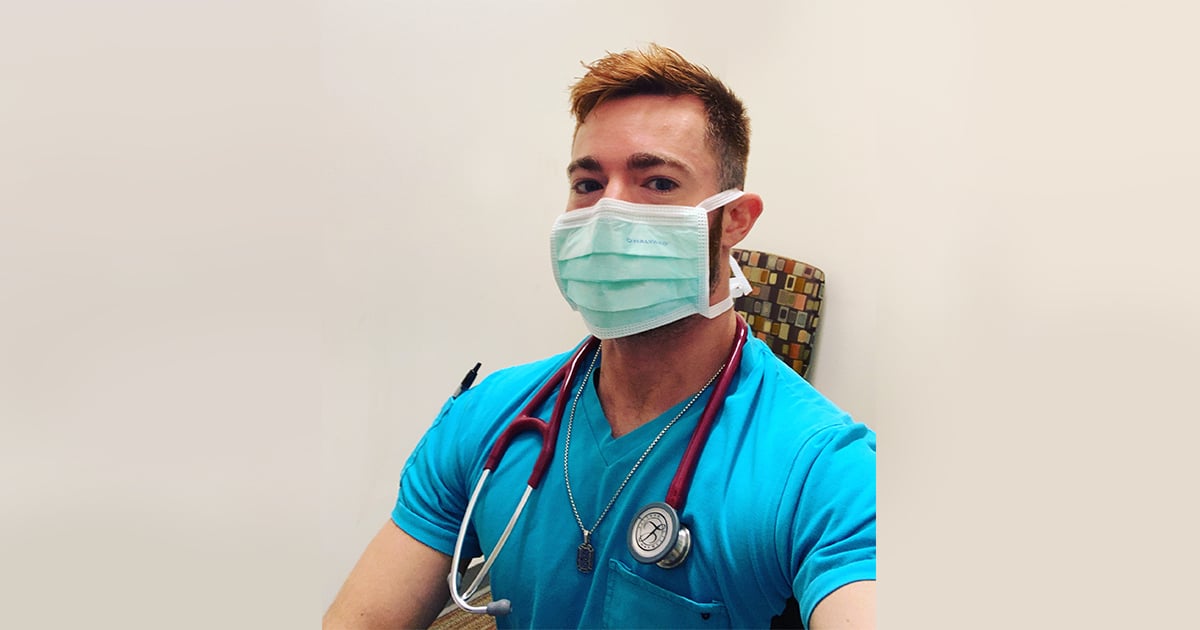 Dr. Estvold at work. Photo courtesy of Dr. Estvold.
Being an 'out' med student & resident
Dr. Estvold grew up in Missoula, Montana. When he attended UMHS, as an openly gay man in basic sciences and clinical rotations, he mostly encountered tolerant people.
"My experience really wasn't anything different," he said. "I still had to work hard and study hard. Being a student in the South, you did get an appreciation for how conservative people can be, especially the older white male physicians. All in all, I had no problems."

Dr. Estvold is currently working in a Family Medicine residency at Augusta University Health in Georgia. He said most straight coworkers respect him and his commitment to LGBTQ+ medicine.
"I find that most coworkers love what I do for LGBTQ+ medicine. I think that having someone who is so open and knowledgeable about LGBTQ+ medicine issues gives people a chance to ask the questions they left unanswered. I am fortunate that my program and my university has been so supportive of what I do to help provide better patient care."
So far, he has not experienced homophobia as an "out" doctor. He proudly wears an LGBTQ+ badge on his doctor uniforms and scrubs. He offers advice for future primary care Family Med doctors that may encounter hostile patients or coworkers who may not know many "out" LGBTQ+ people or doctors.
"I try to be kind to everyone, which has allowed me to go unscathed thus far. I have had some patients try and tell me that I don't need to be as 'out' or put rainbows on my scrubs, etc., but I explain to them that they are not for me. They are for that patient who is too scared to speak up about their needs. They are for the patient who felt like they were never represented in medicine. They are for the people who didn't know that, because they're gay, that they could become a doctor. They are to show that I am strong enough to advocate for those who can't advocate for themselves. I think they know I serve as a point of contact for colleagues, much like a specialist, for LGBTQ+ medicine questions. My advice is to be you and that is when you are at your strongest."

Dr. Estvold is also a captain in the US Air Force. He did not Match right away. He first started working in Hormone Replacement Therapy (HRT) at the Medical College of Georgia. After more than two years, he eventually matched at Augusta University Health in Family Medicine. He also became one of the main HRT providers for the Equality Clinic for Georgia and South Carolina. His advice for future doctors?

"You have to be you," he said. "People will hire you if your work speaks for itself. If you are passionate about something, then it will show. I am passionate about LGBTQ+ medicine and it shows, and because of that it has opened so many career doors for me, all because I am doing what makes me happy. It is definitely scary at first, but being your authentic self makes you a better person and a better physician."
Dr. Estvold also volunteers at the Equality Clinic in Augusta, serving LGBTQ+ patients not only in Georgia but neighboring states like Florida and the Carolinas via telemedicine. Many of these patients, particularly trans women and trans men, are unable to get treatment in their local communities.
"I love my transgender patients," he said. "Working with Equality Clinic, I get to treat a patient population that historically has been cast out of medicine. Especially in the South, these patients now have a phone and a point of contact to receive basic health care and hormone replacement therapy. Telehealth has revolutionized this because it allows patients to be seen when they could not afford to travel for hours to come and see me. Telehealth is my favorite platform to evaluate patients but it beats not being able to see a patient at all. "

Dr. Estvold finds treating his fellow LGBTQ+ patients especially rewarding.
"Equality Clinic is great because I can connect with my patients because of our shared common background. Often these patients are so grateful to see a provider at all, and are often surprised when I walk through the door (as a young gay doctor)."
Sometimes younger patients are unfamiliar with clinically proven treatments for LGBTQ+ patients or argue that some of the screening procedures perpetuate stereotypes. However, the reality is that medicine uses many generalizations like age to screen for certain diseases, conditions and addictions.
"Screens are meant to be very general to catch the greatest audience," Dr. Estvold said. "If you're unfamiliar with current clinical studies: follow the science. Follow the care guide I have created. Check out the GLMA website for new journal articles and see what is being discussed at conferences. As a provider, it is our duty to keep up to date with clinical guidelines. When in doubt, find a specialist near you, reach out to other LGBTQ+ providers; go the extra mile to answer your questions for your patients."
What are specific things doctors should remember for certain LGBTQ+ communities?
"Don't forget the bisexual population; they are legitimate and often face greater incidence of depression," he said. "Screen everyone for depression. [Remember] LGBTQ+ medicine is important all year round, not just in June."

Fun facts about Dr. Estvold
When he's not busy working as a doctor, Dr. Estvold also works with a 501c3 nonprofit he started, The Crown Magnolia Court of Georgia. They hold fundraisers for the LGBTQ+ community.
In addition, he's been married to his husband for two years (they have been together for five). He has an identical twin brother who is his "biggest fan and supporter."
What's his overall advice for prospective, current and future doctors?
"Find what makes you passionate and don't ever let anyone tell you not to do it."
(Top photo): Dr. Søren Estvold in a Pride face mask. Dr. Estvold is an advocate for LGBTQ+ medicine. Photo courtesy of Dr. Estvold.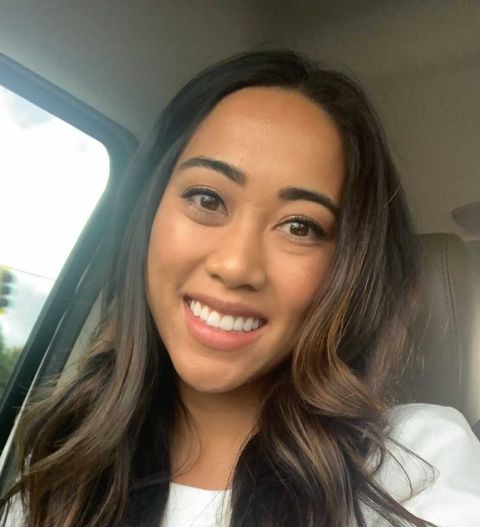 UMHS student Priscilla Bigol. Photo courtesy of Ms. Bigol.

UMHS student Priscilla Bigol
Fourth-year UMHS student Priscilla Bigol works with Dr. Estvold at the Equality Clinic in Augusta. She is excited to co-host the Facebook Live on treating LGBTQ+ patients.
"I have been working with Dr. Søren Estvold for the past year at the Equality Clinic in Augusta, GA and with LGBTQ+ Medicine," she said. "I love working and learning about this population because it is an underserved population. As a cis-gender, I learned so much about them and am able to educate those who feel uncomfortable to treat these individuals. The most incredible thing is to have your patient open up to you because they know you are on their side."

Posted by
Scott Harrah
Scott is Director of Digital Content at UMHS and editor of the UMHS Endeavour blog. When he's not writing about UMHS students, faculty, events, public health, alumni and UMHS research, he writes and edits Broadway theater reviews for a website he publishes in New York City, StageZine.com.