St. Kitts has something for everyone, whether you are a casual tourist, visiting on a cruise or a student at UMHS, one of the leading Caribbean medical schools (located on the tropical island).
The UMHS Endeavour looks at some of the top activities in St. Kitts, from hiking up a volcano to a scenic railway tour of this island paradise and more. We will look at comments from TripAdvisor.com, St. Kitts Tourism and other online sources.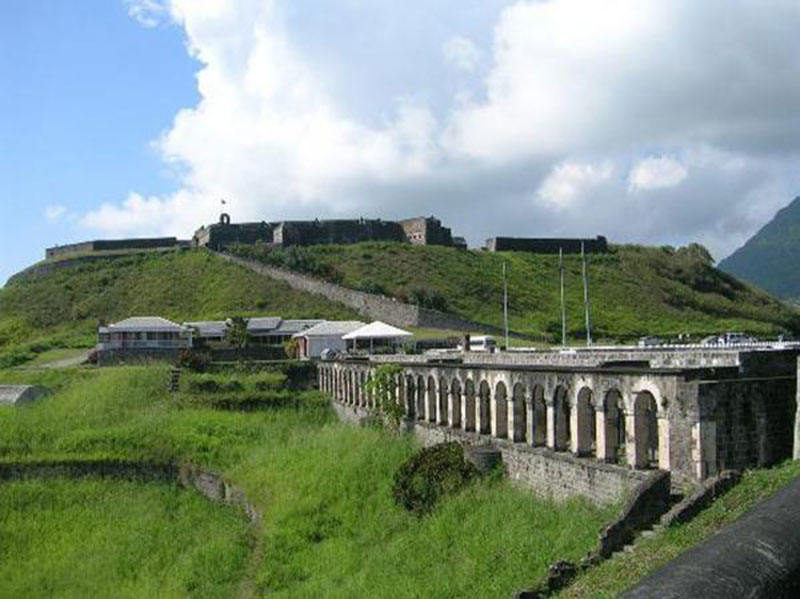 BRIMSTONE HILL FORTRESS NATIONAL PARK: One of the 'must-see' places in St. Kitts. Photo: St. Kitts Tourism
Brimstone Hill Fortress National Park
Described as "the Gibraltar of the West Indies," this structure on a limestone hilltop rises nearly 800 feet above sea level, TripAdvisor says.
Brimstone Hill Fortress National Park is a UNESCO World Heritage Site "of historical, cultural and architectural significance: a monument to the ingenuity of the British military engineers who designed it and to the skill, strength and endurance of the African slaves who built and maintained it," says the park's website, BrimstoneHillFortress.org
A traveler wrote on TripAdvisor.com on January 3, 2015, "This is a must do if visiting St Kitts. It is a UNESCO World Heritage Site for good reason. Be sure to walk to the top of the Fort where the view is spectacular, as you marvel at how it was built, by human (slave) labor long before modern machinery was around. It is well worth the admission fee."
Admission fee: $10.00 U.S. for visitors. For more information, visit http://www.brimstonehillfortress.org/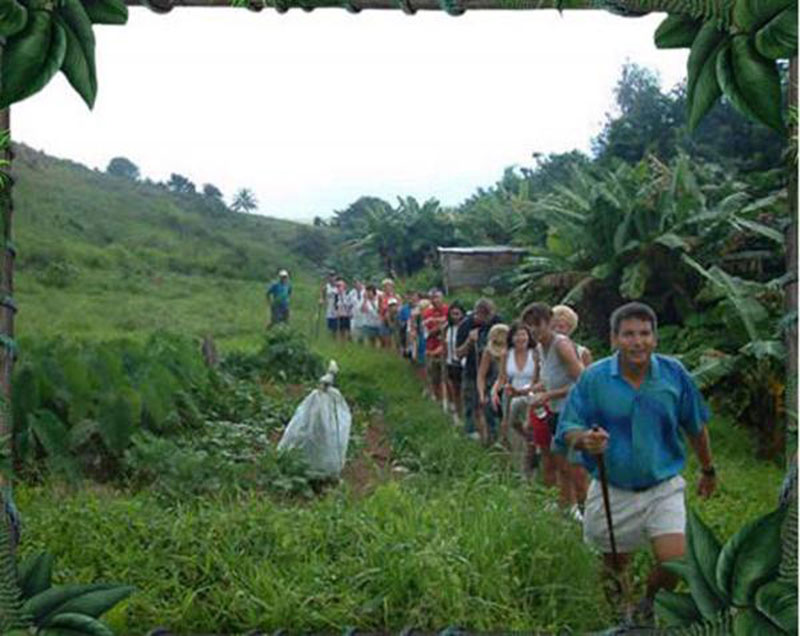 A SCENIC WORKOUT: Mt. Liamuiga Hike is a great way to spend a day seeing St. Kitts. Photo: St. Kitts Tourism/Greg's Safaris.
Mt. Liamuiga Volcano Hike
Hiking up Mt. Liamuga (formerly known as Mt. Misery), a volcano, is one of the most popular things to do in St. Kitts. It's a workout indeed, a total of six miles (three miles up and three miles down). But that's expected when climbing a 3,792-foot dormant volcano.
As a TripAdvisor member noted, the hike is "not for the weak or the faint-hearted."
"Make no mistake - this is tough," wrote a visitor from New Jersey. "Five days later, and my legs are still sore," noting that one should wear appropriate walking shoes (no sandals). "But the hike is worth the effort - at the top you are looking down in the mouth of a long dormant volcano. It is peaceful and beautiful."
On a clear day, one can see sister island Nevis and more.
The hike takes from seven to nine hours. Hikes are offered by such private tour operators as Greg's Safaris. A picnic, complete with rum and homemade tropical juices, is included in the price ($110 for Greg's Safaris) of the package.
For more information, visit Greg's Safaris at http://www.gregsafaris.com/?p=285 or Royston Tours at http://www.roystontoursstkitts.com/
The St. Kitts Scenic Railway
Riding the train on the St. Kitts Scenic Railway has become one of the "must do" shore excursions for the many cruise ship visitors to St. Kitts. Offering a three-hour tour that makes a 30-mile circle around St. Kitts (18 miles by train; 12 miles on sightseeing buses), the Scenic Railway train is a remnant of long-gone British colonial days. Built between 1912 and 1926, the railway used to transport sugar cane from island plantations to the capital city of Basseterre.
In 2015, the trains offer tourists outstanding views of this unspoiled tropical paradise.
For more information, please visit http://www.stkittsscenicrailway.com/
Clay Villa Plantation House & Gardens
This is listed as #1 in the "Activities in St. Kitts' by TripAdvisor. Not only is it a beautiful plantation; it has a unique, inspiring history. The Clay Villa Plantation House and Gardens is a 10-acre property that is the only Kittitian estate "never to profit from slavery and whose family members are of the native Carib (Amerindian) people," says the Clay Villa website.
Along with the lush gardens and the gorgeous colonial architecture, you may also see Carib, Inca and Aztec artifacts on display.
For more information, please visit http://www.clayvilla.com/
Cockleshell Beach & Turtle Beach
People have different opinions on which St. Kitts beach is the best, so let's look at two of the most popular.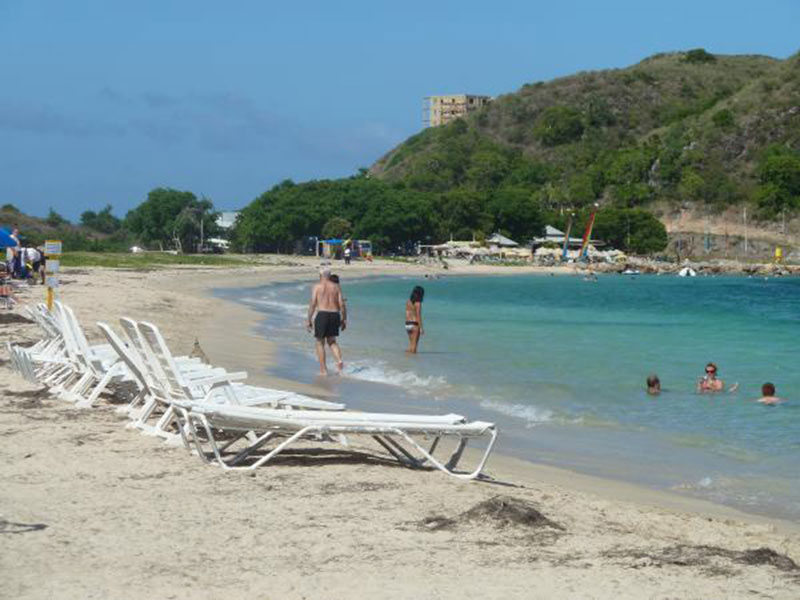 COCKLESHELL BAY: The famous beach many love. Photo: St. Kitts Tourism
Cockleshell Beach, listed as #5 in "Attractions in Basseterre" on TripAdvisor, is renowned for being somewhat secluded, and views of both the Atlantic Ocean and Caribbean. It gets busy when cruise ships are docked and thousands of people are on the island. Beach chairs and umbrellas (for shade) are available for rent for approximately $5 U.S. each.
The St. Kitts Tourism website notes that this power-white sand beach "sits directly on the Narrows - the channel between the two islands" and has great restaurants, warning visitors to "keep an eye out for alcohol-stealing Vervet Monkeys."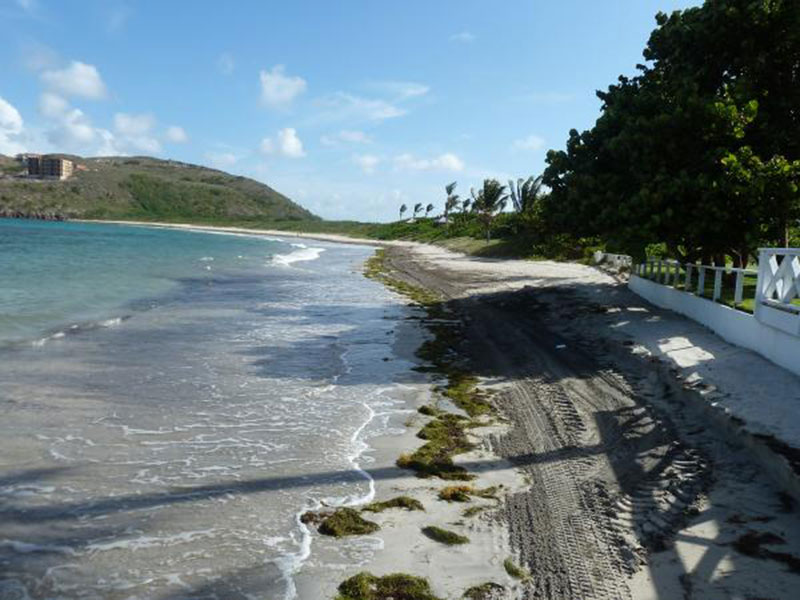 TURTLE BEACH: This secluded favorite is famous for great snorkeling. Photo: St. Kitts Tourism
Turtle Beach is perhaps best known for its great snorkeling and, like Cockleshell Beach, views of sister island Nevis. The St. Kitts Tourism website says, "Turtle Beach is not to be mistaken for Turtle Bay, which is on the northern coast of the peninsula. Turtle Beach is situated at the extreme end of the South East Peninsula, and is ideal for a day out. If you are out on a boat and you are lucky, you might see the odd dolphin or pod of whales passing through, especially in wintertime. The beach is great for bathing, water sports and beach sports."
For more information, visit http://www.stkittstourism.kn/explore-st-kitts-activities-beaches.php
Editor's Note: This blog post is for informational purposes only. The UMHS Endeavour and UMHS do not endorse any of the activities listed here and cannot be held responsible for any of the individual tour operators mentioned.
(Top photo) ST. KITTS SCENIC RAILWAY: Trains on tracks originally built for sugar cane transportation offer spectacular views. Photo: St. Kitts Tourism.
---
About UMHS:
Built in the tradition of the best US universities, the University of Medicine and Health Sciencesfocuses on individual student attention, maintaining small class sizes and recruiting high-quality faculty. We call this unique approach, "personalized medical education," and it's what has led to our unprecedented 96% student retention rate, and outstanding residency placements across the US and Canada. UMHS is challenging everything you thought you knew about Caribbean medical schools.

Posted by
Scott Harrah
Scott is Director of Digital Content & Alumni Communications Liaison at UMHS and editor of the UMHS Endeavour blog. When he's not writing about UMHS students, faculty, events, public health, alumni and UMHS research, he writes and edits Broadway theater reviews for a website he publishes in New York City, StageZine.com.