Three UMHS students—Surpreeet Khunkhun, Eboni Peoples and Mariana Ndrio—recently received the Reproductive Justice Leadership Program scholarship from the American Medical Student Association (AMSA). The scholarships are awarded to physicians-in-training to help them learn about women's reproductive rights, something that is not always part of medical school curriculums.
The UMHS Endeavour spoke to the three women about the scholarship and why Reproductive Justice is such an important issue because, regardless of one's political or religious beliefs, women need doctors and healthcare providers to provide facts to patients so they can make vital, informed decisions about their health.
---
Discover if a career in Obstetrics and Gynecology is right for you.
Learn why 77% of doctors would choose the same specialty again.
---
Participants in AMSA's Reproductive Justice Leadership Programs take online courses in "abortion-related training and education opportunities." Students complete required online reading before taking each course and take a short pass/fail exam upon course completion. The three Reproductive Justice Leadership Program scholarship recipients from UMHS spoke to the Endeavour about the many reasons why medical students need to learn more about the topic, meeting with aides to political leaders, their own stories, and more.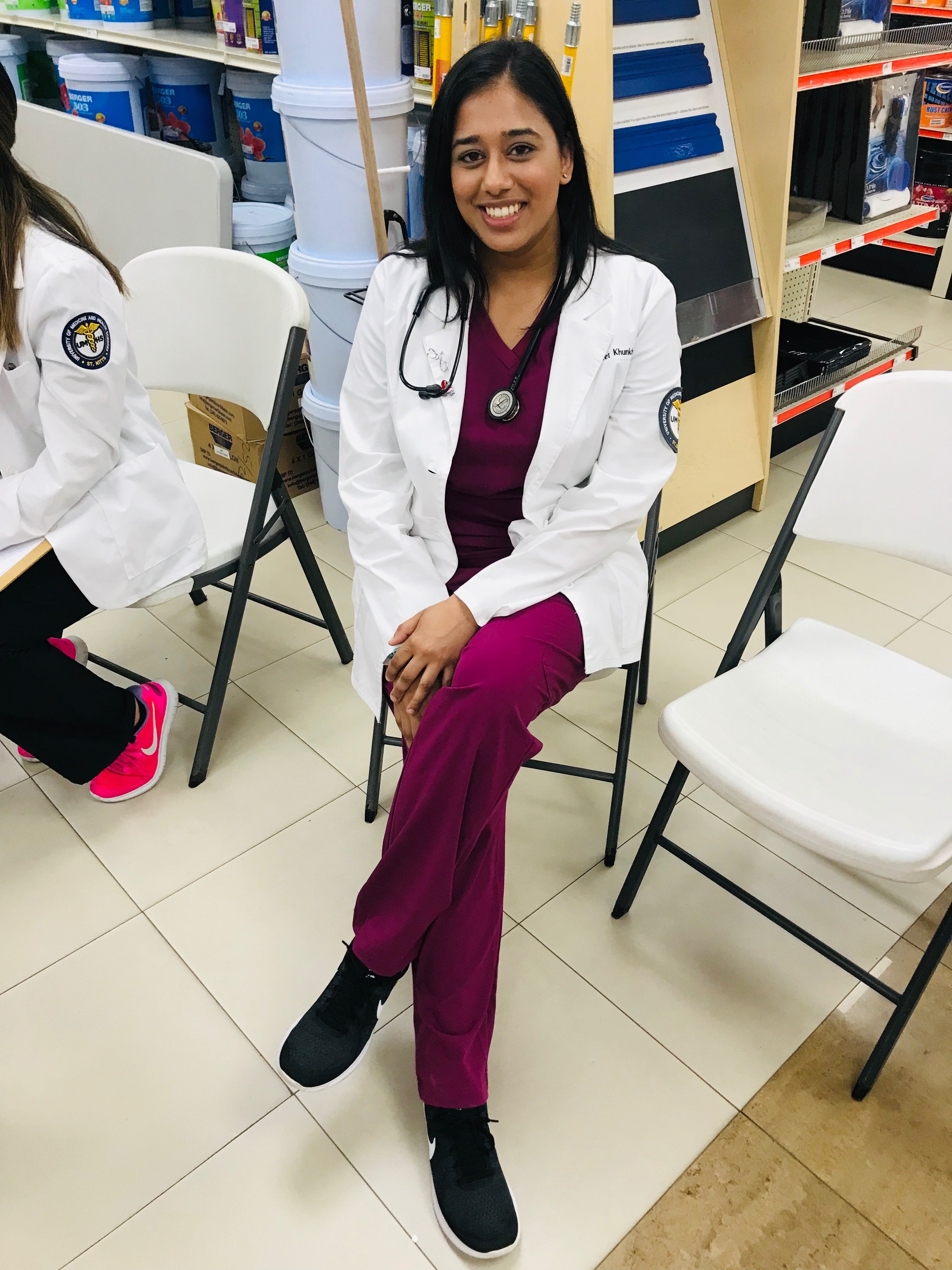 Supreet Khunkhun, UMHS student & AMSA Reproductive Justice Scholarship winner. Photo: Courtesy of Ms. Khunkhun
Surpreet Khunkhun
Surpreet Khunkhun, M2, spoke about what she has learned regarding women's reproductive rights as a Canadian of Indian descent.
"As a daughter in an Indian household, where sex and reproduction are taboo topics, I grew up knowing very little about the barriers around accessing reproductive services," she said. "Additionally, as a first- generation Canadian, I must admit I do not know all the legislative bills and laws regarding women's reproductive health in the United States. A month ago, if I were asked, 'What does Reproductive Justice (RJ) mean to you?' I would have naively replied 'pro-choice.' RJ goes far beyond just a choice; racial and socioeconomic disparities have made access to abortion and other reproductive health services close to impossible. The term reproductive justice was invented in 1994, being only as old as me, it encompasses reproductive rights and social justice together. Current events and recent U.S. Supreme Court rulings have made me more aware of the injustices women face in healthcare and how reproductive justice is very much so a part of the anti-racist agenda.
"As an aspiring OB/GYN, signing up for AMSA's RJ Leadership Program is my first step in educating myself to be the type of physician I want to be, to gain the knowledge to make informed decisions in the best interests of my patients. Dr. Aliye Runyan (AMSA Reproductive Health Strategist) and Becky Martin (AMSA Senior Manager of Education & Advocacy) have done such an amazing job putting together the program. I am grateful that we have the opportunity to learn from other platforms, not just our medical school curriculum courses. Each week we have amazing guest speakers who have been at the forefront of fighting for RJ come share their experiences and carry a discussion on how we as student-physicians can help reverse the injustice"
Ms. Khunkhun said she has had numerous eye-opening moments, but one thing in particular has been especially concerning: fake abortion clinics.
She noted the following misinformation these "clinics" provide:
False information about "the risks of abortion, stating that it causes breast cancer, infertility, drug abuse, and suicide - all of which have been disproved time and again by medical professionals."
"At least seven states - Indiana, Michigan, Missouri, North Dakota, Ohio, Pennsylvania and Texas - have siphoned off 10s of millions of dollars from Federal Temporary Assistance for Needy Families (TANF) grants to insufficiently regulated, tax exempt groups. That means welfare funding intended to feed hungry children goes to fake clinics."
Ms. Khunkhun said she is particularly disturbed that women are given inaccurate information about reproductive health and this is cause for concern regardless of what anyone's politics are.
"It is very appalling to me that there are people out there getting away with providing inaccurate and wrong information to a person seeking medical aid. You do not have to have gone through four years of medical school to agree that this is wrong. As stated on the Reproaction website in regards to fake abortion clinics, 'No matter what your politics or religious beliefs are, it should be a given that people facing important medical decisions deserve access to accurate, unbiased and confidential information about their healthcare, and should know if the place they're seeking care from isn't what it pretends to be. ' "
"There is so much I have learned in the first four sessions alone and it cannot simply fit into just one post. I am always available to talk about these issues and discuss with anyone further on my socials or share any resources. I encourage and challenge all my fellow colleagues to do your part and educate yourself in matters that are unwritten in our medical textbooks."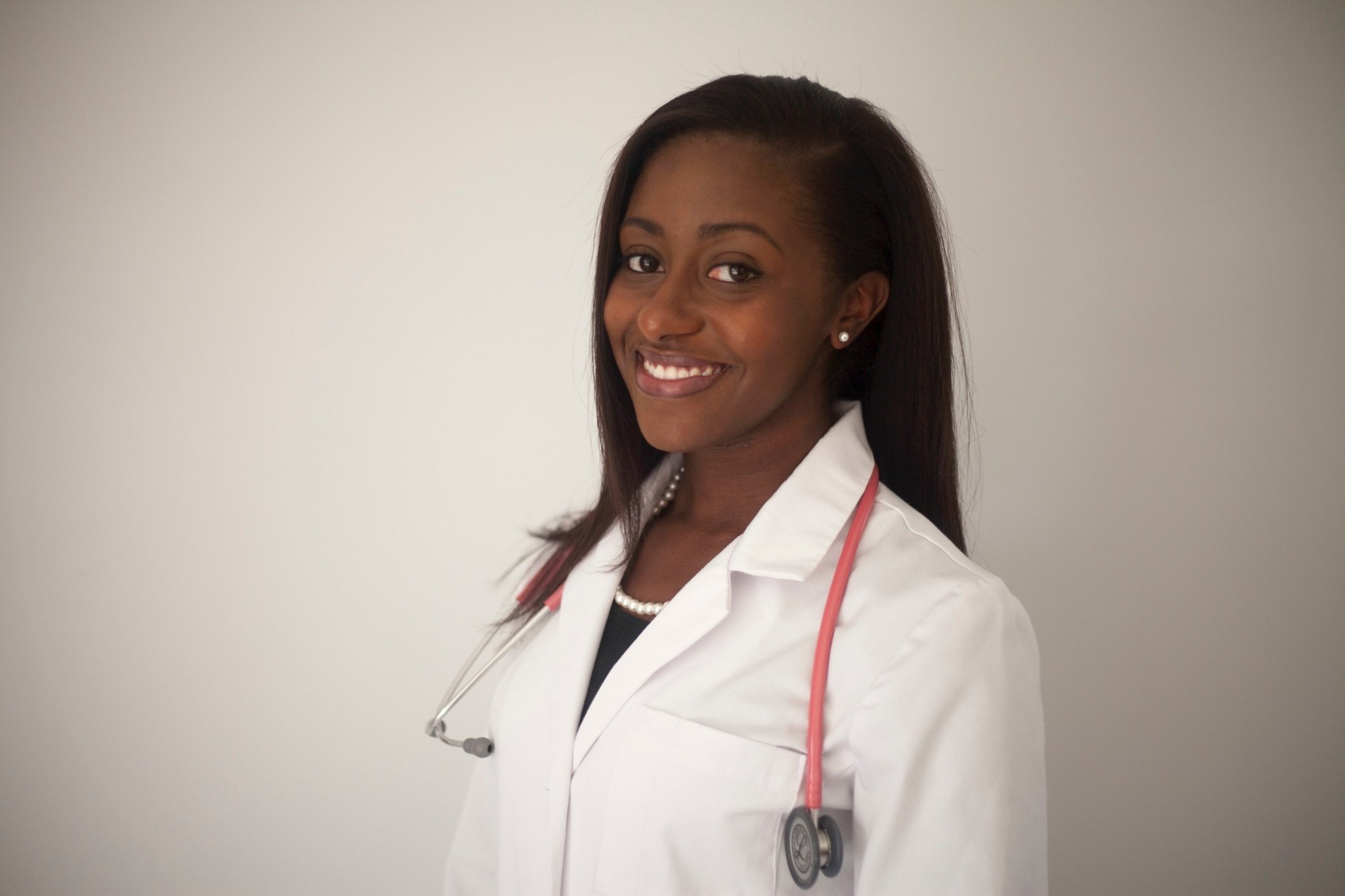 Eboni Peoples, UMHS student & AMSA Reproductive Justice Scholarship winner, spoke to legislative aides for both Republican & Democratic leaders in Florida about women's health & reproductive rights.
Eboni Peoples
UMHS student Eboni Peoples, M3, also received the scholarship and is pleased to help make a difference for women by participating in virtual discussions with political leaders. Most recently, Ms. Peoples spoke to legislative aides in Florida, a state that has tried to place numerous restrictions on abortion. In 2019, Florida lawmakers unsuccessfully tried to make abortion illegal after six weeks of pregnancy, according to an article in Vice. In Florida, 73% of counties have no abortion clinic.
"Since joining the Reproductive Justice Leadership Program, I have been paying more attention to state and federal policies and participated in several Congressional visits via Zoom," she said. "On Friday, August 14, 2020, I met with the legislative aides for Florida Senators Marco Rubio and Rick Scott and legislative aides for Congressman Brian Mast and Congresswoman Donna Shalala. Each meeting was about 30 minutes long and posed their own unique challenges. In these meetings, I was able to express my concerns for the health and safety of patients while raising awareness for bodily autonomy. Statistics will denote that one in four women in the United States will have an abortion by age 45. Yet, current laws restrict and limit access to abortion care in Florida, and misinformation disseminated about abortions depicts a clinical-safe procedure in an adversarial light."
Ms. Peoples said speaking about such a sensitive topic to legislative aides for politicians with conservative views on women's reproductive rights was no easy task but she knew it was necessary to spread the truth for women in Florida.
"Holding a conversation with state representatives that support state legislation limiting public funding to the right for safe abortions, mandatory counseling for seeking an abortion, and mandatory ultrasound to view a fetus, is not the most comfortable conversation to have as a medical student," she said. "The Reproductive Justice Leadership Program has encouraged me to look into abortion coverages for women and people and become a more educated advocate for patients who may be interested in those resources."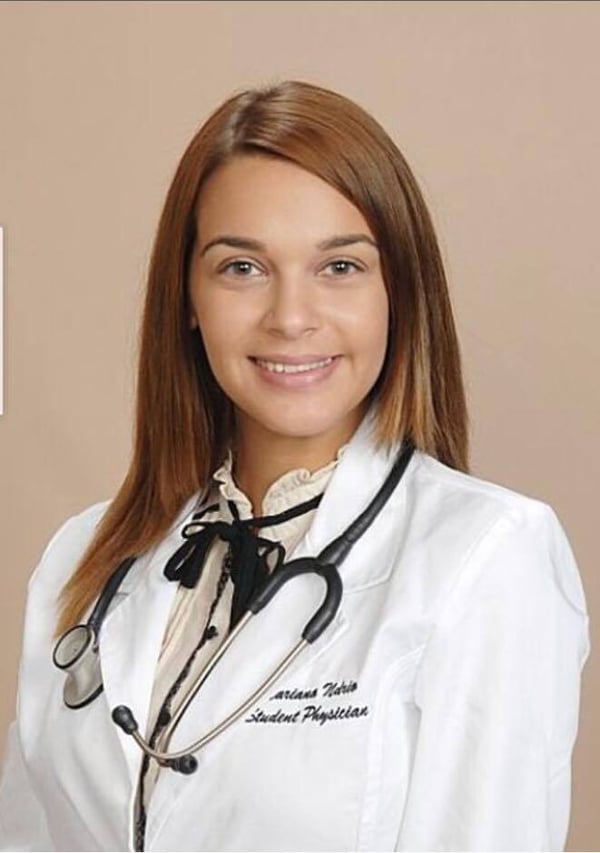 UMHS student Mariana Ndrio, winner of an AMSA Reproductive Justice Leadership Scholarship, grew up as the child of refugees in Albania & Greece & saw the many barriers women face regarding reproductive health. Photo: Courtesy of Ms. Ndrio.
Mariana Ndrio
UMHS student Mariana Ndrio, M2, said she believes reproductive health is every woman's right.
"Access to comprehensive reproductive health services—including sex ed, family planning, contraception, safe abortion, prevention of STDs, adequate prenatal and pregnancy care—is a fundamental human right and an integral part of life," she said. "As future physicians, we must strive to break any barriers and bridge any existing gaps. I am so thankful to be a part of this program and have the opportunity to learn and connect with fellow peers."
Ms. Ndrio knows firsthand about the struggles women face regarding reproductive health.
"Having lived in countries like Albania and Greece as a child of refugees, I have borne witness to the barriers women face when accessing reproductive services from a very young age," she said. "While countries that continue to be governed by traditional patriarchal rules might 'legalize' the notion of 'reproductive rights,' their respective cultural pressures and societal stigmas not only fail to recognize women as being in control of their own bodies, but they are prevalent enough so as to prevent a considerable number of women from actually practicing their reproductive rights."
As a child of refugees, Ms. Ndrio witnessed the many shocking ways women were treated.
"Growing up, I heard stories of femicide cases rooted on the sole reason of inability to bear children or the stigma and violence prevailing from the 'failure' to produce boys. Moreover, this form of reproductive oppression disproportionately affected already marginalized groups. Too often I heard stories of migrant and refugee women being left to die in botched abortions or in the process of giving birth under sub-par conditions, whether it be in local hospitals or forgotten refugee camps. In either situation, the same horrific reality persisted: that of not having access to contraception and reproductive services due to ethnic or socioeconomic status. I still hear of these stories today. These experiences made me realize the significance of reproductive justice and how we as women cannot fully enjoy our reproductive rights, if we do not address and dismantle the multiple oppressive systems that still exist in our societies."
One AMSA Leadership session was particularly inspiring for her.
"We had the opportunity to meet and discuss with the amazing Loretta Ross, founder of the SisterSong Women of Color Reproductive Justice Collective. In Loretta's words, 'Reproductive Justice identifies how reproductive oppression is the result of the intersections of multiple oppressions and is inherently connected to the struggle for social justice and human rights.' Under the Reproductive Justice framework, reproductive rights are not merely viewed under the lens of civil rights but rather as human rights that transcend geopolitical borders and ethnic, racial, and socioeconomic lines. I strongly believe that access to reproductive health services- including education, family planning, birth control, and abortion services- is a fundamental human right and an integral part of the health and well-being of women, as well as a public health issue that must be fought for. Now more than ever, we as future physicians must be aware of how such barriers disproportionately and directly affect our patients—especially black, brown, indigenous, and queer women."
The RJ movement also addresses the current political situation in the USA and injustices against people of color.
"Furthermore, the reproductive justice movement also addresses the recent tragic killings of George Floyd and Breonna Taylor and the multiple cases of police brutality towards people of color," Ms. Ndrio said. "From our AMSA sessions, I learned that the current climate of fear, excessive force, and constant surveillance by police officers and other individuals who are motivated by their own racial biases and prejudice constitute an infringement of the reproductive rights of black mothers—to raise their children safely, in healthy communities and free from state-sanctioned violence. A powerful and timely statement that reflects the vast scope of reproductive justice work. Our sessions also cover crucial topics such as Maternal Health and the carceral system, diversity, and inclusion in the family planning/ reproductive health workforce, abortion stigma, and how storytelling is a powerful advocacy tool."
Ms. Ndrio has learned a lot about reproductive health and global health through the many programs offered by AMSA.
"Last semester, I completed AMSA's Reproductive Health Scholars program which further fueled my interest in reproductive health issues and I encourage all members to take advantage of the various educational programs AMSA offers to members (they are offered for free). I am also currently serving as the AMSA Chair of the Global Health Action Committee and hoping to apply the knowledge I have acquired through this amazing leadership opportunity into our future Global Health projects. As a student-physician, I find this initiative to be an amazing opportunity to learn and connect with like-minded peers, hoping that I can raise awareness and be a better advocate for my future patients."
Students who want to learn more or get directly involved with current opportunities at the American Medical Student Association (AMSA) may email Ms. Ndrio at mariana.ndrio@amsa.org.
(Top photo): UMHS student Eboni Peoples, one of the recipients of AMSA's Reproductive Justice Leadership Scholarships. Photo: Courtesy of Ms. Peoples.
---
About UMHS:
Built in the tradition of the best U.S. universities, the University of Medicine and Health Sciences focuses on individual student attention, maintaining small class sizes and recruiting high-quality faculty. We call this unique approach, "personalized medical education," and it's what has led to our unprecedented 96% student retention rate, and outstanding residency placements across the USA and Canada. UMHS is challenging everything you thought you knew about Caribbean medical schools.

Posted by
Scott Harrah
Scott is Director of Digital Content & Alumni Communications Liaison at UMHS and editor of the UMHS Endeavour blog. When he's not writing about UMHS students, faculty, events, public health, alumni and UMHS research, he writes and edits Broadway theater reviews for a website he publishes in New York City, StageZine.com.