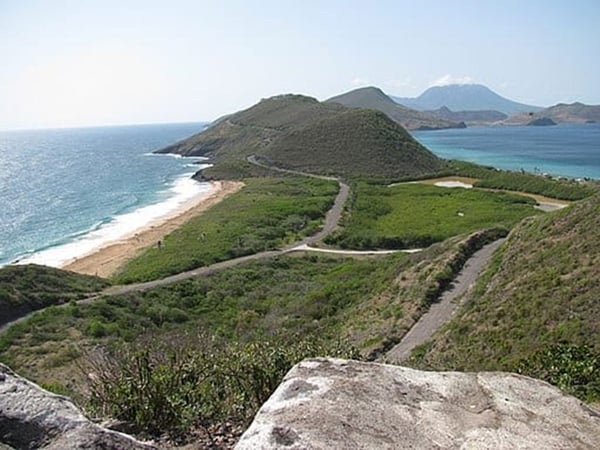 ST. KITTS: View from Sir Timothy's Hill, St. Kitts, showing both the Atlantic and the Caribbean. Photo: Adbar/Wikimedia Commons
St. Kitts is home to UMHS, one of the leading Caribbean med schools, but there is much more to the island than school, from a colorful history and warm-hearted locals to fun leisure activities.
The UMHS Endeavour takes a quick look at 15 fun facts about St. Kitts and Nevis, the twin island federation in the Caribbean – from the volcanic geography to why there are both white and black sand beaches, how the islands got their names, to local specialties like "goat water," and more.
Useful Facts
A member of the Commonwealth (former British Empire), St. Kitts and Nevis is an English-speaking nation and gained independence from Britain in 1983.
St. Kitts and Nevis is a modern country, and has become quite developed in recent years as tourism grows and large cruise ships visit during the peak winter season.
Many new hotels and shops have been built throughout the two islands, but expect more of a Caribbean vibe in the less-touristy interior parts of the island.
If you're visiting St. Kitts as a student, you'll need a student visa, which your school will help you arrange. If you're a tourist from the United Kingdom, Canada, USA or most Commonwealth countries, you can stay for up to six months without a visa but will need ID like a passport and a return ticket, according to FunTrivia.com.


---

Discover if a Caribbean Medical School is right for you.

Learn about the most popular alternative path to becoming a doctor.

---
From 'Goat Water' to What to Call Locals
Below are more facts about St. Kitts and Nevis from the website FactsKing.com.
"St. Kitts and Nevis was once known as the Gibraltar of the West Indies. Its volcanic vantage point offering lines of sight to nearby Nevis, St. Eustatius, and Saba."
"These two islands are the Caribbean's oldest colonized territories."
"Both St. Kitts and Nevis are volcanic islands. Because of this they have very dramatic central mountains and have had rather unpredictable geologic history with lush tropical vegetation."
"They have white beaches and black volcanic beaches depending on what side of the island you are on. One side of the island has black beaches while the other has white beaches." For a comprehensive list of the many beaches in St. Kitts, visit the St. Kitts Tourism website page with a details descriptions of each.
"The country's average annual rainfall is 45.8 inches compared to Boston's 41.7 inches and Bermuda's 55.4 inches."
"Saint Kitts and Nevis is a two-island country in the Caribbean and is the smallest country in the Americas, both in area and population."
"Christopher Columbus also named the other island Nevis because it looked like a snow-capped mountain and the Spanish word for snow is nieves."
"People on St. Kitts are called Kittitians, and on Nevis they are called Nevisians."
"When Christopher Columbus discovered the island, he named it after his patron saint, St. Christopher. Later it was shortened to St. Kitts, his nickname. It was considered the mother colony of the West Indies."
"The English began to settle the islands in 1623 and St. Kitts was the first English colony in the Caribbean. Over the next several years, the English and the French would fight over the island. Eventually the English took full control."
"The islands are known for 'goat water,' a stew usually made from the neck bones and meat of goats."



(Top photo) A beach in St. Kitts. Photo: UMHS archives

---
About UMHS:
Built in the tradition of the best US universities, the University of Medicine and Health Sciencesfocuses on individual student attention, maintaining small class sizes and recruiting high-quality faculty. We call this unique approach, "personalized medical education," and it's what has led to our unprecedented 96% student retention rate, and outstanding residency placements across the US and Canada. UMHS is challenging everything you thought you knew about Caribbean medical schools.

Posted by
Scott Harrah
Scott is Director of Digital Content & Alumni Communications Liaison at UMHS and editor of the UMHS Endeavour blog. When he's not writing about UMHS students, faculty, events, public health, alumni and UMHS research, he writes and edits Broadway theater reviews for a website he publishes in New York City, StageZine.com.