Many who are considering medical school and who have not taken pre-med courses as an undergraduate, or graduated more than a decade ago and whose coursework has expired, are confronted with a simple question: Is a postbaccalaureate program better than taking pre-med courses at a local community college?
There is no simple answer, and whichever you decide on is based on individual needs, so it is important to consider each option carefully.
First, understand what a postbaccalaureate (often called "postbac") program is. Many colleges and universities offer postgraduates a certificate, credential or premedical master's degree in biomedical or health sciences.
As the website for the Association of American Medical College (AAMC) explains, "The purposes of these programs vary. Some are designed for persons wishing to change careers; these individuals have not yet completed the science courses required for medical school application. Other programs are designed for persons wishing to enhance an existing academic record; these students have taken the requisite courses, but need to improve their GPAs to increase the competitiveness of their medical school applications. Still other programs are specifically designed to assist persons from groups currently underrepresented in medicine or from educationally or economically disadvantaged backgrounds.
Many find taking pre-med courses at a community college less expensive and easier to get into than a postbaccalaureate program, but there are a multitude of variables to consider.
Advantages/Disavantages of Community College vs. Postbaccalaureate Pre-Med Programs
We asked Sean Powers, Director of Admissions at UMHS, to outline how a student would complete pre-med courses at a community college vs. through a postbac program. He helps prospective medical students explore the choices available by explaining the following:
"When students who have completed an undergraduate program make the decision to prepare to apply to medical school, it usually means that they must find a nontraditional method to complete the standard set of prerequisite course requirements.
They generally have three options:
Take courses as a non-degree student at a local four-year school;
Take courses at a local community college;
Enroll in a specially designed postbaccalaureate program for pre-med students.
The main advantage of taking the courses at either a four-year or two-year school would be the location of the program. If it is close to home, it could appear to be the best option. And depending on how many pre-reqs need to be completed, students may be able to complete everything in just a few semesters. However, it can be tough to access the necessary courses at a four-year school as a non-degree student because of registration priority going to enrolled students. Therefore, it's not a guarantee that you'll complete your prerequisites according to your timeline.
Registration is less of an issue at community colleges. While access to the courses may be easier at a community college, students need to keep in mind that community college courses are generally designed to provide a foundation for upper-level undergraduate work, not graduate-level or medical school science courses. So students may still want to try to find a way to fit in some upper-level undergraduate science courses to better prepare for medical school. Something to also keep in mind is that pre-med/pre-health advisors at four-year schools will typically not have the bandwidth to provide specific guidance and advisement on the medical school admission process to non-degree students. Meanwhile, pre-med advisors are generally not found at community colleges. The lack of advisement may or may not be a concern to a nontraditional pre-med student. Further, unless enrolled full-time, financial aid would not be available to the student.
With postbac programs, there is normally an application process, a minimum undergrad GPA and a minimum test score, and a limited number of seats available. These are formal and structured programs designed to prepare students for medical school in 1-2 years' time. Programs are streamlined, there is a clear path to completion of requirements, and advisement is readily available. Beware that these programs can come with a significant cost (as much as $20,000 a year or more) and financial aid may or may not be offered.
For nontraditional students, there is no one right or wrong way to go about completing the pre-requisite courses for medical school.
There are many options at many schools, one or more of which might work depending on a particular student's situation."
8 Things to Think About When Considering a Postbaccalaureate Pre-Med Program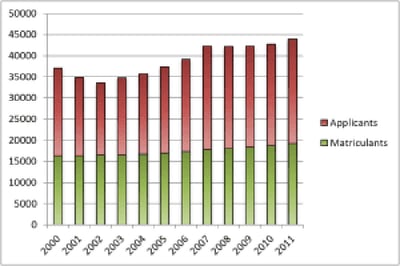 Anyone who makes the decision to apply to a postbaccalaureate program should do thorough research first.
(Chart, inset right) Statistics show getting into medical school isn't easy. Chart: courtesy of MedSchoolPulse.com/Kaplan Test Prep
In her recent PreMedLife Magazine Liza Thompson, M. Ed., former director of the John Hopkins Goucher Postbaccalaureate Premedical Programs, describes eight things to consider when looking at postbaccalaureate programs:
Good Academics and MCAT preparation: Classes should prepare you for both medical school and taking the MCAT. Look for the program's success rate. If the record isn't published, Ms. Thompson writes, "Ask specifically about its success rate in getting students into medical school."


Class Format: Mixed with Undergraduate or Separate? Programs have two formats: classes mixed with undergraduates and classes exclusively for postbac students. Ms. Thompson says there are pros and cons to both. She writes, "Do you want to prove yourself by taking regular pre-med classes with undergraduates? Or would you prefer to be in a smaller setting among only postbac students, all with a similar focus?"


Academic Support: Is there free tutoring in individual or group formats? Ms. Thompson says to ask the following: "Is tutoring provided through the undergraduate academic advising office? If so, is tutoring readily available or on a first-come, first-serve basis?"


Advising: Do the program director and advising staff have experience with the medical school admissions process? Ms. Thompson says to consider the student-advisor ratio. "Is the program small enough that you will get personalized advising and guidance?" she writes, adding to look at such things as whether there is a formal or informal, "drop-in basis" advising structure, and special events with medical school admissions deans.


Medical Experience: Does the school have good connections and formal arrangements with local clinics and hospitals for clinical volunteering? Ms. Thompson says to ask, "Is there a mechanism in place whereby you can assess the opportunities in the area and connect with practitioners? Do these practitioners have enough prior experience guiding students that they provide good mentoring? Does the program provide ways for you to gauge one experience vs. another to see which might be the best fit for you?"


Letters: Who writes recommendation letters; the program director, faculty chair or faculty? Questions to ask regarding letters include, "Are the classes small enough that the faculty will be able to differentiate you from other students? Will they get a sense of you through individual meetings or office hours? Or will you have more interactions with teaching assistants than with professors?"


Community: Ms. Thompson says it is important to have good peers to rely on, and ask current and former students the following, "What do the director and program staff members do to help build community and create a supportive environment?"


Ask Students: The greatest source of information about any program is the students. As Ms. Thompson explains, "Students will provide valuable information as to the caliber of the classes and professors, the difficulty level, the nature of the environment, and whether they are satisfied with the program as a whole. Students will also tell you if professors are more focused on their research than on teaching pre-med classes, and if the classes are too large for meaningful interactions. Students will answer your questions about the academics, advising, letters, MCAT preparation, medical opportunities, and community. They will help you determine whether a particular postbac program is a good fit for you and your needs."
For a comprehensive list of postbaccalaureate programs for pre-med students, visit: https://www.aamc.org/
(Top photo) Do your homework when selecting a postbac or non-degree pre-med program based on your needs. Photo: Courtesy of FreeDigitalPhotos.net
---
About UMHS:
Built in the tradition of the best US universities, the University of Medicine and Health Sciences focuses on individual student attention, maintaining small class sizes and recruiting high-quality faculty. We call this unique approach, "personalized medical education," and it's what has led to our unprecedented 96% student retention rate, and outstanding residency placements across the US and Canada. UMHS is challenging everything you thought you knew about Caribbean medical schools.

Posted by
Scott Harrah
Scott is Director of Digital Content & Alumni Communications Liaison at UMHS and editor of the UMHS Endeavour blog. When he's not writing about UMHS students, faculty, events, public health, alumni and UMHS research, he writes and edits Broadway theater reviews for a website he publishes in New York City, StageZine.com.