Many UMHS students are volunteering and are making a difference by helping others during the COVID-19 pandemic. A number of students had to leave St. Kitts in March to return to the U.S. and Canada to finish the semester remotely via distance learning, but some remained on the island and immediately started helping the local community, while others volunteered from back in the USA and Canada, doing such things as creating an app to allow volunteers to have virtual meals with lonely, isolated seniors as well as volunteering at homeless shelters and much more.

The UMHS Endeavour spoke to UMHS students Yulia Kungurova, Evelyn Calpo and Nici McCrary about how they and several other students are volunteering to help during this crisis.
Launch of 311 Hotline
The St. Kitts and Nevis Ministry of Health launched a 311 hotline in late March, 2020, the day the first two COVID-19 cases were announced in St. Kitts. UMHS students immediately started volunteering.
" Since day one, four UMHS students—Thanh Ngoc Le, Alex Kuruvilla, Evelyn Calpo and myself as well as two students from Windsor, Ritha Mera and Khalil Ali—have been working daily alongside local nurses, teachers, ministry of health workers to serve as liaisons between the general public and the government's response to the pandemic," UMHS student Yulia Kungurova said. "Throughout the process we have been under the supervision of Vera Edwards who is the Health Educator at the Health Promotion Unit at the St. Kitts and Nevis Ministry of Health and she was the one who informed me of this way for medical students to get involved and be useful at this time."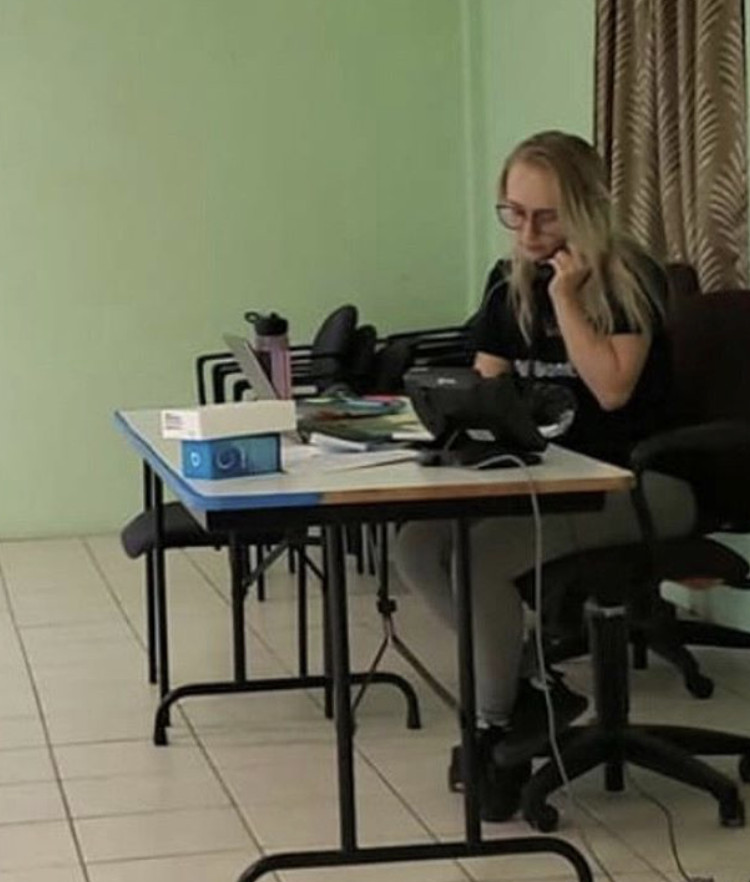 STUDENTS VOLUNTEER: UMHS student Evelyn Calpo volunteers on 311 hotline in St. Kitts. Photo: Courtesy of Abidas Samuel.
Ms. Kungurova said the 311 hotline was originally launched as way to help trace contacts of the first COVID-19 cases. The first COVID-19 cases have been traced to people who traveled to St. Kitts from New York.
"The hotline has since evolved to not only counsel callers regarding COVID-19 testing, quarantine procedures, and minimizing exposure, but also as a way to link them to social services as many have lost their jobs that require direct personal interaction such as those in the tourism industry and adjacent businesses such as shops and restaurants," she said.

She has also worked with students leaving St. Kitts to make food donations and coordinated delivery to NEMA (National Emergency Management Agency).

"These donations have been going out to those most in need," she said. "There are many vulnerable people in St. Kitts and Nevis who are not able to stand in lines for food for three to four hours on the days we are permitted to get groceries, not to mention those who cannot afford groceries. To those, I have seen firsthand how officers at NEMA pack care packages and deliver food that UMHS students have donated. It was very rewarding to see the direct impact of these donations our students have made and I'm proud so many have joined in to help out."

Besides the need for food and health care, Ms. Kungurova said the pandemic has created numerous crises in St. Kitts.

"The greatest impact of this pandemic will not be strictly medical or health related. It will be the social and mental — people are finding themselves having to interact a lot more closely with a lot less people that they have grown accustomed to for decades, people facing loneliness and unease of their familiar routines disrupted, of either not understanding why such drastic measures are being taken against something invisible or believing the government is not doing enough to stop the spread."

UMHS student Evelyn Calpo, originally from the San Francisco Bay area of California, spent seven years living in eastern Tennessee before attending UMHS in St. Kitts. While many students left St. Kitts when the pandemic first hit the island, Ms. Calpo decided to stay.

"I decided to stay on campus in St. Kitts because I believed it was the safest option for myself, my son, and my mother, all of whom all also live with me on the island," Ms. Calpo said. "I also believed that I could do more good staying in St. Kitts by volunteering, as well as not disrupting my schedule and routine for academic purposes."

Ms. Calpo has been helping work the NEMA hotlines for three to four days a week for a total of 12 to 16 hours.

"I was first informed of the opportunity by Yulia, and jumped at the chance to be able to help here in St. Kitts," she said. "I usually work the 8pm-12am shift, as well as one morning shift and an afternoon one. I guess it's a little all over the place. The calls range from emergent to everyday questions about COVID-19 itself or the services that are available for citizens here in St. Kitts. I started by working in JNF, then switched to the NEMA headquarters, and now I operate the phones remotely from a landline in my living room."

What kinds of calls has she been receiving?

"Since I typically work the late-night shifts, most of my calls are emergent from people who need immediate medical or social assistance because they no longer have food, or water, or electricity, or they need to go to the hospital," she said. "These individuals either do not know who to call, or they no longer have money on their phone to be able to call the agencies they need to reach, and we become the middle man.

"When lockdowns were every day in St. Kitts, I received mostly social services emergency calls because people were unable to go to Digicel to add minutes to their phone, but now that restrictions are starting to lift, most of my calls have been medical or psychological emergencies and the callers do not know who to call so that they may leave their home and/or get assistance."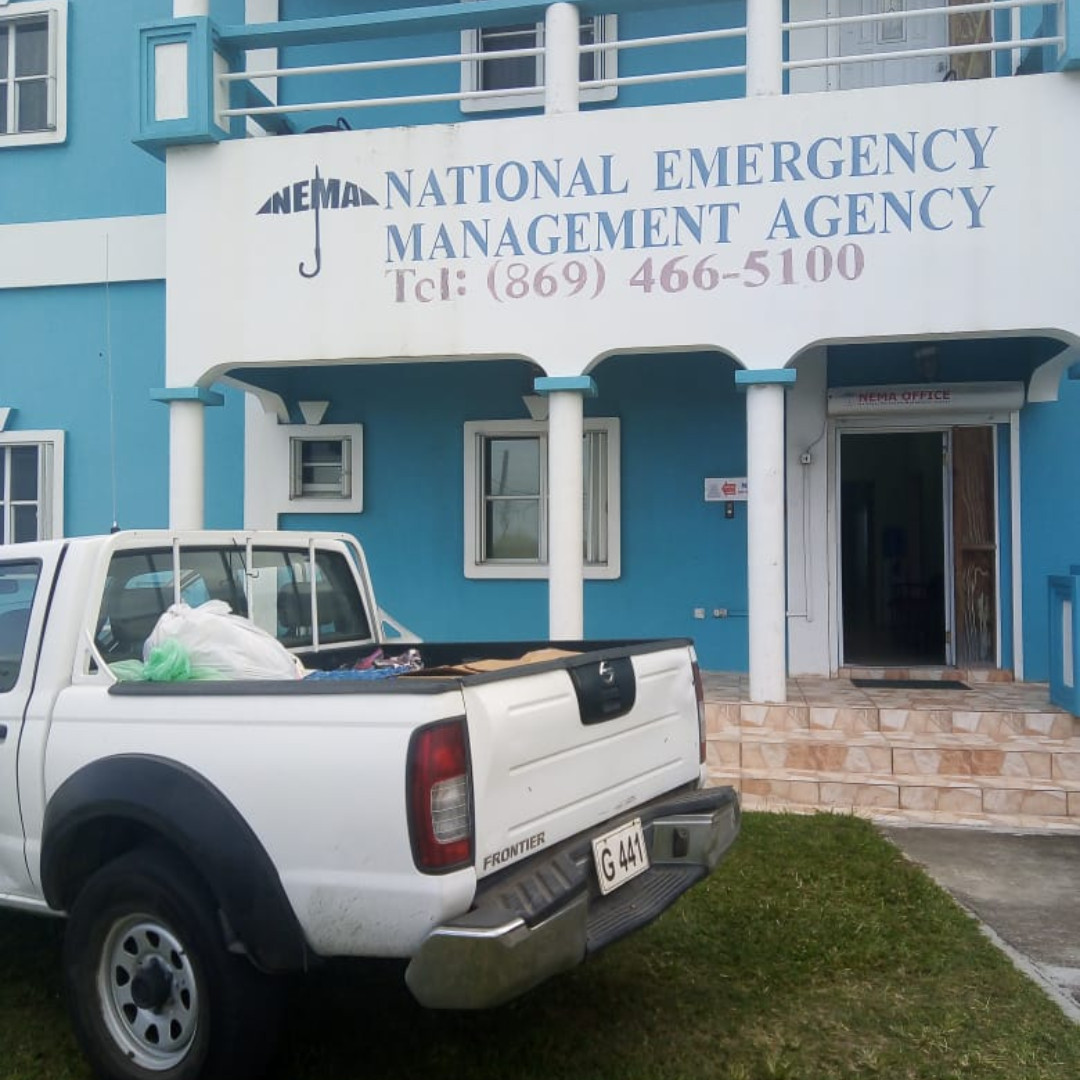 Truck full of donations from UMHS students arriving to NEMA in St. Kitts. Photo: Courtesy of Yulia Kungurova.

Are St. Kitts Hospitals Prepared?

What is the state of local hospitals in St. Kitts and how prepared are they to handle COVID-19 patients?

"According to an interview with Dr Hazel Laws, CMO and Dr. Wilkinson, Chief of Staff at the JNF hospital there have been a number of measures taken to prepare for a possible surge of cases," Ms. Kungurova said. "The emergency room has been divided into two sections – there is a triage point prior to entry – and those individuals who come in with respiratory/ flu-like symptoms are directed straight into the area with staff wearing full PPE (Personal Protective Equipment) and where they are away from other patients in the waiting room/ rest of the hospital."
The main hospital has 15 isolation rooms and there are 11 ventilators between St. Kitts and Nevis, with a total population of 50,000.

"So, the ratio is one ventilator for 4,545 people vs 1 ventilator for 1,875 people in the US," she said. "There are also 30 doctors and nurses from Cuba who came in on March 29th to assist on the front lines. The confirmed cases are reported to be mostly asymptomatic, so it seems the situation, at least from the medical perspective, is good."
Why Are Med Students So Vital Now?

Now more than ever is a crucial time for medical students to volunteer.

"Nothing teaches you about what people and our future patients are like than going out and directly interacting with them," Ms. Kungurova said. "I think it's important to gain an understanding of the realities of life for people of all walks of life, especially at a time when everyone's challenges are revealed by the situation, and the playing board is as level as it's ever going to be with everyone under movement restrictions, everyone anxious about their health, and most people under financial stresses because one of the hardest parts of being a physician I think is being able to overcome personal biases towards patients that come from a different upbringing, socioeconomic background, culture, etc. and nothing fights bias better than having real human interactions with people outside our comfort zones and learning to understand their perspective.

"I also think medical students are in a unique position right now because they have the knowledge of science and medicine and yet are not busy actually fighting on the front lines saving lives – so we can be public health advocates, learning to explain complex immunology/ pathology / microbiology concepts in an understandable manner because when people really understand something and the root causes of it they are more likely to act upon that knowledge – and it is ignorance and lack of understanding that promotes fear and anxiety. This too is a vital skill for us to develop as future physicians."

Evelyn Calpo also believes volunteering is so necessary for med students now, especially in St. Kitts where locals have suffered so much.

"I think it is important to always do whatever you can whenever you can for the community you live in. In the case of students, we are so lucky to be allowed to attend school in such a beautiful country and most all of us were born into, or currently have, privileges that the people of St. Kitts may never have," Ms. Calpo said. "I believe it is our duty to give back as much as we can to repay the opportunity to be here in their country as well as do whatever we can to make their lives easier and better. I went into medicine so that I could improve the lives of those around me, not just my own life. I think people sometimes forget it is a privilege to be where we are and that we are going into a service industry."


Sending Donations to St. Kitts

St. Kitts still needs donations.

"Definitely food and water should be donated," Ms. Kungurova said. "UMHS has already donated gloves to both police and JNF, but masks would also be in high demand right now, here as well as anywhere. Donations should be sent to NEMA and pick up arranged by calling 466-9626/3874."
Evelyn Calpo said PPE and food are both needed in St. Kitts.

"In St. Kitts, like most everywhere else in the world, PPE is a must and it is used and needed to be renewed everyday by hospital staff, medical office staff, the police, and other essential businesses. For the citizens of St. Kitts, they need food. I know NEMA is taking PPE donations as well as food for the people of St. Kitts."

Despite all the grim news about the pandemic, students are doing many things to offer hope.

"There are so many beautiful things emerging amid the social and financial devastation. For example, Nihal Satyadev, a UMHS student in Med2 with his team at Youth Movement Against Alzheimer's (YMAA) has just created an app Meals Together that connects senior citizens with another person to have dinner together over video calling to help overcome the sense of isolation everyone is experiencing especially in these times.

"We had a chef call in to volunteer his services to provide food for NEMA workers and law enforcement. I really think this situation is forcing us to evaluate what the important things in life are, and to redefine our personal values – value time with family, friends, be less materialistic and more oriented to community building and improving our skill-sets to make this world a better place for everyone."

Evelyn Calpo said she believes med students should help give the public facts because of misinformation.

"There has not been a whole lot [of misinformation] that I have noticed here in St. Kitts, though I have seen some, but there is definitely a lot coming from other countries," she said. "Especially from the leader of the United States. It is disheartening to see how other countries have turned this medical crisis into a political ploy, and unfortunately that is costing thousands, provably tens of thousands of lives.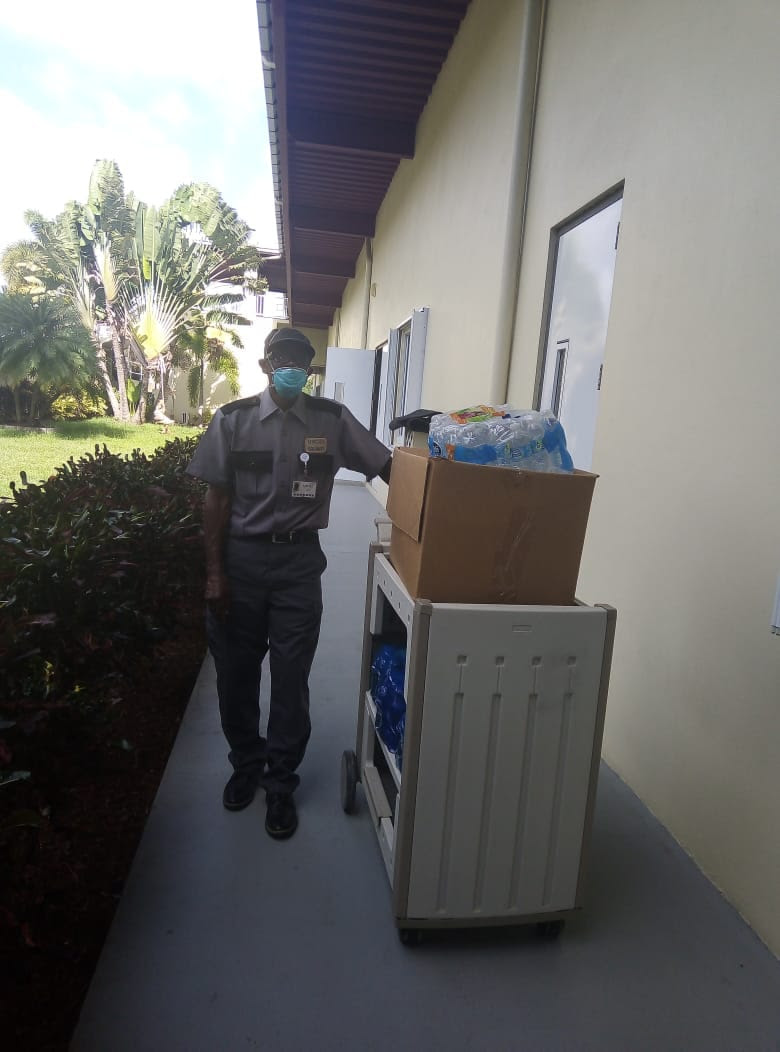 Mr. Sylvester Queeley, UMHS Security Supervisor, was extremely helpful in the donations process. Photo: Courtesy of Yulia Kungurova.

Students Helping Out at Home

Students who left St. Kitts are finding creative ways to help others during this crisis. UMHS Med 4 student Nici McCrary started volunteering a couple hours a few times per week at the pop-up homeless shelter in her town.

"Many other shelters had closed due to the government imposing limits on how many people could be in a room, or lack of young low-risk volunteers," she said. "I started out just passing out dinners, taking temperatures and asking screening questions for the people staying. Now that I've been there a few weeks I'm helping coordinate resources for some of them, helping to apply for disability and unemployment, and making sure they're getting the medicines they need. With my whole life being turned upside down last month, it's been really helpful to get out of my own head and into helping others. It's really brought my stress levels down, and made me feel empowered in a time where I feel like I don't have much control over my future. I think as physicians, people count on us to be people they can listen to and look up to, and it's something we can start practicing now, in any small way."

Education is key during this crisis. Evelyn Calpo said she has been amazed by the people who call the NEMA hotline in St. Kitts wanting to stay informed with facts.

"I am always very happy when I get a caller who is trying to become more educated on the virus and wanting to know the official news on it, not just what the read or heard about on television, the radio, or the internet," Ms. Calpo said. "This gives me hope that the virus can die out sooner with the more education the people of St. Kitts have. I have also noticed a lot of camaraderie within the community with neighbors helping each other in any way they can, from a social distance, and I have also seen a rise in donations of food and PPE supplies.

The UMHS Endeavour will continue covering what students are doing to help as the pandemic unfolds.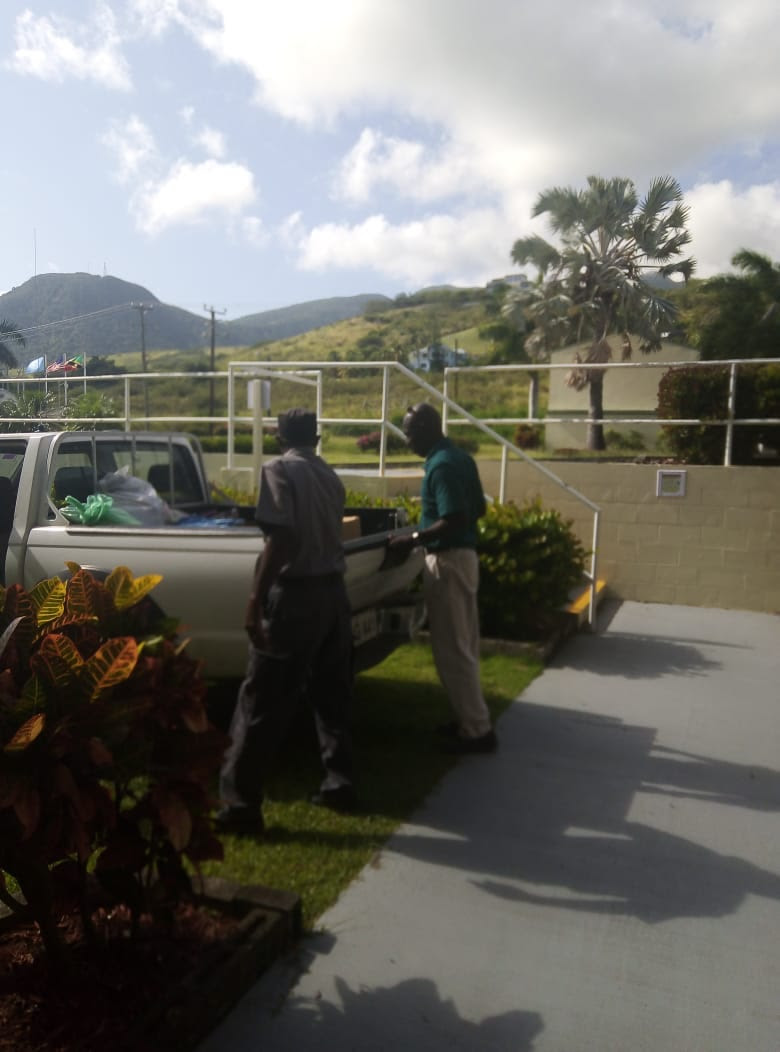 Mr. Queeley from UMHS and Mr. Phillip from NEMA working together to transport donations. Photo: Courtesy of Yulia Kungurov.
(Top photo) UMHS STUDENT VOLUNTEERING DURING PANDEMIC IN ST. KITTS: EBS1 student Evelyn Calpo taking a call at 311. Photo: Courtesy of Yulia Kungurova
---

About UMHS:
Built in the tradition of the best U.S. universities, the University of Medicine and Health Sciences focuses on individual student attention, maintaining small class sizes and recruiting high-quality faculty. We call this unique approach, "personalized medical education," and it's what has led to our unprecedented 96% student retention rate, and outstanding residency placements across the USA and Canada. UMHS is challenging everything you thought you knew about Caribbean medical schools.



Posted by
Scott Harrah
Scott is Director of Digital Content at UMHS and editor of the UMHS Endeavour blog. When he's not writing about UMHS students, faculty, events, public health, alumni and UMHS research, he writes and edits Broadway theater reviews for a website he publishes in New York City, StageZine.com.