UMHS Class of 2017 graduate Dr. Nick Kessener applied to several Caribbean medical schools and was accepted by all, but it was the personalized, polite attention he received at UMHS that helped him decide to start his medical journey at the state-of-the-art campus in St. Kitts. He also liked the fact that UMHS has affordable tuition and is run by the Ross family, with their years of experience helping IMGs from the U.S. and Canada achieve countless goals in the Caribbean and later back in North America.
Dr. Kessener had a strong medical background before attending med school. He previously worked in Nuclear Medicine doing stress tests for a cardiology group in Colorado before he decided to go for his M.D. He starts his residency in summer 2017 in the combined Medicine/Pediatrics program at the University of Illinois St. Francis Medical Center, and part of his time at Children's Hospital of Illinois, south of Chicago. Besides landing such a prestigious residency, Dr. Kessener says he's pleased that finally he, his wife and children will all be able to live in the same place for at least four years. The UMHS Endeavour caught up with this busy young doctor to talk about his experiences at UMHS, his advice for med students going through the Match process, his goals for residency, and more.
UMHS Endeavour: Tell us a little about yourself and where you are originally from.
Nick Kessener: I suppose I was a bit of a beach kid, having been born and raised in Southern California, but the traffic and housing was too expensive for me there. My wife and I moved to Colorado after she finished undergrad where we had our first two kids and I worked mostly in Nuclear Medicine doing stress tests for a large cardiology group. We enjoy outdoor activities as a family, from soccer to hiking to rafting. Living there was good experience, but after over six years of work, I knew it was time to buckle down and move on to medical school.

Why did you decide to go to UMHS?
With less-than-stellar MCAT scores, I knew I had to consider alternatives to traditional U.S schools. I applied to several Caribbean schools, simply based on advertisements. While I was accepted wherever I applied, my contacts with UMHS representatives were always kind, polite, honest and helpful. In addition, UMHS represented a lot of value to me, as it was cheaper than many other Caribbean schools, and yet it carried the Ross family name and staff experience that comes from working for decades with other IMGs in the Caribbean. In the end, the choice was easy.
---
Discover if a career in Pediatrics is right for you.
Learn why 83% of doctors would choose the same specialty again.
---
Tell us a little about your residency and the hospital you'll be working at.
My residency will be at the University of Illinois St. Francis Medical Center in the Medicine/Pediatrics combined program. The hospital is one of the largest and best in the state, with a level 1 trauma unit, burn unit and state of the art simulation center. I will also be spending half of my time at the Children's Hospital of Illinois (attached to OSF), which has the only level 3 (highest possible) NICU south of Chicago in Illinois. The training at this location is stellar, and the people are even more so. The family environment is unlike any others I had seen, and I have already received significant support from them, from the program director down to the interns.
What was the greatest thing about learning you matched?
Honestly? The thought that my family could finally live in one place for at least four years. Our six-year-old son has moved eight times in his life and we're looking forward to settling down a bit. That aside, it was a great feeling knowing that all the hard work had paid off. It is a tad nerve-wracking when you first start the application process, but I think as you progress through the interview process, you tend to relax and make the most of it. In the end, I felt confident that I would Match and would have been shocked if it was not at OSF. Most programs genuinely want to make you feel comfortable and would like to see you Match in the place that is right for you.

Is there anything in particular that interests you about your specialty?
I love the intense infusion of knowledge that takes place with a combined program. With Med/Peds, they squeeze two three-year residencies into one four-year program. It is rigorous, yet still thorough, and prepares you well for a future of diverse patients of all ages. I hate the thought of leaving out entire demographics of people if I chose one specialty over another, and love the thought of providing excellent care for all. In addition, it really broadens horizons in terms of fellowship possibilities for those who want to pursue that route.
What advice do you have for current UMHS students, and medical students in general, about the Match process?
Don't stress! But don't slack either. Patrick McCormick, Assistant Dean of Academic and Student Affairs, and his team have been through this process many times with many students and I was immensely thankful and satisfied with their guidance through the whole process. Don't ignore the e-mails. In fact, just deal with them right away and then you will not drown in the process later on. Do your homework on programs. Research them thoroughly through FRIEDA and whatever other resources you can. Apply to all the programs you think you'd be a good fit at. Don't bother applying to the ones you wouldn't. Be thorough and choosy. You want to end up at the right place for you. Fortunately, I've found most programs want that for you too.
Are there any advantages for students at Caribbean medical schools regarding the Match process?
Some programs specifically look for Caribbean grads as they have had success with them in the past. If they ask about your experience, highlight the strong points and emphasize the positive. Your training through UMHS is what prepared you to be a physician at their program in the first place.
Was there anything specific about your medical education at UMHS and clinical rotations that prepared you well for matching?
I feel like I was well prepared in general for matching as UMHS tends to give you most of the resources you need. Study diligently, perform your best on the testing, and pay attention to your preceptors. I always was big on asking questions, so I strove to ask intelligent questions of my preceptors so that I could learn the most from them during my clinical experiences. I would recommend ICU and Emergency Medicine rotations for everyone who can find them, as I've found these to be some of the best learning environments with heavy clinical application.
My study at UMHS also helped prepare me well for the matching process in terms of further development of interpersonal skills. With the diversity found at UMHS, both in its student body and in clinical rotations, you get to work with many people from many different backgrounds. This can help develop you as a person as you are comfortable in a variety of environments. When it comes time to interview then, you are more prepared for different personality types and questions that may be asked.
Do you have any specific goals for your residency?
To train to become the best physician possible. Okay, I know it's corny, but I do treat it seriously as I want to provide excellent care to all the patients I will encounter in the future. As far as short-term attainable goals, I will focus on improving my procedural skills, strive to not become jaded amidst the monotony of it, enjoy a work-life balance with the other residents in forming lasting friendships, and test myself regularly to track my learning.
Is there anything else you'd like to add that we have not covered?
Don't stress! The process is not as scary as it seems initially. Don't be afraid to contact upperclassmen either. I would have been far more lost in the process were it not for those who went before me.
I would also like to say that the support that I received from my wife and kids was phenomenal and am incredibly blessed to have them through the whole process. It certainly kept things busy for me, but I wouldn't have traded it for the world.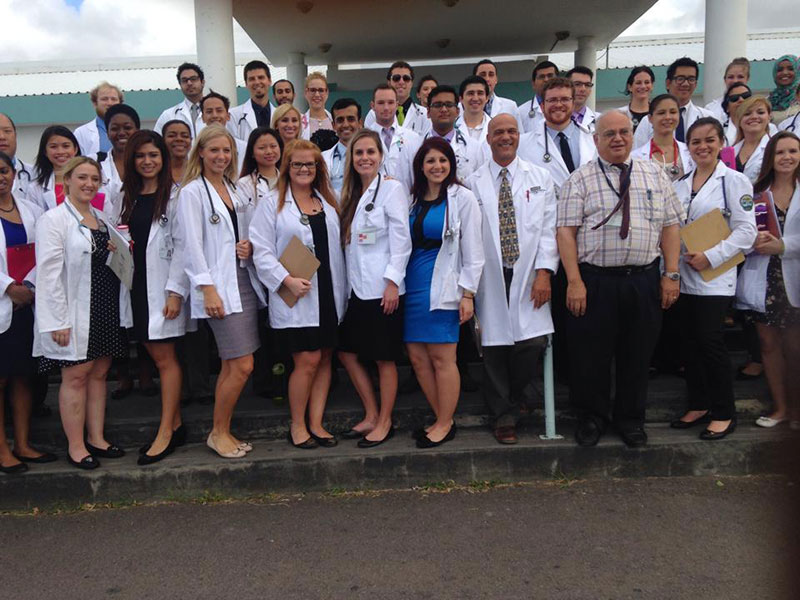 WITH COLLEAGUES IN ST. KITTS: Dr. Kessener with fellow students & faculty at UMHS in St. Kitts. Photo: Courtesy of Dr. Kessener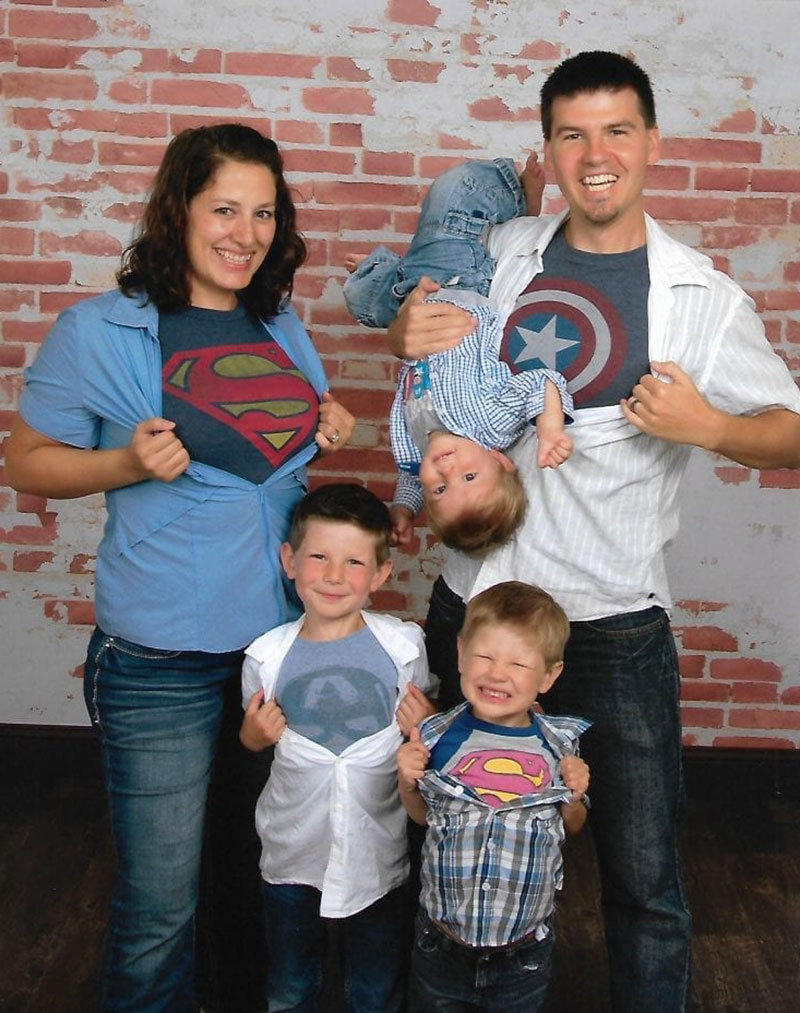 SUPER FAMILY: Dr. Nick Kessener with his wife & three children. He says family support has been 'phenomenal & I'm incredibly blessed to have them through the whole process.' Photo: Courtesy of Dr. Kessener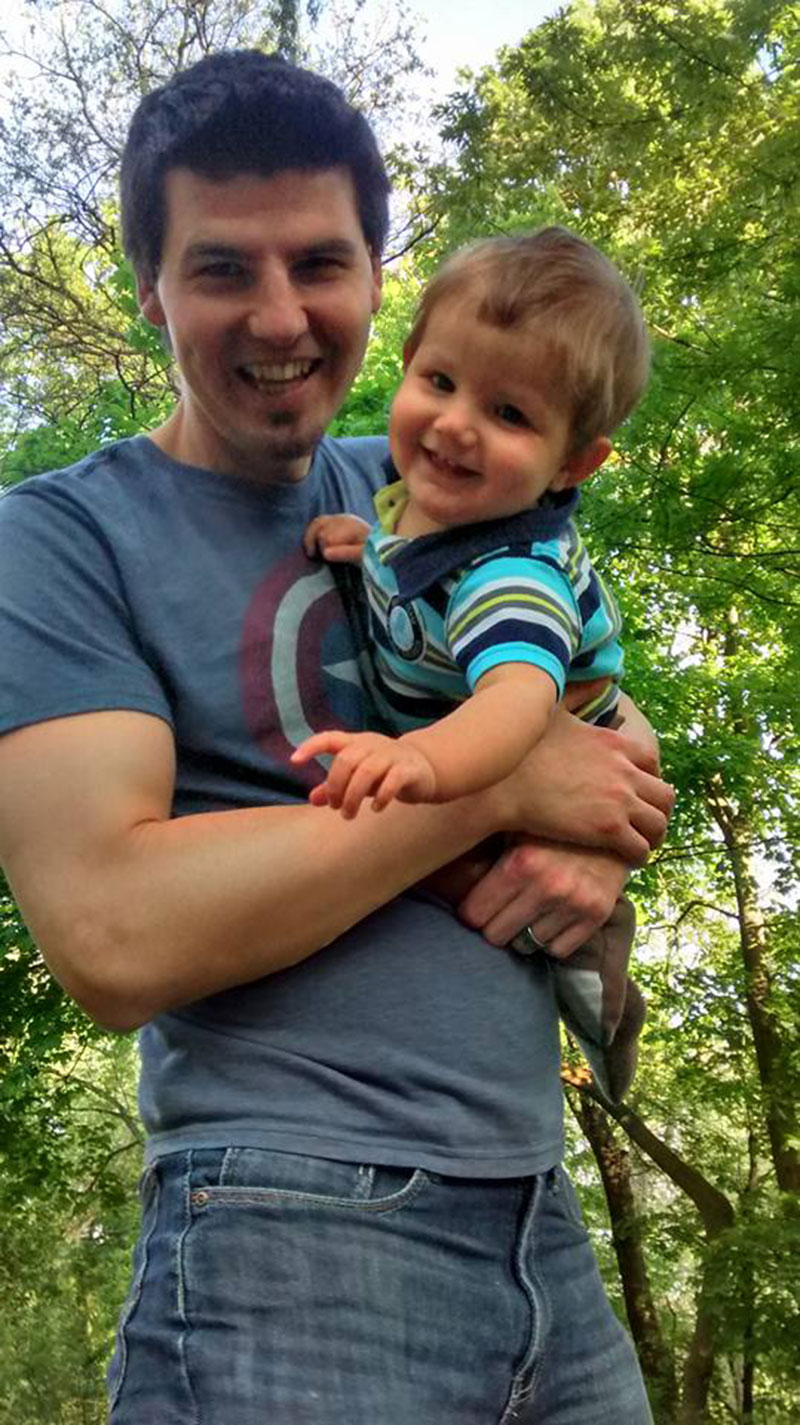 FATHER & CHILD: Dr. Kessener with one of his kids. Photo: Courtesy of Dr. Kessener
Read about other successful medical school Alumni on the UMHS website and Endeavour Blog.


(Top photo) DR. NICK KESSENER: Class of 2017 graduate will do residency in the combined Medicine/Pediatrics program at University of Illinois St. Francis Medical Center, & part time at Children's Hospital of Illinois, south of Chicago. Photo: Courtesy of Dr. Kessener
---

About UMHS:
Built in the tradition of the best US universities, the University of Medicine and Health Sciencesfocuses on individual student attention, maintaining small class sizes and recruiting high-quality faculty. We call this unique approach, "personalized medical education," and it's what has led to our unprecedented 96% student retention rate, and outstanding residency placements across the US and Canada. UMHS is challenging everything you thought you knew about Caribbean medical schools.

Posted by
Scott Harrah
Scott is Director of Digital Content & Alumni Communications Liaison at UMHS and editor of the UMHS Endeavour blog. When he's not writing about UMHS students, faculty, events, public health, alumni and UMHS research, he writes and edits Broadway theater reviews for a website he publishes in New York City, StageZine.com.