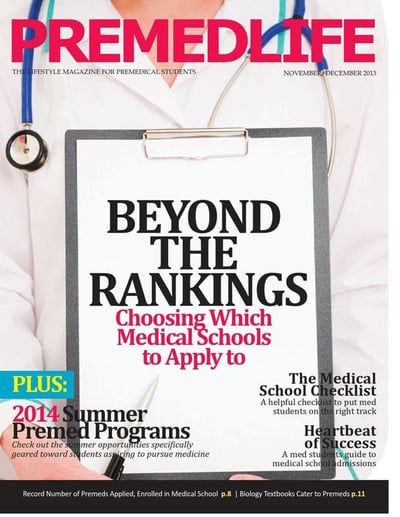 Premed students and recent college graduates planning to apply to American and Caribbean medical schools have a cornucopia of online resources and websites to guide them on many issues, from preparing for the MCAT (Medical College Admissions Test) to med school interviews.
(Photo, inset right & top) PREMEDLIFE: Print edition of the popular premed magazine (also available online at http://www.premedlife.com)
The UMHS Endeavour looks at a sample of medical school admissions online resources (the many websites out there) to help future doctors today.
Premedlife
Premedlife is one of the most popular online magazines for students preparing for med school. With a print and digital subscription for one year, Premedlife has many useful articles. Recent posts include "5 Things Today's Most Competitive Medical Schools Want," "5 Common Hazards Found in Hospital Environments" to "5 Things to Do the Night Before the MCAT." Premedlife has campus editions for City College of New York, Loyola University and University of Maryland, Baltimore County.
PrincetonReview.com & Kaplan Test Prep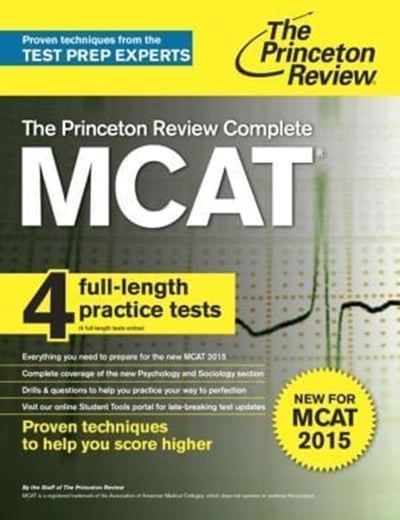 The two leaders for MCAT test prep are Princeton Review and Kaplan Test Prep.
The Princeton Review offers such MCAT2015 prep options as "MCAT2015 Cram Pack," "MCAT2015 Tutoring," "MCAT2015 Summer Immersion," "MCAT2015 Self-Paced Study" and more. With Princeton Review's Live Online Classroom, students can attend sessions "led by a team of 4 to 6 Princeton Review subject-matter experts" and get the same instruction and curriculum as offered in the company's in-person courses.
(Photo, inset right) Princeton Review's MCAT prep materials. Photo: Courtesy of The Princeton Review
Kaplan Test Prep is a comprehensive website offering many ways to prepare you for med school, including online MCAT2015 courses. Kaplan offers Private Tutoring, Classroom On Site, Classroom Anywhere, and On Demand options. The "Classroom Anywhere" option lets users attend classes live online, allowing one to interact with a "team of MCAT expert instructors in real-time" and includes 150+ hours of instruction, with 12 Live Online core sessions. The cost for the "Classroom Anywhere" option starts at $2,299 or three installments of $766.33, which may sound like a lot of money, but is probably necessary if you really want to do well on the MCAT.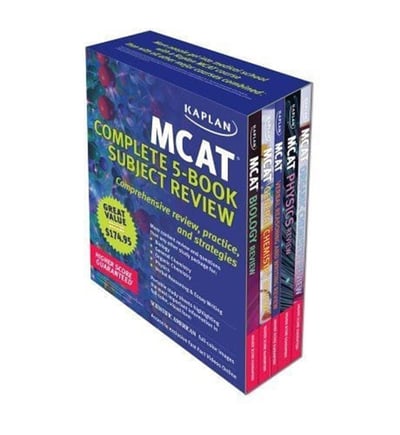 AAMC (American Association of Medical Colleges)
The AAMC (American Association of Medical Colleges) website has comprehensive information to guide prospective and current students at American and Caribbean medical schools through everything from premed issues (MCAT, American Medical College Application Service, Fee Assistance Program) to things of interest to med students (Careers in Medicine, the Find a Resident tool to find open residency and fellowship programs, Electronic Residency Application Service, Visiting Student Application Service, Financial Aid Information); and, finally, information for residents on Debt Management and ERAs for Fellowship Applicant.
(Photo, inset above) Kaplan's MCAT prep materials. Photo: Courtesy of Kaplan
Medical School Headquarters
The Medical School Headquarters has lots of sound advice, from high school all the way up to taking your MCAT. Their article "Pre-Med 101: What You Need to Know to Get Into Med School" is informative indeed, discussing everything from whether there is a premed major to volunteering in health care settings to the application process, secondary medical school applications, medical school interviews, medical school personal statements, and more.


---

About UMHS:
Built in the tradition of the best US universities, the University of Medicine and Health Sciencesfocuses on individual student attention, maintaining small class sizes and recruiting high-quality faculty. We call this unique approach, "personalized medical education," and it's what has led to our unprecedented 96% student retention rate, and outstanding residency placements across the US and Canada.

Posted by
Scott Harrah
Scott is Director of Digital Content & Alumni Communications Liaison at UMHS and editor of the UMHS Endeavour blog. When he's not writing about UMHS students, faculty, events, public health, alumni and UMHS research, he writes and edits Broadway theater reviews for a website he publishes in New York City, StageZine.com.