Premed students planning to apply to American and Caribbean medical schools know that the new MCAT (Medical Colleges Admissions Test), which begins in April 2015, has new sections and requires "additional content knowledge in upper-division biochemistry, introductory psychology, and introductory sociology," according to Kaplan's Med School Pulse.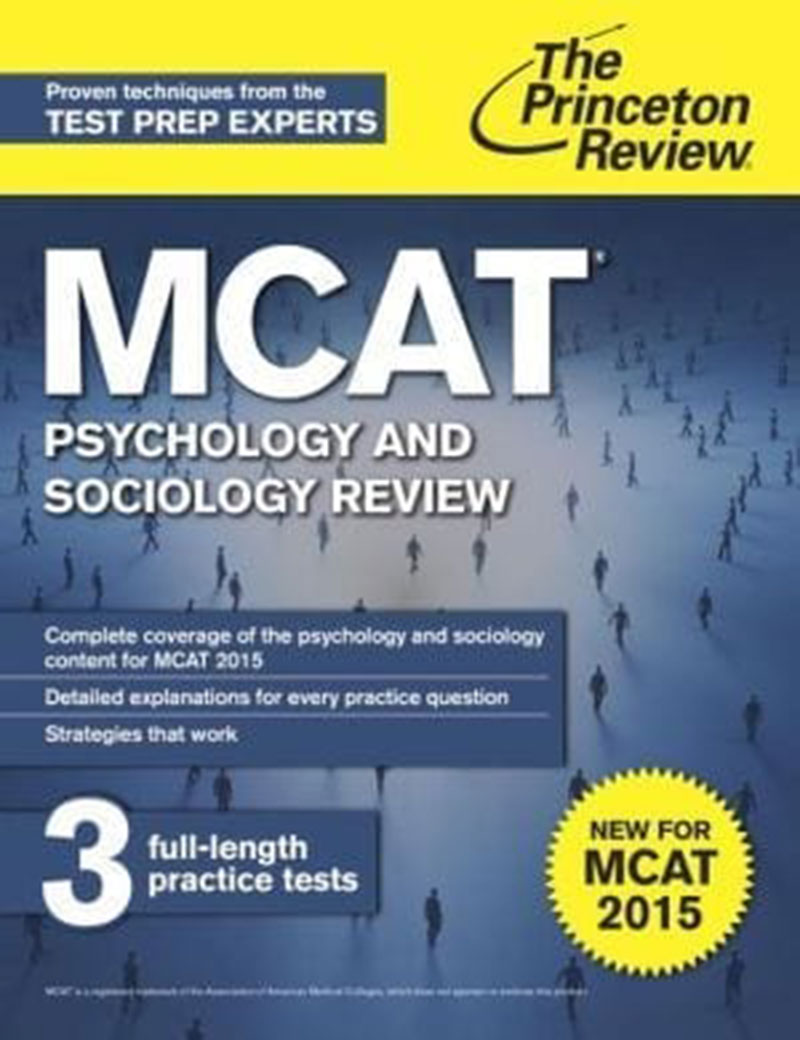 NEW FOR MCAT 2015: Sections covering psychology & sociology. Study books are available from both Princeton Review (pictured) & Kaplan. Photo: Princeton Review
The UMHS Endeavour wants to keep prospective med school students informed about upcoming MCAT 2015 changes, so we will briefly explain what is new about the exam and how you can prepare. In addition, we will analyze recent online buzz about how majoring or minoring in a social science might give you an extra edge.
MCAT 2015: New Test Sections
The 2015 MCAT exam has four sections, and a separate score will be reported for each, in addition to a total score, according to the Association for American Medical Colleges (AAMC) MCAT website at https://www.aamc.org/students/applying/mcat/mcat2015/faqs/.
The new test sections are:
Biological and Biochemical Foundations of Living Systems,
Chemical and Physical Foundations of Biological Systems,
Psychological, Social and Biological Foundations of Behavior, and
Critical Analysis and Reasoning Skills.
The "Critical Analysis and Reasoning Skills" is the most significant change to the MCAT 2015. It tests the reasoning and analysis skills needed for medical school. You will be required to read passages and answer questions, making you demonstrate how you comprehend, evaluate and utilize the passages, primarily the social sciences and humanities, such as ethics and cross-cultural studies.
Should You Minor or Major in Social Sciences?
The UMHS Endeavour has published several past posts about why you don't have to follow a traditional "Premed" track to get into American and Caribbean medical schools. People are accepted into med school with a variety of different undergraduate degrees.
Because MCAT 2015 includes new information on upper-division biochemistry and introductory sociology and psychology, there has been some buzz online about prospective med school students majoring and/or minoring in these disciplines. Does doing so give you an extra edge when it comes to taking the new MCAT and getting into medical school? It depends.
Following are thought-provoking threads on the topic found on StudentDoctor.net.
"A sociology major from Columbia who got a 37 MCAT is a lot different than a sociology major at a state university who gets a 30," wrote an anonymous person in a thread on StudentDoctor.net. "Some people have great intellectual ability and will have no problems regardless of the material."
Another person wrote, "I don't think anyone should anticipate being a sociology major as an advantage with medical school course material. The material is largely unrelated. Similarly, from what medical students say, it will not be a disadvantage. Time and time again, the advice is to major in what you enjoy because very little of what you learn in undergrad, [except for prerequisites] will help you for medical school."
It is no secret that you can major in a number of subjects as an undergraduate—from the liberal arts to the humanities—as long as you take the standard premed prerequisites. At UMHS, these courses include:
Inorganic or General Chemistry (with labs), 1 year
Organic Chemistry (with labs), 1 year
General Biology or Zoology (with labs), 1 year
Physics (with labs), 1 year
College-level Mathematics (preferably Calculus or Statistics), 1 year
English (English Composition or English Literature), 1 year
For a variety of perspectives on the subject of social science majors and med school, please visit http://forums.studentdoctor.net/threads/sociology-majors-now-in-medical-school-in-the-application-process.899498/

For more information on premed prerequisites and MCAT preparation, visit the Kaplan Med School Pulse at http://www.medschoolpulse.com/2014/10/07/pre-med-prerequisites-taking-new-mcat/?utm_source=TWITTER&utm_medium=social-media&utm_term=KaplanMCATPrep&utm_content=Blog%20Post&utm_campaign=Other

(Top image) Collage by Deposit Photos
---
About UMHS:
Built in the tradition of the best US universities, the University of Medicine and Health Sciencesfocuses on individual student attention, maintaining small class sizes and recruiting high-quality faculty. We call this unique approach, "personalized medical education," and it's what has led to our unprecedented 96% student retention rate, and outstanding residency placements across the US and Canada. UMHS is challenging everything you thought you knew about Caribbean medical schools.
Posted by
Scott Harrah
Scott is Director of Digital Content at UMHS and editor of the UMHS Endeavour blog. When he's not writing about UMHS students, faculty, events, public health, alumni and UMHS research, he writes and edits Broadway theater reviews for a website he publishes in New York City, StageZine.com.