Puerto Rico has been dealing with the aftermath of Hurricane Maria for almost a year, and health care is so desperately needed all over the island, so it is inspiring indeed to hear the story of UMHS Class of 2018 graduate Dr. Brian Gonzalez Sanabia. This native Puerto Rican recently started residency in his homeland at Hospital Episcopal San Lucas, PR in Internal Medicine.
The UMHS Endeavour spoke to Dr. Gonzalez Sanabia about how he first decided to study medicine, why he chose UMHS, how UMHS prepared him to become a doctor, health care in Puerto Rico and more.
From a Lifeguard to Saving Lives as an M.D.
Dr. Gonzalez Sanabia grew up in Moca, a town on the west side of Puerto Rico, approximately one and a half hours (or more, depending on traffic) from San Juan. He always loved science and first started working as a lifeguard at age 13. It was while working on the sunny shores of Puerto Rico that he first learned the satisfaction of helping others. He realized, while resuscitating people as a lifeguard, that saving lives is important, and he wanted to become a physician.
"When I was introduced to the field of medicine by one of my best friends, I fell utterly and profoundly in love with the idea of becoming a physician, and that I would have the opportunity to serve the community while also pursuing my passion for science," he said.
He attended the University of Puerto Rico-Mayaguez and studied biology with a minor in history. He took a family trip during which he learned about the many Caribbean medical schools, applied to six of them and was accepted by all, but UMHS stood out from the others.
"UMHS exceeded all of them by the attention and availability from the admission officers, their interest in your case, their unique approach towards yourself, the readiness of information whether through email, phone, website or information webinars," he said. "For me, it was amazing seeing and hearing admissions officers talk to you, call you or even email you since in my previous experiences the only contact I had was through the regular postal mail. Last but not least, UMHS offered clinical rotations in Puerto Rico. This was a big plus for me being a father and a husband, hence being able to provide my family a future back home."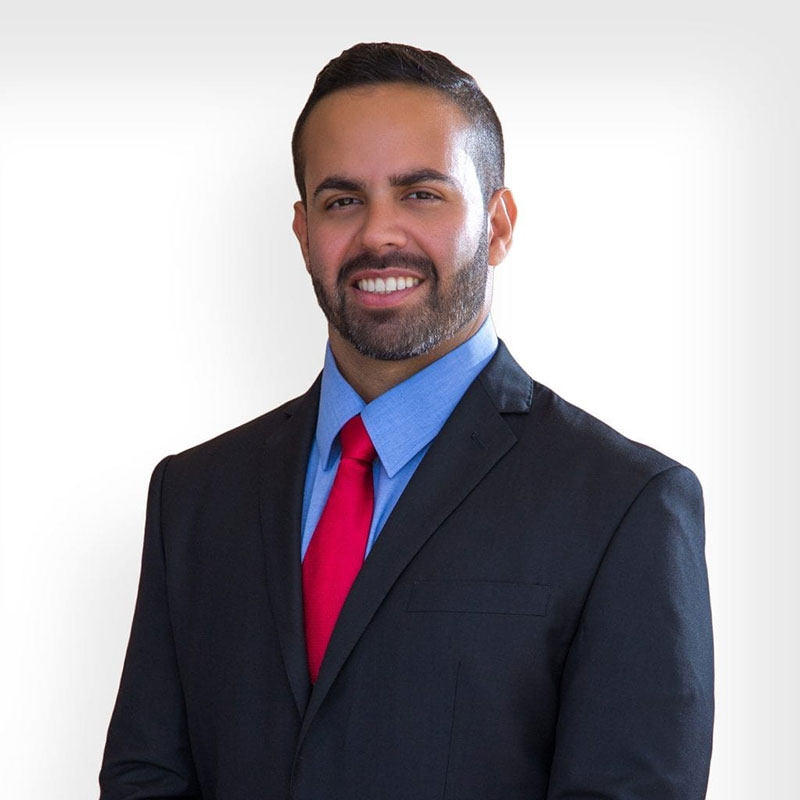 Dr. Brian Gonzalez Sanabia. Photo: Courtesy of Dr. Gonzalez Sanabia.
UMHS Offers 'Student-Centered' Education
Dr. Gonzalez Sanabia feels UMHS gives students numerous advantages.
"As Caribbean students, we left home and journeyed to an entirely different setting to fulfill our dreams of becoming physicians, and that takes a lot of bravery and courage," he said. "All of us left all our families behind; knowingly we will miss birthdays, holidays and many other special occasions, yet we decided to follow our desires. This required a set of skills not all students possess, like emotional maturity, courage and focusing on our goals, and an endless desire to achieve our dreams. All of these skills gave me notable advantages from my peers back home, since I would put in more hours, more focus and attention to details in my work. I would show more maturity and appreciation toward the resources that we have, but also would show more hunger to thrive and better myself every day."
At UMHS, the student comes first.
"Since the beginning, my medical education was very student-centered," he said. "Contrary to other universities, UMHS puts students in the very center of their programs. Professors are very approachable and eager to teach, and that was key in my first years since I was able and felt comfortable asking for help.
"Also, Basic Sciences classes are very comprehensive for all required medical knowledge for USMLE Step 1, and from the first day, the professor steers you toward unlocking your highest potential for the exam. Hence, this was key to obtaining my desired scores and eventually being competitive enough for matching."
The clinical rotations were also crucial for Dr. Gonzalez Sanabia, and he said many of his attending physicians were excellent.
"It was extremely beneficial having such teaching attendings and NBME exams after each clerkship," he said, noting all were an excellent resource for preparing for USMLE Step 2.
Importance of Doing Residency in Puerto Rico
Many doctors and health-care workers have left Puerto Rico, but Dr. Gonzalez Sanabia did not want to abandon his home and people in a time of great need.
"Puerto Rico is home, and sadly due to taxes and insurance regulations and lack of reimbursements, there has been a massive exodus of healthcare professionals, especially physicians, from the island," he said. "I wanted to give back something to the community; I wanted to train and specialize in the problems my community has in order to better serve them once my residency training is complete. I also wanted to give my family the same or better opportunities than I had. I wanted my kids to grow up on the island, learn our culture and be near the rest of the family."
After the unprecedented catastrophe of Hurricane Maria, Puerto Rico needs doctors and health care more than ever.
"Hurricane Maria was devastating to Puerto Rico and months afterward, many people in rural areas struggle to get a hold of clean water and even electrical power. I believe the medical community could help by providing affordable quality medical services to patients in these areas. Health fairs around key zones; donations of medications like insulin, metformin, etc. would help many elderly citizens."
UMHS has clinical rotations in Puerto Rico, all of which can help students match in residency programs both on the island and throughout the USA.
Internal Medicine Residency in Puerto Rico
Dr. Gonzalez Sanabia matched in the Internal Medicine residency program at Hospital Episcopal in San Lucas. They offer a three-year program and the opportunity to apply to numerous fellowships. He would like to eventually work in the Interventional Cardiology program, now offered at Hospital Episcopal.
"I am incredibly honored and excited about being matched to their Internal Medicine residency program," he said. "It was in this hospital that I fell in love with Internal Medicine. They have excellent attending physicians and also tremendous resident physicians—all are very enthusiastic, willing to help and teach you along the way. Hence, it was a no-brainer when it came the time of ranking them as my first option."
He particularly loves Internal Medicine's approach to patients.
"As Internal Medicine physicians we do not just look for a specific problem; we see the patients as a whole. Our work goes beyond one particular complaint, goes beyond a single system, beyond the medical office. In a way, our patients become part of our extended family and seeing how one can help them in any way possible is incredibly satisfying."
He has many goals during residency. First, he hopes to get used to the new workload and responsibilities.
"I want to get as much experience as I possibly can, so that once I am an attending physician, I would be able to attend my patients to the best of my abilities," he said. "I would like to further my training into a cardiology fellowship program and last but not least, I would like to become as competent and knowledgeable as possible in the art of medicine."
Dr. Gonzalez Sanabia has sound advice for current and future med students: Stay focused.
"Medicine is one of the hardest careers (if not the hardest) but it is extremely satisfying, and as time passes, it all gets much better," he said. "Organize your studies; use as many resources available on the island as possible, until you find what works for yourself. Start early on studying for Step 1 and have confidence in yourself. Keep pushing and thriving more every day. For clinical years, be open to difficulties, communicate as much as possible, keep close attention to details and let your work speak for yourself. Also be willing to better yourself every single time. Use failures as opportunities to grow. Keep studying every day and do well on NBME shelf exams, since it will make things smoother when Step 2 comes around."
Superb UMHS Faculty & Staff
UMHS offers more than just basic sciences and clinical rotations. The professors stress the importance of such characteristics as "imperturbability, empathy and the ability to understand and respect diversity."
"UMHS exposed me to a diverse student body, from entirely different cultures, religions, and points of views," he said. "I had to leave my comfort zone to set out and pursue my dreams hence I develop a strong character, communication skills and trust in myself—all of which were critical elements on how I projected myself to residency programs and my overall experience as a medical student."
Dr. Gonzalez Sanabia notes that despite all the studying, UMHS students must also set aside time to have fun and relax.
"Medical school can be very stressful, and work may seem never to end, but always set time apart to talk to family and friends and to have fun," he said. "It is important to keep one's mind and body in good health, in order for us to take care of others."
One of the most reassuring aspects of attending UMHS was knowing the staff, particularly the professors, were always available to help with their vast experience in medicine.
"Remember that seeking appropriate help is not a sign of weakness," he said. "On the contrary, it shows your maturity and insight in recognizing your problems and this is extremely beneficial to acknowledge problems in others and sympathize with them down the road as a doctor."


(Top photo) Dr. Gonzalez-Sanabia at UMHS graduation in New York City. Photo: Island Photography
---
About UMHS:
Built in the tradition of the best US universities, the University of Medicine and Health Sciences focuses on individual student attention, maintaining small class sizes and recruiting high-quality faculty. We call this unique approach, "personalized medical education," and it's what has led to our unprecedented 96% student retention rate, and outstanding residency placements across the US and Canada. UMHS is challenging everything you thought you knew about Caribbean medical schools.
Posted by
Scott Harrah
Scott is Director of Digital Content at UMHS and editor of the UMHS Endeavour blog. When he's not writing about UMHS students, faculty, events, public health, alumni and UMHS research, he writes and edits Broadway theater reviews for a website he publishes in New York City, StageZine.com.