March is a big month for graduating medical students because everyone is focused on Match Day, when people learn which hospital they matched at and in which specialty. It is a cathartic day indeed—the culmination of years of hard work and determination.
The UMHS Endeavour takes a look at what the Match is and the history of Match Day. We will examine Match history from various sources and also speak to a UMHS official about why the Match and Match Day are so important for graduating medical students.
Residencies in the early to mid-20th century
In the first half of the 1900s, competition from hospitals for internships for new medical school graduates was fierce. There was such a demand that hospitals started making early offers to students shortly before they graduated.
"By the 1940s, appointments were often made as early as the beginning of the junior year of medical school," Alvin E. Roth, Ph.D. wrote in "The Origins, History and Design of the Resident Match" on the JAMA Network site.
Obtaining a residency was quite different back then. Dr. Roth said that "hospitals had little information about students' performance, and students frequently had to make a final decision to accept or reject an offer without knowing which other offers might be forthcoming."
Right after World War II—from 1945 to 1952—hospitals worked on creating a uniform date for graduating med students to accept offers at healthcare facilities to make the process less chaotic.
"Hospitals often had to scramble for available students, since if an offer was rejected, it was often too late for them to reach their next preferred candidate," Dr. Roth said. "A centralized clearinghouse was thus developed as a way of alleviating this chaos and allowing a larger role to the preferences of both students and hospitals. This evolved into the current matching program, whose algorithm continues to be updated to take account of changing needs of applicants, such as growth in the number of couples who seek two positions in the same vicinity."
When was the first Match Day?
The first Match Day was held in 1952, established by the National Residency Matching Program (NRMP).
"The National Resident Matching Program (NRMP), or The Match, is a private, non-profit organization established in 1952 at the request of medical students to provide an orderly and fair mechanism for matching the preferences of applicants for U.S. residency positions with the preferences of residency program directors," the NRMP website says.
Patrick McCormick, Associate Dean of Academic & Student Affairs at UMHS, explained the significance of Match Day (held on the third Friday in March annually).
"To medical students, Match Day is more important than anything, even more important than actual graduation," he said. "It's a moment in time where everything they have worked so hard for, have sacrificed so much for, comes together in an ultimate reveal—the stakes of the answer couldn't be any higher. Match Day answers the life-changing questions of, 'Where will I be picking up and moving in order to redefine myself as a professional in the most noble field there is? Where will I be privileged to begin my career as a resident physician?' Quite simply, it's the day a medical student's dream comes true."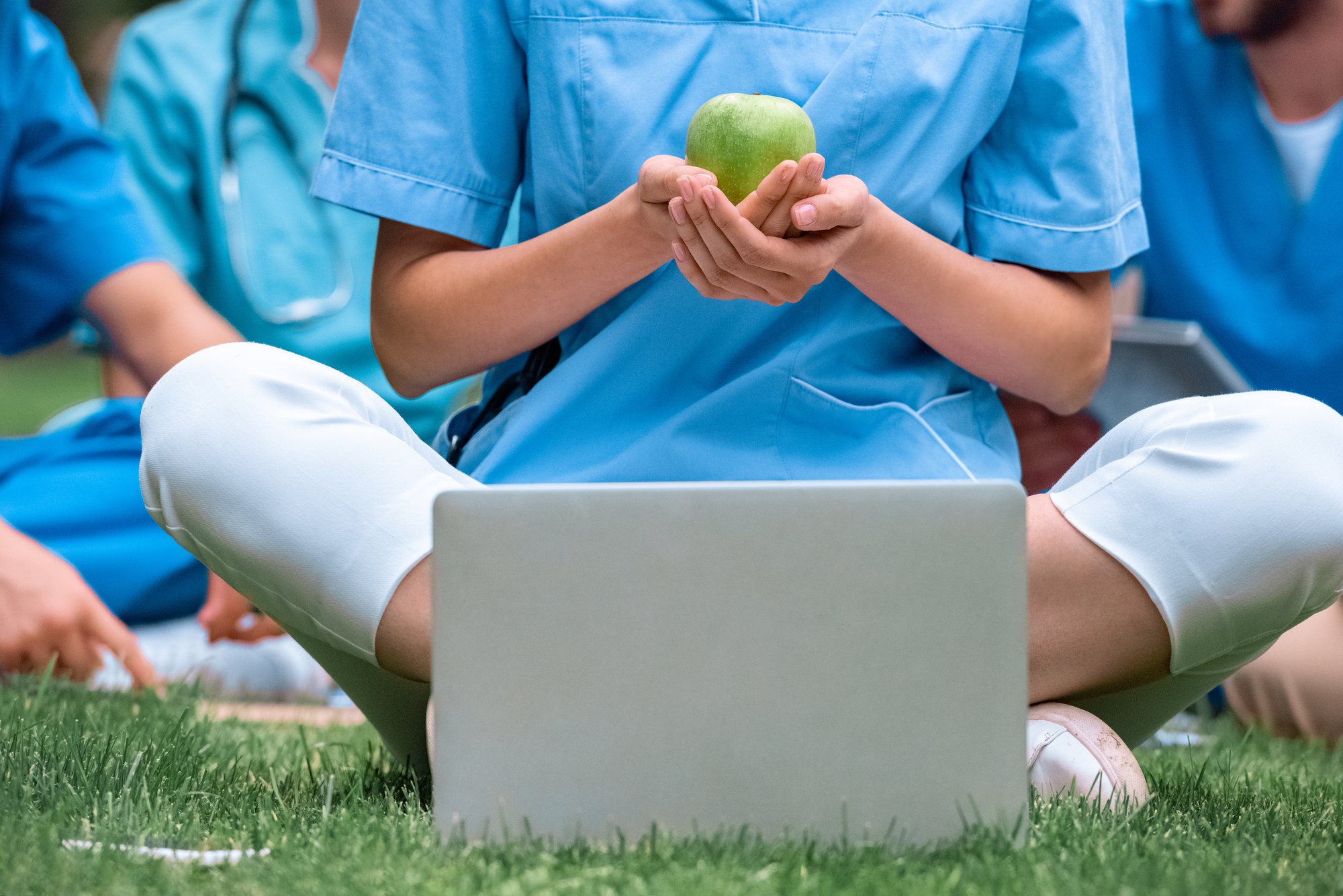 Today's residency Match now includes graduates from allopathic as well as osteopahtic medical schools & students from both the US and non-US international medical schools. This includes graduates of Caribbean medical schools. Photo: Deposit Photos.
The Mededits.com website notes that today's Match is a bit different from its early days and has evolved "to include osteopathic students and both US and non-US international medical graduates."
Mededit.com says "in 1997, the NRMP established a new computerized matching algorithm. The NRMP has two primary matches – the general residency match and specialty fellowship matches."
NRMP has two matches, the general residency match and specialty fellowship matches.
The NRMP website notes the type of programs in the general residency match:
Categorical-C: programs that begin in the PGY-1 year and provide the full training required for specialty board certification.
Primary-M: categorical programs in primary care medicine and primary care pediatrics that begin in the PGY-1 year and provide the full training required for specialty board certification.
Advanced-A: programs that begin in the PGY-2 year after a year of prerequisite training.
Preliminary-P: one-year programs that begin in the PGY-1 year and provide prerequisite training for advanced programs.
Physician-R: programs that are reserved for physicians who have had prior graduate medical education. Reserved programs offer PGY-2 positions that begin in the year of the Match and thus are not available to senior medical students.
NRMP fellowship matches run the gamut from Colon and Rectal Surgery Match to the Sports Medicine Match and more.
Why is Match Day so important?
Patrick McCormick of UMHS explained that the NRMP and Match Day are both significant forces in American medical education for many reasons.
"While there have been nuanced changes to the National Resident Matching Program over the years, the iconic weight and legacy Match Day carries within medical education and practice is due largely to its uniqueness of construction, and its consistency in how it unfolds year after year," he said. "Medical students know what it is from day one. Residents still get chills when the calendar turns to March [each year]. And accomplished, board-certified, long-practicing and even retired physicians from across the United States pause on the third Friday in March, as they remember the suspense, the anticipation."
How Match Week works
"Match Week begins at 10:00 a.m. ET on Monday, March 13," the NRMP website says. "Residency applicants learn if (but not where) they have matched to a residency training program. Unmatched or partially matched applicants who are eligible, may participate in the NRMP's Supplemental Offer and Acceptance Program® (SOAP®), conducted Monday through Thursday of Match Week (March 13 – 16, 2023). Match Week concludes at 12:00 p.m. ET on Friday, March 17, with Match Day when residency applicants learn where they matched, and programs learn the results of the Match."
"On Match Day, the NRMP releases Match results to all matched residency applicants. The Match Day results and accomplishments of U.S. MD and DO students are recognized by medical schools across the country during in-person and virtual Match Day ceremonies. The accomplishments of applicants, including U.S. IMG and non-U.S. IMG applicants, can be viewed on social media using the #Match2023 hashtag."
UMHS Match Day social media
Follow along with UMHS students as they find out and share their match day results!
On Instagram, follow - @umhs_stkitts and #umhsmatchday2023
(Top photo) Match Day is held the third Friday in March annually. It is one of the most important days in a medical student's life & when a medical student's dream finally comes true. Photo: Deposit Photos.

Posted by
Scott Harrah
Scott is Director of Digital Content & Alumni Communications Liaison at UMHS and editor of the UMHS Endeavour blog. When he's not writing about UMHS students, faculty, events, public health, alumni and UMHS research, he writes and edits Broadway theater reviews for a website he publishes in New York City, StageZine.com.