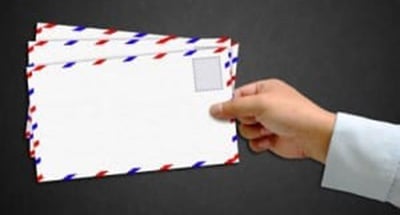 Letters of recommendation are one of the most important components of applying to medical school. They give faculty admissions committees an idea of what people in both the academic and professional world think about you, what kind of person you are, your skills interacting with others, and your ability to handle a challenging curriculum in order to become a doctor.
(Photo, inset right) Most medical schools require three letters of recommendation. Photo: FreeDigitalPhotos.net
Most medical schools require two to three letters of recommendation, with two from science faculty at your undergraduate institution, and one from a professional at a healthcare facility/clinical setting in which you volunteered or worked.
Friends, family members, or those considered "influential" or "important" but have no credentials or true knowledge of your academic abilities are never proper people to write recommendations. A website for Ivy League medical schools says to avoid having teaching assistants, school alumni, clergyman, politicians or celebrities write a recommendation letter, "unless they personally supervised your professional work and can comment on the specific attributes being evaluated in the medical school admissions process."
Christian Becker, author of The Official Student Doctor Network Medical School Admissions Guide, says on Studentdoctor.net that it is important to develop a strong relationship with anyone who may write a letter for you.
"The best letters are from people who have spent some time with you and gotten to know you well," Mr. Becker says. "That is why it is important to shadow physicians for more than just a few hours, or spend significant time with faculty, researchers or others who will be writing letters for you. For example, one physician really opened up to me after three days, and we developed a very good personal relationship. His letter on my behalf was great."
According to Startmedicine.com, some medical schools require a pre-med committee letter to be sent in addition to another one to three other letters written by faculty or a physician.
Startmedicine.com says to pay attention to submission guidelines for each school. Even if you have more letters, "Only submit what they ask for. If you have more letters or different letters than what they want, don't send the additional letters—they just clutter your file and your best letters may not get read at all."
Sean Powers, Director of Admissions at UMHS, describes what his medical school looks for in recommendation letters. "For students who do not have the benefit of a committee preparing their medical school recommendation, we are looking for a minimum of two letters of recommendation—at least one of which should be academic and written by a science professor who you have had in class," he says. "The other would preferably be from someone for whom you have worked in a clinical/medical/professional setting. In either case, we hope to learn something from the letters that we could not glean from your transcripts. For example, the writers will be able to shed light on your personality, work ethic, communication skills, and challenges you may have faced (and how you responded to them)."
Author Christian Becker says it is best to ask people first if they are willing to write an honest and comprehensive letter of recommendation, and if they have any reservations about doing so.
"You have to be firm on this — don't be shy," Mr. Becker says. "If he or she says no, thank the person and ask someone else. Most letter writers are not cruel enough to say they would write you a positive letter and then write a bad one. Usually, if you ask, they will be honest and tell you that they can give you a great recommendation or tell you that they will not be able to."
Mr. Becker suggests having your resume/curriculum vitae (listing all your accomplishments) ready to give to the letter writer as soon as he/she agrees.
"You may be asked to provide some additional biographical information about yourself or why you are interested in medicine," he says. "Ideally, you should already have this information typed up, and you should be providing it to the letter writer right after the person accepts your request. This allows the letter writer to personalize your recommendation even more and include more personal information about you."
Open vs. Closed Files
Many pre-med advising offices and student affairs offices at universities offer the choice of having an open student file (one in which you can see what people say about you in recommendation letters) and a closed file. Mr. Becker says most medical schools require letters that are sent directly to admissions offices, so you are not allowed to see them. For this reason, always choose a closed file, even if your university says it is okay to keep an open one.
An admissions committee veteran on Ivyleagueadmission.com says some prospective medical school students may ask a professor/former supervisor for a recommendation, and then be told to write their own letter and give it to the "author" for a signature, but schools can easily spot this practice.
"We strongly discourage you from trying this approach," the website says. "Remember, the admissions committee has viewed thousands of letters and has an excellent feel for authenticity. We want ethical candidates who offer a balanced, honest appraisal of their credentials. Rather than writing the letter yourself, ask someone else who will take the time to write a reference that genuinely reflects your suitability for the program."
(Top photo) Photo: Deposit Photos
---
About UMHS:
Built in the tradition of the best US universities, the University of Medicine and Health Sciences focuses on individual student attention, maintaining small class sizes and recruiting high-quality faculty. We call this unique approach, "personalized medical education," and it's what has led to our unprecedented 96% student retention rate, and outstanding residency placements across the US and Canada. UMHS is challenging everything you thought you knew about Caribbean medical schools.

Posted by
Scott Harrah
Scott is Director of Digital Content & Alumni Communications Liaison at UMHS and editor of the UMHS Endeavour blog. When he's not writing about UMHS students, faculty, events, public health, alumni and UMHS research, he writes and edits Broadway theater reviews for a website he publishes in New York City, StageZine.com.