Editor's Note: This is the first post in a new UMHS Endeavour series focusing on frequently asked questions from prospective UMHS students in specific regions. This installment covers Puerto Rico. Future installments will cover questions from students in different regions of the United States and Canada.
---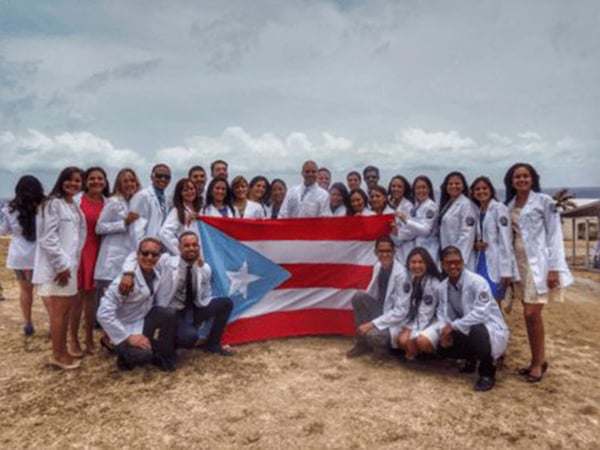 ¡VIVA PUERTO RICO! UMHS has many Puerto Rican students at our culturally diverse campus. Pictured: Puerto Rican UMHS students in St. Kitts. Photo: UMHS files
Many students from Puerto Rico attend UMHS students each year. On a daily basis, we get numerous questions from gifted, enthusiastic Puerto Ricans wanting to become doctors, so we decided to talk to a UMHS admissions veteran who has worked extensively with students from PR about the common things prospective students ask about the medical school.
The UMHS Endeavour spoke to Earl Mainer, Senior Associate Director of Admissions, Southeast and Puerto Rico, about the appeal of UMHS to Puerto Rican students, the major benefits of the school, student organizations, returning to Puerto Rico after graduation, the advantages of UMHS conferences in Puerto Rico, and more. Puerto Rican students are encouraged to contact Mr. Mainer with any and all questions.
UMHS Endeavour: UMHS gets many students from Puerto Rico. Why do you think UMHS holds so much appeal as a medical school for the Puerto Rican community?
Earl Mainer: Puerto Ricans are very close to their families, so the good news is the environment for all students at UMHS is "La Familia." Everyone quickly feels like "family," helping each other and working together as a community stimulates everyone's performance. Plus it is less than a one-hour flight from Puerto Rico. Reality is, you can fly to St Kitts and be on our campus faster than driving from San Juan to Mayaguez.
What are the major benefits every student from Puerto Rico should know about UMHS?
There are many benefits! One of the main benefits UMHS provides Puerto Ricans is getting away from PR! Leaving family is very challenging but the advantage of getting away from family and friends is the best situation for studying medicine. The student will be away from distractions and be more focused than they have ever been before.
Also the amazing technology at UMHS puts our campus in St. Kitts as the model for all medical schools. Everything from high definition ceiling monitors in every classroom to state-of-the-art anatomy lab to our impressive human simulation lab (which includes I-Stan and this fall we are adding a new simulation called "Harvey") to our wet lab for research to the availability of meeting with professors and of course – the stunning beauty of seeing the waters of the Caribbean from nearly every building on campus. It's all wonderful!
But the most important advantage for all our students at UMHS is the successful average score on the USMLE Step 1 Exam: 220. With this average score, our students are proving that UMHS empowers our students to reach their individual potential. That's a successful medical school!
UMHS has special student organizations for Puerto Rican students, right?
UMHS supports many clubs and organizations on campus and the students from Puerto Rico maintain several of the clubs/organizations that not only pertain to medicine but include Puerto Rican music and food.
Is it possible to return to Puerto Rico after graduation for residency?
UMHS students have the option of completing some or all rotations in either the U.S. or Puerto Rico but all residencies must be completed in the U.S. UMHS graduates qualify for licensure in the U.S., Puerto Rico and Canada after completing residency.
Admissions often gets asked if Puerto Ricans need to take the TOEFL and of course the answer is no. What do Puerto Rican students need to know about English proficiency at UMHS in classes, etc.?
All students at UMHS must be able to understand and communicate in English. It is not required to speak perfect English – but it is mandatory to have the ability to communicate in English. Their English skills will improve quickly in a comprehensive English environment at UMHS.
Earl, you also do conferences and webinars in Puerto Rico. What can prospective students expect to learn and experience at one of the conferences?
First and foremost, they will see that UMHS is a very different medical school – we truly care about every student's performance. We always have four or five UMHS students at the conferences who are also from Puerto Rico. They talk about their experiences from the time they arrive in St Kitts to transitioning to Portland, Maine to completing their rotations in Ponce. They are quick to point out UMHS is very personal and provides many tools to help support every student. They mainly talk about our professors! They confirm the fact that our professors are the key to maintaining the student's success throughout the program. The professors know every student by name. It is common for our students to say they are performing better than they thought they would and they scored well on USMLE Step 1 Exam simply because of the attitude and teaching methods by our professors.
Is there anything else you'd like to add that Puerto Ricans should know?
We are a very diverse campus and everyone is equal – regardless of ethnicity, religion, sexual orientation and gender. The doors at UMHS are open to those who have the passion and have illustrated academic and MCAT success or show indicators they can master the challenging sciences. UMHS is looking for applicants who will work hard to reach their potential and will do whatever it takes to reach their dream and "thinking outside of Puerto Rico" will allow you to discover this amazing medical school called UMHS.
We promise, if you are accepted at UMHS, you will not be disappointed. You will become more motivated! It is true – the more details you learn about UMHS, the more exciting it gets!
Contact Earl Mainer at emainer@umhs-sk.net
Stay tuned to the UMHS website for upcoming Puerto Rico conferences.


(Top photo): UMHS students enjoy clubs that celebrate Puerto Rican music and food. Photo: UMHS files
---

About UMHS:
Built in the tradition of the best US universities, the University of Medicine and Health Sciencesfocuses on individual student attention, maintaining small class sizes and recruiting high-quality faculty. We call this unique approach, "personalized medical education," and it's what has led to our unprecedented 96% student retention rate, and outstanding residency placements across the US and Canada. UMHS is challenging everything you thought you knew about Caribbean medical schools.

Posted by
Scott Harrah
Scott is Director of Digital Content at UMHS and editor of the UMHS Endeavour blog. When he's not writing about UMHS students, faculty, events, public health, alumni and UMHS research, he writes and edits Broadway theater reviews for a website he publishes in New York City, StageZine.com.