Financing med school is on the mind of every future doctor in North America. Although doctors are known for making a nice living once they go into private practice, it takes years to get to that point. First, people must study for several years in medical school and pay tuition and living expenses, and then after graduation do residency and fellowships that require a lot of hours and often pay meager salaries. This is all part of the rewarding but expensive journey of becoming a doctor. So, how does one go about financing med school?
The UMHS Endeavour looks at the many factors involved with financing med school in both the USA and Caribbean, from student loans to scholarships and more. We will include information from various online sources as well as a financial aid official from UMHS.
The Reality of Doctors & Debt
Stories about student loan debt are in the news all the time, but the upshot of studying to become a doctor is that one will likely be able to pay the debt back eventually. Regardless, figures about the debt load for medical students are staggering. An article on CBS News Moneywatch "$1 Million Mistake: Becoming a Doctor" said the average medical school debt of $166, 750 " takes 30 years to repay at 7.5 percent interest -- a total cost of $419,738."
A post in U.S. News and World Report "How to Pay for Medical School," by Veritas Prep, quoting Julie Fresne from the Association of American Medical Colleges (AAMC), said the median debt load for graduating medical students back in 2008 was $155,000, and 25% of med students graduated with more than $200,000 in loan debt.
While these numbers are unsettling, there are ways to combat the problem. U.S. News and World Report offered tips for helping finance med school. Below is a sample of their advice.
"Be proactive." The article said prospective medical students should first ask family if they are able to help with paying for medical school. "For example, borrowing money from family interest-free can save you tens of thousands of post-tax dollars over time," the article said.
"Reach out to financial aid officers." Every medical school has a financial aid office. Visit each school's website and read through the financial aid information in detail, and then contact someone in financial aid. "You should request data such as the percentage of students who receive financial aid from institutional loans and scholarships; the average need-based scholarship awarded; and the mean, cumulative educational debt for the most recent graduating class," U.S. News and World Report said.
Calculate exactly how much money you will need. Speak to financial aid officers about not only tuition but the total cost of attendance, including such things as books, living expenses from food to rent, student health insurance, plus how much your family can contribute, the amount of student loans available and the interest rate, whether or not interest accrues while you are in school, in-school deferments and payment plans as well as any scholarships available. "There is an abundance of web-based calculators that can help you calculate your expected family contribution," U.S. News and World Report said. "Once that is determined, you can communicate with the financial aid office as discussed above, and they can send you an estimated need-based award. This is particularly important when you are deciding between schools."
Scholarship options. Just like searching for money as an undergraduate, it's important to do research about scholarships available for med school. "For those who are willing to serve their country as a military physician or to practice medicine in underserved areas, opportunities for scholarships include the Armed Forces Health Professions Scholarship Program (HPSP) and the National Health Service Corps (NHSC) / Indian Health Service (IHS) Corps Scholarships.," the article said.
Don't Focus Solely on Credit Score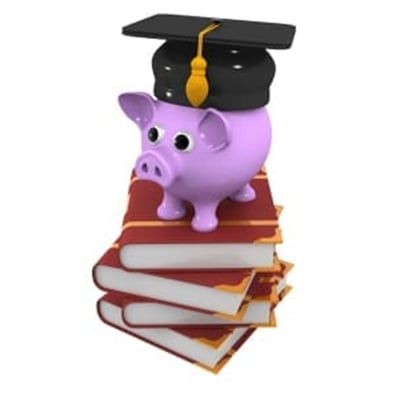 While many medical schools have access to government-subsidized guaranteed student loans, such as the unsubsidized Stafford Loan, the amounts for medical students "are limited to $40,500 annually," a post on the AAMC website said.
Depending on which medical school one attends, many students must rely either solely or partially on private loans.
The UMHS Endeavour spoke to Elissa Schoening, Director of Financial Aid at UMHS, for advice on creating a game plan for financing your medical education, especially if you need to take out private loans.
Ms. Schoening said many prospective med students worry about their FICO (Fair Isaac Corporation) credit score, but a good score is not the only aspect of getting a private loan.
"For students who need to rely on credit-based private loans to fund their education, one thing they often get overly focused on is credit score," Ms. Schoening said. "It's not the score that's important but overall credit history. Private loan lenders are going to review the student's entire report to render a decision, not just their credit score. It is critical that a student have no open collection accounts. Depending on the lender, even one $5.00 open collection account could render a student ineligible, even with a strong cosigner. I highly recommend that any student considering attending medical school take advantage the free annual credit reports available. Review your report and verify the data in the reports at all three credit reporting agencies. They may not all have the same data, so it is important to look them all over, at least once a year."
Much media attention is given to the dangers of debt and bad credit, but people in their 20s often don't know that having little or no credit is just as bad as someone with a low FICO score and poor payment history. Ms. Schoening said many make the mistake of feeling paying cash is better than using credit.
"That's great for not getting into debt, but it doesn't build credit history," she said. "Positive credit history is critical for when you may need to borrow money, for anything--not just school. Having no credit could also be a hindrance in securing a residential lease, since many landlords review credit reports to identify responsible tenants. A simple way to start building good credit is to get and use a major credit card regularly; paying it in full every month. Use your card to buy the everyday things you would ordinarily pay cash for. Then use your cash to pay the balance in full every month. Be careful not to make purchases beyond your cash-spending capacity."


---

About UMHS:
Built in the tradition of the best US universities, the University of Medicine and Health Sciences focuses on individual student attention, maintaining small class sizes and recruiting high-quality faculty. We call this unique approach, "personalized medical education," and it's what has led to our unprecedented 96% student retention rate, and outstanding residency placements across the US and Canada. UMHS is challenging everything you thought you knew about Caribbean medical schools.

Posted by
Scott Harrah
Scott is Director of Digital Content & Alumni Communications Liaison at UMHS and editor of the UMHS Endeavour blog. When he's not writing about UMHS students, faculty, events, public health, alumni and UMHS research, he writes and edits Broadway theater reviews for a website he publishes in New York City, StageZine.com.