UMHS graduate Dr. Mwamba Malekani started a psychiatry residency at Authority Health GME in Detroit, Michigan, affiliated with Michigan State University, this summer. She graduated in September 2019 and worked at the prestigious McLean Hospital in Massachusetts (known for its top-notch psychiatric treatment hospitals) before matching in spring 2022. She grew up throughout the Midwest and more recently in the Northeast but her parents hail from Africa.
The UMHS Endeavour spoke to Dr. Malekani about how she first became interested in medicine and worked for a doctor in high school, why she chose UMHS over other med schools, her psychiatry residency, and more.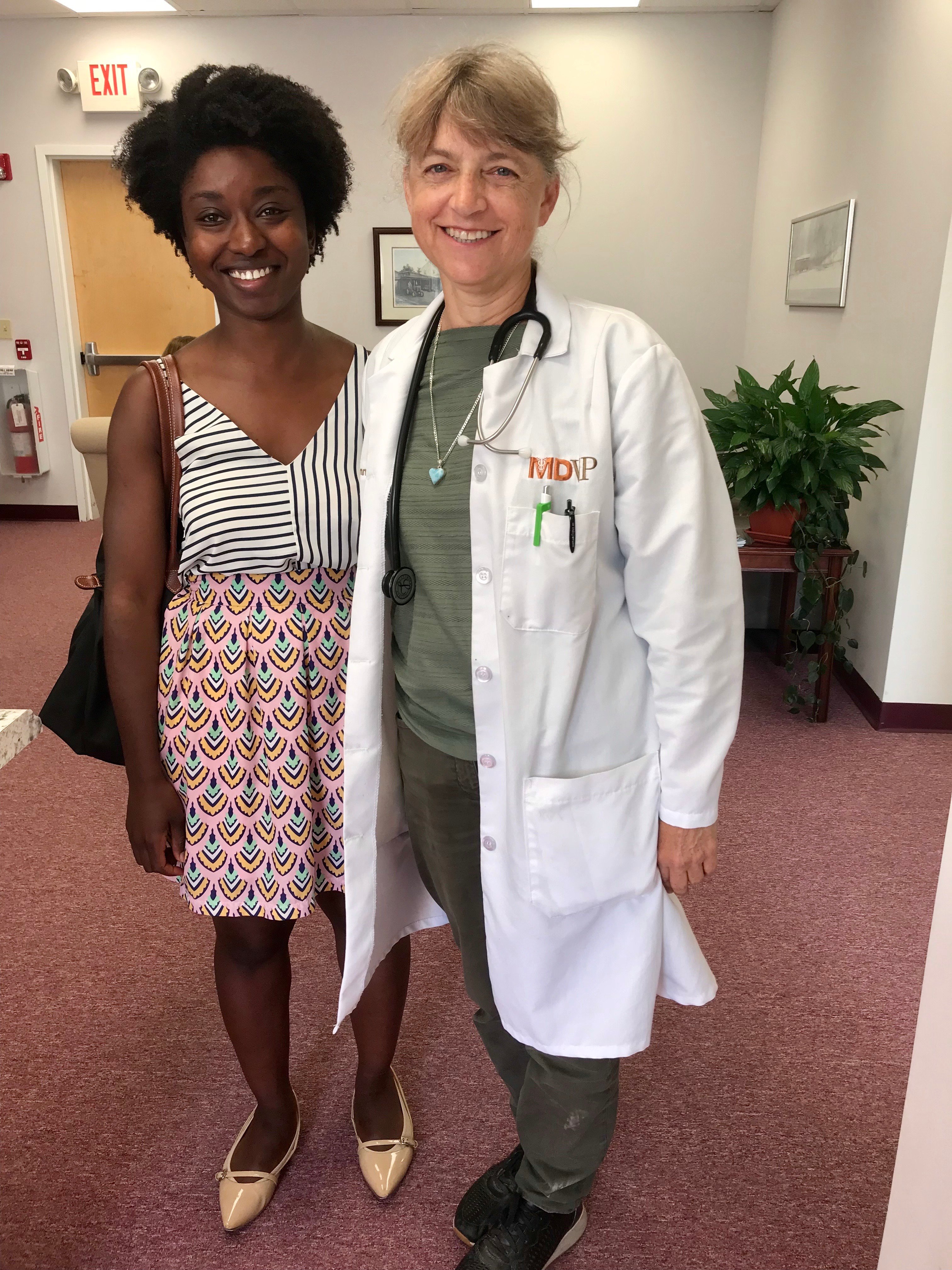 Dr. Mwamba Malekani with Dr. Mary-Ann Ost. Dr Malekani worked for Dr. Ost while in high school. Photo: Courtesy of Dr. Malekani.
Started working for a doctor in high school
Dr. Malekani's parents are from Africa.
"My mom is from West Africa; my dad is from Southern Africa. I grew up across the US throughout the Midwest, and most recently in the Northeast."
Her interest in medicine started in high school.
"I have always loved math and science, and in high school, in particular, I decided on going into medicine. One of the photos I actually shared with you is me and my primary care physician from high school, Dr. Mary-Anne Ost. I expressed my interest in medicine to her very early on, and she actually had me work in her family practice office as a high school student. And then I would come during vacations during college. So, that really exposed me from the start to becoming a physician."
Why UMHS?
After graduating from college, she applied to medical schools. Why did she choose UMHS over other medical schools?
"When I was deciding on Caribbean med schools, a big thing that was important to me was making sure I went to a school that cared about their students and not just the numbers per se. I had a friend from undergrad who was currently attending UMHS. I was able to ask them a lot of questions in particular, in addition to talking to the staff and faculty when I was interviewing for UMHS, but a big thing that hit home to me was there's a lot of closeness within the community on campus, on the island, and the ability to talk to professors; it was a much more open-door policy, and I noticed the class sizes were much smaller than some of the other schools I was looking at."
Many UMHS professors helped her throughout her medical school journey.
"I would say all of the professors just in general, when we were on the island were very helpful. Of course, everyone has people who they pull towards more, just because of personalities or certain learning styles, I would say in particular, our anatomy professors initially. Dr. Edwin Purcell and Professor McCracken, initially. As we went on, I really enjoyed biochemistry with Dr. Prakash Mungli, pathology with Dr. Roy. And then I would say something that, one professor who sparked my interest in more of the neuroscience realm was [the late] Dr. Michael Doherty initially. And I can elaborate on that more because my decision to go into psychiatry was a bit later than most people, but I think the initial starting point was probably in neuroscience on the island."
Teaching assistants and UMHS clinical rotations also stood out.
" I remember the TAs as well—having your peers ahead of you also facilitating didactics was pretty crucial and foundational to my learning there. Something that also stood out to me when I was in Maine and we were doing the virtual clinics; that's something that when I was going into clinical rotations, I was very confident in my clinical skills and ability, and I really excelled at it."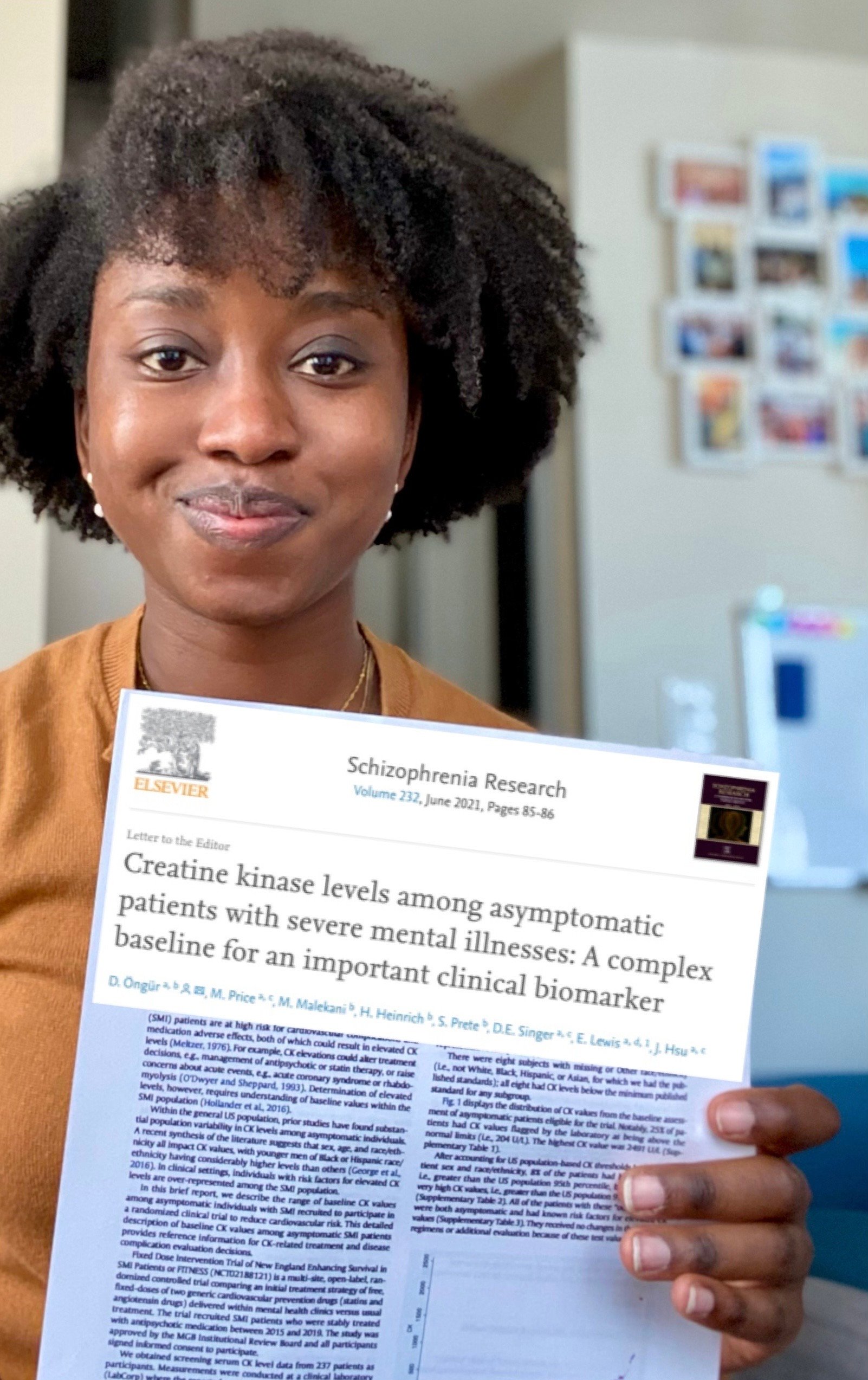 Dr. Mwamba Malekani with research on schizophrenia she co-authored & had published in 2021. Photo: Courtesy of Dr. Malekani.
Psychiatry residency at Authority Health GME in Detroit
Dr. Malekani started a psychiatry residency this summer at Authority Health GME in the Detroit area. She is pleased to have the opportunity to provide mental health services to people in an underserved area.
"The mission and work there is particular to work with patients who are underserved, and I know that's a growing movement right now in medicine, helping folks who are more underserved physicians, whether rural or urban. Authority Health's focus is more of an urban environment. In addition to that, when I was looking at programs that was a big selling point for me with Authority Health. As far as why I went into psychiatry? Again, it was definitely something that I came to a conclusion on much later in my medical school journey. I initially had a lot of interest in more of the surgical specialties. And I think I could credit that to the anatomy professors on the island. Going through clinical rotations I really enjoyed pediatrics and I also enjoyed neurology."
She said she had some preconceived notions about mental healthcare and psychiatry that she learned were simply not true.
"What I came to realize after the fact a bit later is, I think a lot of my own stigma about mental healthcare got in the way of me deciding on psychiatry. However, once I was able to learn what it would take to become a psychiatrist, and ultimately my goal was to become a child psychiatrist; it was a perfect blend of pediatrics and neuroscience for me."
Advice for students applying for the residency Match
Dr. Malekani offers advice for current students about to apply for the residency Match.
"While you're attending UMHS or any medical school in general, I think the advice that most folks give is pretty sound— to stay focused, maintain just what's ahead of you at the time," she said. "It gets overwhelming when you're thinking a lot of the big picture of the Match when you're ideally just an EBS One or Med One, and that can be extremely overwhelming. So definitely staying focused and just trying to do the best you can in the courses at the time. However, I will say while you are going through medical school, it's always good to do things outside of medical school that enrich your experience and also help you remember your why. Something I was pretty active in when I was on the island was quite a few of the health fairs. I did a lot of health fairs through Student National Medical Association, otherwise known as SNMA."
Before current UMHS students do anything, Dr. Malekani recommends following the advice of Patrick McCormick and his staff in the Department of Academic and Student Affairs in New York.
"I think a lot of the emails we get from Patrick McCormick and the roadmaps, of course— that really helps you know how the Match process works in general. So, I think that was extremely helpful."
In addition to following advice from UMHS Academic and Student Affairs, networking during clinical rotations is important so thinking about building strong working relationships and alliances with people at hospitals or during extracurricular or volunteer work is useful.
" I would say try to find a mentor and try to find someone who can also sponsor you, because the Match process can be challenging, of course. And at the same time, I think it's important not to try to reinvent the wheel when you're going through the process, and how you find a mentor can be through your clinical rotations. It can be through advocacy work you do, it can be through any extracurricular, but there is an important point of knowing the distinction between a mentor and a sponsor."
Networking does not have to stop once one obtains a residency.
"Since graduating, I've worked at a psychiatric hospital outside of Boston, and I found a mentor there and she actually is one of the few black psychiatrists in the country. So black physicians make up only about 2% of the physician population. And in psychiatry, of course, it's roughly the same, about 2% of psychiatrists are black women. So, my mentor there, Dr. Sophia Maurasse, has been really helpful. She's really helped me figure out the path in terms of what to do in terms of the Match. In addition to that, I've had a research mentor, Dr. Dost Öngür, and he has been quite a sponsor for me. So, he was able to facilitate advocating for me to certain programs and helping me with the Match process as well. It is important to find those types of people on your side as well while you're applying."
Medical school is not easy, and it is important to ask for help at any time when you are struggling to learn the material.
"The whole journey and process can be challenging and it can be easy to isolate when things go wrong, for example, if you fail an exam, if you're struggling in a course, if you're struggling on a rotation. I would say to students, please don't do that. Please don't isolate. Please reach out to other people, reach out to your professors, get online. As far as I mentioned finding a mentor, social media is even an aspect that has helped with the pandemic. It's become an equalizer. I personally come as a first-generation medical student in my family. I really had a mentor for me in high school with my primary care physician. And I think it's important to always seek out mentorship and to reach out to people when you're trying to figure out how to do things."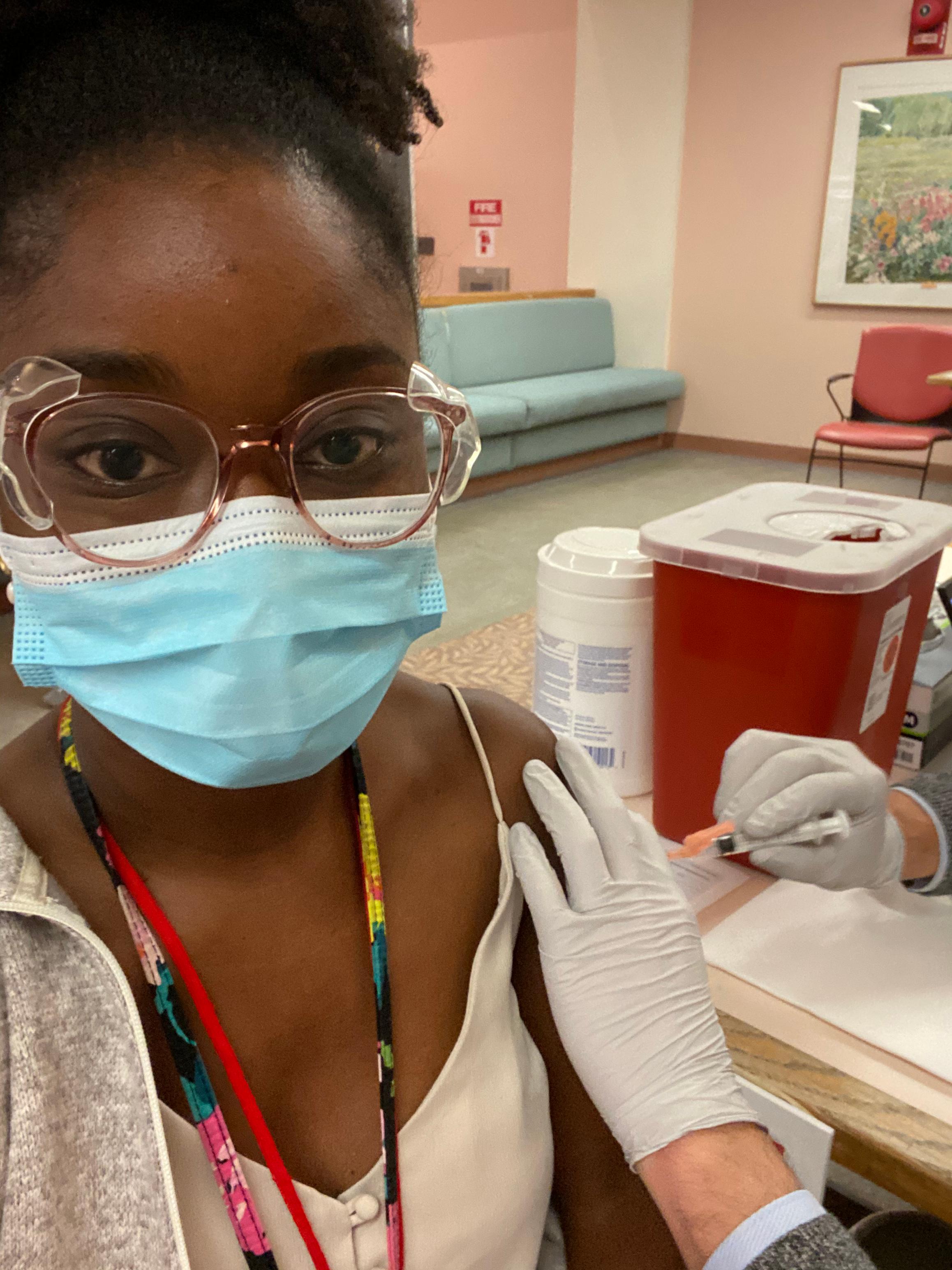 Dr. Mwamba Malekani getting a COVID-19 vaccine. Photo: Courtesy of Dr. Malekani.
Challenges for mental health providers during COVID-19 pandemic
The COVID-19 pandemic affected the public and the medical community in many ways. In addition to people having to stay at home and hospital emergency rooms overflowing with patients, there was a significant impact on mental healthcare.
"As far as mental healthcare goes, I observed unfortunately a lot of children and adult patients decompensating through the pandemic because access to certain services were paused. Folks who needed to get long-acting injectables of their antipsychotics didn't have the case management that they typically had. Children, of course, with the stay-at home orders, being isolated much more. I think what happened with the pandemic, in particular with COVID, I think it exposed a lot of the holes that we had in our system to begin with prior to COVID-19, and I think it exacerbated the problem more."
Many lessons were learned as a result.
"I do think that the benefit of COVID-19 is it has taught people what happens when people are extremely isolated and how people do need that connection and human connection. And I think it's actually helped quite a bit with the stigma surrounding mental healthcare. I think that is helpful and I'm glad that's happened because to some degree. I think it'll help with funding in terms of getting people better access to care and mental health as far as parity goes. So oftentimes insurance companies may only cover medical visits and not mental healthcare visits. And hopefully that will be a movement that comes forward now because of this."
Attending upcoming AACAP conference
Dr. Malekani just learned she will be attending the upcoming Academy of Child and Adolescent Psychiatry (AACAP) conference and was notified she is a recipient of their Educational Outreach Program for General Psychiatry Residents.
---
Dr. Mwamba Malekani video interview on UMHS YouTube channel
Dr. Malekani can be reached via email at mmalekani@umhs-sk.net

Posted by
Scott Harrah
Scott is Director of Digital Content & Alumni Communications Liaison at UMHS and editor of the UMHS Endeavour blog. When he's not writing about UMHS students, faculty, events, public health, alumni and UMHS research, he writes and edits Broadway theater reviews for a website he publishes in New York City, StageZine.com.