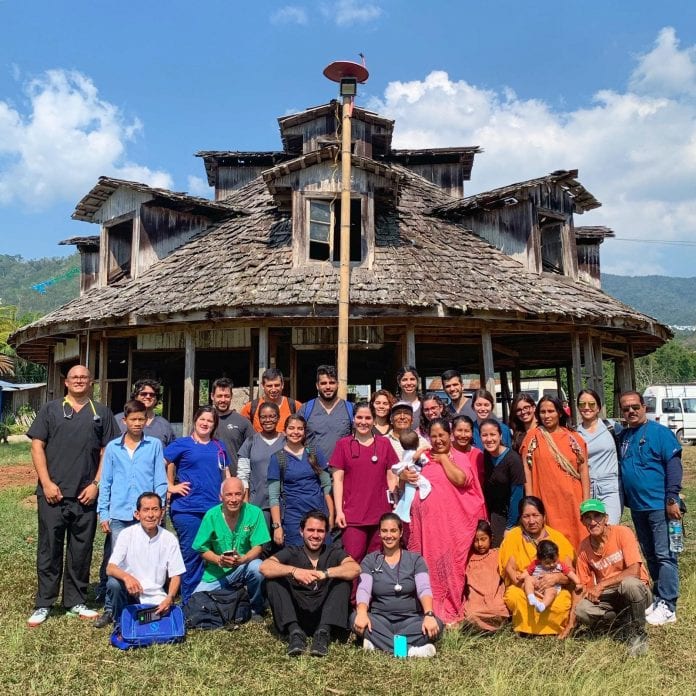 (Top photo & above) UMHS GLOBAL HEALTH INSTITUTE & MED4YOU MISSION TO PERU: Dr. Angel Matos Lugo (far left) & Dr. Jagadessh Nagappa, UMHS Physiology Professor (far right) with UMHS students & community leaders in Peru on a trip to bring medical care to the Yanesha people of the Amazon rainforest. Photo: UMHS
Dr. Angel M. Matos Lugo, Director of the UMHS Global Health Institute (UMHS-GHI), and Dr. Jagadeesh Nagappa, Professor of Physiology, traveled with 16 UMHS students/Med4You volunteers last month on a medical mission to bring important vital health care to Peru, specifically the Yanesha people in the Amazon rainforest.
The UMHS Endeavour spoke to Dr. Matos in a telephone interview about the recent UMHS Global Health Institute mission to Peru as well as a trip in May to Costa Rica.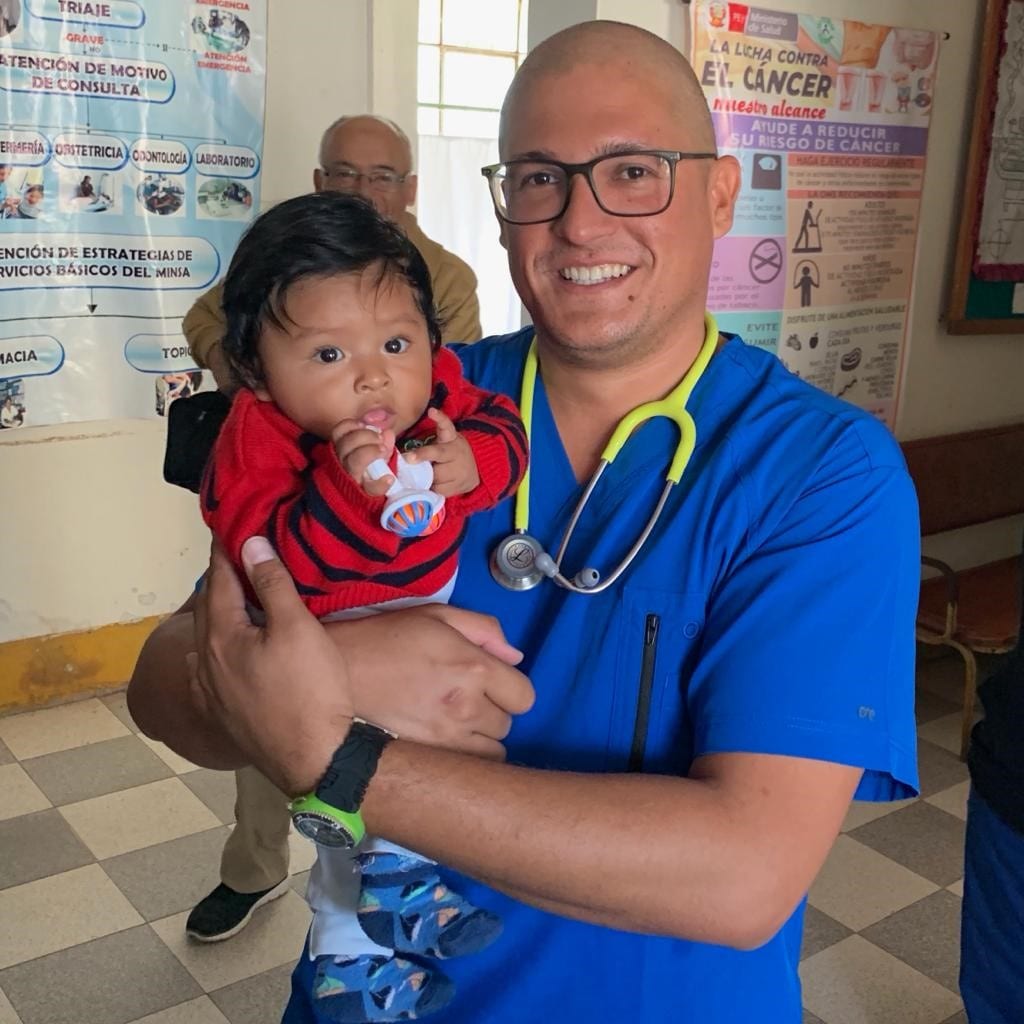 Baby Noeri, Yanesha community leader's firstborn, visiting for a follow-up with Dr. Angel Matos at a clinic in Peru. Photo: UMHS
Helping the Yanesha People of the Peruvian Amazon Rainforest
Dr. Matos has taken students, as part of the UMHS Global Health Institute, on five mission trips to bring health care to developing parts of the world, including Guatemala (two separate missions), the Dominican Republic Costa Rica, and now Peru.
"This is the first time we've gone that far," Dr. Matos said of the trip to Peru. "We've previously been in Central America and the Caribbean and now South America."
Getting to Peru was no easy task. The group had to take four flights from St. Kitts, connecting through San Juan and Miami before landing in Lima, followed by a five-hour bus ride to Villa Rica, Pasco, Peru. This mission's main purpose was reaching the Yanesha communities. The Yanesha are an ethnic group from the Peruvian Amazon rainforest with a population of approximately 7,000.
"This was in a province in Peru called Oxapampa," Dr. Matos said. "It's a small group. They make up roughly 2.90% of indigenous inhabitants in the Amazon but they are a very kind people. We were able to share with them during this trip. They have different health conditions compared to what we've seen on our other trips. They eat very healthy so we saw barely one or two people with hypertension and diabetes. We saw patients of 70 to 80 years and they all had very good blood glucose and arterial pressure."
The Yanesha people mostly have health conditions based on where they are located.
"This is a very remote place so they lack access to many things," he said. "For example, post-menopausal women in these areas don't get hormones or don't get calcium so we saw a lot of arthritis and joint problem. We saw that a lot in elderly women."
There is a pressing need for ophthalmology care in the region. Dr. Matos said they saw many patients with cataracts, partial blindness and pterygium.
Pterygium, Dr. Matos explained, is a condition where people develop extra skin on the cornea. It is a benign condition, but the pinkish, web-like growth (sometimes slightly raised, with visible blood vessels) can interfere with vision.
Dr. Matos noted that the Yanesha people they worked with often had "two or more ophthalmic problems that could lead to blindness or partial blindness due to the chronic exposure to sun. All of these people work in coffee fields, so they work on the farms and that's why they get all this sun exposure."
Because the Yanesha often don't have the right clothing, sunglasses or sunblock, they are vulnerable to the sun's damaging effects.
"They don't protect their eyes," he said. "When you're that exposed to sun, other than clothing, you should wear some kind of protection for your eyes like sunglasses or goggles to protect from that. So it's more common to see this deterioration."
The Yanesha people were quite receptive to the group of future doctors from UMHS.
"They were very friendly and they waited for hours to inaugurate their new health center," Dr. Matos explained.
The locals were proud of opening a small health clinic. In addition to Dr. Matos and Dr Nagappa, two local doctors and some community leaders were present and they even had a small ceremony.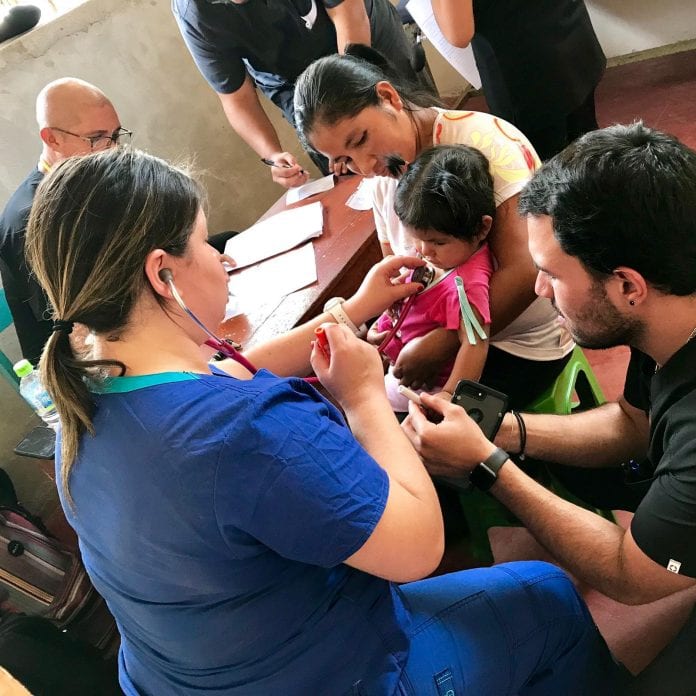 Ninoshka Roman EBS5, president of the Med4You-UMHS Chapter & Jean Rodriguez EBS4 student work on a baby at one of the Peru clinics. Photo: UMHS
Health Issues for the Yanesha
We often hear about respiratory and altitude sickness in Peru, but the high altitude doesn't affect the Yanesha.
"They are used to it," Dr. Matos said, noting that any respiratory issues in the region are related to inhaling smoke from the wood they burn while cooking.
Because the Yanesha people don't eat the processed foods available in other parts of the world, they have a healthy diet.
"They just eat what they cultivate in their area so it is pretty much everything natural and healthy," Dr. Matos said. "We were impressed by these people and how their nutrition and active lifestyle works. That helps a lot to have a better overall health condition."
The most significant problems the Yanesha community faces are vision problems, post-menopausal women lacking access to hormones and calcium supplements and arthritis and other joint problems.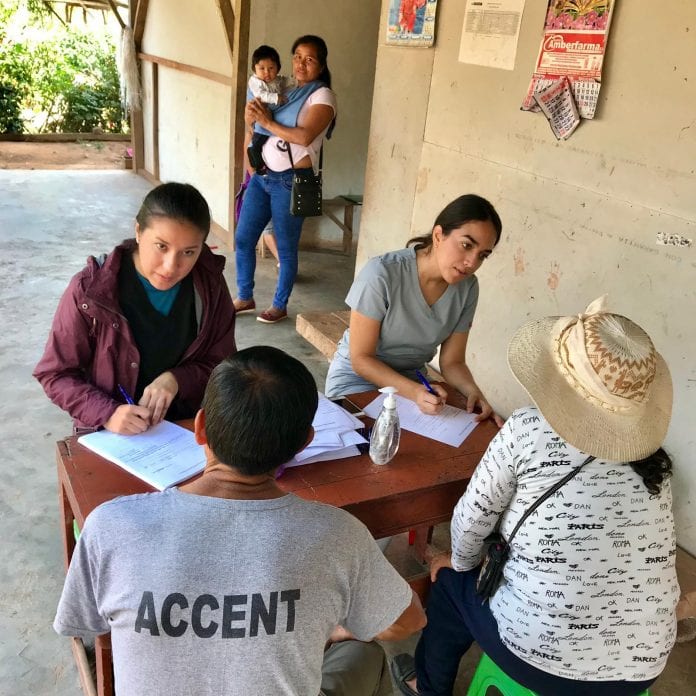 Kamyr Rios EBS4 & Karina Lopez EBS5 with patients at a clinic in Peru. Photo: UMHS
Student Success in Peru
The UMHS-GHI mission to Peru was successful in many ways. It was a great way for UMHS students to interact with patients.
"As always our students were very kind and sensitive; they had a lot of interactions with children and the elderly," Dr. Matos said. "That's what we truly see the most in clinics. The students were very sensitive to this population."
Clinics were held in Cacazu, Pasco, Peru and Union de la Selva, both in the Peruvian Amazon rainforest region. How are the Yanesha different from a medical perspective? In addition to being an underserved community, they are a cultural and ethnic indigenous group and therefore have unique health care needs.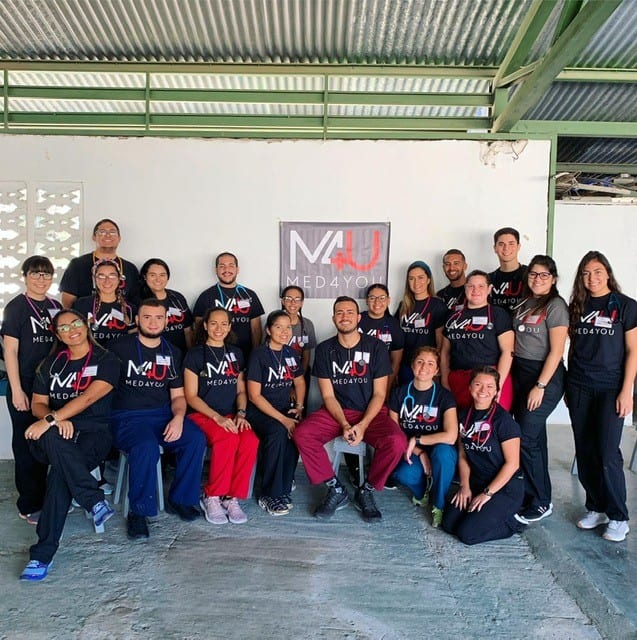 The UMHS Med4You chapter at a clinic in Costa Rica in May 2019. Photo: UMHS
May Mission to Costa Rica
As part of UMHS-GHI, Dr. Matos also traveled to Costa Rica with 19 UMHS students and Med4You volunteers back in May. They worked in Cañas Dulces, Guanacaste and had to endure temperatures at nearly 100 Fahrenheit daily.
"The main challenge was the temperature," Dr. Matos said. "It was a very good group. We were able to see a lot of patients."
Health challenges in Costa Rica include cerebral palsy, Down syndrome as well as Zika virus and microcephaly, a birth defect often caused by Zika consisting of a smaller than normal head and brain in newborn babies.
"We saw a lot of high blood pressure and hypertension," Dr. Matos said regarding the Costa Rica clinics, noting that patients in Costa Rica had many of the typical pathologies found in underserved areas of the region.
The students learned a lot from treating children with microcephaly and other diseases and were "very caring and supportive in the best way."
Upcoming Global Health Institute Missions, Etc.
The UMHS Global Health Institute will continue to work together with Med4You in developing initiatives, with possible upcoming trips to Asia and Africa.
"We're just starting with our partners and the Consortium of Universities for Global Health," Dr. Matos said, noting that the UMHS Global Health Institute is looking at the possibility of a Ghana mission trip.
They are also considering a border health program for the border between Panama and Costa Rica.
"We're in conversation with Vita Volunteers, we're partnered with them and have worked two times before," he said. "They are a great company and we're thinking of having a border health trip and that would be great because we'd be helping people between the border of Panama and Costa Rica."
In November, Dr. Matos will be attending Institute for Global Healthcare Leadership Conference, sponsored by Johns Hopkins University in Maryland. "With this we keep looking for other partners, universities and opportunities to develop future projects and trips for our students," he said.
Medical mission trips—in addition to giving students patient interaction experience in medically underserved regions of the world—help future doctors make a difference and also make them more competitive when it is time to think about the residency Match.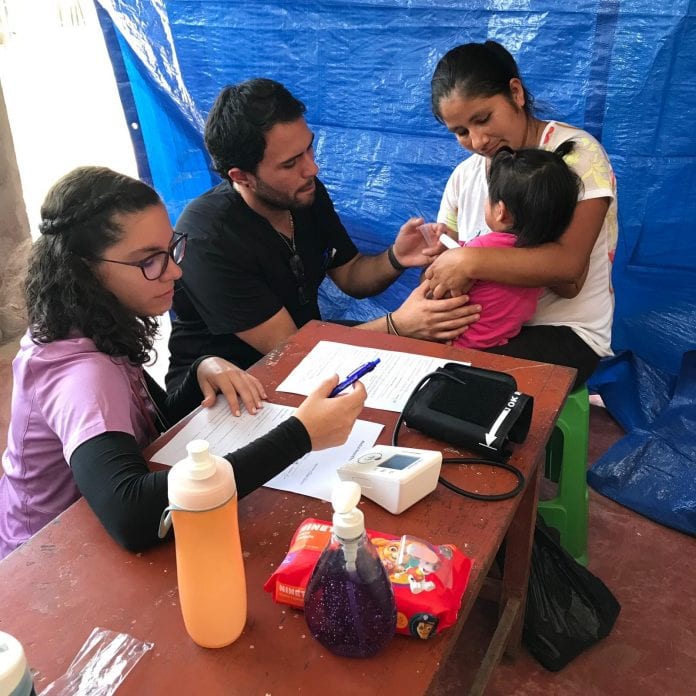 Yvonne Velez EBS4 & Jean Rodriguez EBS4 with a mother & child at a Peru clinic. Photo: UMHS
"Being a regular medical student when applying to a residency program verses being exposed to health care systems in different countries and participating actively in medical mission trips will certainly make a difference in a residency interview in their future," Dr. Matos said. "So having the opportunity to join UMHS and participating in the activities in our international initiative would be a great benefit for them."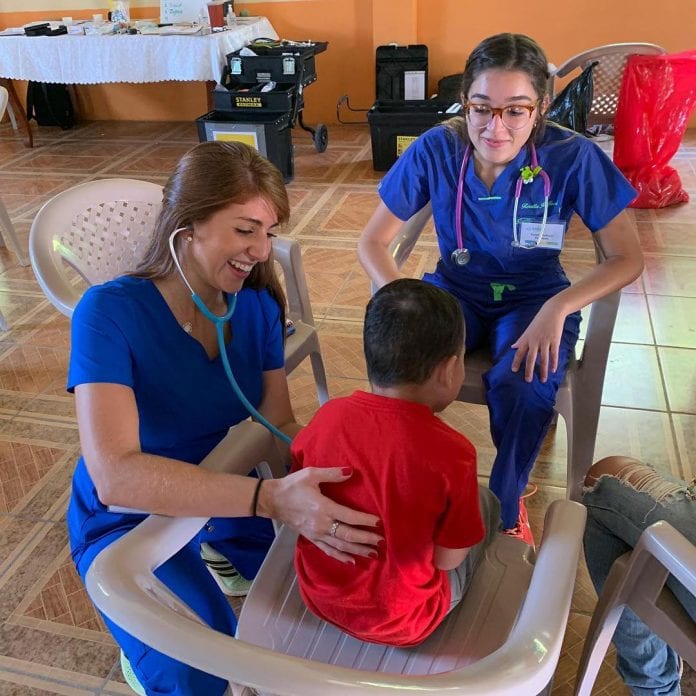 Frances Colon & Fiorella Raffucci work with a patient at one of the Costa Rica clinics back in May 2019. Both students are now currently in their 5th Semester at the UMHS Portland, Maine campus. Photo: UMHS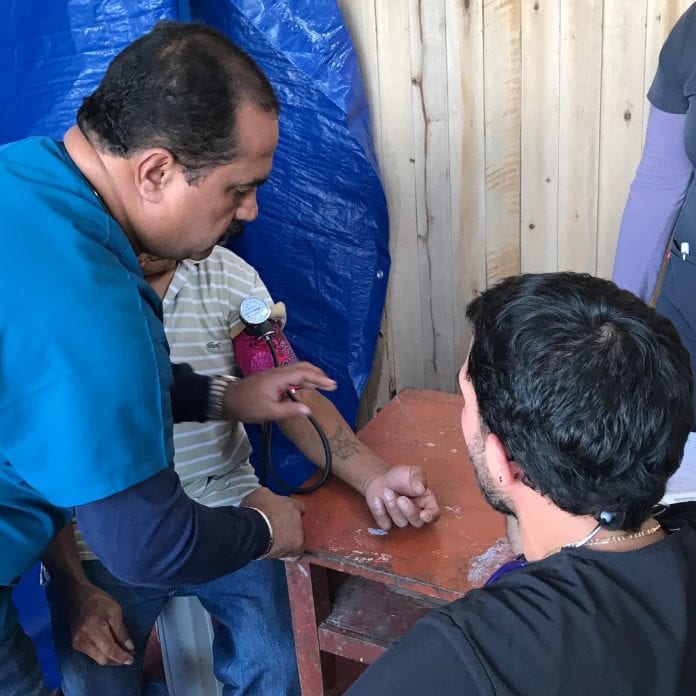 Dr. Jagadeesh Nagappa, UMHS Physiology Professor & Jean Rodriguez, EBS4 student, take a patient's blood pressure at a clinic in Peru. Photo: UMHS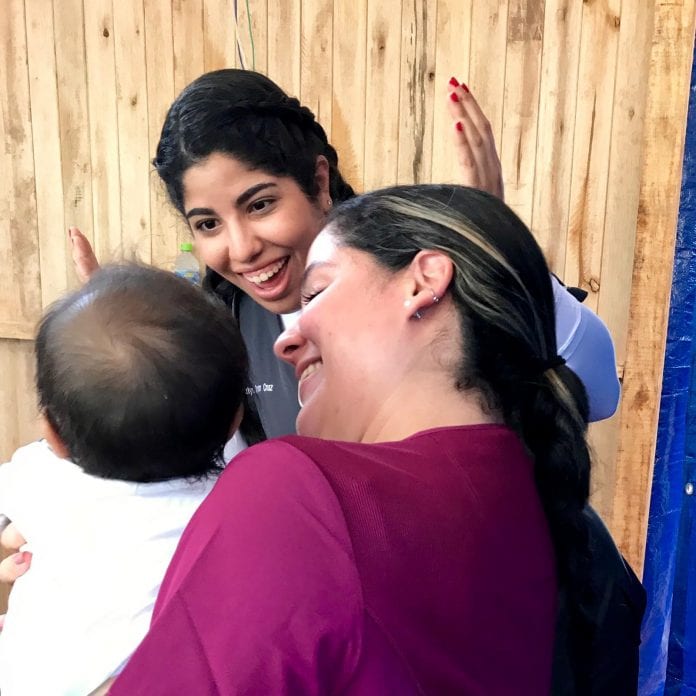 Charlyne Cuyar EBS4 & Karla Negron MED4 work on a child at a clinic in Peru. Photo: UMHS
---
About UMHS:
Built in the tradition of the best US universities, the University of Medicine and Health Sciences focuses on individual student attention, maintaining small class sizes and recruiting high-quality faculty. We call this unique approach, "personalized medical education," and it's what has led to our unprecedented 96% student retention rate, and outstanding residency placements across the US and Canada. UMHS is challenging everything you thought you knew about Caribbean medical schools.

Posted by
Scott Harrah
Scott is Director of Digital Content & Alumni Communications Liaison at UMHS and editor of the UMHS Endeavour blog. When he's not writing about UMHS students, faculty, events, public health, alumni and UMHS research, he writes and edits Broadway theater reviews for a website he publishes in New York City, StageZine.com.