Dr. Kristin (née Riggs) Miller was in the very first graduating class at UMHS. The 2011 graduate is currently the President of the UMHS Alumni Association. Dr. Miller's journey from leaving her hometown of Cincinnati, OH to attend UMHS in St. Kitts and her return to the USA and eventually becoming one of the most successful UMHS graduates to date is inspiring indeed.
The UMHS Endeavour caught up with Dr. Miller at the end of a busy weekday. Even after a long day of treating patients, Dr. Miler is still bubbly and upbeat and has a nurturing aura and glow on her face and a twinkle in her eye when she speaks. She spoke to us about her experiences at UMHS; why she originally wanted to be a pediatric oncologist and how she decided instead to go into family medicine; how she paid off nearly half a million dollars in student loans and how she is making a difference as a family medicine doctor at Mercy Hospital in Yukon, Oklahoma, a suburb of Oklahoma City; why she likes being a doctor for senior citizens; her work as a life coach; and also as part-time co-owner of a med spa, and more. She will be one of the panelists on the UMHS YouTube livestream "Primary Care Spotlight: Internal Medicine vs. Family Medicine" on Tuesday, October 24 at 7pm Eastern.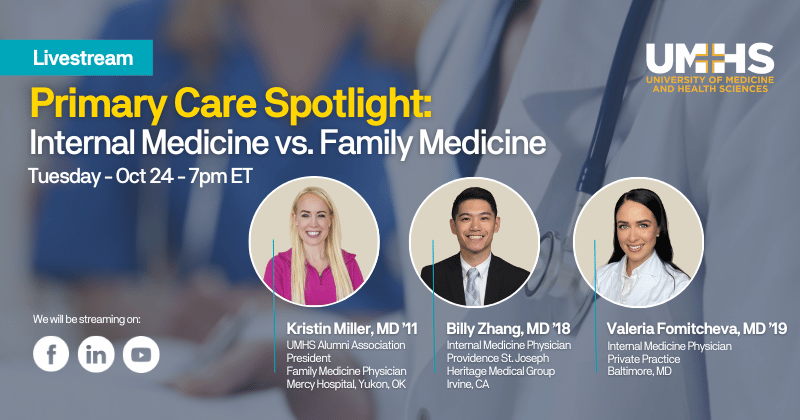 Join Dr. Miller & two other UMHS grads for 'Primary Care Spotlight: Internal Medicine vs. Family Medicine' on Tuesday, October 24, 2023 at 7pm Eastern. The livestream will be available on the UMHS YouTube channel in its entirety after the event.
Panelist on UMHS Primary Care Spotlight livestream
UMHS Endeavour: Today we are speaking with UMHS Alumni Association President and 2011 graduate, Dr. Kristin Miller. And Dr. Miller, I want to welcome you and thank you for speaking with us today.
Dr. Kristin Miller: Thank you so much for having me.
Dr. Miller, you're going to be one of the panelists on the upcoming "Primary Care Spotlight: Internal Medicine vs. Family Medicine" livestream on Tuesday, October 24th at 7:00 PM Eastern. And for our current and prospective students out there, could you just tell us in a few words why you love being a family medicine doctor?
It's the best. No, I just really love that you never know what challenges you're going to face with patients. It's such a broad spectrum of helping people, getting to know their families, doing everything from birth to death. And every specialty out there, we kind of dabble in jack of all trades, master of none. But it always keeps you on your toes and it's always fun to be a part of family dynamics and understand the grandparents and the grandchildren and the whole thing. Feeling like you're a part of the family is one of my favorite parts of the job.
Can you just talk a little bit about your work as a family medicine doctor in Oklahoma, where you are presently?
Absolutely. I work for a hospital system out here. I do only outpatient medicine. I don't do OB or inpatient anymore. I see patients about 36 hours a week and half of that time, I work from home doing virtual visits, which has been really nice. Very good to have during the pandemic when a lot of our patients lived pretty rural, couldn't get to us. Some of our elderly patients, it wouldn't really be safe for them to come in and see us. During winter when we get ice, it's nice that the elderly people don't have to come in and see us, or when we have little ones that shouldn't really be around sick people. There's a lot of benefits to it, so it's really nice to have this setup.
As you know, there's a primary care doctor shortage of both internal medicine and family medicine doctors in the USA, and I think you would be a really good person to talk to about this. Could you just talk briefly about how being a family medicine doctor helps you make a difference in smaller communities, while also allow you to have a really great work-life balance and the opportunity to make a good living?
Absolutely. When I first came out to Oklahoma several years ago, I worked in a rural community. And there were 13,000 people and no doctor, so I definitely knew I was making a difference out there. I did everything from nursing homes, and I was the NFL sponsored team doctor for our high school sports out there. A few years ago, during the pandemic, I moved to a little bit closer to the city, so not so rural. But there's still such a shortage in doctors that it usually takes, on average, about six months to get in to see a PCP. And a lot of these patients are coming straight from the hospital where they had some type of an acute ailment that needs to be seen usually within a week. So I know that me being in Oklahoma makes a difference.
What I love about my work-life balance that nobody created for me, I had to learn how to create, but I love that I can be all-in when I'm at work and I can be attentive and I can be there and I can do all the things. But then I also have the opportunity to not be on call, to go home at the end of my day, to have my weekends off, to have time with my family, to be able to travel, and even to have my own business on the side as well. So, it's a really great balance of all the things I wanted.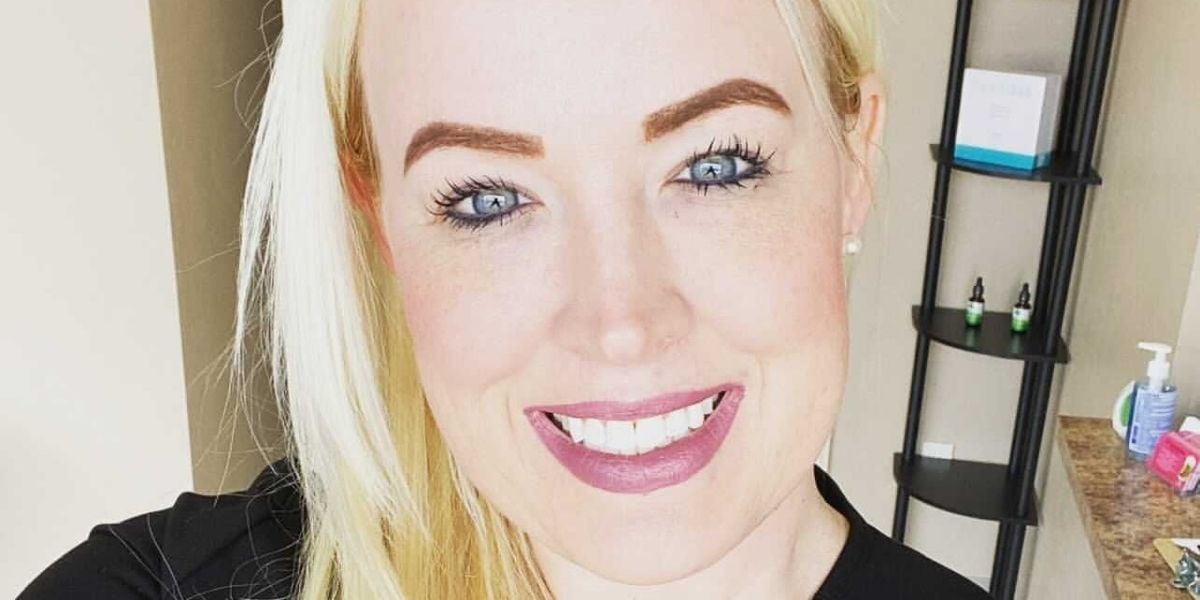 Dr. Kristin Miller. Photo courtesy of Dr. Miller.
You are currently the president of the UMHS Alumni Association. We're really glad to have you. For some of the prospective or current students out there, could you think of two or three things about UMHS that set the school apart from other med schools in your opinion?
When I first heard of UMHS, the thing that really made me want to go there was the small class sizes. I went to a smaller branch of the University of Cincinnati for part of my chemistry degree, and having access to the professors is really what I credit to my success in graduating with a bachelor's in chemistry, so I knew that that mattered. And there really weren't any other Caribbean schools at the time that was kind of setting the bar as high as UMHS was, but also allowing us to have small class sizes. And when I went through the program, my ability to be able to visit with the professors whenever I was stuck on something, which was more often than I'd like to admit, really, really helped me succeed.
There's really not any other place like that. And now that I have gone to a lot of different events for UMHS and have met a lot of the students that have graduated after me, I'm so proud to come from a school that has had so many doctors that are just so impressive. I know a lot of us don't really know all these people yet, but I would love for alumni association to be able to bring people together because I'm telling you guys, there are some impressive doctors that have come out of UMHS and I'm very proud to be from this school.
Definitely. Can you talk about other things at UMHS that helped you become the doctor you are today?
Absolutely. I think that there are quite a few things that set Caribbean students apart in our work ethic and things like that, but I did have a unique experience that isn't as unique anymore. I was the first student to go through our Puerto Rican program for my clinical rotations. And I was a little bit nervous about going because my Spanish wasn't the greatest, but I learned the Spanish and it turned out to be one of the greatest things that I could have done. Because in that environment, the students are well-respected and they have more of an active role in being in the room with the patient, doing the examinations, doing the surgeries, much more so than a lot of my friends in the US in US schools that just stood against the wall because there were too many people.
So not only did I get to learn medicine in Spanish, which serves me very well in Oklahoma, but I got to learn these skills hands-on. So when I went to residency, I looked so impressive because I knew how to do all these things that so many others had never even experienced. So it definitely helped me stand apart as a UMHS grad.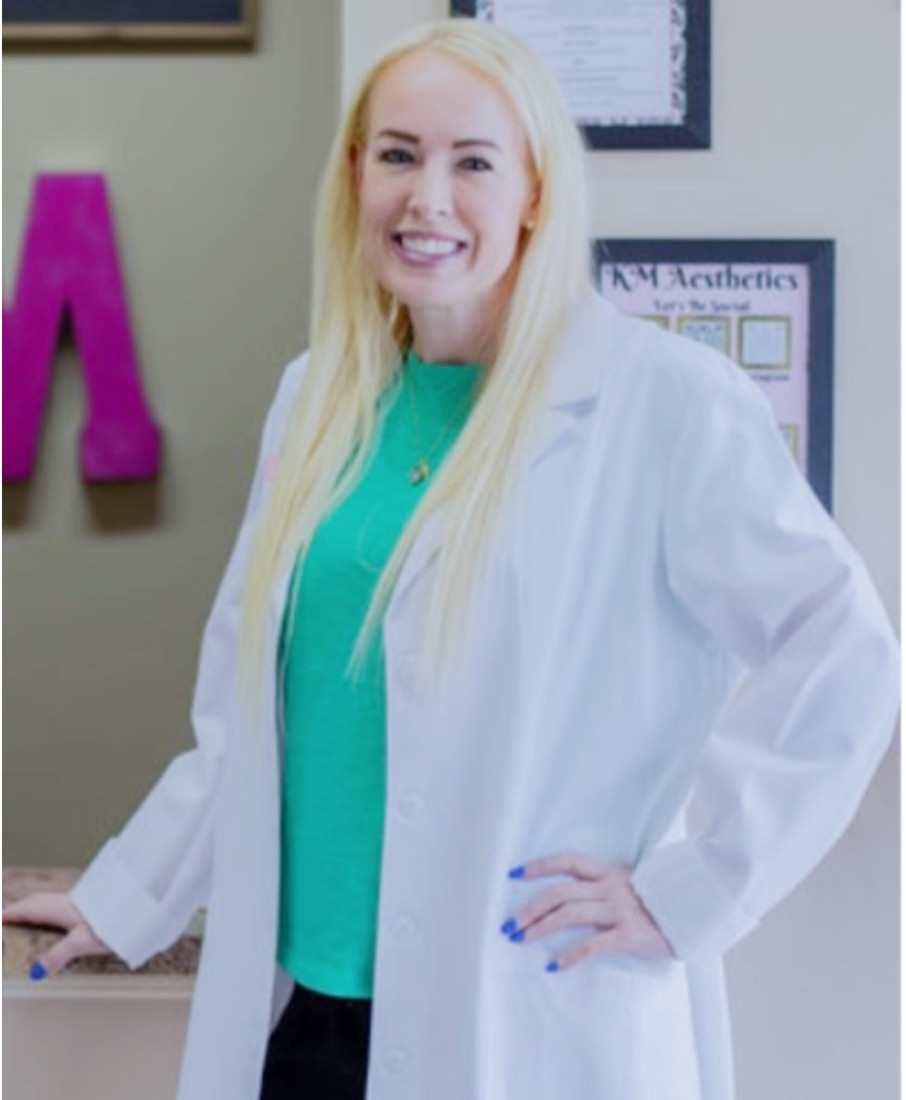 Dr. Kristin Miller graduated from UMHS in 2011 & now works as a family medicine physician in Oklahoma & also works as a life coach & works part time in a med spa on Fridays, helping boost patients' confidence with cosmetic treatment such as laser skin procedures & Botox injections. Photo: Courtesy of Dr. Miller.
Is there anything else that you'd like to add about family medicine or UMHS?
I know that I was told when I went into medical school not to go into family medicine because they said that you work long hours, you don't get paid well, all these reasons not to. And I thought I wanted to be a pediatric oncologist. I fell in love with family medicine and all of those rumors, I'm happy to report, are not true. You can work great hours, have a great work-life balance, pay off your student loans, get paid very well. And I think that when you guys leave UMHS and you go out there into residency and into your careers, I think you're going to learn to be very proud of the education that you received and how well-prepared you are for your entire career as a physician.
Being the UMHS Alumni Association President
You're currently the UMHS Alumni Association President. Can you just talk a little bit about what it means to be an alumnus at UMHS? And you were in the first graduating class, right?
Yes. I was in the first graduating class. We started in May of 2008 on the island. And over time, I have gotten to know a lot of the different graduates from all different specialties from UMHS, and I could not be more proud to be a part of such an amazing group of doctors that are doing amazing things all over the country. Being from UMHS is something that I brag about now. I didn't have anybody else behind me that I could come and say, "Hey, I come from this school," because when I went through, I was the first one and nobody had heard of UMHS at that time. But now, when you mention UMHS to people in medical communities, it carries a lot of honor and a lot of integrity with it, and it makes me very proud to be associated with this school.
Work as a life coach & her med spa, KM Aesthetics
I understand you also work part time as a life coach. How did you get started doing that?
Early on in the pandemic, I actually was stuck on a medical mission trip in Africa when the pandemic started, and I noticed very quickly that my mental health and the mental health of all of the people around me was in a very quick decline. So, I started doing these Facebook Live posts called Morning Motivation with Dr K. And I would just hop on and try to say something encouraging and inspiring. I noticed how that resonated with a lot of people, and so I went to the life coach school and got officially certified to be a life coach. And the skills that I learned have helped me every day as a doctor because we don't get a lot of training in therapy and things like that, but it's a huge part of what we do. And really, the overall point of me doing all of it is that I love encouraging people to live their best lives, and I need all of that advice myself. So it's been very helpful for both myself and a lot of my friends and my patients.
Is a lot of your work as a life coach done online?
Yes. I've had a lot of private clients that we typically meet through a setting like Zoom. I have a life coach that I've been working with for several years now and we meet every Friday afternoon, and she's in California and I'm in Oklahoma. But yeah, mostly everything is done online. I don't think I've done anything in person, actually.
Is there a particular website or social media platform that you would like to mention?
My Facebook is Doctor K. Miller. Doctor, the word spelled out, and then K. Miller. And I still go live a lot and promote different things there. Also people can visit https://drkristinmiller.com/
You also do a med spa on Fridays. Can you tell us a little bit about that?
I am a co-owner and the Medical Director of KM Aesthetics in Oklahoma. And my partner is a nurse practitioner with several years of aesthetic experience. She works at the med spa a lot more often than I do. With my job, I can really only manage Friday afternoons and sometimes Saturdays. We started off a few years ago just doing Botox and filler, and then started doing some weight loss with some of our generic compounds that are out these days, the injectables. And then we recently branched off and got machines to do laser skin treatments and RF micro needling. And I love doing the med spa because it is such a gratifying experience to give people results right away. When you're treating diabetes and hypertension, there really isn't much to jump up and down about.
Of course.
But when people feel good about themselves and the skin they're in, there's no better feeling than helping people feel that way.
Treating senior citizens via telemedicine
Dr. Miller, you also do work via telemedicine, which I know a lot of people use that now. I was really pleased to hear that you especially love working with senior citizens, especially the 65+ age group. Can you just talk a little bit about that and why you like working with the older community?
When I was little, my mom used to work in nursing homes and when I was younger, I used to love to entertain. I would like to sing and dance, and I am sure I drove my parents crazy. So, at some point, we got this idea that I would ride my bike up to our nursing home and entertain them. I did that a lot growing up. And something about that just gave me this connection with people who have had more birthdays than me, that I just have a lot of respect for them and I just tend to understand them really well, as opposed to some of my pediatric patients. Sometimes that's difficult for me because my personality doesn't naturally go, "Oh, that's so cute.."
Right.
But when I can sit down and have just a real conversation with somebody and come from a place of respect, but still try to help them live their best quality of life, it just feels really good to me to be able to meet with those people and help them. And I was really pleasantly surprised at how many of them found ways to do telehealth throughout the pandemic. When it first started, lots of doctors said, "You're not going to get your over-65 population on a video visit," and that wasn't my experience. Whether it was their own phones or their family members helping them get set up, once they got it the first time, they could do it after. So it was very nice for them to be able to have that mode to be able to communicate with me whatever was going on throughout the pandemic as well.
Especially older people that have grandchildren or children, I think a lot of them, because the grandkids are all online—they get Grandma and Grandpa online.
Yes.
Helping alumni & current & prospective UMHS students
That's really great to hear. Is there anything else that you'd like to talk about from the alumni perspective? UMHS and Michelle Peres and I are also working with a tech team to launch an alumni website, and we'd love to have you on. We'd like to do some virtual alumni mixers. You've got a really great story to tell just to connect with the alumni community and we'd love you to have you aboard for that. And we're also looking at doing some alumni achievement awards, so we do have some exciting things planned once we have the website up and running, and we're hoping to have that sooner rather than later. Do you have any ideas on how we could be serving the alumni better once we get the site up?
Yeah, absolutely. And I'm really passionate about this. I've known Michelle for years. She was the person who accepted me into UMHS many years ago.
Right.
I know she's really passionate about this project as well. Throughout the last several years, I've had the opportunity to go back to St. Kitts and do white coat speeches and go to different UMHS events in Colorado and other places. And throughout these times, I've met lots of UMHS graduates. And every time I do, I am so impressed with who these people are and I just keep thinking to myself, "We all need to know who each other is and who's out there and what you're doing."
Sure.
And have those connections and be able to also serve the current students at UMHS. Getting rotations can be difficult, but if you're plugged into the right people, it can be extremely helpful. I have had some UMHS students rotate with me in Oklahoma and it's such a great experience. I love bragging about them. "Oh, this is my student that comes from UMHS." So I just think that if we could all come together and know who's out there and who's doing what, I think not only would it motivate and encourage us, but we could also help a lot of students or each other, even, within our own communities. Maybe there's some UMHS grads that are near me and I don't even know about it and I would love to. So I think there's a lot of benefit in us establishing this alumni association.
UMHS YouTube interview with Dr. Kristin Miller

Email Dr. Kristen Miller at drkmiller33@gmail.com
(Top photo): Dr. Kristen Miller is a UMHS 2011 graduate & the current UMHS Alumni Association President. Photo: Courtesy of Dr. Miller.

Posted by
Scott Harrah
Scott is Director of Digital Content & Alumni Communications Liaison at UMHS and editor of the UMHS Endeavour blog. When he's not writing about UMHS students, faculty, events, public health, alumni and UMHS research, he writes and edits Broadway theater reviews for a website he publishes in New York City, StageZine.com.