UMHS 2017 graduate Dr. Harkirat Kaur is an attending adult psychiatrist at Amen Clinics in Atlanta, GA, an outpatient psychiatry practice. She completed an adult psychiatry residency at University Hospitals in Cleveland, OH last year. Right after graduating from UMHS, she was a transitional year resident at Coliseum Health System in Macon, GA.
Dr. Kaur has been an active member of the UMHS Alumni Association. She co-hosted a UMHS livestream "Suicide Prevention and the State of Psychiatry" with fellow UMHS graduate and practicing psychiatrist Dr. Aaron Vazquez '15 in fall 2021. More recently, she was a keynote speaker at the 2023 White Coat Ceremony in St. Kitts on September 9th.
The UMHS Endeavour spoke to Dr. Kaur the day before the ceremony, when she had a moment to talk about her amazing career and her days as a medical student at UMHS.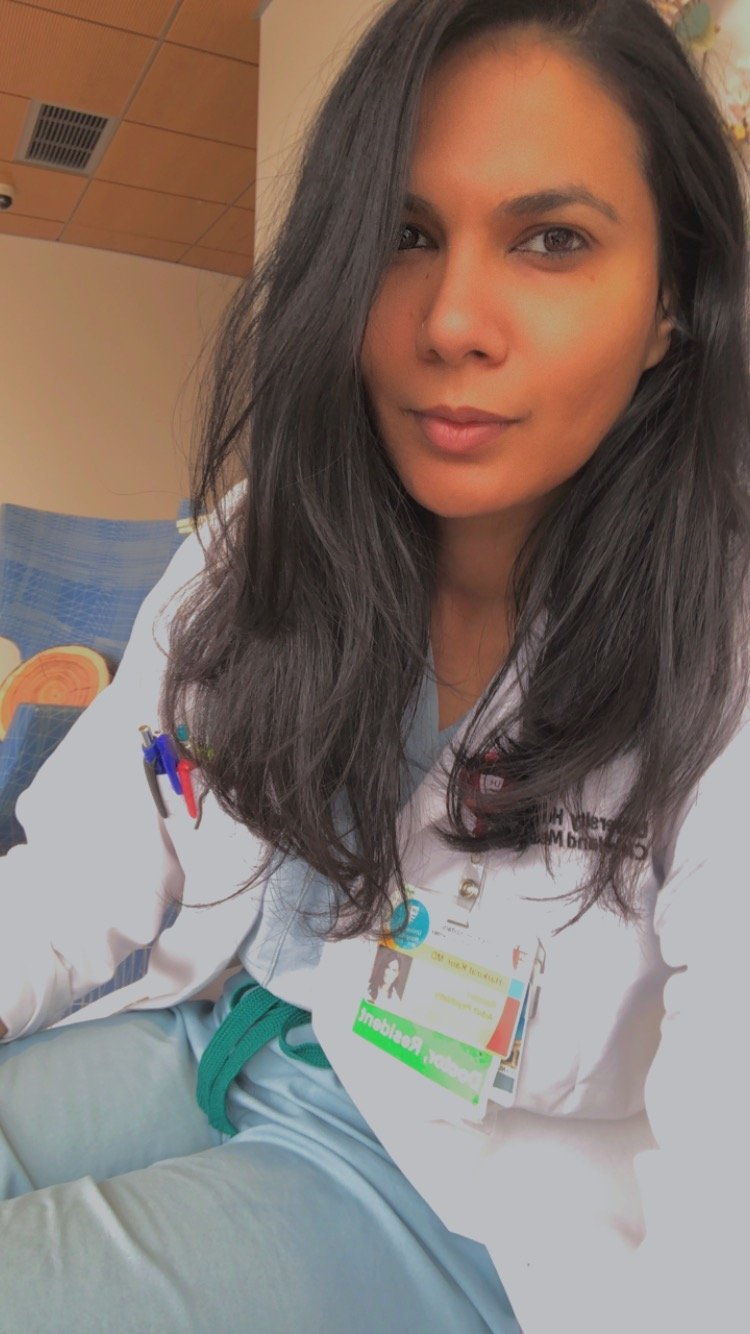 Dr. Harkirat Kaur. Photo: Courtesy of Dr. Kaur.
UMHS Endeavour: Today we're speaking with 2017 UMHS graduate Dr. Harkirat Kaur. Good morning and welcome today. Dr. Kaur, can you please just tell us a little bit about where you are currently working as a psychiatrist and in outpatient psychiatry practice?
Dr. Harkirat Kaur: Good morning, Scott, it's great to be here. I am currently working in Atlanta, Georgia at a private practice outpatient clinic named Amen Clinics. I practice there as an adult attending psychiatrist.
You were recently elected by the UMHS faculty and the student body to speak at the 2023 White Coat Ceremony, the one tomorrow. Can you tell us a little bit about that?
Yes. It's such a humbling experience and I was very grateful when I received an email from the Dean of Student Affairs to be a keynote speaker at the White Coat Ceremony. It almost feels like a full circle. I joined school here as a medical student; now coming back as a keynote speaker and a physician. I think it was such an honor and I am here in St. Kitts right now. It just feels unreal but so good to be back, and I think this will be a great way to pay it forward with gratitude. If I hadn't been given the opportunity to be here as a medical student in the past, I probably would not be a physician now. I don't know what I would be doing so, yeah, it feels great to be back on campus, especially seeing the faculty.
You did a residency at Coliseum Health System in Georgia and also at the University Hospitals in Cleveland. Can you tell us a little bit about that experience?
Yeah, sure. So, I did not do a psychiatry residency at Coliseum. I did a transitional year, which was a one-year program, consisting of family medicine, internal medicine blocks, psychiatry blocks, neurology, and surgery—so it was a mixed bag of rotations including emergency medicine. You kind of experience everything in a transitional year. After completing that at Coliseum, I got a second-year residency position at Case Western Reserve in Cleveland, Ohio, which is where I completed my psychiatry training. Yeah, it was great. Because of such good faculty and training there, there was no difficulty in transitioning from to working as an attending physician right after residency.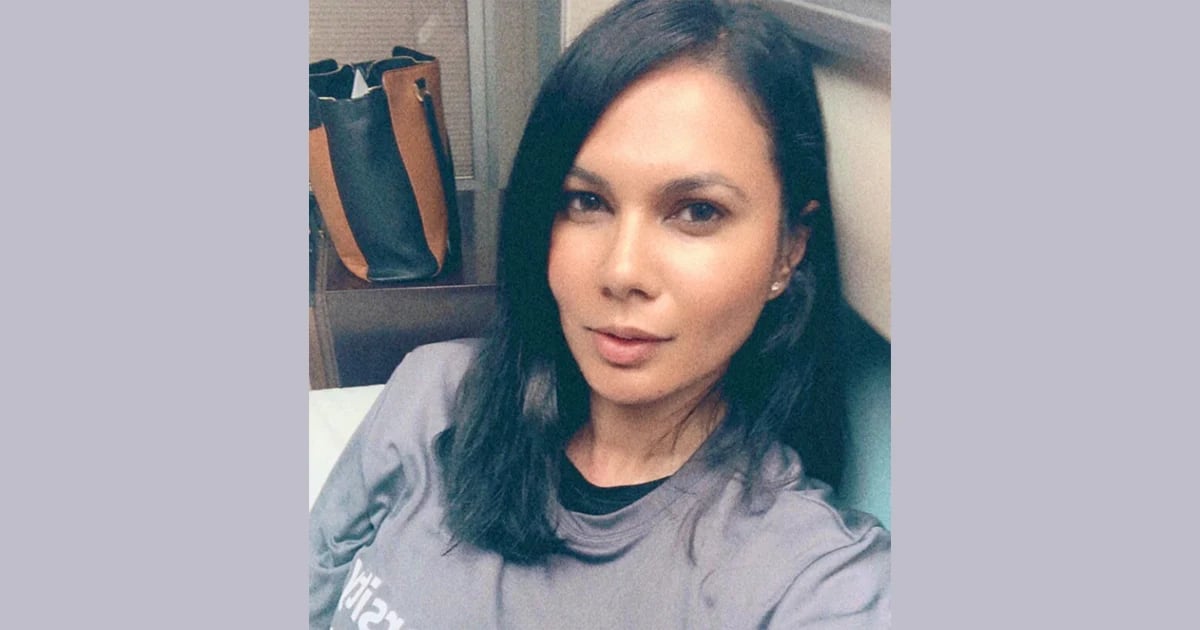 UMHS 2017 graduate Dr. Harikirat Kaur has been active as a UMHS Alumni Association member. She's co-hosted a UMHS livestream on psychiatry & suicide prevention & was the keynote speaker at the 2023 White Coat Ceremony on September 9, 2023. Photo courtesy of Dr. Kaur.
Started UMHS as an ARP student
Dr. Kaur, can you think about one or two things about studying at UMHS that's helped you accomplish your goals and become the doctor that you are today?
Yeah, sure. I started at UMHS as an ARP student.
Oh, wow.
I think the support of the faculty and not giving up on my dreams added to the whole experience of continuing to push through. Medicine itself, I feel like is not a walk in the park, and you kind of have to just get through it. There are times where you do feel like giving up but when you do have the right support it's possible. To this day, professors like Dr. Mungli, Dr. Shanker, and Dr. Jalan have been a pillar of my success behind being a physician now. They are professors who have continued to keep in touch with the alumni and the students. I think that is what really keeps me going even to this day and I've learned from them to pay it forward and stay humble. They've helped me understand how hard work hard can really get you to where you want to be in life.
So, you found a lot of success with the ARP Program so you're a proud alumnus of that.
Yeah, so ARP was great. I think that was a good experience to kind of get a little crash course on what everything else was going to be. After ARP, I went straight into the fast track so that was a pretty good transition because we were already ahead of the game. So, I think that was great.
Is there anything else that you'd like to say to current or prospective UMHS students thinking about a career in psychiatry or just in medicine in general that we haven't covered?
Yeah. I believe in order to be a good physician you have to have that drive. It doesn't matter which field of medicine you go to, whether it's surgery, internal medicine, family medicine, or psychiatry, I think it just has to come from you. The drive has to be there to really fulfill that goal because it's easier to give up than to keep going. Because it is a very grueling journey, I think my main piece of advice would be to just believe in yourself, believe in God, and to simply continue persevering.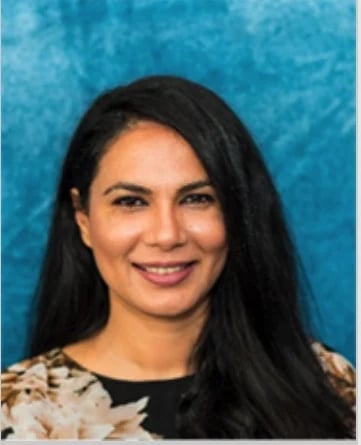 From India to UMass
Dr. Kaur, you did your undergraduate at the University of Massachusetts at Amherst, with a BS in Public Health and BA in Kinesiology. Did you grow up in Massachusetts?
No, I actually grew up in India and did all of my pre-college schooling there. After moving to the US in 2001, I took a couple of years off and then went to do my undergrad at UMass Amherst in 2003.
(Inset photo). Dr. Harkirat Kaur. Photo courtesy of Dr. Kaur.
What part of India are you from originally?
I'm from Punjab, which is in the northern part of India. That is where I received my early years of secondary and high school training.
What interests you the most about psychiatry?
I think psychiatry is a field in which you build a connection with your patients given that you are truly trying to understand the etiologies behind what affects their mind so much. It could be trauma, relationships, just overall day-to-day changes in life, jobs, etc. So, I think psychiatry, in that way, is a very underrated field to this day. If we don't have a healthy brain, we can't really have a healthy lifestyle. I think that really encourages me to learn more and gears me towards psychiatry. Given that brain health is just as important as our physical health, if our mental health gets improved, our brain will be healthy.
Absolutely. I think psychiatrists are more and more in demand and I think the great thing is that we're learning so much more about the importance of mental health. After the pandemic, I think there was a lot of people that needed help and for years psychiatrists were really underrated and now people are just now coming to value how great they are and necessary. I understand that you recently started as an attending physician at Amen Clinics and I didn't realize, I think there's a branch here in New York, so it's a large operation. Could you walk us through it very briefly what a typical day is like for you?
Yeah, so Amen Clinics is kind of all over the country. We have about 11 or 12 clinics across the nation. In terms of my day-to-day, I see patients both in-person and through Zoom, So, I do tele-psych and in-person appointments which consist of new patient evaluations, seeing return patients, and routine follow-ups as well. I also have designated therapy days where I see patients for therapy sessions.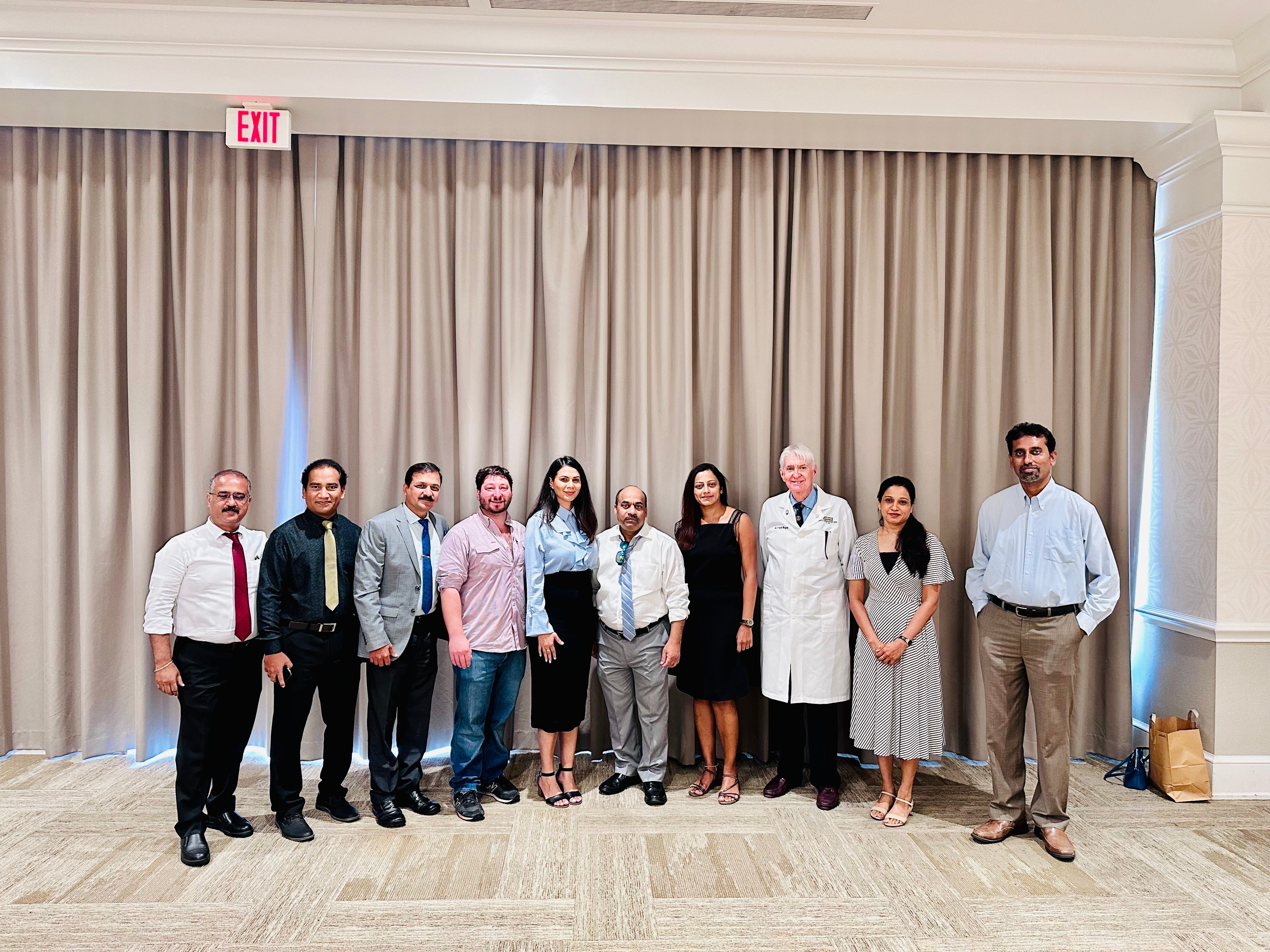 Dr. Kaur (center) with UMHS faculty & officials at the White Coat Ceremony in St. Kitts in September 2023. Photo courtesy of Dr. Kaur.
Challenges & new research in psychiatry
What are some of the biggest challenges of being a psychiatrist today?
A big challenge is the mental health stigma in society. For example, I come from the Asian community and there are a lot of stigmas related to mental health, which is why we must continuously raise awareness. Psychiatry remains very low key and people don't openly want to talk about their mental health as much as they talk about other health issues. I think that is a challenge because we as psychiatrists can be looked down upon at times. More education and awareness are still required to help with all of these issues.
And that segues into my next question. What are some of the ways that we can help patients and just the community in general overcome the stigma of mental health and psychiatry and therapy, in your opinion?
I think the main thing is education or getting the word out there because it is never too late to ask for help. We always try to undermine our mental health as we try not to think about it so much or not to share it with the families or friends. Sometimes people could be having suicidal thoughts, but they don't want to talk about it and will just suppress their thoughts and feelings because they don't know what will happen when they share our friends, families, or colleagues—will they be looked down upon? How will they react? This is one of the areas that I wish people can openly talk about and share. I think that is a way through which we can really spread awareness about how mental health conditions should not be looked upon as if you are stuck with them for the rest of your life. Sometimes you need a little bit of counseling and it should be as open as going to your general practitioner for blood pressure checks or even your quarterly blood works done. Psychiatry should be seen as open as any other field.
Absolutely, I totally agree. One of the things, I noticed that your clinic does, is it the SPECT scans, is that what you call them? Where they actually can show things like ADHD or bipolar disorder on a scan? I don't know if they can detect things like early-stage dementia but I think it's important that things like that exist because so many people don't realize that conditions like depression, ADHD, schizophrenia, that these are really brain issues and it isn't just something that's made up. It's like a lot of people think, "Oh, if you're depressed, just snap out of it." Or, if you're anxious, "Don't worry so much." They don't realize that it's really a medical condition. Can you talk a little bit about how these scans can detect and help psychiatrists diagnose mental health conditions?
SPECT scans—they are also called functional scans—meaning they're a little bit different from a CT scan or an MRI. When we do SPECT scans, we are examining how well our brain is functioning based on the blood flow activity, just like how SPECT scans are done for other organs as well. SPECT scans tell us a lot about the activity level of the brain. For example, if there's a part of the brain that is overactive or is functioning too much, it is going to show more blood flow activity in that area. And then, if a part of the brain is underactive or is struggling, it is going to show less or reduced blood flow in that area. Overall, these scans help determine both the quality of blood flow and brain health. That's the way we really look at one's health. Some of those conditions can be easily understood alongside the history and general information we receive from patients as well.
Functional & integrative medicine in psychiatry
Can you explain a little bit, to those who aren't aware, what functional and integrative medicine are in psychiatry?
Functional and integrative psychiatry, or medicine, are very hot topics these days because they focus on naturopathic ways through which a lot of people want to treat conditions like brief depression or anxiety. With integrative medicine in psychiatry, the focus isn't solely on the conventional medicines – you're also considering lifestyle components like exercise, nutrition, and sleep. Hormonal health is also emphasized. We evaluate all these things to make sure that you are actually taking care of everything under the umbrella. Even gut health plays a part in integrative medicine in that way. For example, leaky gut can really affect your mental health. Right now, I'm still learning but it is very fascinating. These days, more and more people are interested in natural ways to feel better and become healthier rather than by relying on medications. I think functional and integrative medicine are another form of medicine to learn and incorporate into daily practice.
And building upon that, are there any new treatments in psychiatry that you'd like to discuss? I know one of the things that's very hot right now is ketamine therapy that I think a lot of people don't know a lot about. Are any of these new treatments that you would like to talk about?
I am interested in pursuing a fellowship. I'm hopeful that in January 2024, I will be learning more about interventional psychiatry along with consultation, liaison psychiatry through fellowship. I am interested in these because they are procedural things. For example, ketamine may be good if you have treatment-resistant depression or PTSD. I remember during residency I was only exposed to just a couple of weeks of electives to learn about ketamine, ECT, and TMS. However, now a lot of interventional psychiatrists are working on adding on more modalities like deep cranial stimulations and vagal nerve stimulations, I am looking forward to learning more. I have an interview coming up in about two weeks. My goal is to start CL fellowship first and then transition into interventional psychiatry thereafter, hopefully, where I will be learning even more.
Is there anything else that you'd like to add that we haven't covered?
In the mental health field, you have to be very empathetic because empathy plays a big role in every field. As physicians, we take an oath to do no harm and to always there for our patients. That is what keeps me going and motivates me to go to work every day where I can see someone feeling better or hearing from them that they are getting the care they need and want. The other thing is that we're also humans. For some patients, when we don't see the right outcome right away despite doing our best and or if they're too advanced in the ideology of their disease, it is a very humbling experience. It's okay to experience the highs and the lows. It is important to staying humble and not take our work for granted. Our jobs are considered to be of service and it is great to be at service for other humans—that is one of the things we should never forget.
(Top photo): Dr. Harkirat Kaur. Photo courtesy of Dr. Kaur.
YouTube interview with Dr. Harkirat Kaur
Contact Dr. Kaur via email at kaur.harki@gmail.com

Posted by
Scott Harrah
Scott is Director of Digital Content & Alumni Communications Liaison at UMHS and editor of the UMHS Endeavour blog. When he's not writing about UMHS students, faculty, events, public health, alumni and UMHS research, he writes and edits Broadway theater reviews for a website he publishes in New York City, StageZine.com.