UMHS 2019 grad Dr. Grant Ralston was born and raised in Wichita, Kansas and like most guys from the Midwest, he's a huge sports fan—especially football. He said that while growing he "played about any sport possible, anything from hockey to football to basketball, to track to soccer," so he was thrilled to obtain a sports medicine fellowship at the UAMS (University of Arkansas) in Fayetteville, home of the famous Razorbacks football team.
Dr. Ralston is a Board-Certified physician with the American Board of Family Medicine and is currently finishing up his third year of a family medicine residency at CoxHealth in Springfield, Missouri. The UMHS Endeavour spoke to this friendly, ambitious young doctor about how he first became interested in medicine and attended Wichita State University, why he chose UMHS over other medical schools, his medical education and his positive experience bringing his wife, Kelsey Ralston, to St. Kitts to live while he studied, his current residency and why he is so enthusiastic about starting his sports medicine fellowship soon.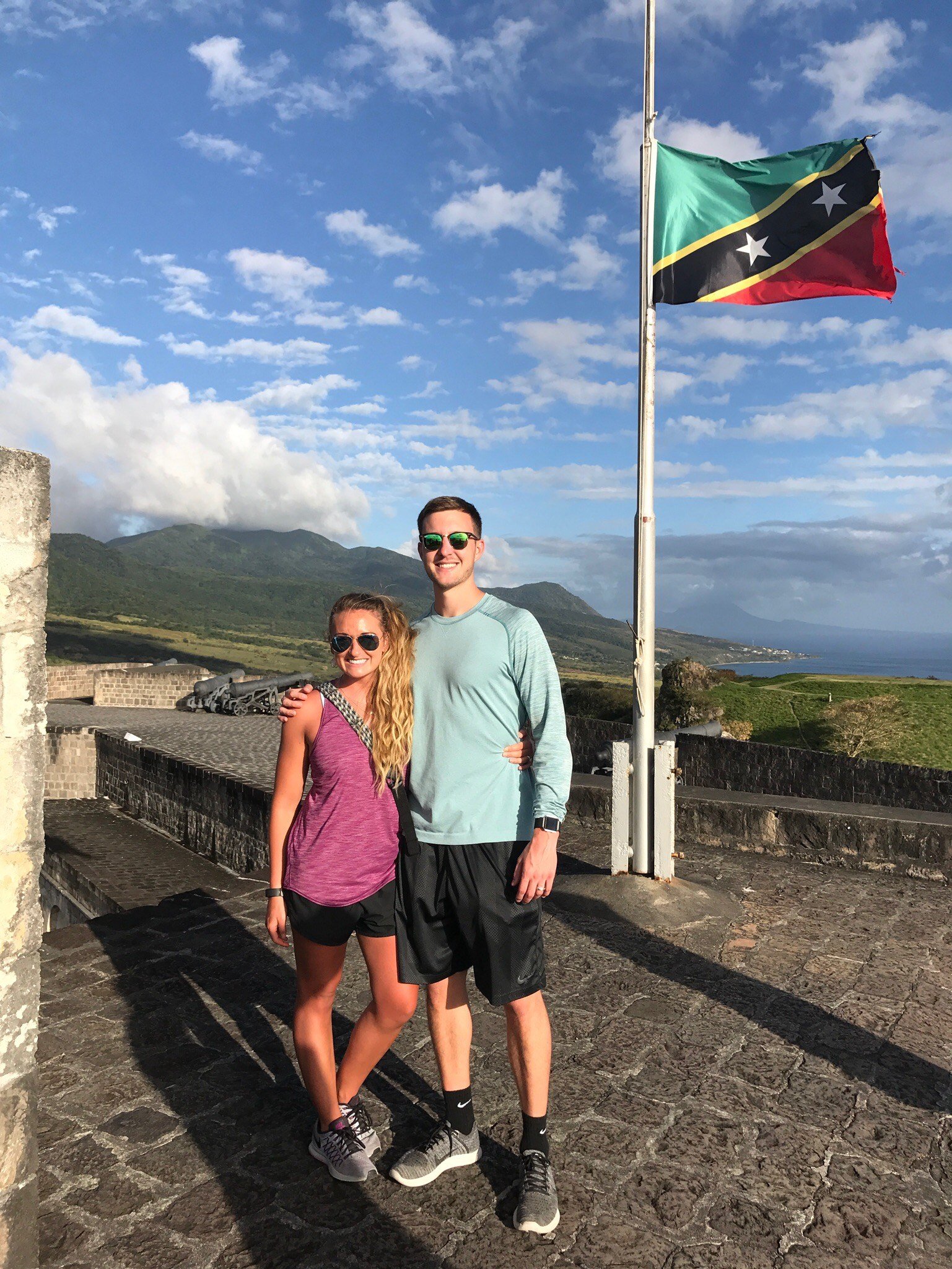 Dr. Grant Ralston with his wife Kelsey Ralston in St. Kitts when he was a student. Photo: Courtesy of Dr. Ralston.
Dr. Ralston's journey to med school
UMHS Endeavour: Dr. Ralston, when did you first know you wanted to become a doctor?
I didn't know for sure that I always wanted to be a doctor. I knew that I wanted to work in the medical field, whether that be an athletic trainer, physical therapist, dentist—I didn't really know where exactly I wanted to end up, but I knew I wanted to help people. So being able to do sports medicine where I combine both my loves was too good to be true.
You received your undergraduate degree in medicine at Wichita State University. You graduated Cum Laude and were a jumper and a sprinter while a student there, right?
Yes. I was an All-Conference Long Jumper and Sprinter and also Academic All-Conference.

Did that factor into wanting to pursue sports medicine?
Yeah, one hundred percent. Being able to be a Division One athlete exposed me to sports medicine physicians at the highest level. I had a great team doctor while I was at Wichita State, and he was one of my first role models in the field. I saw how much he loved what he did, and he was able to take care of athletes from the Division One athletes at our university to professional athletes in Wichita, to young kids and the older generation. I knew if I could have a job doing what he did that I would always go to work and be super excited to be there.
Family medicine residency in Missouri
UMHS Endeavour: Dr. Ralston, can just tell us a little bit about what you're doing right now in your family medicine residency and also your upcoming sports medicine fellowship?
I'm currently a third-year family medicine resident at CoxHealth in Springfield, Missouri. I am one of the two chief residents this year. I will be completing a sports medicine fellowship next year at University of Arkansas in Fayetteville. I've been lucky enough to have an amazing three years here in Springfield. It's an unopposed family medicine residency, meaning that we're the only residents in the entire town. It's been an amazing experience, being able to complete a full scope family medicine training prepared me not only for my sports medicine fellowship, but also if I wanted to go on and deliver babies, be a hospitalist, work in the ER or work in an outpatient setting.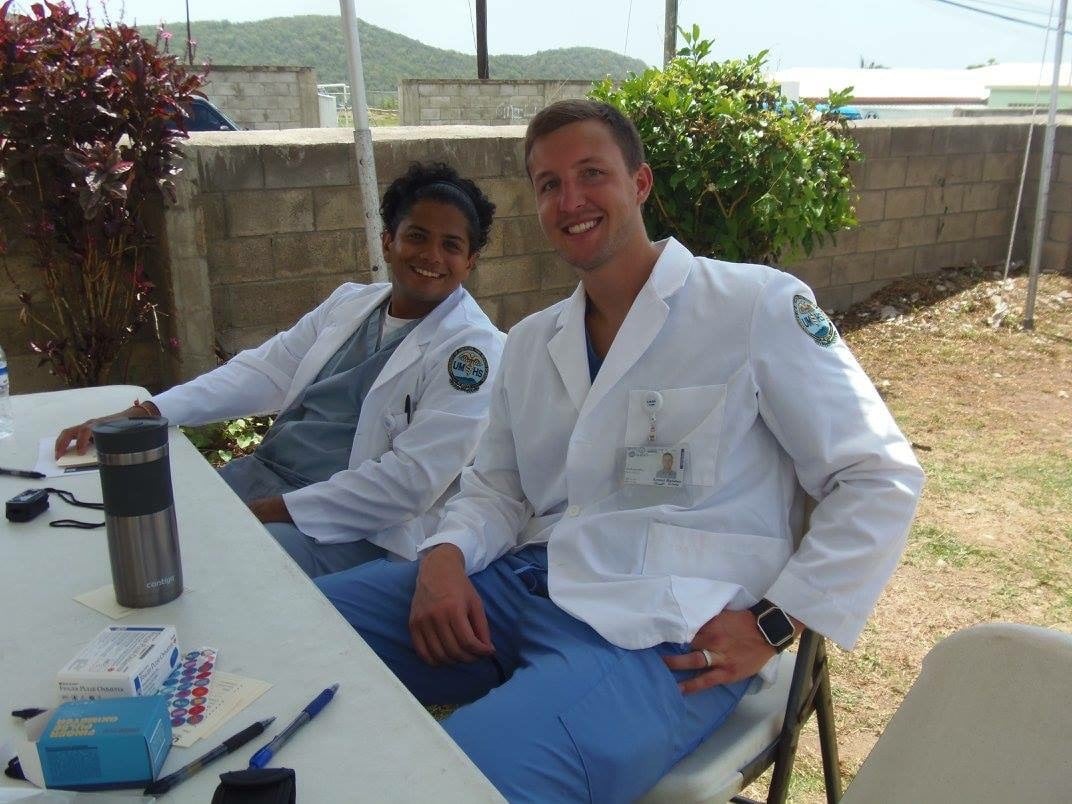 Anooj Bhatt & Dr. Grant Ralston at a medical clinic in St. Kitts when they were students. Photo: Courtesy of Dr. Grant Ralston.
Can you tell us a little bit about how you became interested in sports medicine and what some of your goals are? It's a fellowship, correct?
Yes, it is a one-year fellowship that'll be at the University of Arkansas. Growing up, I played about any sport possible. I mean, you name it, I played it. Even while on St. Kitts, I loved going and watching cricket matches with fellow classmates, and I still watch cricket whenever I have a weekend off. I knew I always wanted to do something with sports, and then once I realized that I wanted to work in the medical field, if I could combine the two, I'd work for free. Being able to work sporting events, work with athletes of all levels, was a dream come true.
What do you hope to accomplish with your sports medicine fellowship?
One of the main goals would be to equip me with all the abilities to be a division one team doctor or even a professional team doctor. I look forward to developing skills in order to be able to care for the athlete at the highest level, being able to care for the entire team and being able to have all those resources at my disposal.
Great. I know the University of Arkansas is a school with a big focus on athletics, with the famous Razorbacks football team.
Yeah, they are a very devoted fan base. Living in Springfield, Missouri, we're only about two hours away from University of Arkansas, so we have a lot of Razorback fans. When I found out that I matched at University of Arkansas, I was actually on nights, but when I got to the hospital, they had decorated the OB senior call room full of Razorback gear. They had Razorback logos everywhere and the fight song going on, it was just a truly unbelievable experience and made me feel loved.
That's awesome. Again, congratulations! Finally, could you just tell us about one or two things that you really liked most about studying at UMHS and how UMHS has helped you become the doctor that you are today?
I truly believe that I would not be the doctor I am today or have had the success I've had today without attending UMHS. My entire life, school and sports always came easy to me. Going to UMHS, it was the first time in my life that I felt like I was the underdog. It was an amazing feeling to have great professors on the island with awesome backgrounds from all over the world, small class sizes where I was truly able to connect with other classmates and with the professors. There is also great camaraderie among all the students. We really wanted to see each other succeed, and I still talk to other students all over the country right now that are in fellowships or residencies.
I had never lived anywhere outside of Kansas before going to St. Kitts, so I'll never forget when my wife and I landed, I was like, "Uh oh, I don't know what I did here." But we absolutely loved it. We did not want to leave the island when our two years were up down there, and it was just an unbelievable experience. But then even leaving the island, I was lucky enough to have great rotations set up by UMHS all across the country and it really, really exposed me to all different types of healthcare systems. I really do feel that I was lucky and it gave me an upper hand when it came to residency compared to some of my classmates who maybe just stayed in the same city they grew up in. To this day when I tell them stories about going to the beach after having block exams, they're like, "Man, I did it wrong. I should've gone to UMHS."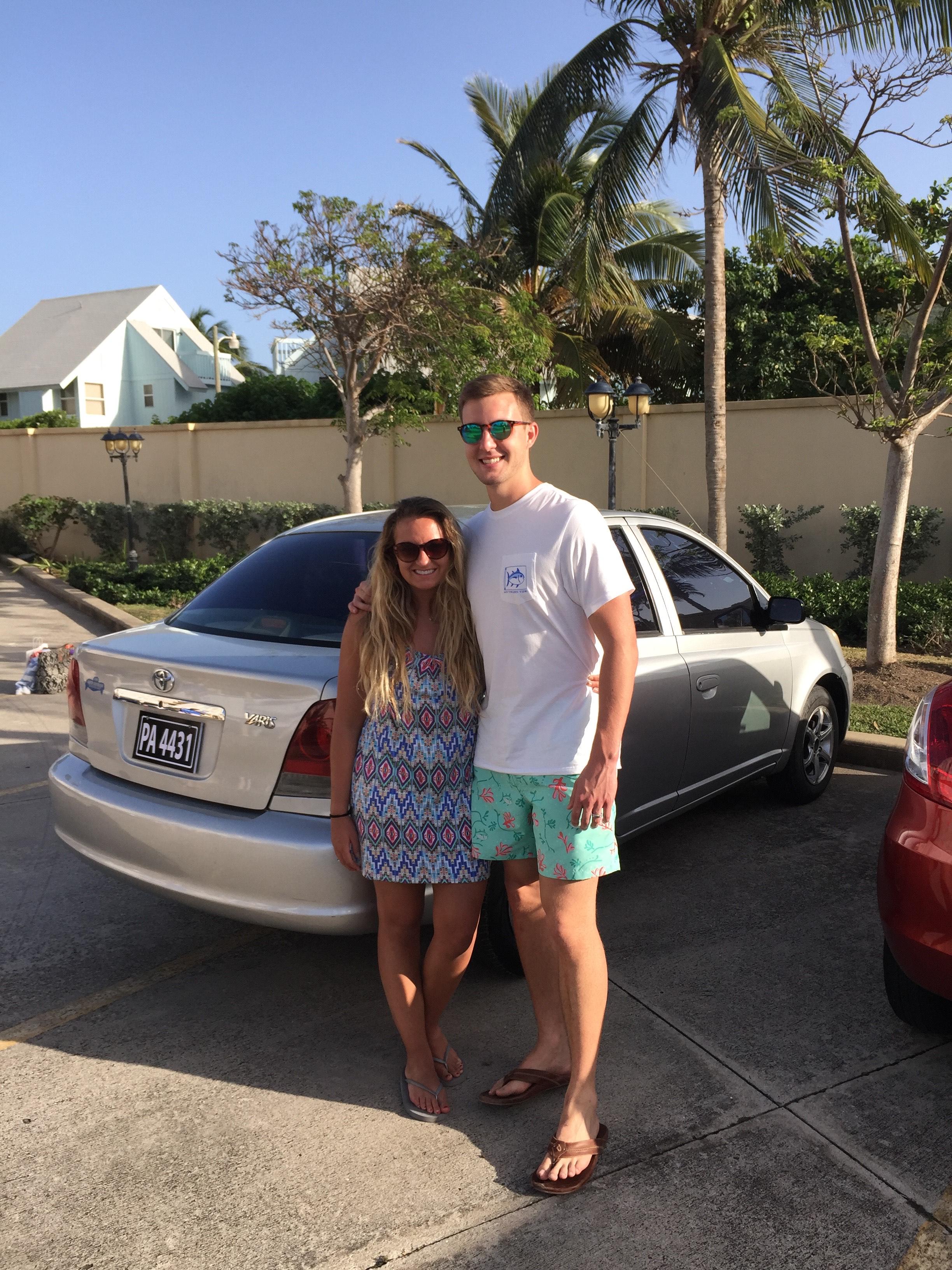 Dr. Grant Ralston & his wife Kelsey Ralston in St. Kitts. Photo: Courtesy of Dr. Ralston.
Advice for current & prospective students
Do you have any advice or anecdotes for current UMHS students or prospective students about why UMHS is such a great medical school?
I would say it's an opportunity and just take it and run with it. You never know where it may lead you. To this day I didn't know for sure what was going to happen. I remember talking to my parents and my wife before starting medical school about what the future would hold, and now talking to them how awesome it is that I'm going to be the fellow at University of Arkansas next year. UMHS has all the resources that you would need to be to become a successful resident, fellow and doctor. Take all those resources and run with it.
What made you choose UMHS over other med schools when you were looking to apply to med school?
When I was originally applying to Caribbean medical schools, I only applied to a handful, and out of all the ones that I got accepted into, UMHS, I loved the fact that it was a newer Caribbean school at the time because I knew that they were still in the process of sort of shaping it and I would be able to shape the future for the university. I loved the fact that it had smaller class sizes, so I'd get more one-on-one time with the professors. Then my wife and I also looked at which islands that we felt were the safest, where would we be able to have fun when I'm not studying. We knew studying would be important, but life outside of medicine would be important as well. St. Kitts provided that amazing atmosphere both for studying, but also for having fun when you're not studying.
We've had many students bring their families to St. Kitts because it's such a safe and beautiful island. Was your wife there with you for the whole St. Kitts portion of Basic Sciences?
Yes, she lived with me the entire time. We got married a couple months before going down to the island, and both of our families visited us multiple times throughout our time on St. Kitts and they loved it. We're currently in the talks about "when can we come back down" and I would love to come back down and talk to the students and faculty again. We just can't wait to come back down to St Kitts. That's how much we love it there.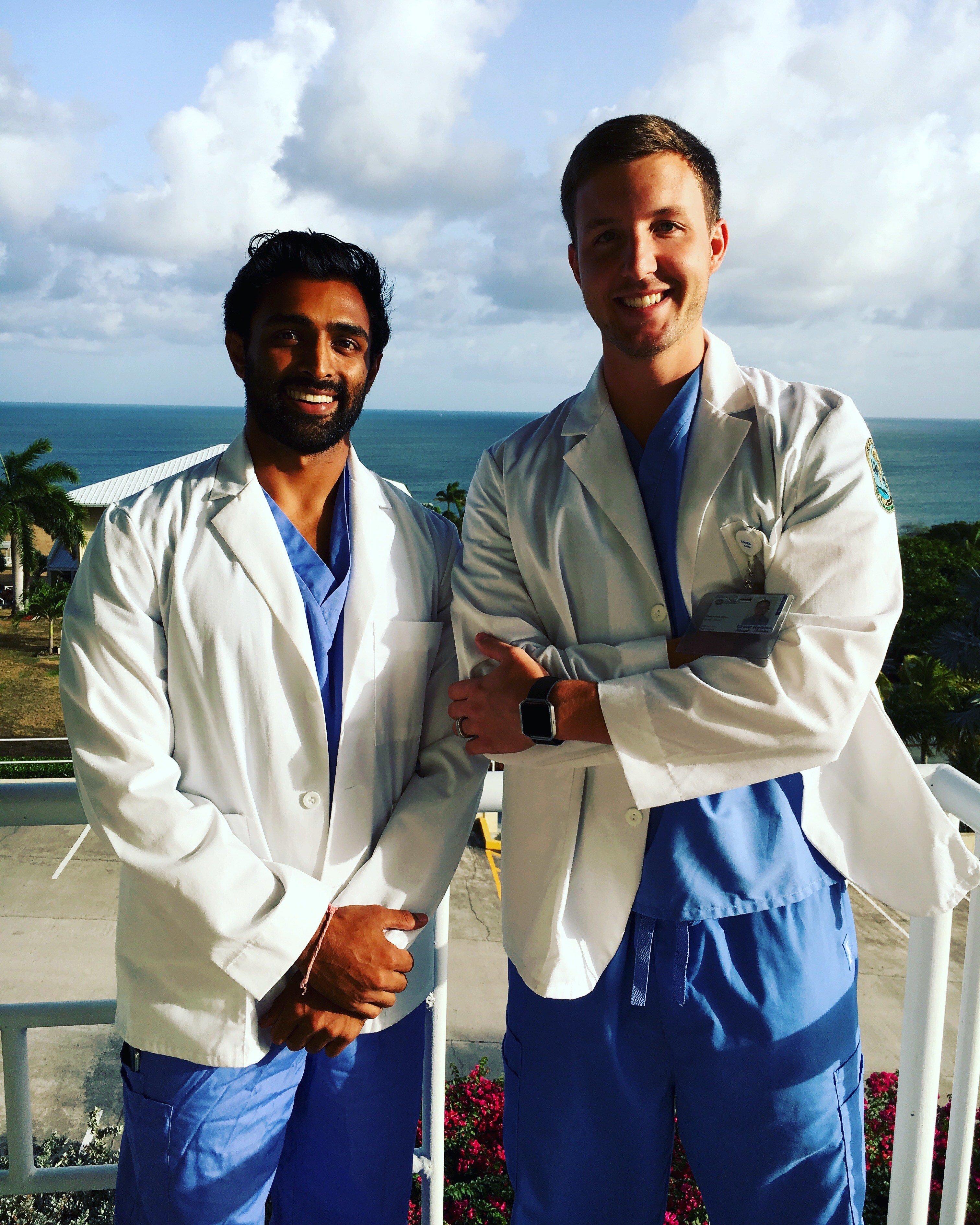 Tarak Patel with Dr. Grant Ralston in St. Kitts when they both were UMHS students. Photo: Courtesy of Dr. Ralston.
New breakthroughs in sports medicine
Getting back to sports medicine as a field, what are some of the new breakthroughs in this specialty, that you're aware of? Do you also know some of the biggest challenges?
Yes, with sports medicine, I feel like every single week I'm learning something new or learning some new technique that's coming out, either surgical or non-op. The point-of-care ultrasound has become extremely valuable for sports medicine physicians, so I think being able to be really good at the ultrasound, both for diagnostic purposes and also for therapeutic when you're doing different injections, that's continuing to be cutting-edge. I also think certain therapies are continuing to show more promise such as prolotherapy or PRP, different types of injection techniques, different ways to help each athlete get back onto the court or field as soon as possible, there's breakthroughs almost every couple of months.
So, it sounds like it runs the gamut in sports medicine, from people that have sprained something to, God forbid, somebody gets a concussion or something. I would imagine you're going to see all kinds of different injuries.
That's a good point. Another breakthrough, or not necessarily a breakthrough, but our concussion management and how we treat concussions continues to change and evolve. That's not how it used to be where you just sit in a dark room for an extended period of time until you get better. Now, studies have shown that it is better to be active earlier. When I was at the University of Arkansas doing an audition rotation for the fellowship, they even have apps now for all the athletes. They have an app on their phone that you're able to get a baseline neurocognitive function. Then that way throughout the season if you get a concussion, you can just, right off your phone, determine how far off are you from your baseline, and they can use that to track you as you're recovering.
That's incredible that there are apps tracking the athletes, even if they're not injured. It's like a chart tracking their neurological activity?
Yes.
Grateful for UMHS
Is there anything else you want to talk about that we haven't covered?
I'm extremely grateful for everything you guys are doing at UMHS. I feel like you're giving a lot of students more than enough opportunities and the ability to become great physicians in the future. I love what all everyone at UMHS is doing. For a large university, it still feels super small and that everyone cares about you. I do have a cool story, I guess I'll say. My wife's dad is a family medicine doctor as well, and he went to a medical school in the US. When he came down and visited the island. This was probably my last semester on the island. I was showing him around on the campus, and we went and saw some of the anatomy professors like Dr. Afolabi G. Abayomi [Course Director and Associate Professor of Anatomy]. Dr. Afolabi came out, and he remembered my name. He asked how my wife was doing and how everything was going. I remember my father-in-law was just blown away by that. He said, "Even at a US medical school, I never knew my professors that well. They probably couldn't tell you my wife's name."
My father-in-law was impressed by (a) how nice the facilities were, and then (b) just how much all the faculty and professors really seem to care that the students had success. I loved working with Dr. Afolabi. He was an amazing anatomy professor. You spend a lot of time in anatomy and physiology during your first semester and second semester on the island. So, being exposed to him was amazing; he was one of my role models throughout my time on the island. It was great being able to pick apart his brain. Especially for someone who's wanting to go into sports medicine,
UMHS is truly a unique medical school. You get more personalized, one-on-one attention. Because we are a smaller school and it's a small island and everybody knows everyone. Did you ever have any interactions with any members of the Ross family?
Yes, I met President Warren Ross a few times, either during orientation or when he would come back to visit on the island. I still remember one of the first times I met him, he said a joke to our class during our initial campus tour, "You're not in Kansas anymore."
UMHS YouTube interview with Dr. Grant Ralston



Contact Dr. Grant Ralston via email at grantralston92@gmail.com
(Top photo) Dr. Grant Ralston. Photo: Courtesy of Dr. Ralston.

Posted by
Scott Harrah
Scott is Director of Digital Content & Alumni Communications Liaison at UMHS and editor of the UMHS Endeavour blog. When he's not writing about UMHS students, faculty, events, public health, alumni and UMHS research, he writes and edits Broadway theater reviews for a website he publishes in New York City, StageZine.com.