Tourists on vacation, cruise-ship passengers in Basseterre for the day and students at Caribbean medical schools have a cornucopia of shopping options in sunny St. Kitts, from supermarkets to duty-free shops to high-end malls selling a little bit of everything.
With the summer tourist season and May semester for students approaching, the UMHS Pulse's first Destination St. Kitts installment for 2014 takes a quick look at what the island paradise, a top port of call for cruise ships and home to such international medical schools as UMHS, has to offer for Americans, Canadians and everyone visiting or studying in the Caribbean nation.
Grocery Shopping Options for Students
For students at one of the foreign medical schools in St. Kitts looking for groceries, personal items or just a snack, there is a lot available.
We asked UMHS medical student Jasmine Rivas for suggestions. "If you live in Frigate Bay, the little Rams store is great for most items like milk, bread, eggs, cheese, yogurt, snacks, soft drinks, Red Bull, etc.," she says. "I like the produce at Best Buy Supermarket most, overall."
Ms. Rivas suggests shipping a barrel of toiletries and your favorite snacks from home to save money, using such companies as Tropical Shipping because some American and Canadian products are either unavailable in St. Kitts or can be expensive.
Another supermarket is Horsford's Valu Mart IGA on Wellington Road. Weekly specials are available online, a
Port Zante
One of the most popular shopping areas is Port Zante, the cruise-ship pier with a shopping and dining complex. Large jewelry stores are here, and inexpensive local crafts can be found at the Amina Market. Inexpensive T-shirts and souvenirs are available in vendors' huts behind the Pelican Mall.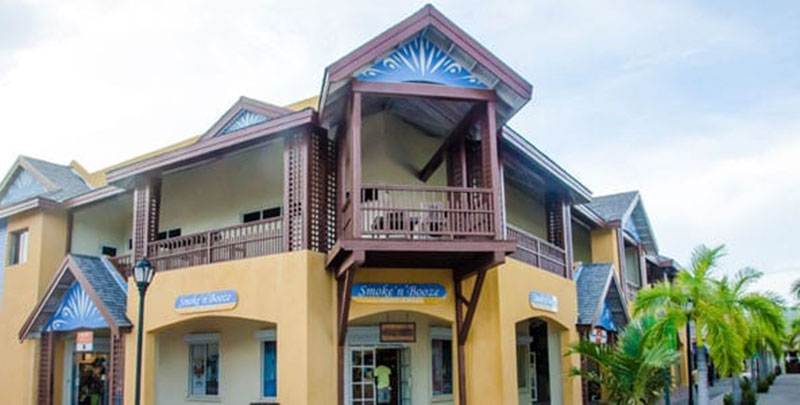 Malls & Duty-Free Shopping
Whether it's fine wine or jewelry or designer fragrances, duty-free luxury products are available at a fraction of what they cost in the USA and Canada. You will find lots of duty-free shops at Port Zante, one at Frigate Bay and one at Robert Llewellyn Bradshaw International Airport. For duty-free shopping, visit http://www.ramstrading.com/duty-free).
"The port has more than enough options for duty free/touristy stuff," Ms. Rivas says. "I have also been to TDC; they have many household items."
TDC Mall
Located just off the Circus in downtown Basseterre, TDC Mall has shops and the Chef's Garden restaurant. Some of the shops popular with tourists include Harley Davidson Shop, Shells Souvenirs, Smoke N Booze, and more.
Pelican Mall
This is a shopping area, made to resemble a Caribbean street, with 26 shops for resort wear, souvenirs, and liquor. Also available is a restaurant, tourism offices, plus a bandstand (near the cruise-ship pier).
St. Kitts Travel & Shopping Resources
Visit the following websites for detailed store listings and more information.

St. Kitts Tourism Authority Official Website
St. Kitts & Nevis Hotel and Tourism Association
(Top photo) A SHOPPER'S PARADISE: St. Kitts has some of the Caribbean's best duty-free shopping & crafts available. Photo: St. Kitts Tourism
---
About UMHS:
Built in the tradition of the best US universities, the University of Medicine and Health Sciencesfocuses on individual student attention, maintaining small class sizes and recruiting high-quality faculty. We call this unique approach, "personalized medical education," and it's what has led to our unprecedented 96% student retention rate, and outstanding residency placements across the US and Canada.

Posted by
Scott Harrah
Scott is Director of Digital Content & Alumni Communications Liaison at UMHS and editor of the UMHS Endeavour blog. When he's not writing about UMHS students, faculty, events, public health, alumni and UMHS research, he writes and edits Broadway theater reviews for a website he publishes in New York City, StageZine.com.