With a mission for personal discovery of the research world, both in medical science and in educational strategies, Christa Lillig, now a 4th semester UMHS medical school student and student representative on the UMHS Research Committee , attended and participated in two national scientific conferences held in the United States during the April - May 2012 semester break.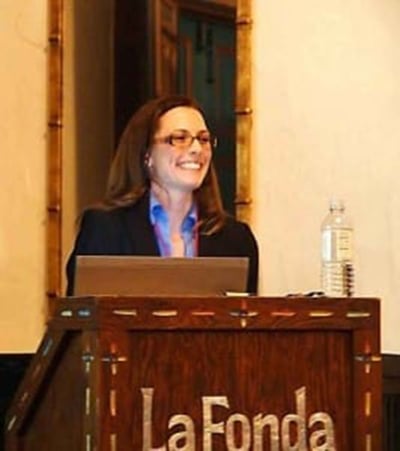 The first national conference Christa attended was Experimental Biology 2012 held in sunny San Diego, California on April 21st -25th. There, she discovered the many genres of scientific interest groups, from Physiology, Nutrition, and Pharmacology, to Anatomy, Pathology, and Biochemistry. There was an abundance of opportunities for interested students and research faculty alike, to grow their knowledge base and indulge their passion for cutting-edge research from the United States and around the world.
(Photo, inset right) Christa Lillig presents at the 14th Educational Strategies Workshop: Microbiolgy and Immunology. Photo: UMHS
For example, one prominent woman researcher, Dr. Rhian M. Touyz, M.D. Ph.D., from the University of Glasgow Cardiovascular Research Centre, gave a fascinating presentation on "Molecular Mechanisms of Hypertension: ROS, Lipid Rafts, and TRPMs." Her research revealed how Nox5, a version of NADPH oxidase, is the link between Calcium-signaling and the creation of Reactive Oxygen Species (ROS) related to hypertensive mechanisms in vascular endothelium
The second leg of Christa's journey took her to Santa Fe, New Mexico, were she discovered a great curiosity for educational research. The 14th Educational Strategies Workshop: Microbiology and Immunology, held on April 28th – May 2nd, is an annual meeting for microbiology and immunology medical school department chairs. The director of the organization, Dr. Floyd C. Knoop, invited Christa to give a presentation in which she highlighted three key skills that medical students must grow and develop to further their success in medical school.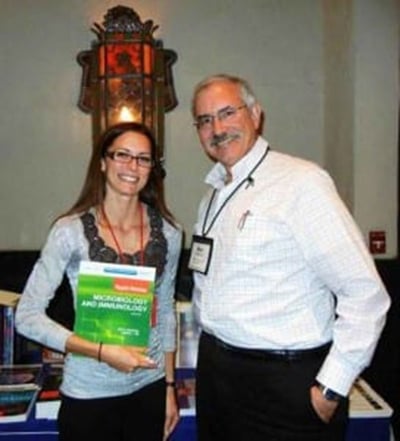 First, to develop effective daily time management; second, to identify and learn to use the most appropriate resources and tools crucial to the Basic Sciences; and third, to understand how and when to use practice assessments and questions to identify your competency level before an examination.
(Photo, inset right) Christa converses with Dr. Rosenthal. Photo: UMHS
With every medical school student's ultimate "student goal" being to obtain his or her medical degree, it is essential that every medical school professor exemplify passion in assisting students to obtain this goal. One of the several passionate professors attending the workshop and who Christa was privileged to meet ,was the distinguished Dr. Ken S. Rosenthal, author of numerous medical microbiology textbooks.
In addition to her active participation, Christa also attended several other thought-provoking presentations at the workshop, as well as demonstrations of emerging educational technologies. She invites anyone interested to visit the 14th Educational Strategies Workshop Proceedings webpage to learn of the key "Knowledge Objectives" that emerged from the three day workshop.
(Top photo) Christa Lillig, 4th semester UMHS St.Kitts medical student, at EB 2012 conference in San Diego, California. Photo: UMHS
---
About UMHS:
Built in the tradition of the best US universities, the University of Medicine and Health Sciences focuses on individual student attention, maintaining small class sizes and recruiting high-quality faculty. We call this unique approach, "personalized medical education," and it's what has led to our unprecedented 96% student retention rate, and outstanding residency placements across the US and Canada.
Posted by Christa Lillig