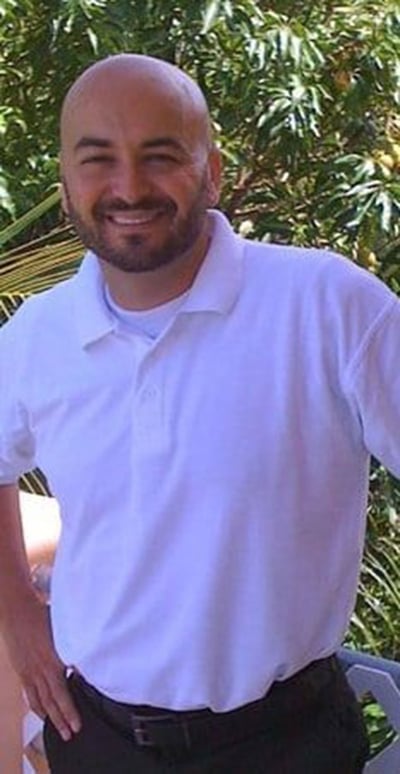 This is the first installment of a UMHS Endeavour series of interviews with Class of 2015 graduates about how they landed residencies, and challenges facing students and graduates of Caribbean medical schools. Dr. Vazquez is a longtime contributor to the UMHS Endeavour.
(Photo, inset right) PUBLISHED RESEARCH: Dr. Aaron Vazquez was a co-author of an eating disorders study published in Psychotherapy Research in 2013, when he was still a med student at UMHS. Photo: Courtesy of Dr.Vazquez
Dr. Vazquez is a strong advocate of getting published while still in medical school. Dr. Vazquez was one of the co-authors of an eating disorders study published in Psychotherapy Research in 2013, "Effects Of Providing Patient Progress Feedback And Clinical Support Tools To Psychotherapists In An Inpatient Eating Disorders Treatment Program: A Randomized Controlled Study."
Dr. Vazquez admits he prefers "listening over speaking." He told the UMHS Endeavour two years ago that he became interested in psychology and psychiatry because he has always been fascinated by human behavior. We caught up with Dr. Vazquez to talk about his upcoming residency. He discusses everything from being prepared for the match process to how one UMHS staff member was of particular help on the road to residency.
UMHS ENDEAVOUR: What was the greatest thing about learning you matched at University Hospitals / Case Western University in Psychiatry?
DR. AARON VAZQUEZ: I was thrilled when the news came. The program is a great fit for me. When I ordered my rank list, I prioritized it based on the strength of the academics, reputation of the hospitals, and common interests I shared with the residents. In each of these categories, Case ranked the highest. I am still deciding whether or not to sub-specialize and I did not want to limit myself to a program that did not have the key fellowships. Case has every accredited psychiatry fellowship. I felt relief knowing that my hands would not be tied if I sought out additional training in the future. I will have access to a wide array of mentors, without needing to relocate my family.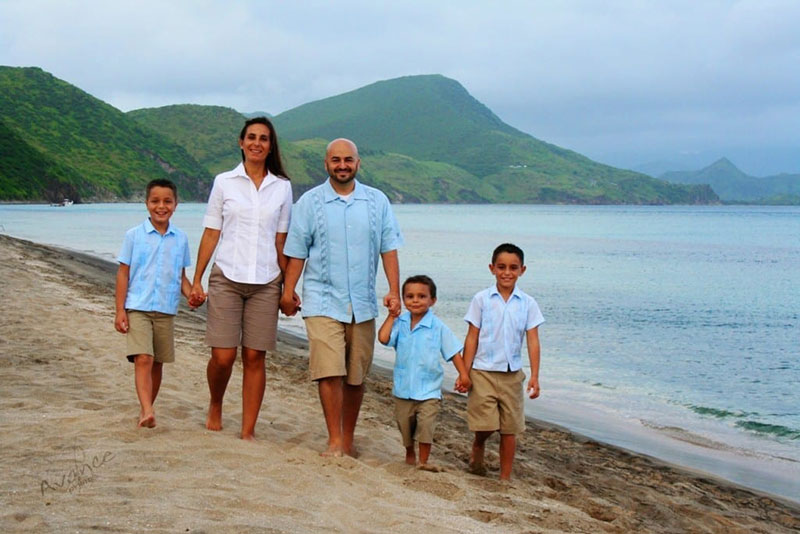 THE VAZQUEZ FAMILY: Wife Esther (center, left) & Dr. Aaron Vazquez with their kids in St. Kitts Photo: Courtesy of Dr. Vazquez
What in particular interests you about Psychiatry?
I am a psychology-minded person. I prefer listening over speaking. I understand people and I get relationship dynamics. I sought out a specialty where I could improve others' lives while bringing a sense of fullness into my own. The practice of psychiatry will allow me to care for patients who will disclose the raw and unfiltered circumstances of their lives. The authentic nature of this type of clinical encounter is very rewarding to me. Psychiatry also interests me because I can harness my previous experiences in technology, clinical trials, and behavioral health research to make a difference. I like the challenge that psychiatry residency poses, the opportunity to learn, to grow, and to contribute. Improving our nation's mental health has taken center stage and I am excited to play a role in that.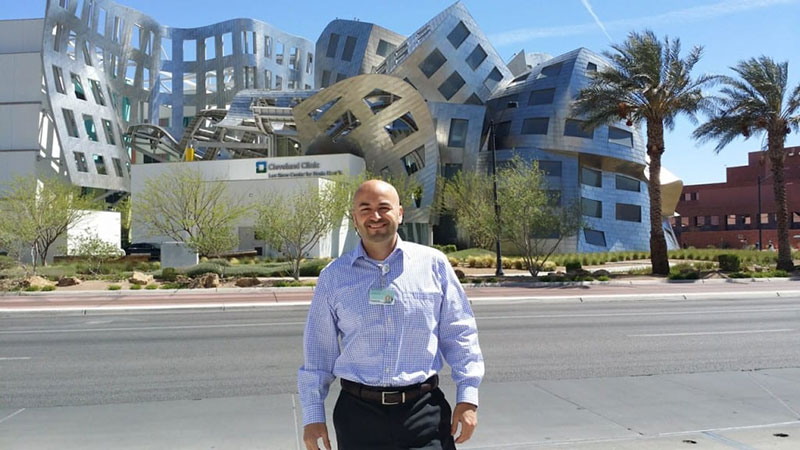 MED STUDENT DOING RESEARCH: Aaron Vazquez in front of the Lou Ruvo Center for Brain Health at the Cleveland Clinic in Las Vegas, Nevada when he was a UMHS student. Photo: Courtesy of Dr. Vazquez
What advice do you have for current UMHS students, and medical students in general, about the match process?
Everyone's journey to secure a residency is unique. Do your research. What you don't know about the process will hurt you. Until you fully understand the entire process, continue to study the primary sources of information about the match such as: NRMP data, ERAS FAQs, and medical school guides to the match. Do not underestimate the time that will be required to produce a professional-grade application that you can submit with confidence. Consider hiring professional editorial services to proofread all of your written materials. No matter how well you think you can write, a professional medical writer can improve your syntax and grammar. Attend annual conferences for your specialty to learn about the different programs you might want to apply to, and to also meet the current residents and program directors. Reach out to others who have successfully been through the match already. A fellow UMHS colleague was instrumental in getting me my first interview scheduled for the season because of his relationships in his hometown. Give less credence to advice from anyone who has not suffered through the process yet. If you are not detail-oriented currently, become so. Many simple mistakes can lead to devastating results (submitting a wrong LOR to a program, missing a deadline, applying late, having an incomplete application, etc.). There is an exquisitely high volume of applications submitted to every program. To become a competitive applicant and garner the positive attention you hope for, consider doing unprescribed activities during medical school. If you want to be noticed, do something noticeable that will separate you from the pack. My last piece of advice is, "Don't get spooked"! It's doable. You got this.
Was there anything specific about your medical education at UMHS and clinical rotations that prepared you well for matching?
Patrick McCormick, the Associate Dean of Academic & Student Affairs at UMHS, sent a series of well-timed, insightful e-mails that helped me to make sense out of everything. There are a lot of moving parts and his instructions helped me to prepare for the match in a step-by-step fashion. He was also very helpful in helping me to analyze my standing during different phases of the interview season. Thank you, Patrick!
Are there any advantages or disadvantages for students at Caribbean medical schools regarding the match process?
The preferential selection that residency programs have for AMGs over IMGs is well-known. I never dwelt on this or any other disadvantages that were outside of my control. I assumed that if any program had such a heavy bias against me for being an IMG despite my accomplishments, I would not be happy matching there anyway. The bottom line is this: The advantages that come to a Caribbean medical student are ones that he or she creates for himself/herself along his/her journey. If you have lived on a small island for years, you have likely learned how to be resourceful. Put that resourcefulness to good use during the match.
Do you have any specific goals for your residency?
I want to have fun while training to become an expert psychiatrist. My goal is to support my colleagues the best that I am able. I want to continue researching, publishing and presenting my findings during residency. My ultimate goal is to emerge from residency well equipped to treat any psychiatric patient confidently.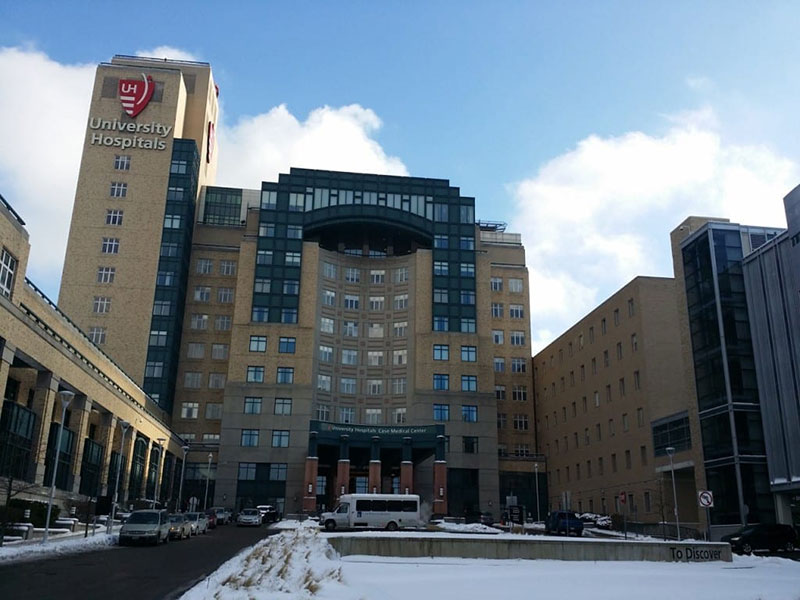 UNIVERSITY HOSPITALS/ CASE WESTERN: UMHS graduate Dr. Aaron Vazquez starts his Psychiatry residency here this summer. Photo: Courtesy o Dr. Vazquez
(Top photo) DR. AARON VAZQUEZ: The UMHS graduate starts his Psychiatry residency at University Hospitals/Case Western in Cleveland, Ohio this summer. Photo: Courtesy of Dr. Vazquez
---

About UMHS:
Built in the tradition of the best US universities, the University of Medicine and Health Sciencesfocuses on individual student attention, maintaining small class sizes and recruiting high-quality faculty. We call this unique approach, "personalized medical education," and it's what has led to our unprecedented 96% student retention rate, and outstanding residency placements across the US and Canada. UMHS is challenging everything you thought you knew about Caribbean medical schools.
Posted by
Scott Harrah
Scott is Director of Digital Content at UMHS and editor of the UMHS Endeavour blog. When he's not writing about UMHS students, faculty, events, public health, alumni and UMHS research, he writes and edits Broadway theater reviews for a website he publishes in New York City, StageZine.com.