September was Ovarian Cancer Awareness Month. As we move into October and Breast Cancer Awareness Month, it is important to also talk about ovarian cancer, a disease that kills far too many women each year and does not get the attention other female cancers do. The CDC notes that ovarian cancer is "the second most common gynecologic cancer in the United States." In addition, the CDC claims ovarian cancer "causes more deaths than any other cancer of the female reproductive system." The American Cancer Society estimates in 2021, approximately 21,410 women will receive a new diagnosis of ovarian cancer and roughly 13, 770 women will die from ovarian cancer.
Ovarian cancer rates are far too high. The CDC website notes "in 2018, the latest year for which incidence data are available, in the United States, 19,679 new cases of ovarian cancer were reported among women, and 13,748 women died of this cancer. For every 100,000 women, 10 new ovarian cancer cases were reported and six women died of this cancer."
The National Ovarian Cancer Coalition estimates that more than 21,000 American women will be diagnosed with ovarian cancer in 2021, but there are currently no tests to screen for ovarian cancer. If caught in the early stages, there is a 93% chance of survival five years after diagnosis but the problem is most women do not learn they have ovarian cancer until it is in an advanced stage.
The UMHS Endeavour spoke to Dr. Brian Hernández-Colón, a UMHS 2020 grad who is now in his second year of an OB-GYN residency St. Luke Episcopal Medical Center in Ponce, Puerto Rico. Dr. Hernández-Colón discussed his OB-GYN residency and what he has learned about ovarian cancer, from why it's hard to screen for ovarian cancer than other women's cancers to risk factors, symptoms to look for, and more.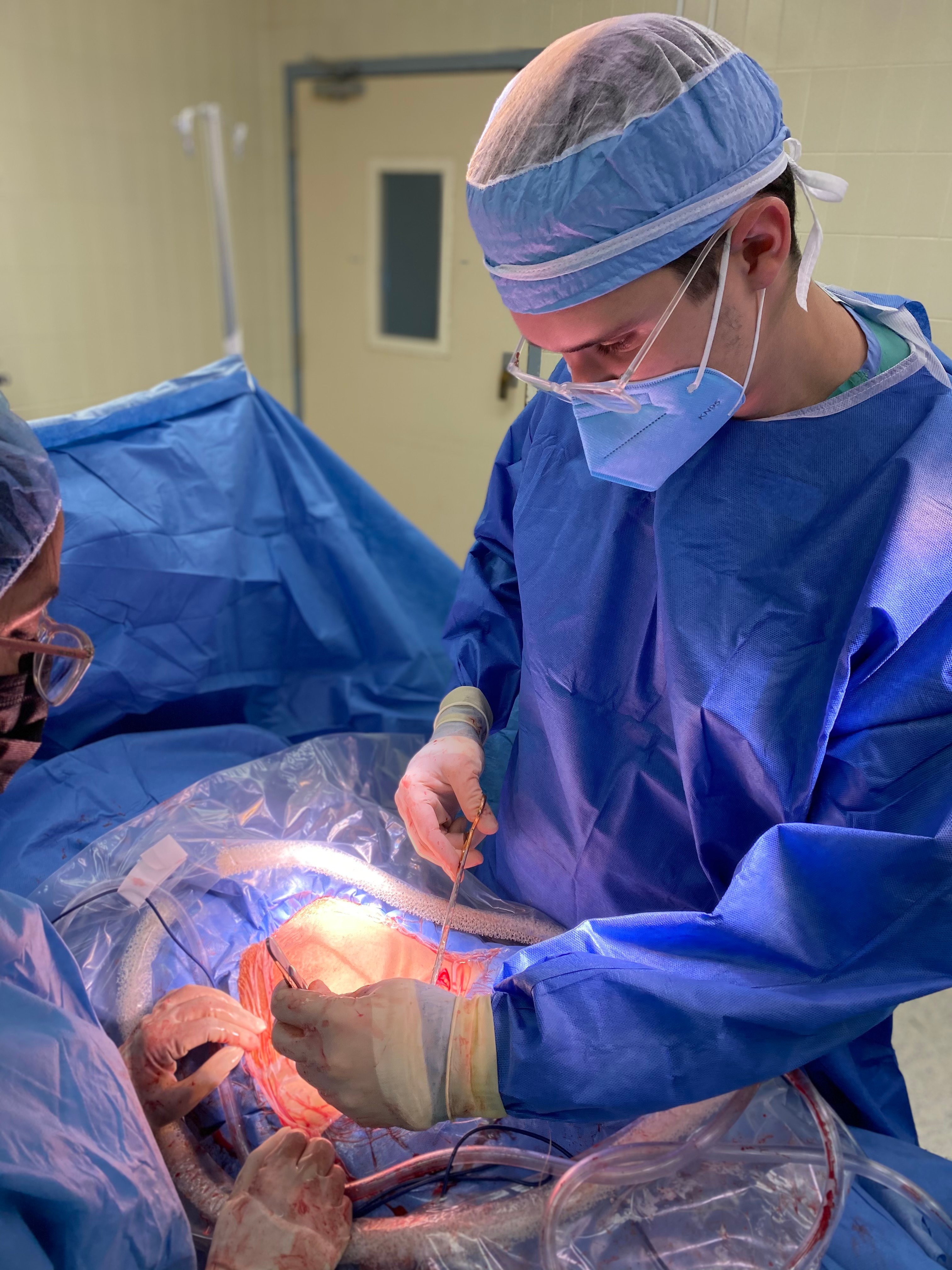 Dr. Hernández-Colón in surgery. Photo courtesy of Dr. Hernández-Colón.
Learning about Ovarian Cancer Awareness during residency
Dr. Hernández-Colón was born in San Juan and lived in Carolina, PR most of his life. After graduating from UMHS in 2020, he started his residency in Ponce, on the southern coast of the island. He said his OB-GYN residency has been great so far.
"I have learned so much in less than a year and a half," he said. "The first year was very intense and concentrated on obstetrics, which I loved. Now that I am a second-year resident, I get to learn and see more about gynecology."
He offers insights from what he is learning about gynecology at St. Luke Episcopal Medical Center. While there are many ways to screen for other women's cancers, ovarian cancer is problematic.
"Unfortunately, screening for and diagnosing ovarian cancer is more complicated than other types of cancer like cervical cancer. For cervical cancer, we can screen performing Pap smears starting at a young age to prevent it. For ovarian cancer, however, there is no screening test approved for early detection of ovarian cancer that reduces ovarian cancer mortality. Due to its low incidence, asymptomatic women should not be screened. It has been proven to cause more harm from invasive diagnostic interventions in the context of a false positive diagnosis. Invasive diagnostic procedures like surgical removal of the ovary should only be performed in high-risk cases. Most ovarian cancers develop after menopause and median age of diagnosis is 63, although it can sometimes affect young women and even rarely can be seen during childhood."
There is a reason why ovarian cancer does not get the media coverage or the level of donations to research compared to breast cancer
"In the US, breast cancer is much more common than ovarian cancer and ovarian cancer is harder to detect, so I think it is technically easier to motivate people to get screened for breast cancer than for ovarian malignancies," he said. "Although ovarian cancer occurs considerably less often than breast cancer does, it is more deadly so I think we should also be educating the community on possible risk factors and signs and symptoms to look out for when it comes to ovarian cancer."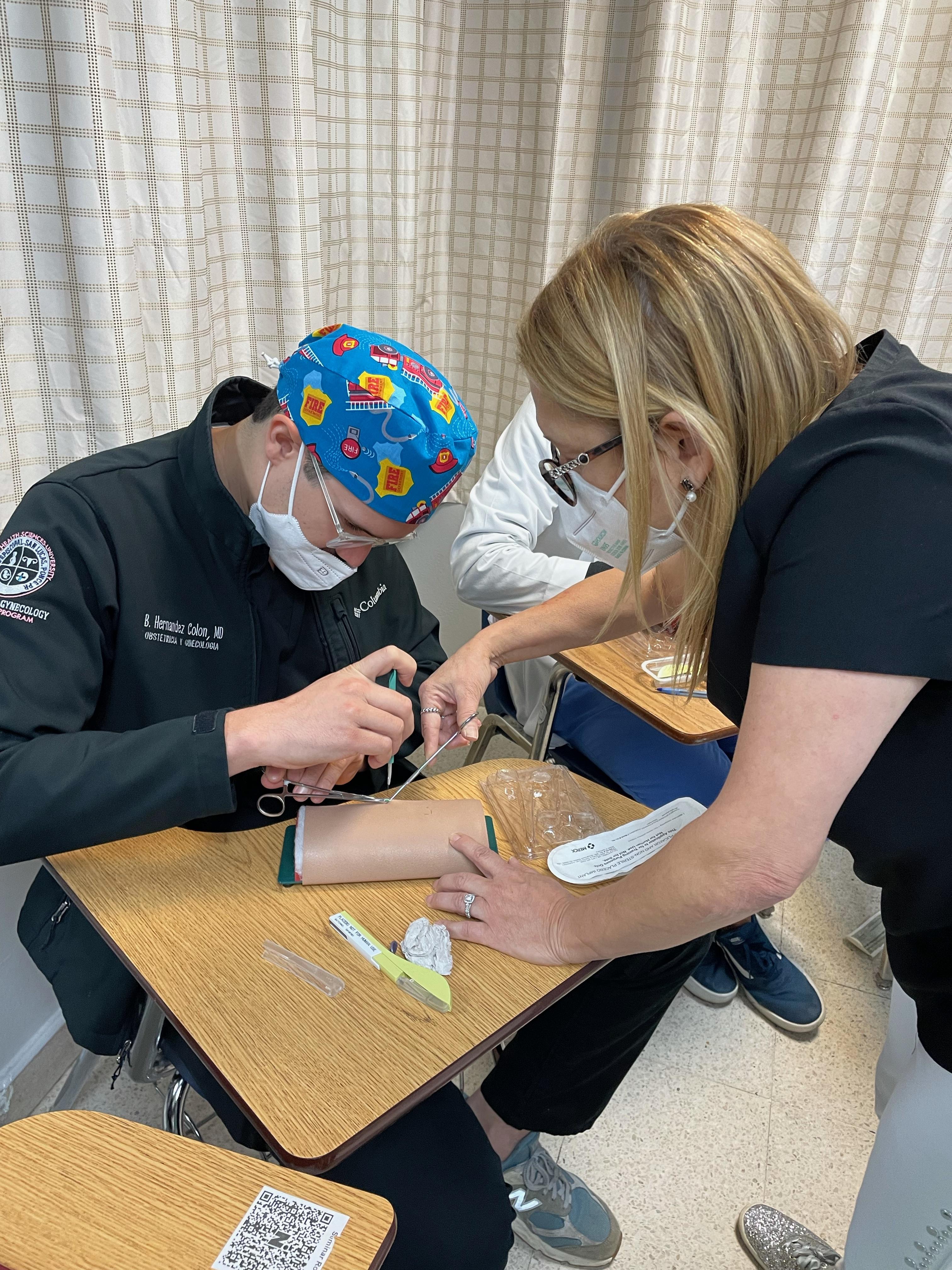 Simulation day: Attending physician Dr. Yolanda González teaching Dr. Hernández-Colón how to insert a contraceptive implant at St. Luke Episcopal Medical Center in Ponce, PR. Photo courtesy of Dr. Hernández-Colón.
Signs & symptoms of ovarian cancer
Breast cancers can be detected by doing self-breast exams to find lumps or other abnormalities. Cervical cancer is easily found on a Pap smear. What should young doctors and women look for regarding ovarian cancer?
Dr. Hernández-Colón outlined symptoms of ovarian cancer, including the following:
Unexplained weight loss or weight gain.
Persistent abdominal pain, increased abdominal size or bloating.
Loss of appetite, difficulty eating and feeling full more quickly than before.
Changes in bowel habits, such as constipation.
A change in the bladder, such as needing to urinate more often or more urgently. Anything that is not explained by dietary or lifestyle changes should raise a red flag.
"Women and obstetrician–gynecologists should be aware that, although these vague symptoms are more common in women with ovarian cancer, the vast majority of women with these symptoms will not have ovarian cancer because these symptoms can be caused by other more common conditions."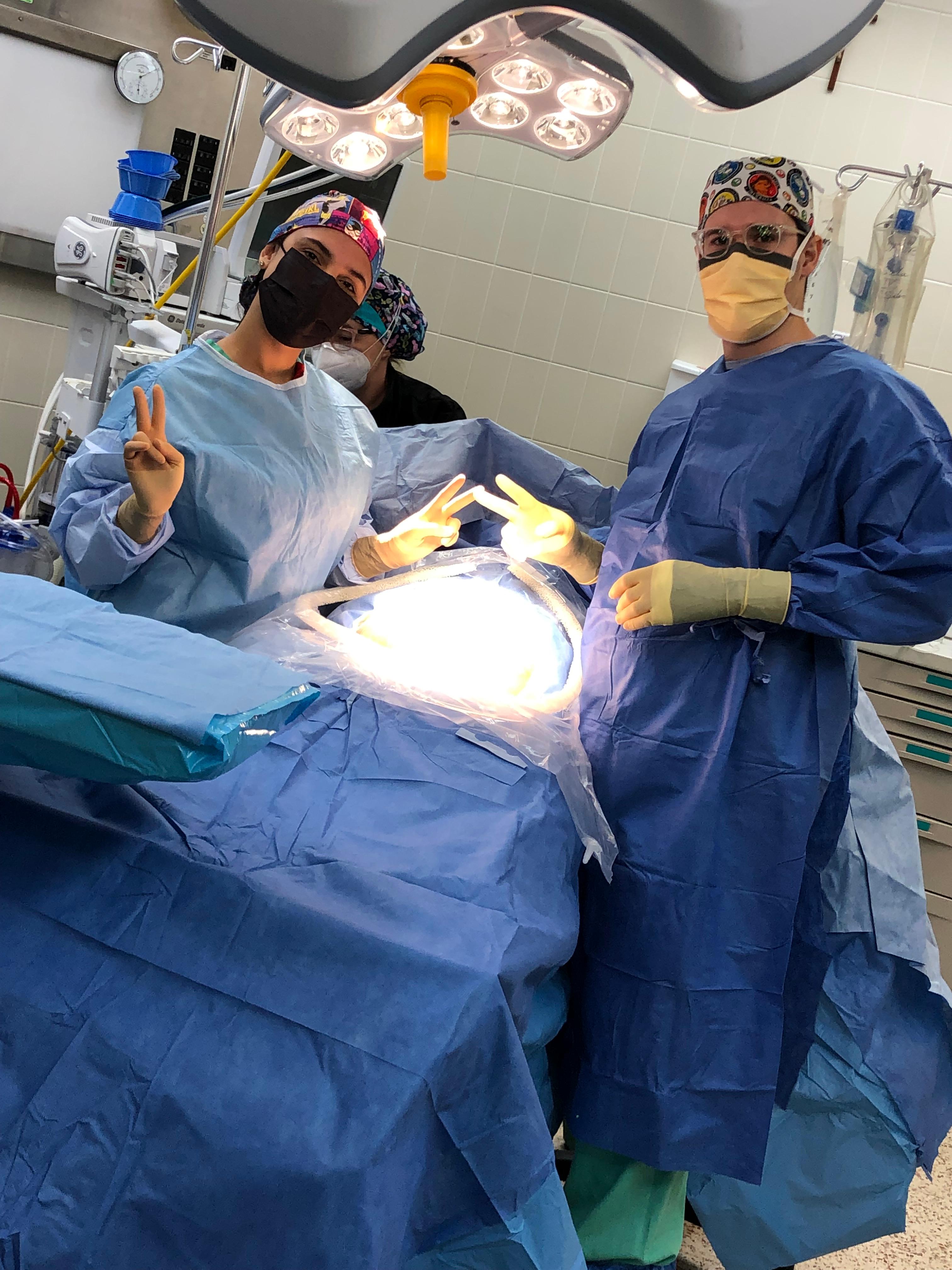 Dr. Paola Mojica (Chief Resident) with Dr. Hernández-Colón in surgery. Photo courtesy of Dr. Hernández-Colón.
Risk factors for ovarian cancer
Dr. Hernández-Colón notes that the most significant risk factor is family history of ovarian cancer and/or breast, other gynecologic, and colon cancers.
What else?
"Others include obesity, age, never been pregnant or late-age pregnancies (which is becoming more common in women who desire to build a career), smoking, personal history of breast cancer, hormonal replacement therapy and any inherited disease associated to ovarian malignancies."
Although 63 is the average age of a woman diagnosed with ovarian cancer, the disease strikes younger women, too. We told Dr. Hernández-Colón about a UMHS consultant who lost his wife to ovarian cancer in her early 50s. It was not discovered until her cancer was at stage 4 and very little could be done.
"Unfortunately, that is often the case in ovarian cancer," he said. "This is mostly due to the challenges we have to screen for it and the vague symptoms it presents with. Many times, when the symptoms are severe enough that we suspect ovarian cancer, the disease has already progressed to a later stage."
Clinical studies show women who have never had kids are at higher risk for ovarian cancer.
"Women who have never been pregnant are at a higher risk," he said. "It is believed that there is a relationship between increased ovulation and developing ovarian cancer. Everything that increases the amount of times the ovary releases an egg (ovulation) will increase the chance of getting ovarian cancer. So, the contrary is also correct: everything that decreases ovulation like late onset of menses, early menopause, oral contraceptives, pregnancies and breastfeeding will decrease the risk of developing ovarian cancer."
To learn more about ovarian cancer, please visit the following resources:
Ovarian Cancer Research Alliance
Ovarian Cancer organizations in the USA
West Valley Ovarian Cancer Alliance
Teal It Up Ovarian Cancer Foundation
National Ovarian Cancer Coalition
FORCE Facing Our Risk of Cancer
Share: For Women Facing Breast and Ovarian Cancer
More photos of Dr. Hernández-Colón & colleagues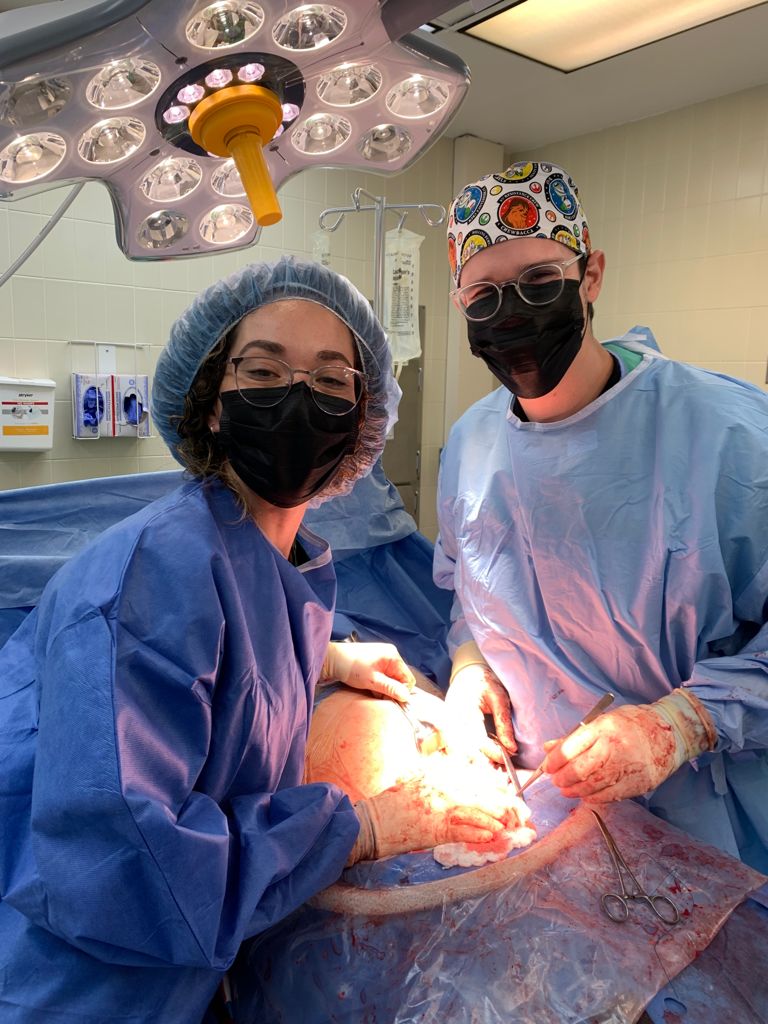 Dr. Melanie Torres (PGY-3) & with Dr. Hernández-Colón performing a Cesarean section. Photo courtesy of Dr. Hernández-Colón.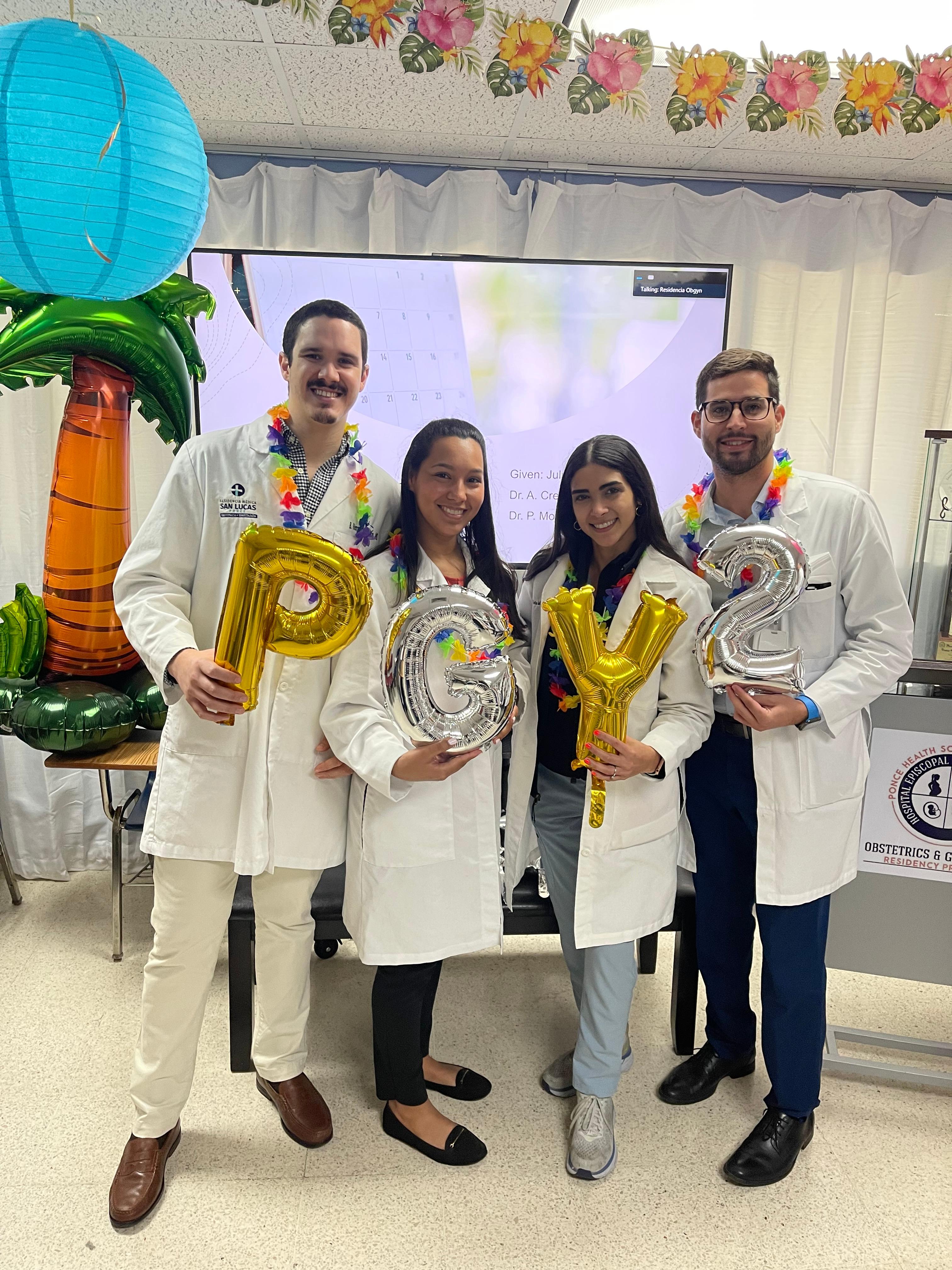 Dr. Hernández-Colón with (left to right) Dr. Arelys Flores, Dr. Andrea Colom & Dr. Alfredo Raffucci, all second year of OB/GYN at St. Luke Episcopal Medical Center in Ponce, PR. Photo courtesy of Dr. Hernández-Colón.


(Top photo): UMHS 2020 grad Dr. Brian Hernández-Colón is in his second year of an OB-GYN residency at St. Luke Episcopal Medical Center in Ponce, PR.

Posted by
Scott Harrah
Scott is Director of Digital Content at UMHS and editor of the UMHS Endeavour blog. When he's not writing about UMHS students, faculty, events, public health, alumni and UMHS research, he writes and edits Broadway theater reviews for a website he publishes in New York City, StageZine.com.