UMHS clinical student Zain Hussain was recently selected for an oral presentation at the Kresge Eye Institute (KEI) at Wayne State University School of Medicine in Michigan.
Mr. Hussain placed as a top-three finalist for oral presentation and received an honorarium for a presentation on age-related macular degeneration (AMD). He discussed why the primary demographic at-risk for AMD—currently known as Caucasians—may reach a turning point in 2024 as Asian Americans "are literally predicted to be the primary demographic at-risk for this disease due to an ever-growing prevalence & incidence within this population demographic."
The UMHS Endeavour spoke to Mr. Hussain about his presentation, the disease process AMD, why research is important in medical school, the publication of his four ARVO Annual Meeting Abstracts in 2022 and more.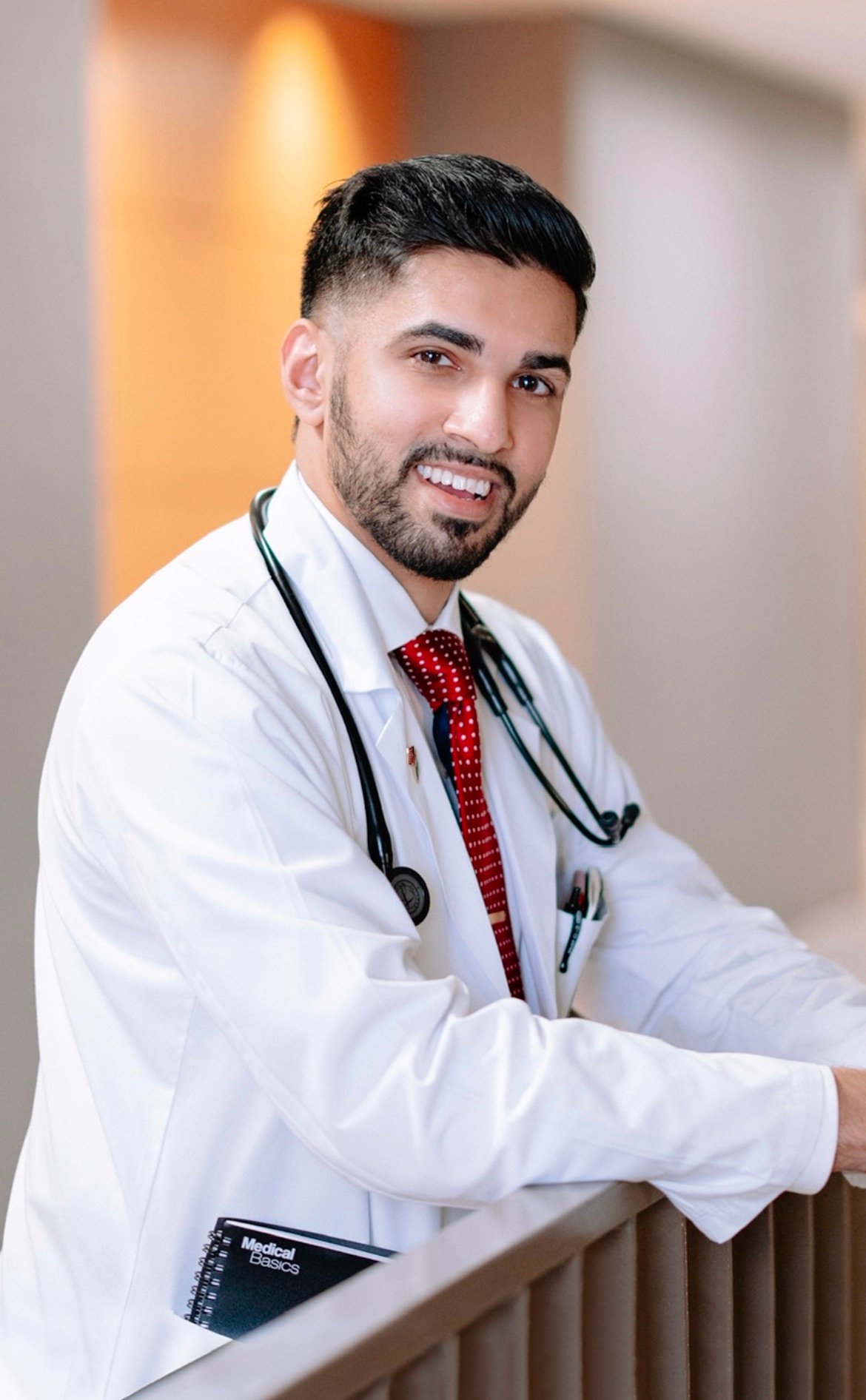 UMHS student Zain Hussain. Photo courtesy of Mr. Hussain.
UMHS Endeavour: What was the focus of your presentation? And for current and prospective students who may not know, can you explain in laymen's terms what age-related macular degeneration (AMD) is?
Zain Hussain: Age-related macular degeneration, or AMD, is an insidious eye disease affecting the macula, a specialized 5.5-mm region of the retina responsible for central, sharp vision. AMD is the most common cause of blindness and is a recognized focal point of ophthalmic research worldwide. Historically, the textbook definition of the primary at-risk demographic within the United States for AMD are non-Hispanic whites. Prior US analyses highlight Asians as the second greatest demographic at risk for AMD, right behind whites. However, our nationally representative analysis determined an accelerating diagnostic rate within the Asian Medicare beneficiary demographic relative to Whites. Ultimately, our predictive trend analytics demonstrate potential for Asian Americans to supersede non-Hispanic whites in AMD prevalence by 2024. These findings not only demonstrate the raw potential of big data to transform medicinal understanding but may also quite literally change the textbooks.
You were a top 3 finalist at the 9th Annual KEI Vision Workshop for oral presentation. Can you talk about how this made you feel and how tough the competition was?
Only for a moment, we felt ecstatic to receive recognition among a competitive cohort. But ultimately, we left carrying a sense of humility. AMD is a real disease with irreparable consequences if left untreated. While receiving an honorarium for our work is thrilling in and of itself, we are humbled to identify and create awareness for an at-risk demographic as it relates to AMD disease burden. First-place winner for oral presentation highlighted comparative retinal gene and protein profile expressions of zebrafish and second-place winner presented over long distance cholinergic signaling contributing to direction selectivity in the mouse retina. Well-deserved. Poster presentations and cover image submissions also received awards, although all participants did a fantastic job.
You've said that the current primary demographic for AMD is Caucasians. However, the analysis of the Centers for Medicare and Medicaid Services (CMS) Public Use File (PUF) notes a possible inflection point 2024, where Asian Americans are predicted to be the primary at-risk demographic. Why is this the case? Are there certain genetic or lifestyle behaviors that make this community more vulnerable to AMD?
Validated AMD risk factors are cigarettes, hypertension, hyperlipidemia, cardiovascular disease, family history, hyperopia, light iris, and female sex. Interestingly, the Mediators of Atherosclerosis in South Asians Living in American (MASALA) study, a perspective published in JAMA in July 2022, investigates the underlying mechanisms for why South Asians are at increased risk for cardiovascular disease. Furthermore, a study published by the Kellogg Eye Center at the University of Michigan in 2011 determined that Pakistani Americans experienced the greatest hazards of non-exudative AMD, followed by Chinese Americans, relative to non-Hispanic Whites. Given cardiovascular disease is a prominent risk factor for AMD development, this may partially elucidate why AMD predisposition within the Asian American demographic exists.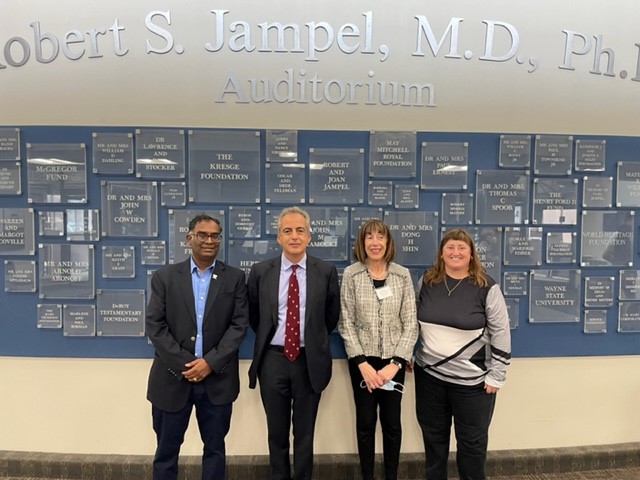 Keynote speaker Dr. Reza Dana (center) of Mass Eye and Ear (Harvard) with fellow officials at the 9th Annual Kresge Eye Institute Vision Workshop OVAS Vision Workshop. Photo courtesy of Zain Hussain & Kresge Eye Institute.
Let's switch gears and talk about research. Why do you feel it is important for medical students to do research?
Recently, a UMHS podcast highlighted the importance of research involvement and specific research foci planned for UMHS faculty. To add on to this important conversation, attending national conferences can also play a substantial role in developing valuable mentorships. Ideally, there is an element of divide and conquer to unlock collective potential. Research isn't for everyone, but there's no harm in at least reaching out to assess interest in potential collaborations. You miss 100% of the shots you don't take.

Earlier this year you had four ARVO Annual Meeting Abstracts published in the Investigative Ophthalmology & Visual Science. Please briefly talk about each.
Association of Lifetime Major Depressive Episode with Significant Visual Impairment or Blindness?
Visual impairment and reduced quality of life are inextricably associated with a plethora of evidence. This analysis validates this association on a national scale with an emphasis to encourage clinicians and health care administrators to take psychosocial metrics into account with delivering ophthalmic care.
Influence of Census Tract Poverty Indicator on Survival in Cases of Conjunctival and Uveal Melanoma diagnosed within the State of Texas.
To our knowledge, this analysis is the first to demonstrate a significant influence of poverty, gender, and tobacco use on survival in patients with specific eye cancers in the state of Texas. In the context of the relatively small field of ocular oncology, the influence of relevant psychosocial variables on healthcare utilization may be a challenging barrier to optimal delivery of oncologic care.
Early Lifetime Substance Use and Development of Significant Visual Impairment or Blindness: An Analysis of the National Survey on Drug Use and Health?
This particular topic is of strong national relevance due to the current US epidemics of opioid and methamphetamine abuse for the past several decades. Epidemiologists have even cited the "epidemic within the pandemic," alluding to the substance abuse frequencies occurring during the COVID-19 pandemic. Very recently, the Juul pod company took part in a $450 million settlement after allegations of sparking substance abuse trends within the adolescent demographic. In this context, this analysis highlights the downstream impact of substance abuse before 21 years of age on visual function later in life. Perhaps clinicians may reconciliate these findings within the primary care, psychiatric, and ophthalmologic contexts.
Rates of Laser Trabeculoplasty by Ophthalmologists and Optometrists: A Comparative Analysis of the Center for Medicare & Medicaid Services Public Use File?
The historical (and current) congressional battle between optometrists and ophthalmologists raises a key political concern regarding active attempts of surgical expansion by optometrists. Very recently on October 31, 2022, the California state Assembly approved Assembly Bill 2236, which would allow roughly 7,000 optometrists to exercise certain laser procedures, foreign body removal, injections, and even corneal cross-linking. Governor Gavin Newsom vetoed the same bill less than a month later and stated "I am not convinced that the education and training required is sufficient to prepare optometrists to perform the surgical procedures identified." Our analysis, which was considered a "hot topic" by the Association for Vision and Research in Ophthalmology (ARVO), quantifies the growth profile of optometric surgical expansion in currently approved US states.
What are some of the other projects you are currently working on?
Just this past November, we submitted five abstracts into the American Glaucoma Society (AGS) 2023 conference, taking place next year in Austin, Texas. We are excited to announce that our first-author abstract, which represents a collaboration between Massachusetts Eye and Ear Infirmary (Harvard), Wilmer Eye Institute (Johns Hopkins), and the Cullen Eye Institute (Baylor College of Medicine), titled "Impact of the COVID-19 Pandemic on Surgical Volumes Among Fellowship-Trained Glaucoma Subspecialists: A 5-Year Trend Analysis" was selected as a "Top Poster Presentation." And while there is more to say regarding these important national conferences, heavyweight manuscripts take precedence. It may be best to discuss these manuscripts, currently in mid-flight, as soon as they safely land.
Is there anything else you would like to add?
I am humbled to be working in the immediate vicinity of strong advocates, clinicians, mentors, colleagues, and beyond. I am thankful for UMHS faculty and staff for their faith in me. While research is an important cornerstone of medicine, I remain passionate about clinical care. This entails exercising regular competency in clinical knowledge and maintaining professionalism via punctuality and communication. Truly looking forward to the future.
(Top photo): UMHS student Zain Hussain. Photo: Courtesy of Unseen by Alexa.

Posted by
Scott Harrah
Scott is Director of Digital Content & Alumni Communications Liaison at UMHS and editor of the UMHS Endeavour blog. When he's not writing about UMHS students, faculty, events, public health, alumni and UMHS research, he writes and edits Broadway theater reviews for a website he publishes in New York City, StageZine.com.